The new Freeview prediction system - includes Freeview HD

Brian Butterworth published on UK Free TV
The new Freeview prediction system - beta - is here. Finally!

If you visit Freeview reception - UK Free prediction you now get a much more detailed page to help you with any reception issues.

As before you can see this page with a postcode, the system will shortly also allow the input of national grid references, or latitude/longitude references.

Firstly, you can get a prediction for any number of dates by selecting the appropriate tab at the top.


Five different views
There are five different views
By direction: this will show the various directions your aerial might point and the services you can receive from the transmitters in that direction.
Received signal strength: this shows the information ordered by signal strength, to help you find the strongest signals.
By frequency: this lists broadcast frequencies from C21 to C68, showing the services on each. This view can be used to find potential interference or to help with digital region overlap areas.
Service names: this lists the services that you can receive, each ordered by the strongest signal.
Transmitter names: and finally an alphabetical list of the transmitters with the services listed by broadcast frequency.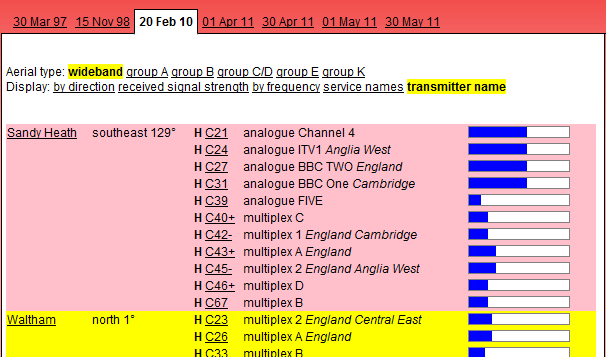 Aerial group choice
When you first visit the page you will see the services received by a "
wideband
" aerial, now you can also select the other aerial groups to see how that will effect reception.
Issues
For the moment it is not possible to resolve postcodes in Northern
Ireland
(BT) or the Isle of Man.
Apologies
for that.
Try it now
Try the new UK Free TV Freeview reception - prediction system now
.
Comments
Tuesday, 22 November 2011

Julie: The most likely suspect here is that your TV has tuned to the signals from the wrong transmitter as there is quite a bit of overlap where you are (according to the Digital UK predictor).

Question is, which transmitter are you on? I had a look down your street on Google Streetview and all the aerials I could see are pointing in the direction of Idle.

All are vertical (as they should be for Idle) except for the one at number 12 (it's on the chimney). If that's you at number 12, then you need to change your aerial so it's vertical rather than horizontal!

If you're not at number 12, then what make and model is your TV? Do you have others you can try (either set-top boxes/recorders or TVs)? Maybe even take the TV to another aerial, if you have one.

Dave Lindsay's 5,724 posts
M
Mark Fletcher
5:22 PM
Halifax

Julie,Bingley.Hard to say without a full (not partial) postcode.Is yer aerial polarised horizontally or vertically,externally or in yer loft.If it is polarised horizontally is it facing Emley Moor or are you receiving signals from Belmont.You mentioned ITV channels especially that pixellate and freezes which belong to the D3+4 multiplex,from Emley Moor this is on frequency 44,or if you are receiving D3+4 mux from Belmont this is on frequency 25.If it's polarised vertically are you receiving transmissions from either the Idle or Keighley relays instead.From Idle D3+4 is on fr 21,from Keighley this will be on fr 58.Try the reset procedure on your appliance,if it fails to work try fitting an attenuator as there is a possibility you may have too much signal.

Mark Fletcher's 673 posts
Mark's:
map
M's Freeview map
terrain
M's terrain plot
waves
M's frequency data
M's Freeview Detailed Coverage
Friday, 25 November 2011
B
Bill Richards
9:31 PM
Birmingham

B44 8SZ.
Certain commercial channels , especially 15 have massive interference : picture keeps freezing as if' buffering'' information.
Is there any engineering work on this transmitter?

Regards

Bill

Bill Richards's 1 post
Bill's:
map
B's Freeview map
terrain
B's terrain plot
waves
B's frequency data
B's Freeview Detailed Coverage
Saturday, 26 November 2011

Bill Richards: Digital UK reports no planned engineering work on Sutton Coldfield's digital transmitter:


Digital UK - Planned Engineering Works

You are very close to it. Could you be suffering from too higher signal level?:

Freeview signals: too much of a good thing is bad for you | ukfree.tv - independent free digital TV advice

Dave Lindsay's 5,724 posts
Wednesday, 30 November 2011
J
james aldridge
3:12 PM
Chelmsford

film 4 itv 4 at aer not working why .it is not me as i am tuneing every day to get them back ???????????? ps i have had 107 channels now 70 channels why

james aldridge's 1 post
james's:
map
J's Freeview map
terrain
J's terrain plot
waves
J's frequency data
J's Freeview Detailed Coverage
Thursday, 1 December 2011
J
Janette Gibson
8:38 PM
Chelmsford

Jan. Chelmsford 2nd December 2011
We have lost ITV4 in the past few weeks - have tried retuning but seem to be losing more - we have gone down to 59 channels now. Is it our aerial do you think as we are tuned in to anglia region?

Janette Gibson's 2 posts
Janette's:
map
J's Freeview map
terrain
J's terrain plot
waves
J's frequency data
J's Freeview Detailed Coverage
Friday, 2 December 2011
P
Philip Evans
10:07 PM
Ipswich

My post code is IP9 1HJ and since the various requests to retune have lost channels 12, 15 and 24. How do I get them back, please?

Philip Evans's 1 post
Philip's:
map
P's Freeview map
terrain
P's terrain plot
waves
P's frequency data
P's Freeview Detailed Coverage
Saturday, 3 December 2011

Janette Gibson: Going by the reception predictor (trade view) Sudbury @ 25 miles away is certainly shown as your choice for reception, however its rather ironical that you can receive ITV4 at all, as this is broadcast on extremely low power compared to BBC / ITV etc and which is something that's causing massive problems for many people who cannot receive it.

I wouldn't really advise altering anything as yet, as your problem is liable to be caused by normal atmospheric conditions which in due time will change again. I would though be interested in what signal strength you receive ITV4 at "if" you can manage to pick it up again, the problem being that when you carried out a re-tune you will have scrubbed it from the TV / boxes memory, this now require constant re-tunes being made to recover it.

To avoid complete re-tunes having to be made just "manually" tune it in on Mux Ch50.


jb38's 7,179 posts
Thursday, 8 December 2011

i can no longer get viva,4music,pick tv and yesterday idid get them until 2or3 weeks ago why pete

pete's 1 post
pete's:
map
P's Freeview map
terrain
P's terrain plot
waves
P's frequency data
P's Freeview Detailed Coverage
Wednesday, 14 December 2011

pete: Please see Single frequency interference | ukfree.tv - independent free digital TV advice for help with that.

Briantist's 38,906 posts
Select more comments
Your comment please