The new Freeview prediction system - includes Freeview HD

Brian Butterworth published on UK Free TV
The new Freeview prediction system - beta - is here. Finally!

If you visit Freeview reception - UK Free prediction you now get a much more detailed page to help you with any reception issues.

As before you can see this page with a postcode, the system will shortly also allow the input of national grid references, or latitude/longitude references.

Firstly, you can get a prediction for any number of dates by selecting the appropriate tab at the top.


Five different views
There are five different views
By direction: this will show the various directions your aerial might point and the services you can receive from the transmitters in that direction.
Received signal strength: this shows the information ordered by signal strength, to help you find the strongest signals.
By frequency: this lists broadcast frequencies from C21 to C68, showing the services on each. This view can be used to find potential interference or to help with digital region overlap areas.
Service names: this lists the services that you can receive, each ordered by the strongest signal.
Transmitter names: and finally an alphabetical list of the transmitters with the services listed by broadcast frequency.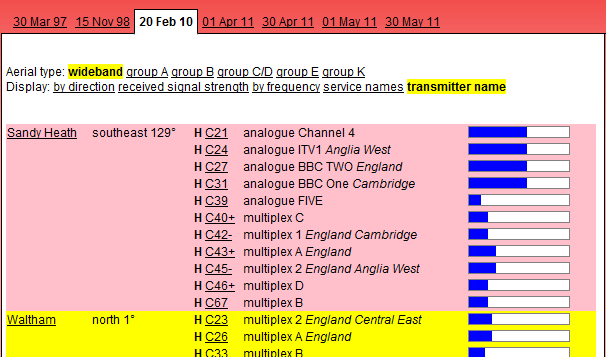 Aerial group choice
When you first visit the page you will see the services received by a "
wideband
" aerial, now you can also select the other aerial groups to see how that will effect reception.
Issues
For the moment it is not possible to resolve postcodes in Northern
Ireland
(BT) or the Isle of Man.
Apologies
for that.
Try it now
Try the new UK Free TV Freeview reception - prediction system now
.
Comments
Wednesday, 16 March 2011
Les Nicol
9:39 PM
Edinburgh

James Paterson > If you scroll up and click on the site Header page and the "Freeview Tab


"Loft aerials"
One of the most common problems people have with Freeview reception relates to the use of "loft" aerials.

Les Nicol's 991 posts
Les's:
map
L's Freeview map
terrain
L's terrain plot
waves
L's frequency data
L's Freeview Detailed Coverage
Saturday, 19 March 2011
J
June
11:27 AM
East Grinstead

Has anyone else lost all signals in the Felbridge/East Grinstead area? I have 2 freeview tv's on 2 seperate aerials and no reception on either of them today???

June's 1 post
June's:
map
J's Freeview map
terrain
J's terrain plot
waves
J's frequency data
J's Freeview Detailed Coverage
N
Nigel
11:46 AM
East Grinstead

Same happened in East Grinstead yesterday. Signal was restored sometime before I checked at 12.30

Nigel's 1 post
Nigel's:
map
N's Freeview map
terrain
N's terrain plot
waves
N's frequency data
N's Freeview Detailed Coverage

This beta seems to ignore the reigate mast which for my postcode is the only one available to me.. I just wanted to see why ch 66 was usually non receivable?


Chris's 5 posts
Chris's:
map
C's Freeview map
terrain
C's terrain plot
waves
C's frequency data
C's Freeview Detailed Coverage

OX16 5AJ - BBC1 still crackling and snowy pic. BBC2 is now OK. Channel 3 crackling and snowy. That has been over a week now. Channel 4 disappeared last night and has not come back yet!

Pauline's 6 posts
Pauline's:
map
P's Freeview map
terrain
P's terrain plot
waves
P's frequency data
P's Freeview Detailed Coverage
Sunday, 20 March 2011
J
James Paterson
4:23 PM
Edinburgh

Les Nicol - I think you may have misunderstood my problem. It was not to do with general reception because I normally get good reception both on analogue and digital. There was temporary (as it turns out) interference on BBC1 analogue from Black Hill - it seems to have disappeared now.

James Paterson's 3 posts
James's:
map
J's Freeview map
terrain
J's terrain plot
waves
J's frequency data
J's Freeview Detailed Coverage

Yeah, We are having similar issues in East Grinstead. Happened yesterday & today. We put it down to a problem with our aerial but seems it's transmitter?? Does anyone know the cause???

Adam's 1 post
Monday, 21 March 2011
Saturday, 26 March 2011
T
Tom Smith
4:32 PM
Isle Of Arran

I think my problem is that, despite my address post code showing a "beta" ( which I take it means we should get freeview?), we may be blocked because there is a hotel just down from our house on the east side of our road ; and there is a huge garden with many large trees--could these be blocking the signal coming from the Darvel transmitter , east of us?

If so is there anything that can be done? Other than settle for freesat?

Tom Smith's 4 posts
Tom's:
map
T's Freeview map
terrain
T's terrain plot
waves
T's frequency data
T's Freeview Detailed Coverage
Sunday, 3 April 2011
S
Shaun
7:38 AM
Northampton

Since the switch over I have a very bad signal and quality strength on BBC 1/2. Before the switch over they were fine? Can anyone advise why the may be? Shaun - Northampton

Shaun's 2 posts
Shaun's:
map
S's Freeview map
terrain
S's terrain plot
waves
S's frequency data
S's Freeview Detailed Coverage
Select more comments
Your comment please