Should I buy Freeview HD for Christmas?

Brian Butterworth published on UK Free TV
What are the benefits?
Four high definition channels
Everyone gets:
BBC HD. All the programmes on this channel are in high definition, and comprises of simulcasts of BBC TWO, BBC three and BBC FOUR shows, narrative repeats of these shows (rebroadcast within the first week of showing on a main channel) plus some high definition BBC classics.
BBC One HD. This channel shows high definition versions of most programmes on BBC One, with a commitment to move towards 100% high definition output over the coming years.
ITV1 HD (or STV1 HD or UTV1 HD). As with BBC One HD, this is a high definition version of the most popular commercial channel.
Plus one of:
Channel 4 HD. Again, a simulcast of the main Channel 4 channel in high definition, but again where available, and not in Wales.
Clirlun (S4C HD). In Wales, a high definition version of the Welsh language channel S4C.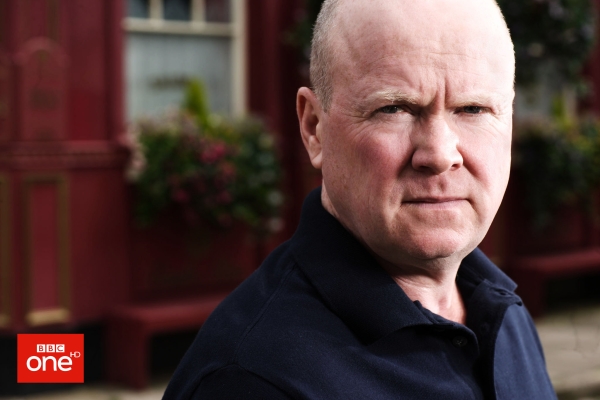 Christmas Day EastEnders will mark the first broadcast of the BBC soap in high definition.
Better pictures for sport
One of the main improvements in high definition is the ability to provide much better motion for sport compared to
standard
digital
television.
Clearer pictures for documentaries and drama
Many of the most popular high definition shows are documentaries and
drama
where the clarity of the
picture
gives a distinct edge to the viewing experience.
Movies
As movies have always been created on 35mm film (rather than videotape), this means that any movie created since the 1920s can be shown in high definition.
All existing Freeview services
In addition, you also get all of the existing
Freeview
channels
.
Better overlap handling
Another benefit of
Freeview HD
boxes is that they deal much better than standard boxes when you live in an area served by more than one
transmitter
. These boxes now prompt you to select your BBC and ITV
region
, older boxes just guess.
Christmas Day installing
Freeview HD is very, very easy to
install
. All you will need is:
A high definition television set. Any set with "HD Ready" or "Full HD Ready" markings will work. A limited number of very old high definition sets may not have these markings, so you may have to check for the presence of an HDMI input socket.
Your EXISTING aerial connection. A rooftop aerial is already required for reliable Freeview reception, so as long as normal Freeview (or Freeview light) is being received, Freeview HD will normally work (see coverage below, however). YOU DO NOT NEED A NEW AERIAL TO USE FREEVIEW HD.
A power point.
An HDMI cable. This will normally come with the box, but if you are hoping to install the set-top box on Christmas Day you might want to ensure that the cable is there. Remember that, as HDMI is a balanced high-speed digital connection, there is no benefit paying more than a few pounds for a cable as screening (or gold connectors) will made no difference whatsoever to the quality of picture transferred. As with most digital components, it will work - or not.
Recording and live pausing with Freeview+HD

As well as the basic Freeview HD boxes, you can also purchase Freeview+HD boxes, which contain a hard disk drive (as found in computers) and two digital tuners. This allows, much like the popular
Sky
+ and Freeview+ boxes you to:
Record a whole series of a show with a single button press
Record one show whilst watching another one live
Record two shows while you watch a recording from the drive.
Set a show to record by pressing a button when you see a trailer for it.
Freeview record/play/pause devices DO NOT require a special aerial to work.
Where will it work?
It will definitely work in any region that has switched off the
analogue
signals and replaced them with digital only, which is:
South West England (the old ITV WestCountry area, mainly Cornwall ,Devon and the Dorset coast)
Granada-land (Greater Manchester, Merseyside, Lancashire, Cheshire and the Isle of Man)
Border England (Cumbria)
The old ITV Grampian area (Perthshire, Angus, Kincardineshire, Aberdeenshire, Banffshire, Morayshire, Nairnshire, Inverness-shire, Cromarty-shire, Ross-shire, Sutherland, Caithness, Argyll)
The West region (Bristol, Gloucestershire, Wiltshire, Somerset).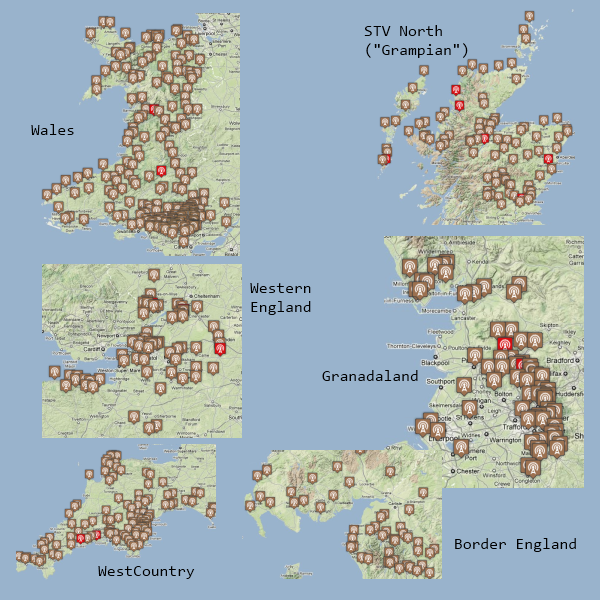 There is also a pre-
switchover
service from a few main transmitters: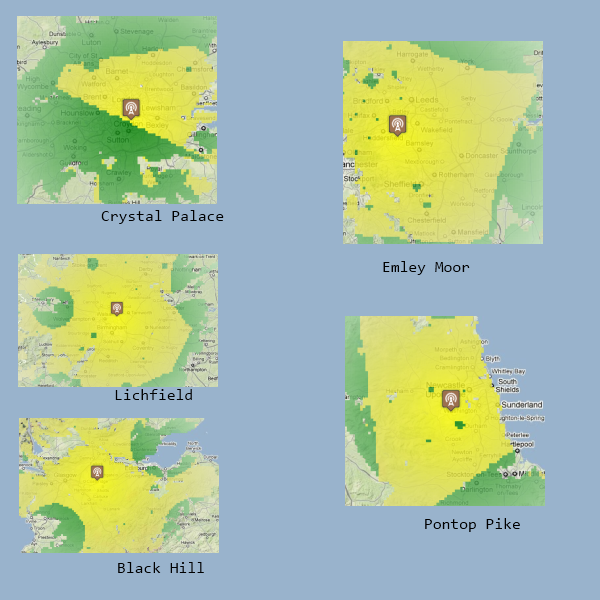 In the above cases the service is not provided from any
relay
transmitters, and the lower
power
levels provide service only to the core transmitter area.
Comments
Wednesday, 19 January 2011

Thanks, am I right in thinking then that if she can't get BBC4, then she isn't getting the multiplex which carries HD.

bett's 6 posts
bett's:
map
B's Freeview map
terrain
B's terrain plot
waves
B's frequency data
B's Freeview Detailed Coverage

bett: No, that is incorrect. The BBCB multiplex is a special pre-switchover transmission from the Lichfield transmitter, it will replace multiplex B (with BBC FOUR) after switchover.

Briantist's 38,908 posts

OK.... I'm leaving it until sept and she will have to wait and see. I hope if it is a problem with the tv after all this they will sort it.
Thanks

bett's 6 posts
bett's:
map
B's Freeview map
terrain
B's terrain plot
waves
B's frequency data
B's Freeview Detailed Coverage

bett: I would have though that would be the best thing to do, given what you have said.

Briantist's 38,908 posts
Saturday, 16 April 2011
S
steve
11:18 AM
Whitchurch

Hi Brian - and others

I had planned not to buy a new TV until HD and wifi access built in, but the demise of my pvr forces some earlier action.

I presume Wrekin will give HD TV after switchover next Weds. But can I yet buy, for a sensible price, a TV with built in HD tuner?

The standards are now fixed are they? I avoid early adopting!

steve's 1,173 posts
steve's:
map
S's Freeview map
terrain
S's terrain plot
waves
S's frequency data
S's Freeview Detailed Coverage
Sunday, 17 April 2011

steve: The "Freeview HD" or "DVB-T2" mark means the set will work. This is the standard and won't change.

Briantist's 38,908 posts
Thursday, 18 August 2011

We have just endured the switchover in Scarborough,oh so easy to retune your HD/Freeview TV!!Yes it is simple,but if you do not have a DVB-T2 tuner in your TV then no HD signal is available,great,what a con.I bet there will be a lot of very annoyed people out their who are suffering the same problem.

Ian Jackson's 2 posts

Ian Jackson: It's not a con, you can't expect to receive a service if you have equipment that is incompatible. All you need is a Freeview HD box. See also What does "Full HD Ready" actually mean? | ukfree.tv - independent free digital TV advice .

Briantist's 38,908 posts
Friday, 16 September 2011
G
Gordon Nicol
11:16 AM
Chalfont St. Giles

I live at HP8 4BS and have received all the freview channels including CH 31 HD. Suddenly after 9 months of viewing CH 31 and all its HD channels, they have disappeared. I cannot retune CH 31 as it does not exist. All the other Freeview channels work fine. Can you help please.

Gordon Nicol's 2 posts
Gordon's:
map
G's Freeview map
terrain
G's terrain plot
waves
G's frequency data
G's Freeview Detailed Coverage

Gordon Nicol: Yes, that is correct, you will not get Freeview HD from Crystal Palace on C31, you will have to wait for switchover 18th April 2012 when the full-power service starts on C30-.

I think this is because at your location C31 is used at Sandy Heath and it is taking out the signal from Crystal Palace.

Briantist's 38,908 posts
Select more comments
Your comment please