Should I buy Freeview HD for Christmas?

Brian Butterworth published on UK Free TV
What are the benefits?
Four high definition channels
Everyone gets:
BBC HD. All the programmes on this channel are in high definition, and comprises of simulcasts of BBC TWO, BBC three and BBC FOUR shows, narrative repeats of these shows (rebroadcast within the first week of showing on a main channel) plus some high definition BBC classics.
BBC One HD. This channel shows high definition versions of most programmes on BBC One, with a commitment to move towards 100% high definition output over the coming years.
ITV1 HD (or STV1 HD or UTV1 HD). As with BBC One HD, this is a high definition version of the most popular commercial channel.
Plus one of:
Channel 4 HD. Again, a simulcast of the main Channel 4 channel in high definition, but again where available, and not in Wales.
Clirlun (S4C HD). In Wales, a high definition version of the Welsh language channel S4C.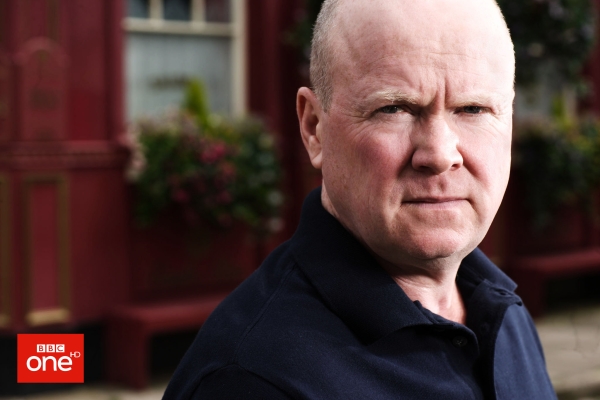 Christmas Day EastEnders will mark the first broadcast of the BBC soap in high definition.
Better pictures for sport
One of the main improvements in high definition is the ability to provide much better motion for sport compared to
standard
digital
television.
Clearer pictures for documentaries and drama
Many of the most popular high definition shows are documentaries and
drama
where the clarity of the
picture
gives a distinct edge to the viewing experience.
Movies
As movies have always been created on 35mm film (rather than videotape), this means that any movie created since the 1920s can be shown in high definition.
All existing Freeview services
In addition, you also get all of the existing
Freeview
channels
.
Better overlap handling
Another benefit of
Freeview HD
boxes is that they deal much better than standard boxes when you live in an area served by more than one
transmitter
. These boxes now prompt you to select your BBC and ITV
region
, older boxes just guess.
Christmas Day installing
Freeview HD is very, very easy to
install
. All you will need is:
A high definition television set. Any set with "HD Ready" or "Full HD Ready" markings will work. A limited number of very old high definition sets may not have these markings, so you may have to check for the presence of an HDMI input socket.
Your EXISTING aerial connection. A rooftop aerial is already required for reliable Freeview reception, so as long as normal Freeview (or Freeview light) is being received, Freeview HD will normally work (see coverage below, however). YOU DO NOT NEED A NEW AERIAL TO USE FREEVIEW HD.
A power point.
An HDMI cable. This will normally come with the box, but if you are hoping to install the set-top box on Christmas Day you might want to ensure that the cable is there. Remember that, as HDMI is a balanced high-speed digital connection, there is no benefit paying more than a few pounds for a cable as screening (or gold connectors) will made no difference whatsoever to the quality of picture transferred. As with most digital components, it will work - or not.
Recording and live pausing with Freeview+HD

As well as the basic Freeview HD boxes, you can also purchase Freeview+HD boxes, which contain a hard disk drive (as found in computers) and two digital tuners. This allows, much like the popular
Sky
+ and Freeview+ boxes you to:
Record a whole series of a show with a single button press
Record one show whilst watching another one live
Record two shows while you watch a recording from the drive.
Set a show to record by pressing a button when you see a trailer for it.
Freeview record/play/pause devices DO NOT require a special aerial to work.
Where will it work?
It will definitely work in any region that has switched off the
analogue
signals and replaced them with digital only, which is:
South West England (the old ITV WestCountry area, mainly Cornwall ,Devon and the Dorset coast)
Granada-land (Greater Manchester, Merseyside, Lancashire, Cheshire and the Isle of Man)
Border England (Cumbria)
The old ITV Grampian area (Perthshire, Angus, Kincardineshire, Aberdeenshire, Banffshire, Morayshire, Nairnshire, Inverness-shire, Cromarty-shire, Ross-shire, Sutherland, Caithness, Argyll)
The West region (Bristol, Gloucestershire, Wiltshire, Somerset).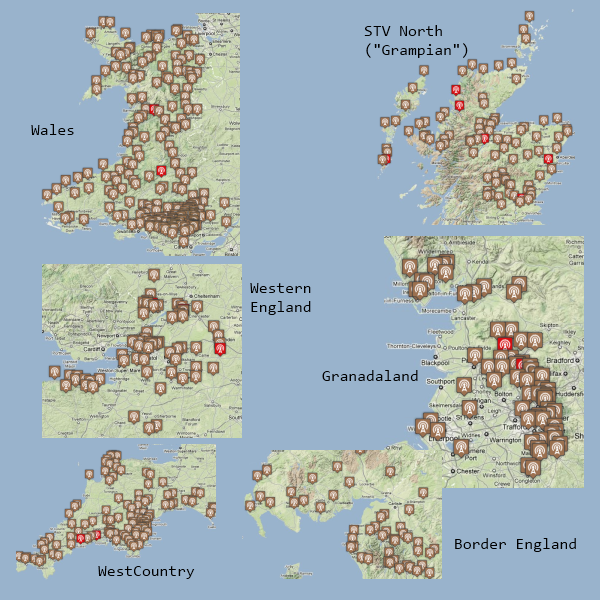 There is also a pre-
switchover
service from a few main transmitters: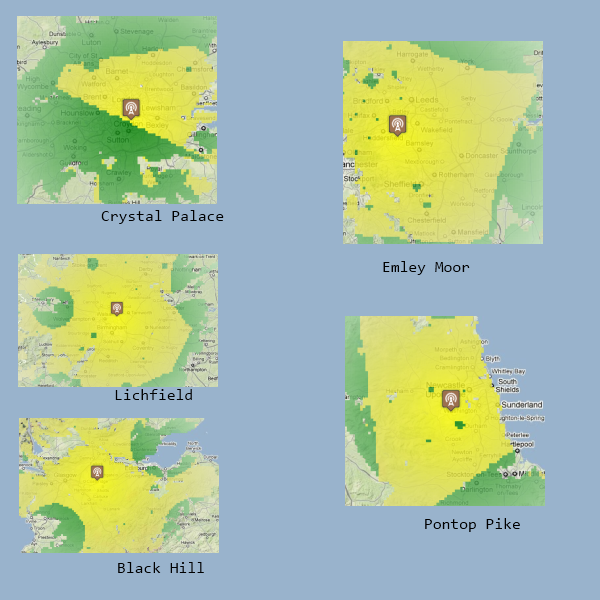 In the above cases the service is not provided from any
relay
transmitters, and the lower
power
levels provide service only to the core transmitter area.
Comments
Friday, 26 September 2014

Maggie: Check your TV - if its got an HD tuner, then just use an aerial to get HD.

MikeB's 2,579 posts
Thursday, 9 October 2014

Mike Davison: Mike Davison: I've been waiting for Ofcom to re-publish the data, as the Digital UK site claims copyright on the data.

As they have now done this, the new values are showing up

Belmont 37100
Bilsdale 18500
Black Hill 42900
Bluebell Hill 4000
Craigkelly 10800
Crystal Palace 43100
Divis 12400
Emley Moor 54800
Hannington 36700
Mendip 72400
Oxford 16400
Pontop Pike 33800
Ridge Hill 10500
Rowridge 24400
Sandy Heath 49600
Sutton Coldfield 89200
Tacolneston 27400
Waltham 10200
Wenvoe 47000
Winter Hill 25700



Briantist's 38,908 posts
M
Mike Davison
8:08 PM
Wetherby

Briantist: Copyright has a lot to answer for.


Mike Davison's 127 posts
Mike's:
map
M's Freeview map
terrain
M's terrain plot
waves
M's frequency data
M's Freeview Detailed Coverage
Monday, 20 June 2016

Hi what signal strength do you need for HD freeview
my TV shows 88 - 90% signal strength and 100 % quality
Is this to high

James's 1 post

James : These indications are perfectly in line with what would be expected with good reception, 100% quality being the target figure that should always be aimed at when aligning an aerial system.

jb38's 7,179 posts
R
Richard Cooper
9:39 PM
Norwich

James : Hi James. It is generally thought that your signal STRENGTH should not be any greater than 70%, whereas the quality can be as high as you like - indeed the higher the quality the better. You see, it is often said that if the signal STRENGTH is greater than 70%, you are putting unnecessary strain on the receiver by " giving it too much of a good thing". You can decrease the signal strength a little in a number of ways. If you have a booster in your system remove it completely and plug the aerial lead connection from the wall-plate in your viewing room directly into your Freeview HD tv receiver (set-top box or HD tv set). t would be useful to us if you could give us your full postcode, and then we can advise you further with some more simple tips on reducing your signal strength a little more, to get you down to 70% sig strength max. in the meantime, do what We've said above. Hear from you again very soon! Richard, Norwich.

Richard Cooper's 466 posts
Richard's:
map
R's Freeview map
terrain
R's terrain plot
waves
R's frequency data
R's Freeview Detailed Coverage
Tuesday, 21 June 2016

James : The main point to remember when dealing with signal strength is that its always best to keep it under 100%, as this figure represents the maximum level the device is designed to operate at, the 88 - 90% on your receiver being ideal.

The reason for saying "under" 100% is basically because 100% is the maximum "indicated" level in domestic receivers, meaning that the "actual" signal strength level could anything from a few points above this - causing the occasional glitch in the picture - up to a level capable of overloading the tuners input stages resulting in zero reception, some HD receivers (e.g: slightly older Samsungs) being particularly vulnerable in this respect.

The main thing about signal strength indications on Freeview receivers is that said indications can vary quite considerably between different brands (or even models) of receivers, this being why the only really accurate way of measuring signal strength on an aerial downlead is by using a proper dB level meter such as used by aerial installers.

Purely for information purposes /

Ofcom's recommended levels for DTT reception:- 45 to 65 dBuV, but though in practice 6dB should always be added above the minimum level to allow for variations in signal strength, this making the minimum level 51dB. (i.e: 51dB - 71dB)





jb38's 7,179 posts
R
Richard Cooper
9:01 AM
Norwich

jb38: Good morning jb38. I'm not sure whether your posting at five minutes past midnight was specifically for me because it also looked as if it was meant to be read by 'James'. He will hopefully have seen it too. I found it highly interesting anyway. By the way, I had to throw away my old Freeview HD box recently, a Sharp TUT2 from the early to mid -2000s. The reason I had to get rid of it was that the picture would completely freeze and the sound would mute after the box had only been on for a few minutes. I don't know if you're familiar wit the Sharp TU-T2 Freeview HD box, but might it have been prone to the issue of too high a signal strength overloading its tuner, like the Samsungs mentioned in your posting? The thing is, the Sharp box would only usually show a signal strength of 60% to 70% on the two HD muxes and so I didn't think I was overloading it with too much signal! as you say, though, the accuracy of the signal strength indicators on Freevew receivers is very variable, so perhaps the Sharp's indicator was und-estimating the signal strength by up to 30%? Is that possible? Anyway, I couldn't put up with the picture and sound loss any longer, so have reverted to SD from a Topfield PVR 5800 which I was given and it seems to have plenty of life left in it at the moment, anyway. I don't think I shall worry about not having HD until SD switch-off in a few years' time, because my living room tv screen size is 50 cm ( 20"), so I wasn't fully benefiting from HD with a smaller screen, although the HD pictures were sharper and crisper than SD seems to be. Your comments back , if you please! Richard, Norwich.

Richard Cooper's 466 posts
Richard's:
map
R's Freeview map
terrain
R's terrain plot
waves
R's frequency data
R's Freeview Detailed Coverage
Wednesday, 22 June 2016

Richard Cooper: Apologies for the slight delay in replying. However, on the subject of your now defunct Sharp TU-T2 Freeview box, although these devices were capable (when working!) of producing a really good HD image, unfortunately a large number of them earned the unenviable reputation for suffering from exactly what you have described, i.e: freezing for no apparent reason.

This problem sometimes being triggered by simply changing channels, or even just whilst viewing a programme, or on odd occasions manifesting itself after having been first switched on, the only way of rectifying same being to reset the box by disconnecting it from the mains for10 secs or so before powering it up again, and of course hoping for the best! as it could occur a few times during an evenings viewing.

Needless to say, signal strength levels did not come into the equation as far as the box locking up is concerned, as the problem was caused by software related issues, manufacturers updates on same only partially rectifying the problem.

By the way, the Sharp TU-T2 was manufactured by the Turkish company called Vestel, numerous other well known brand named Freeview boxes also manufactured by this company, e.g: Alba, Bush, Goodmans, Ferguson, Hitachi, Sharp, Technika and Wharfedale etc, some of those brands (e.g: Goodmans) not exactly being trouble free in this respect either.


jb38's 7,179 posts
R
Richard Cooper
7:40 PM
Norwich

jb38: Hi jb38. Thank you so much for your comprehensive report on my old Sharp TU-T2 Freeview HD box. I still have a Woolworths SD box as a spare, but I expect you'll tell me that that was made by the same dodgy Turkish manufacturer, but if my Topfield lets me down, I can bring the Woolworths Freeview box 'out of retirement'. Since the Sharp TU-T2 was given to me as a gift 4 years ago, I suppose it has served me well really, if I've only experienced the freezing in the last year, and not before that. It is pleasing for you to inform me that signal issues were not the cause, in a way, because I've been worried that my signal is too strong as I'm on a communal aerial distribution system. Any comments on these? Hope to hear from you again soon, Richard, Norwich.

Richard Cooper's 466 posts
Richard's:
map
R's Freeview map
terrain
R's terrain plot
waves
R's frequency data
R's Freeview Detailed Coverage
Select more comments
Your comment please