BBC DAB now on air in Kingsbridge, Devon and Helston, Cornwall

Brian Butterworth published on UK Free TV
It might have had the UK's first international satellite earth-station in 1962, but Helston, Cornwall did not have DAB coverage until today.




From today, 13,500 people who live in Helston and the west side of the Lizard peninsular have BBC national DAB reception.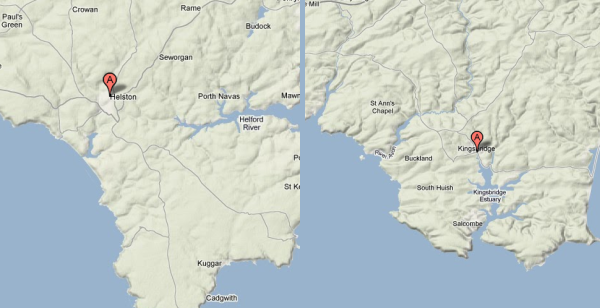 Also, from today, a transmitter at Kingsbridge provides BBC national DAB coverage for the 12,5000 people in the South Hams area of Devon - and helps to solidify coverage between the A38 and the coast around Start Bay, improving reception for another 10,000 people.


Comments
Monday, 3 January 2011

I believe that the long awaited breakthrough in DAB broadcasting can now be seen on the horizon.
Introducing the all new Digital Radio Mondiale (DRM)

What are the benefits over the current inferior DAB system?

DRM is greener, clearer, wider, bigger, better quality & audio content and cost efficient.

DRM provides digital sound quality and the ease-of-use that comes from digital radio, combined with a wealth of enhanced features: Surround Sound, Journaline text information, Slideshow, EPG, and data services.

Check it out right now and see what you think at WWW.drm.org

Alvin Pritchard's 40 posts

DRM would solve many problems and be a good overall compromise, using LW, MW and SW as well as VHF,and needing fewer transmitters for better overall coverage. B u t it appears that, despite ongoing trial broadcasts, it has been outflanked by other digital modes, sadly. Betamax Returns...

michael's 861 posts
Thursday, 6 January 2011

Alvin Pitchard/michael: http://downloads.bbc.co.uk/devon/pdfs/project-mayflower-summary-report.pdf is quite a good read.

Briantist's 38,899 posts

Thanks, Brian. I remember reading this some time back. The conclucions of this and the many other ongoing DRM trials on LW, MW and SW demonstrate the potential, but, as I said, I fear it is now dormant. Because of the number of DAB-receivers sold, DAB+ is unviable now. So it will be DAB. I have some hope that, because of the chain of problems we frequently refer to here, "they" will have a pragmatic re-think and perhaps use DAB for national SFNs, and retain FM for regional and local broadcasting.(BBC, commercial and community). AM would become semi-dormant, but could fill in any gaps and be retained as a future DRM option. A similar debate is resurging now in Germany with widespread unbelief amongst conoscienti that the national flagships DLF and DLR, which are heard way beyond national borders could be removed from LW and MW. Perfidy!

michael's 861 posts

michael: The plan is for FM to be for non-commercial radio. In most areas DAB coverage is good for local and regional services, with the exeptions listed on the DAB local radio gaps | ukfree.tv - independent free digital TV advice .

The problem for DRM is that in a world with global satellite TV coverage, there is little need for DRM/AM services, as they provide such low bitrates.

Briantist's 38,899 posts

Radio is officially dead in St.Just and Pendeen, West Cornwall? (Well almost!!) I moved here to this remote corner of the UK in May 2010. I have 2 DAB Radio's A Pure Elan DX20, a Roberts Solar DAB with Analogue, and a Panasonic Midi system SA-PM28. On all these three radio's I am unable to get any radio signals... DAB, FM... only LW/MW. I have an Alba Portable Cassette/CD player with FM Radio, that just about picks up a signal on top of my Fridge/Freezer in the Kitchen, (Keeps drifting off...) and the signal goes altogether when I open the fridge door!!
I love the Radio... Over TV, and unfortunately Broadband is slow..less than 1mb download speed at best, so unable to get Internet Radio, without buffering kicking in every 10 seconds or so?
Is the service going to improve (at all) now or anytime in the future?

Gerry's 3 posts
Gerry's:
map
G's Freeview map
terrain
G's terrain plot
waves
G's frequency data
G's Freeview Detailed Coverage
Friday, 7 January 2011

Gerry, here in North Devon I console myself with the fact that we have beautiful views...
You might have more listening joy with an external aerial for FM and ultimately also for DAB. You should be able to get most of what you want via satellite at 28°E (same location in the sky as SKY) - if you have a clear line of view. Broadband radio should be ok with below 1 Mb/s. I have between 0.5 and 0.9 Mb/s and its generally ok, but not good enough for iPlayer, youtube etc. If you suspect performance is not consistent with your download speed, you might wish to check with BT that you dont have a DACS telephone line (unbeknown to you, shared with another subscriber). You wouldnt notice it on the phone, but it would be broadband-unfriendly, Just a thought.

michael's 861 posts

Thanks Michael. I am about 4 miles from my telephone exchange, and that is why (according to BT) my download speed is slow. I don't have line of view to any transmitter as I am surrounded by hills, my nearest being either Redruth or I believe there is one at st.just.
I like the point you make about an external aerial, and in the Pure Elan's owners manual it does state poor reception can be significantly improved by this method. Only problem is, where do you plug the aerial in??? There are no external sockets on any of the DAB's so how can they say do this, when there is no socket???
I live in a conservation area, and aerials and satellites dishes are a very hot potato here.
Guess I am resigned to the fact that Radio and TV is very limited in this part of the world. My favourite local beach is a definate black spot, so unfortunately no test cricket in the summer there either!

Gerry's 3 posts
Gerry's:
map
G's Freeview map
terrain
G's terrain plot
waves
G's frequency data
G's Freeview Detailed Coverage
Saturday, 8 January 2011

Gerry, 4miles is certainly pushing it, so its probably the best you can get until they unroll fibre optic... Your speed should be good enough for internet-radio, either via the PC or a webradio. Try different modes and software on the PC. For DAB or FM I would certainly try a three-element rooftop aerial if you can be discrete, otherwise in the loft. A less visible single dipole might suffice. At the radio you can use a crocodile clip from the centre conductor of the coaxial cable from the aerial to the telescopic aerial and connect the shield to the outer part of any headphone or similar socket or the negative contact in the battery compartment. Always disconnect the aerial if there is thunder in the air! Good luck! The beach is for bathing, dreaming, surfing, reading :-)

michael's 861 posts
Monday, 10 January 2011

Thanks Michael... I will try that!

Gerry's 3 posts
Gerry's:
map
G's Freeview map
terrain
G's terrain plot
waves
G's frequency data
G's Freeview Detailed Coverage
Select more comments
Your comment please