ITV1+1 11 January 2011 (at last)

Brian Butterworth published on UK Free TV
It was first expect that ITV1+1 would come to Freeview during the 30 September 2009 Freeview retune, but this did not happen due to last minute rights issues.

When ITV plc, which runs the official channel 3 services in England and Wales, was created from the merger of two companies, Carlton and Granada, the Competition Commission imposed conditions, which are called the Contract Contracts Rights Renewal (CRR) remedy.

Almost all the other channels that have "+1" time shift channels are single national broadcasts. It is straightforward to create ITV2+1, for example. The output of the channel is fed into a "black box" that re-outputs the content an hour later, and used for a national broadcast.

As the streams for UTV+1, and STV+1 are now on satellite, we can be confident that the ITV+1 service will run throughout the UK.


Channel 4 plus one
It was a little more complicated for
Channel 4
. This commercial channel has no local or regional editorial content, but does have
six regions for advertising
:
London
, Southern England+Wales, Midlands, North England, Scotland, Northern
Ireland
.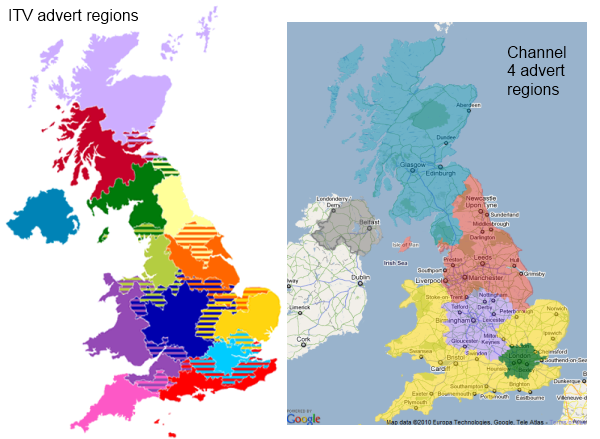 To create Channel 4+1, the corporation needed to use six "black box" devices, to ensure the correct advertisements are seen.
Channel 3 plus one
Back at channel 3, the ITV1 channel has many advert regions. STV, which runs the channel in Scotland, divides into four:
UTV operates only a single service in Northern Ireland (covering Belfast,
Londonderry
,
Ballycastle
,
Castlederg
). ITV plc has the following
advertising regions
:
TTTV Pontop Pike: Sunderland, Newcastle Upon Tyne, Gateshead, Berwick-upon-Tweed
TTTV Bilsdale: Whitby, Darlington, Hartlepool
Granada: Manchester, Liverpool, Blackpool, Lancaster
YTV Emley Moor: Bradford, Leeds, York, Doncaster
Wales: Cardiff, Swansea, Aberystwyth, Llandudno
WestCountry: Plymouth, Exeter, Torquay, Truro, Penzance
Central West: Birmingham, Stoke-on-Trent, Shrewsbury, Coventry
Central East: Nottingham, Leicester, Derby
Central South: Oxford, Swindon, Cheltenham, Gloucester
Anglia North: Kings Lynn, Norwich, Great Yarmouth
Anglia South: Ipswich, Felixstowe
Anglia West: Milton Keynes, Cambridge, Peterborough
London: Guildford, Woking, High Wycombe, Dartford
Meridian Kent: Canterbury, Dover, Folkestone
Meridian Sussex: Brighton, Eastbourne, Worthing
Meridian Thames Valley: Basingstoke, Andover
This requires, for each
region
, a separate "black box". These "black box" devices must feed the hour-delay
signal
back into
Multiplex
2 (also known as multiplex PSB2) as only this multiplex has the correct regions.

ITV1+1 on screen graphic.
Latest ITV multiplex allocations
The slot on PSB2 currently used for the ITV2+1 will be used for ITV1+1. ITV2+1 will move to the slot on multiplex A (aka COM4 or SDN) currently used for the "ITV Preview". As this slot timeshares with the
CITV
children's channel, ITV2+1 will only operate during peak hours.

Public service transmitters
As the public service transmitters carry only the PSB1, PSB2 and PSB3 (HD) multiplexes, this means that ITV1+1 will be carried to all UK homes, and ITV2+1 will only be available to those with the full Freeview service.
Free to air satellite
Freesat
users will see ITV1+1 (or STV+1 or UTV+1) on channel number 112. For ITV1+1
fSfS
and Sky use channel number 131, ITV2+1 moves to 179.
On satellite
transponder
53 (10.891 H) has UTV+1, ITV1 Central West+1, ITV1 London+1; transponder 54 (10.906 V) has STV West+1, ITV Granada+1, ITV 1 Merdian South+1.
Channel 5 plus one?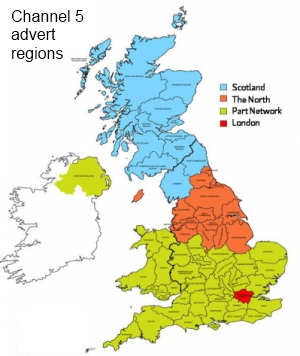 So, what of FIVE+1? The channel has
four advert regions
: Scotland, Northern England, London and "
Network
". However, there is no space on multiplex 2 (PSB2) for such a channel, and no other multiplex has the correct divisions.
Contact information
Any further questions, please contact ITV on 0844 881 4150.
On Virgin Media ITV1+1 is 114.
Comments
Sunday, 9 January 2011

Josh: No, HD simulcast channels just split the available viewing audience between the SD and HD channel.

+1 channels tend to add a percentage of the original viewers to the main channel.

Also, there needs to be an HD source for the material on the channel, and somewhere to broadcast it.

Briantist's 38,908 posts
Tuesday, 11 January 2011

Briantist: ITV1+1 is on Freesat channel 112 and launches at 8pm tonight.

NottsUK's 345 posts

NottsUK: Thanks for the channel number. You don't happen to know the Sky channel number?

Briantist's 38,908 posts

131

Sam's 9 posts

Thanks, and it's 114 on Virgin and 33 on Freeview.

Briantist's 38,908 posts

I note that the STV page STV+1 Q&A sheet | TV: Latest News | STV Entertainment says that STV+1 won't be on Sky or Freesat...

Briantist's 38,908 posts

LCN's 33 and 27 are displaying banners on the Divis transmitter that UTV+1 will be available after a 2pm retune.

Sam's 9 posts

Sam: Yes, I'm getting the same message from Whitehawk Hill on 33
"ITV2+1 has moved
From 2pm today please retuen your Freeview TV
or box using your remote control to restore ITV2+1
Go to www.itv.com/itv1+1
or call 0844 881 4150 to find out how."


Briantist's 38,908 posts

Hi Brian

I am at CO6 4SE and you commented on my loss of Mux 2 before. I cannot find your comment now but you mentioned that i should wait until 24 January for something...??? A boost to the signal on the Sudbury transmitter?

I very occasionally can get Mux 2 channels (weather dependent) but 99% of the time now they do not appear on Listings at all.

Mark's 3 posts
Mark's:
map
M's Freeview map
terrain
M's terrain plot
waves
M's frequency data
M's Freeview Detailed Coverage
P
Paul Day
2:12 PM
Scunthorpe

Just did a retune and got ITV2+1 at LCN27 and ITV1+1 at LCN33. Both have on-screen captions, and display the correct channel names.

Paul Day's 21 posts
Paul's:
map
P's Freeview map
terrain
P's terrain plot
waves
P's frequency data
P's Freeview Detailed Coverage
Select more comments
Your comment please