BBC DAB for M5 Bromsgrove to Stroud, and Haslingden

Brian Butterworth published on UK Free TV
The transmitter at St Mary's Well in Malvern sorts out coverage in Great Malvern, as well as enhancing coverage through Worcester and Droitwich into Bromsgrove. Going south, it reinforces coverage in Tewkesbury and Cheltenham and even gives a bit of a boost to reception in Gloucester. It adds a further 17,000 to the network and improves coverage for 750,000 more

Meanwhile, the transmitter at Haslingden brings coverage to a further 31,000 people between Bury and Blackburn. It reinforces coverage in the western side of Bury and brings coverage to Rawtenstall and Bacup, as well as along the A56. In total, it improves coverage for 450,000 people.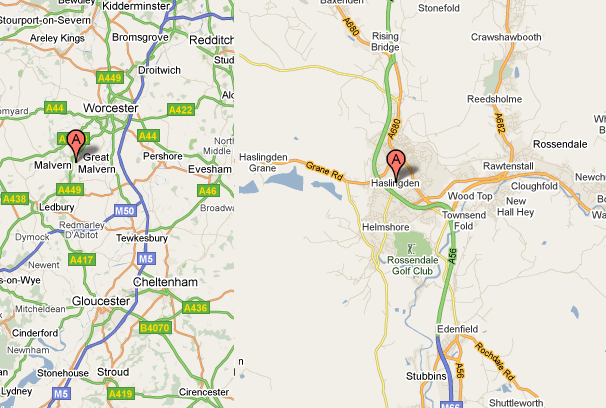 Comments
Monday, 7 February 2011

Excellent news!! This wouldn't have anything to do with any planned commercial launches (for BBC local radio) would it?? Or is it just the BBC national ensemble??

What I had in mind was this:






If the BBC have a planned launch, and site in mind, and there's a commercial operator with the same site and plans, it'd make sense to enable both on the same date, surely?? (PE68EJ)

Richard's 20 posts
Tuesday, 8 February 2011

Richard: The BBC is forbidden, by primary legislation, from operating local radio multiplexes.

Whilst the BBC and Muxco use Arqiva to do their installations, no cross-subsidy is allowed.

Briantist's 38,899 posts

Typo - should be M5 and not M4.
Thanks for the story

RogerH's 7 posts

RogerH: Yes, sorry. Corrected.

Briantist's 38,899 posts
Wednesday, 9 February 2011

DAB 5KW Transmitter from Malvern. This is a first for this site as Malvern did not previously transmit any DAB. Yes MUXCO say they will transmit their regional DAB multiplex from here. This should carry the BBC local stations for Hereford & Worcester also BBC Radio Gloucestershire.
MUXCO have gone very quiet since last year and have not updated their web site for a very long time. Their early 2011 launch date is slipping away.

Eric S's 33 posts
Saturday, 19 March 2011

With all this talk about national BBC radio comming from the Malvern transmitter, what about national commercial radio like Absolute Radio, absolute 80s and classic rock? Will they be on Malvern aswell. Please dont put Wyvern on there. That station is bad enough on FM with the same 10 songs played all day every day.

andy's 4 posts
Monday, 21 March 2011

andy: These services are provided by Digital One, it is their responsibility to extend their network as they see fit.

Briantist's 38,899 posts
Wednesday, 23 March 2011

thanks for the info briantist.i wish they would hurry up and do it because the bromsgrove transmitter has a terrible signal comming into worcester if you are mobile.

andy's 4 posts
Wednesday, 30 March 2011

andy: I'm sure they will at some point.

Briantist's 38,899 posts
Your comment please