Upgrading from Sky+HD to Freesat+HD

Brian Butterworth published on UK Free TV
You might get a glossy magazine every month, but what do Sky really think of your custom?

"Give me a f**king name on a direct debit and it's mine for life,"
- Sam Chisholm, former boss of BSkyB.

Perhaps you responded to an offer like the one blow that promised a gratis Sky+HD box (for new customers taking their first Sky+HD package) with free standard set-up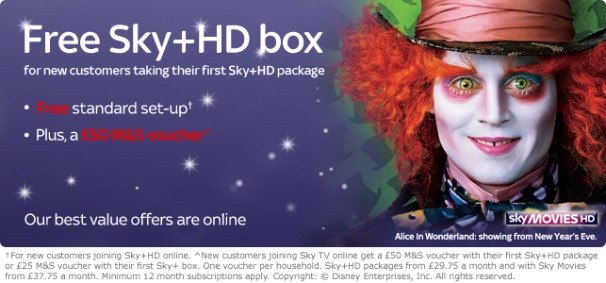 But you were so excited with the thought of a £50 M&S voucher that you didn't think to follow each of the little daggers and little stars to quite read all the terms and conditions:




So, your twelve months of commitment are over and, for reasons of budget (or politics) you have decided you want to keep all the features of Sky+ - live pause, high definition, extended electronic programme guide, series record, and recording two programmes at once whilst you watch another - but don't want to fork out every month on top of your TV Licence - and you still get hundreds of free TV channels

Here's what you can do.

First you need to buy a Freesat+HD box. There are many on the market, and can be bought from Argos, Currys DIGITAL, John Lewis, Comet and online at Amazon, as well as other stores.

When you use a Freesat+HD box NO SUBSCRIPTION HAS TO BE PAID. NONE. NOT A PENNY TO ANYONE.


Installing
This will take no more than ten minutes. First you will need to disconnect the Sky+HD box
mains
from the wall socket.
Then you will need to disconnect the cables from the back of the Sky+HD box.
Pull out the mains
power
connection (1), carefully unscrew the
satellite
dish
links (2) and (3), and then take out the HDMI lead (4) to your HDTV. If you have an "
surround sound
"
amplifier
, you may also have a
digital
audio connection (5).
Remove the Sky+HD box and put the Freesat+HD box back in the same position.
Then reconnect the cables: the mains power
cable
(1) - but not to the wall just yet, screw the two satellite dish links (2) and (3) and connect the HDMI cable (4) to your HDTV. If you had one, reconnect the digital audio connection (5).
If you have an Ethernet router, you can connect it to the Freesat+HD box at this point (5).
With everything in place, turn on the mains power and power up the Freesat+HD box.
The TV screen first displays the box's logo
The first set-up screen allows you to select the TV type, widescreen
mode
and resolution:
Next the box checks for the satellite
signal
:
Then there is a check for updated software:
Then you enter your postcode and the box checks it:
The next step is a
scan
for
channels
. This takes about 30 seconds:
And that's it. You can now view
channels
, like 108 for
BBC HD
:
Or press the GUIDE button for the EPG:
And that's it.
Comments
Thursday, 17 January 2013

Thank you again. TV people have installed the new freesat+ recorder and also left the sky box in place so that I can push the signal (only) to the other rooms. Othersets have freeview on one set and indep sat box on kitchen tv. will have to get new tv for kitchen eventually. thank you again.

Anne's 5 posts

Anne: Thanks for the update and I'm pleased to hear that your new Humax box has been installed OK, albeit though with the standard method of installation having been used whereby it can only be viewed in your main room, but as far as my query on the LNB type used on your dish is concerned, if the Sky box is also operational in exactly the same way as before then that answers the question, as it must have!

However, should you decide in the future that you would like to have the choice of either Sky, Freesat or Freeview in all your rooms fed via the single coax from the Spider box in the loft then the method I suggested is the only way that this can be easily achieved with the minimum of expense, and as aforementioned, if the magic eye facility is also to be retained then this is the only aspect of set up that adds a complication to an otherwise easy task, as this requires certain measures to be taken so as NOT to kill off the 9 volts DC voltage from the Sky boxes RF2 output, as this is the power source for the magic eyes internal circuitry.

jb38's 7,179 posts
Friday, 18 January 2013

Anne: I cant tell you how confused i am with all this and basically disappointed with the connections made by Hughes TV. In the main living room the Humax sits alongside the sky box and the sky box is on standby (off red light) and is, I am informed, no longer operational. In the Kitchen, I have a small sat freeview receiver, for that tv but that only works if the Humax box is on and sending out signal although Humax freesat not avail on that tv. In Bedroom, same situation, set has freeview built in, but if the freesat humax box not on, there is no signal. Othere tv in other bedroom there is no signal whatsoever whereas we did get sky. Is this a 'mess up' by Hughes not knowing what they are doing. I am 66 and my husband 72 and we havnt a clue. I have two days to complain to Hughes and reject the set if I wish. Is there a tv/aerial expert in the Hopton on sea area please. Anne

Anne's 5 posts
Tuesday, 29 January 2013

Thank you again for all your help we now have all this sorted following a third visit from TV people. The sky dish has two cable connections, which now go to the Humax 1000s box. We have left the sky box in position so that acts as a modulator only to send a signal to all the other rooms. Bedroom set has freeview works fine, kitchen set has freeview receiver alongside, other bedroom sets have nothing so tv's are redundant without a receiver, but the signal is there just need to get new sets! Have been told its possible to have additional feed from the sky dish by replacing the central bit, and still watch Sky on all sets (but not with Sky plus as only one extra cable feed) but feel the prohibitive cost of another £100 is probably not worth it as can buy a new small set for that. I hope Humax will eventually develop a box like the sky+ unit with Humax+ so that it feeds other sets in the same way, now that would really set the cat amongst the pidgeons. Thank you again. Anne

Anne's 5 posts
Wednesday, 27 February 2013

I have a Sky+ box, (not HD) and I am about to cancel the contract/subscription.
Will I only be able to still get BBC1, BBC2, ITV, Channel 4 and Channel 5 ? or will I get other available freesat channels ? and will I be able to record any of them with my Sky+ box once I've stopped subscribing? Thanx.

Bill's 2 posts

Bill: If you remove the card that will reveal all the channels that you will be able to view once you cancel the contract, which I may say might not be that much less than you presently do unless your viewing habits are centred exclusively around package channels.

However the recording and playback side of your box will become inoperable when you cancel the contract unless you are will to pay a monthly subscription of around £10.00 to Sky, as Sky retains control (on a permanent basis) to the access codes necessary to enable the recording / playback side of box to operate.

jb38's 7,179 posts

Thanx very much for that info jb38.
Ah well, looks like I'll have to buy a Humax Freesat box then. I like the option of pausing and re-winding live TV, recording two programmes at a time whilst watching a pre-recorded one, series link and an EPG. Any suggestions?

Bill's 2 posts

Bill: Best policy! although speaking from the engineering point of view I would always recommend paying that bit extra for a Humax box whether it be for Freeview or Freesat (latter in your case) as although a fault can develop in any electronic device Humax's are by far the best for reliability.

Undermentioned is a link to the manufacturers site illustrating some particularly good buys at reduced prices under the heading of "Grade A", the Foxsat HDR seen at the top being the one I have been using myself for just over two years and with a virtually faultless performance, the only minor problem being with the remote control locking up every few months, this instantly rectified by taking one end of the battery out and pressing any button to discharge the circuitry.

By the way, the items seen on the link are frequently updated and so its best to search about within the various sections listed on the left hand side.

Humax FOXSATHDR-G Freesat twin tuner 320GB PVR (Grade A) - HUMAX UK Direct Sales Website

jb38's 7,179 posts
Friday, 8 March 2013

Hi can you do this if you have free view built into television?

Clare's 1 post
Saturday, 9 March 2013

Clare - Yes.

You have to think of receiving TV as requiring two different things

1) A TUNER that will receive terrestial or satellite trnasmissions and then select the one you want to watch. Or these days, will receive a TV signal from the interwebby thingy.

2) A MONITOR to display a TV picture. That can come from a Tuner, or a recording - VCR/DVD/Blueray/PVR. Or a Camera

What we call a TV classically combined an analogue tuner with a monitor. More modern TVs almaost all have a Digital Terrestial "Freeview" tuner built in.

So with your TV remote you can choose to watch yout TV's tuner on your TVs monitor.

OR you can watch something input througa na AV(SCART) input, or a modern HDMI. For example a Freesat Tuner Box. Or a Freeview HD box.

Steve P's 1,173 posts
Select more comments
Your comment please