Upgrading from Sky+HD to Freesat+HD

Brian Butterworth published on UK Free TV
You might get a glossy magazine every month, but what do Sky really think of your custom?

"Give me a f**king name on a direct debit and it's mine for life,"
- Sam Chisholm, former boss of BSkyB.

Perhaps you responded to an offer like the one blow that promised a gratis Sky+HD box (for new customers taking their first Sky+HD package) with free standard set-up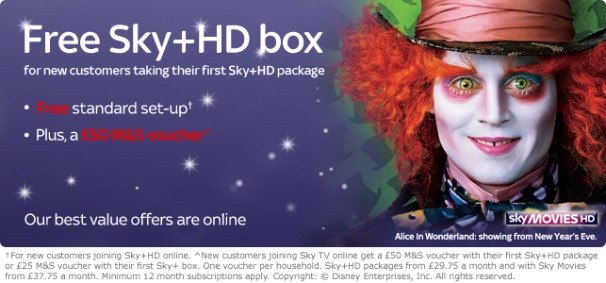 But you were so excited with the thought of a £50 M&S voucher that you didn't think to follow each of the little daggers and little stars to quite read all the terms and conditions:




So, your twelve months of commitment are over and, for reasons of budget (or politics) you have decided you want to keep all the features of Sky+ - live pause, high definition, extended electronic programme guide, series record, and recording two programmes at once whilst you watch another - but don't want to fork out every month on top of your TV Licence - and you still get hundreds of free TV channels

Here's what you can do.

First you need to buy a Freesat+HD box. There are many on the market, and can be bought from Argos, Currys DIGITAL, John Lewis, Comet and online at Amazon, as well as other stores.

When you use a Freesat+HD box NO SUBSCRIPTION HAS TO BE PAID. NONE. NOT A PENNY TO ANYONE.


Installing
This will take no more than ten minutes. First you will need to disconnect the Sky+HD box
mains
from the wall socket.
Then you will need to disconnect the cables from the back of the Sky+HD box.
Pull out the mains
power
connection (1), carefully unscrew the
satellite
dish
links (2) and (3), and then take out the HDMI lead (4) to your HDTV. If you have an "
surround sound
"
amplifier
, you may also have a
digital
audio connection (5).
Remove the Sky+HD box and put the Freesat+HD box back in the same position.
Then reconnect the cables: the mains power
cable
(1) - but not to the wall just yet, screw the two satellite dish links (2) and (3) and connect the HDMI cable (4) to your HDTV. If you had one, reconnect the digital audio connection (5).
If you have an Ethernet router, you can connect it to the Freesat+HD box at this point (5).
With everything in place, turn on the mains power and power up the Freesat+HD box.
The TV screen first displays the box's logo
The first set-up screen allows you to select the TV type, widescreen
mode
and resolution:
Next the box checks for the satellite
signal
:
Then there is a check for updated software:
Then you enter your postcode and the box checks it:
The next step is a
scan
for
channels
. This takes about 30 seconds:
And that's it. You can now view
channels
, like 108 for
BBC HD
:
Or press the GUIDE button for the EPG:
And that's it.
Comments
Thursday, 10 March 2011

My point was only that one box can sit where the other does currently without too much palava. What an individual expects from that box of course impinges on what they think of the respective services.

DAS TV's 2 posts

DAS TV: Yes, the point of this page was to answer the "what happens when I stop subscribing to Sky+/Sky+HD" question that comes up every five minutes.

Briantist's 38,907 posts
Friday, 11 March 2011

As my user name implies,I am technically illiterate so please bear with me if my query seems banal.
Why do I need to enter my postcode at stage 3 ? Also why can non Sky users only get 3 HD channels with ITV 2,3 & 4 HD only available through the purchase of a complete Sky HD package ? What is the TV license for if it only covers limited HD output ?

technophobe's 6 posts
Saturday, 12 March 2011

Briantist: What Freeview+box woud you recommend for a budget of £150-200. What are you currently using?

Rodlv's 5 posts
Rodlv's:
map
R's Freeview map
terrain
R's terrain plot
waves
R's frequency data
R's Freeview Detailed Coverage
Tuesday, 15 March 2011

Rodlv: As I have not the facilities to test all equipment, I do not feel able to make recommendations based on facts.

For personal use, I have Windows 7 Media Centre with a Hauupauge Nova-DT Dual DVB-T Tuner, but that is for use with an existing PC.

Briantist's 38,907 posts

technophobe: You need to enter a postcode to get the correct BBC and ITV regions.

ITV2,3 and 4 HD are exclusive to Sky as Sky have paid ITV to do this.

The TV Licence pays for the BBC only and you can get all BBC services for free on all platforms.

Briantist's 38,907 posts
Wednesday, 16 March 2011

with a mobile sat dish I locate Astra2 satellite
if I use my existing Sky dish do I need to realign to get different channels? Also I have seen cards advertised to used in Sky+ box to receive freesat, do these work and are they legal?

Ted Bellamy's 1 post
Thursday, 17 March 2011
Les Nicol
8:54 AM
Edinburgh

Ted Bellamy - SKY are in the business of subscription TV. However if you are not a subscriber you can obtain for a one off payment around £25 a FSFS (free sat from sky card) - If you wish to make use of the record play pause facility on your SKY Plus receiver you will have to subscribe to a monthly package to have this feature enabled. Alternatively you could consider buying your own "Freesat" receiver - the service supported by the BBC and ITV. Scroll up to the page header and click on the "Freesat" tab for options.
Whilst you can make use 0f your SKY dish to
re-align to other satellites it's design and size isn't the the best for this purpose and you would require an FTA (Free to Air receiver) to pick up European channel services.


Les Nicol's 991 posts
Les's:
map
L's Freeview map
terrain
L's terrain plot
waves
L's frequency data
L's Freeview Detailed Coverage
Friday, 18 March 2011

I have a Sky Sports subscription and a flat screen digital TV downstairs with a Sky HD Box.

Upstairs I have a analogue TV with a Magic eye connection (To allow me to watch same Sky TV as on Downstairs TV) connected to RF IN socket of my Video recorder to TV aerial with scart connections to the TV and a DVD Player to a multi Scart swocket Lead.

On changeover to digital I am contemplating The purchase of either a new Freeview TV, a new Freeview PVR or new Freesat HD Box.

Which of the above is the best alternative to be able to connect the Magic eye to continue to receive Sky progames on my upstairs TV and do all the alternatives have a RF In socket to allow this.

ernieg's 1 post
Sunday, 27 March 2011

Briantist. I was under the impression that the Humax Foxsat HDR which is a Freesat+ box WILL NOT record from the buffer? However I think a Sky+ box will record form the buffer. A critical difference don't you think so. Nigel asked this earlier. It was not clearly answered? I must say though I am a huge fan of the Foxsat. Thanks.

Mr S M Davies's 32 posts
Select more comments
Your comment please