Upgrading from Sky+HD to Freesat+HD

Brian Butterworth published on UK Free TV
You might get a glossy magazine every month, but what do Sky really think of your custom?

"Give me a f**king name on a direct debit and it's mine for life,"
- Sam Chisholm, former boss of BSkyB.

Perhaps you responded to an offer like the one blow that promised a gratis Sky+HD box (for new customers taking their first Sky+HD package) with free standard set-up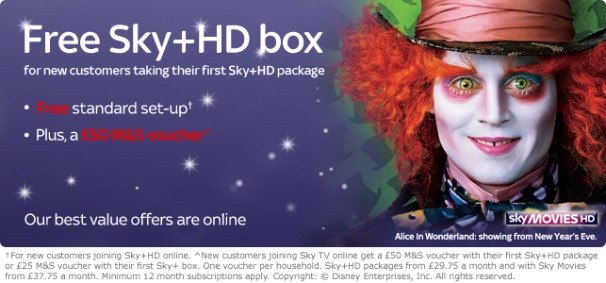 But you were so excited with the thought of a £50 M&S voucher that you didn't think to follow each of the little daggers and little stars to quite read all the terms and conditions:




So, your twelve months of commitment are over and, for reasons of budget (or politics) you have decided you want to keep all the features of Sky+ - live pause, high definition, extended electronic programme guide, series record, and recording two programmes at once whilst you watch another - but don't want to fork out every month on top of your TV Licence - and you still get hundreds of free TV channels

Here's what you can do.

First you need to buy a Freesat+HD box. There are many on the market, and can be bought from Argos, Currys DIGITAL, John Lewis, Comet and online at Amazon, as well as other stores.

When you use a Freesat+HD box NO SUBSCRIPTION HAS TO BE PAID. NONE. NOT A PENNY TO ANYONE.


Installing
This will take no more than ten minutes. First you will need to disconnect the Sky+HD box
mains
from the wall socket.
Then you will need to disconnect the cables from the back of the Sky+HD box.
Pull out the mains
power
connection (1), carefully unscrew the
satellite
dish
links (2) and (3), and then take out the HDMI lead (4) to your HDTV. If you have an "
surround sound
"
amplifier
, you may also have a
digital
audio connection (5).
Remove the Sky+HD box and put the Freesat+HD box back in the same position.
Then reconnect the cables: the mains power
cable
(1) - but not to the wall just yet, screw the two satellite dish links (2) and (3) and connect the HDMI cable (4) to your HDTV. If you had one, reconnect the digital audio connection (5).
If you have an Ethernet router, you can connect it to the Freesat+HD box at this point (5).
With everything in place, turn on the mains power and power up the Freesat+HD box.
The TV screen first displays the box's logo
The first set-up screen allows you to select the TV type, widescreen
mode
and resolution:
Next the box checks for the satellite
signal
:
Then there is a check for updated software:
Then you enter your postcode and the box checks it:
The next step is a
scan
for
channels
. This takes about 30 seconds:
And that's it. You can now view
channels
, like 108 for
BBC HD
:
Or press the GUIDE button for the EPG:
And that's it.
Comments
Monday, 28 March 2011

Hi ernieg.

If you buy a device called a Triax Tri link you can buy any freesat/freeview box & even a blu ray player & have full magic eye functions.

Mark Aberfan Aerials

Mark Aberfan Aerials's 1,059 posts
M
Mike Dimmick
7:08 PM
Reading

Mr S M Davies: I don't have a Freesat box, but I do have a Humax PVR-9200T Freeview+ recorder. If you pause a programme, then later hit record, it will record from the point in the programme that you paused it, which I think is what you mean by 'will record from the buffer'. If you want to keep the whole programme I seem to recall you have to rewind to the beginning, but it's been a while since I've tried it.

The Foxsat-HDR manual does not say that this is possible, but it does not say that it is not. The PVR-9200T manual says that it starts recording from the time you press record, rather than the time on the bar, but this is definitely no longer true!

Mike Dimmick's 2,486 posts
Mike's:
map
M's Freeview map
terrain
M's terrain plot
waves
M's frequency data
M's Freeview Detailed Coverage

Mr S M Davies- Further to Mike's post, when the user changes channel, it starts recording without you asking it to do so.

You can rewind up to the point of you changing the channel over and the machine will then go into 'play mode'. This is my understanding of recording onto the 'buffer'.

In the manual, it states you can only record one channel and not watch another, if you only have one dish input. I have only one connection and the box will allow the user to watch another channel as long as it is in the same group(transponder). The recording onto the buffer works even if you are recording one channel and change onto another in the same grouping.

I admit I am not aware of how long it will record to the buffer, but I left the channel on for 20 minutes and the box allowed me to rewind to the point of me changing channel. I assume it would record until you changed channel again.

Hope this helps.

LutonFan's 382 posts

S.M.Davies - Mike Dimmick> The Foxsat HDR functions as the Freeview 9200T. I've not used this before but carried out this function in recording and pausing tonights episode of "Waking the Dead" with Trevor Eve and Sue Johnstone. It confirms this capability

Les Nicol's 991 posts
Tuesday, 29 March 2011

P>S To add to my post I have checked out a Technisat "Freesat" single tuner PVR receiver and this manages this as well As an aside this receiver makes an ideal choice if your resident either as an owner or tenant in a flat where there is a communal dish but only single feeds and outlet boxes can be connected to

Les Nicol's 991 posts
Wednesday, 30 March 2011

Right lads.
I am comparing the Foxsat HDR box with a Sky+HD box. As I said previously a Foxsat will not record from the buffer as a Sky+ box will.
I am fully aware that if you do not change channels on the Foxsat it holds onto the buffer so you can pause and rewind live tv. But say you start watching a show from the start and 15mins in you want to record the whole show from the start on to DISC you cannot on a Foxsat.
This is what I call recording the buffer.
If you just rewind to the start of the show and press record a warning pops up to tell you that Live tv will resume.
A critical difference I think to a Sky+ box which does handle this situation.

Mr S M Davies's 32 posts
Friday, 1 April 2011

In response to the first question asked, if you're looking for a cheaper option, there is a fantastic freesat HD box that costs a little over £100. The 'Technisat HDFS' Freesat tuner can pause live tv (timeshift) and it can also record programs (but only at one time) as it has a single LNB input. Currently £119 plus free delivery, I chose it as a cheaper alternative. All you need is a USB memory stick (approx 16GB) if you want say a few recordings and to pause live tv.

I have chosen this option and my second LNB input is currently redundant for the time being. I'm just waiting for the prices to drop for a decent PVR. Manhattan are releasing a great Freesat HD+ PVR this summer with additional online content besides BBC iPlayer and ITV player. Should be retailing at £179.

Lee's 2 posts

Mr S M Davies: I suggest you send a suggestion to Humax! They've generally been willing to enhance their equipment in the past - as I said, the PVR-9200T didn't originally record from the buffer. Freeview didn't even have Series Link features when I bought the box in 2006 (I think it was), and the PVR-9200T has been upgraded to complete Freeview+ support.

Do check you already have the latest firmware -
Welcome to HUMAX [UK]
- though I don't see any reference to this in the release notes. The box should have auto-updated to this version already as it's been broadcast repeatedly on the engineering channel, although some boxes have to be in standby to auto-update. (RG47SH)

Mike Dimmick's 2,486 posts
Wednesday, 13 April 2011

Can someone please help. A communal dish and aerial has recently been installed in a block of flats I live in. The box fixed on the skirting board has 2 points for Sky/satellite, 1 for normal aerial, and one for radio. This box has been placed near my TV in the living room. Is there a splitter I could buy so that I can have Sky/Satellite connection for my TV in my bedroom which is directly below the living room. I plan to run a cable through the window then into my bedroom. Is there a better of doing this?

I look forward to some help. Thanks

Rodlv's 5 posts
Rodlv's:
map
R's Freeview map
terrain
R's terrain plot
waves
R's frequency data
R's Freeview Detailed Coverage

P.S.

This is my last week of Sky TV. I am trying to decide which one to choose, Freesat or Freeview. Please help.

Rodlv's 5 posts
Rodlv's:
map
R's Freeview map
terrain
R's terrain plot
waves
R's frequency data
R's Freeview Detailed Coverage
Select more comments
Your comment please