Upgrading from Sky+HD to Freesat+HD

Brian Butterworth published on UK Free TV
You might get a glossy magazine every month, but what do Sky really think of your custom?

"Give me a f**king name on a direct debit and it's mine for life,"
- Sam Chisholm, former boss of BSkyB.

Perhaps you responded to an offer like the one blow that promised a gratis Sky+HD box (for new customers taking their first Sky+HD package) with free standard set-up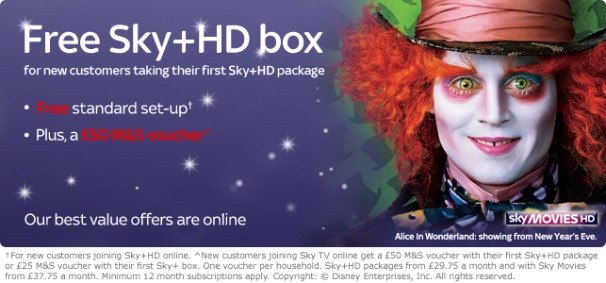 But you were so excited with the thought of a £50 M&S voucher that you didn't think to follow each of the little daggers and little stars to quite read all the terms and conditions:




So, your twelve months of commitment are over and, for reasons of budget (or politics) you have decided you want to keep all the features of Sky+ - live pause, high definition, extended electronic programme guide, series record, and recording two programmes at once whilst you watch another - but don't want to fork out every month on top of your TV Licence - and you still get hundreds of free TV channels

Here's what you can do.

First you need to buy a Freesat+HD box. There are many on the market, and can be bought from Argos, Currys DIGITAL, John Lewis, Comet and online at Amazon, as well as other stores.

When you use a Freesat+HD box NO SUBSCRIPTION HAS TO BE PAID. NONE. NOT A PENNY TO ANYONE.


Installing
This will take no more than ten minutes. First you will need to disconnect the Sky+HD box
mains
from the wall socket.
Then you will need to disconnect the cables from the back of the Sky+HD box.
Pull out the mains
power
connection (1), carefully unscrew the
satellite
dish
links (2) and (3), and then take out the HDMI lead (4) to your HDTV. If you have an "
surround sound
"
amplifier
, you may also have a
digital
audio connection (5).
Remove the Sky+HD box and put the Freesat+HD box back in the same position.
Then reconnect the cables: the mains power
cable
(1) - but not to the wall just yet, screw the two satellite dish links (2) and (3) and connect the HDMI cable (4) to your HDTV. If you had one, reconnect the digital audio connection (5).
If you have an Ethernet router, you can connect it to the Freesat+HD box at this point (5).
With everything in place, turn on the mains power and power up the Freesat+HD box.
The TV screen first displays
the box
's logo
The first set-up screen allows you to select the TV type, widescreen
mode
and resolution:
Next the box checks for the satellite
signal
:
Then there is a check for updated software:
Then you enter your postcode and the box checks it:
The next step is a
scan
for
channels
. This takes about 30 seconds:
And that's it. You can now view
channels
, like 108 for
BBC HD
:
Or press the GUIDE button for the EPG:
And that's it.
Comments
Wednesday, 13 April 2011
L
linleyw
10:13 AM
Ross-on-wye

Hi, firstly thanks for providing this resource.

I've decided to drop Sky+ in favour of a Humax HDR Fox T2 (tell me if i shouldn't, but calculate it will pay for itself within 6 months, bearing in mind I'm paying for a second Sky box (£15 monthly) for an upper floor.

My main questions are : I have existing sky dish cabling to ground floor, first floor and second floor. Do I therefore need a freeview box for each floor ? (I do not wish to use an eye transmitter or run additional cabling). If I choose, say, an HD+ box for the ground floor (2 incoming sky cables), presumably I buy a basic freeview box for each other required floor (one existing sky cable to each). Will this setup allow each of the three freeview boxes to watch different channels at the same time, bearing in mind the cables all terminate at one dish.

Thanks for your kind help

LW

linleyw's 3 posts
linleyw's:
map
L's Freeview map
terrain
L's terrain plot
waves
L's frequency data
L's Freeview Detailed Coverage

linleyw: You must use FreeSAT boxes with satellite connections, FreeVIEW only works with a television aerial.

Briantist's 38,899 posts
L
linleyw
11:22 AM
Ross-on-wye

Brilliant - thanks for such a fast response. Otherwise, will 3 boxes show different channels if attached to one dish (by independent cabling to each box) ?

linleyw's 3 posts
linleyw's:
map
L's Freeview map
terrain
L's terrain plot
waves
L's frequency data
L's Freeview Detailed Coverage

linleyw: Yes, that is correct. Each box has to connect to a separate LNB output, allowing any channel to be watched.

If you had Sky+ you will have had a "quad LNB" on the dish, with four outputs.

Briantist's 38,899 posts

linleyw: As long as you have independent cabling running all the way from separate outputs on the LNB to each Freesat box, then yes, you can select any channel you like on any box.

Mike Dimmick's 2,486 posts

Rodlv: If you split a satellite dish cable you can get strange results when both boxes are on, or if one is recording (if a Sky+ or Freesat+ box). It usually means a limited range of channels on one or other box, or both. This is because the box signals the mode it needs for the selected channel back to the dish. (In a communal system, back to the multiswitch.) Those mode signals can clash either causing the wrong mode to be selected, or one box to override the other.

You only need to connect two feeds to one satellite box if you plan to record programmes, either recording two programmes at once, or recording one programme and watching another live programme. If you don't want to do that, you could connect one of the two feeds to the box in the bedroom. (Some boxes may be able to record two programmes at once, or watch one channel and record another, from a single feed, as long as the channels use compatible modes.)

Some satellite receivers also have an 'LNB 1 OUT' socket for connecting another receiver. When the first receiver is in standby, it passes the mode selection signals from the second receiver back to the dish. When it's on (and possibly when recording), the second receiver's mode-select signals are filtered out and you can only watch channels using the same mode as the first receiver.

You can feed as many Freeview boxes as you like from one aerial point, as there is no mode-selection signal fed back from the box to the aerial. You may have to add a small amount of amplification to offset the loss through the splitter.

The line-up on Freeview and Freesat, and on Sky's free service, is a bit different. See All free-to-watch channels | ukfree.tv - independent free digital TV advice for a comparison of what's where.

You can keep your existing Sky boxes and go onto their free service, which has more channels than Freesat. You might need to ask Sky for a viewing card for the multi-room box (costs £25). The recording and time-shift features of the Sky+ box will be disabled, including playback of existing recorded content.

Mike Dimmick's 2,486 posts
Thursday, 14 April 2011
L
linleyw
6:38 AM
Ross-on-wye

Thanks Gents, that's me sorted

Once again, thanks for sharing your time and knowledge

best wishes

linleyw's 3 posts
linleyw's:
map
L's Freeview map
terrain
L's terrain plot
waves
L's frequency data
L's Freeview Detailed Coverage
Friday, 15 April 2011

Will my sky dish work with freesat.

newton's 1 post

newton: yes, as per the article.

Briantist's 38,899 posts
Saturday, 16 April 2011

MikeDimmick: thank you so much your help, Mike. This makes me aware now that it's not good to use a splitter on satellite dish cable due to effects you mentioned. Does this mean then that I need to get a separate output from the multiswitch or LNB.

Thanks again.

Rodlv's 5 posts
Rodlv's:
map
R's Freeview map
terrain
R's terrain plot
waves
R's frequency data
R's Freeview Detailed Coverage
Select more comments
Your comment please