Upgrading from Sky+HD to Freesat+HD

Brian Butterworth published on UK Free TV
You might get a glossy magazine every month, but what do Sky really think of your custom?

"Give me a f**king name on a direct debit and it's mine for life,"
- Sam Chisholm, former boss of BSkyB.

Perhaps you responded to an offer like the one blow that promised a gratis Sky+HD box (for new customers taking their first Sky+HD package) with free standard set-up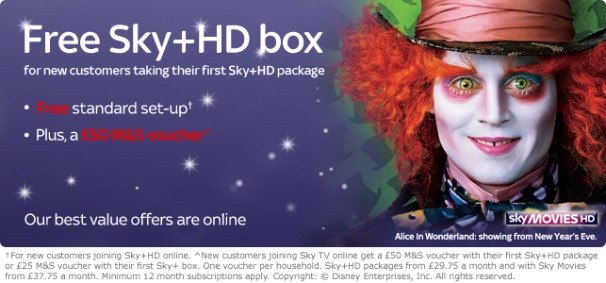 But you were so excited with the thought of a £50 M&S voucher that you didn't think to follow each of the little daggers and little stars to quite read all the terms and conditions:




So, your twelve months of commitment are over and, for reasons of budget (or politics) you have decided you want to keep all the features of Sky+ - live pause, high definition, extended electronic programme guide, series record, and recording two programmes at once whilst you watch another - but don't want to fork out every month on top of your TV Licence - and you still get hundreds of free TV channels

Here's what you can do.

First you need to buy a Freesat+HD box. There are many on the market, and can be bought from Argos, Currys DIGITAL, John Lewis, Comet and online at Amazon, as well as other stores.

When you use a Freesat+HD box NO SUBSCRIPTION HAS TO BE PAID. NONE. NOT A PENNY TO ANYONE.


Installing
This will take no more than ten minutes. First you will need to disconnect the Sky+HD box
mains
from the wall socket.
Then you will need to disconnect the cables from the back of the Sky+HD box.
Pull out the mains
power
connection (1), carefully unscrew the
satellite
dish
links (2) and (3), and then take out the HDMI lead (4) to your HDTV. If you have an "
surround sound
"
amplifier
, you may also have a
digital
audio connection (5).
Remove the Sky+HD box and put the Freesat+HD box back in the same position.
Then reconnect the cables: the mains power
cable
(1) - but not to the wall just yet, screw the two satellite dish links (2) and (3) and connect the HDMI cable (4) to your HDTV. If you had one, reconnect the digital audio connection (5).
If you have an Ethernet router, you can connect it to the Freesat+HD box at this point (5).
With everything in place, turn on the mains power and power up the Freesat+HD box.
The TV screen first displays
the box
's logo
The first set-up screen allows you to select the TV type, widescreen
mode
and resolution:
Next the box checks for the satellite
signal
:
Then there is a check for updated software:
Then you enter your postcode and the box checks it:
The next step is a
scan
for
channels
. This takes about 30 seconds:
And that's it. You can now view
channels
, like 108 for
BBC HD
:
Or press the GUIDE button for the EPG:
And that's it.
Comments
Wednesday, 27 April 2011
M
mike
9:41 AM
Bury St. Edmunds

Sorry for not being clear. 'TV-out' - I mean the other rooms have a TV-antenna connection in the wall. There is no antenna in the loft or outside of the house.
Thanks
Mike

mike's 3 posts
mike's:
map
M's Freeview map
terrain
M's terrain plot
waves
M's frequency data
M's Freeview Detailed Coverage

mike: Then the property developers have provided a communal system. Hopefully they were well-advised on selecting the proper transmitter to point the communal antenna at.

At that postcode, Digital UK advises that the best transmitter is Sandy Heath, which has just switched over. You should get good results from this transmitter, as long as they have had the communal system adjusted for the new frequencies. There will also be retunes on 31 August, 14 September, 23 November, and the middle of next year, as the commercial multiplexes straggle in to their final channels - again, each one may need adjustments if it's a 'channelised' system.

Sudbury and Tacolneston are closer, but it looks like there are terrain problems.

There is a slight possibility that they haven't provided Freeview at all, and the wiring is designed to take the RF output of a Sky box and distribute it around the house. This is most common where there is no possibility of Freeview, though.

Mike Dimmick's 2,486 posts
Thursday, 28 April 2011
M
mike
7:38 PM
Bury St. Edmunds

Thanks Mike, your response was very helpful. Much appreciated.

mike's 3 posts
mike's:
map
M's Freeview map
terrain
M's terrain plot
waves
M's frequency data
M's Freeview Detailed Coverage
Friday, 29 April 2011

As usual the above comments were very helpful, but as an electrical illiterate, I have trouble setting up a complete system eg HD TV, Freesat receiver,DVD player ( for existing DVD collection ) and VCR ( ditto ).
Is it posible for Briantist to provide a simple schematic showing the connections between each item of equipment ? At present I don't know whether some items should be connected in series or in parallel to each other.

technophobe's 6 posts
Monday, 2 May 2011

Hi

Just bought and moved into a house with sky dish and hd cabling into the lounge.

5 other rooms have an aerial point - i did some testing and a tv with built-in freeview failed to pick up any channels on any of the connections in these rooms. I assume this means that they are all linked back to the main sky point and not the roof mounted standard aerial?

We don't want to subscribe to sky, so is it feasible to connect freesat HD boxes to each of the aerial pojnts (enabling "multiroom" functionality)?

Any help would be much appreciated.

Thanks

Jonathan D's 1 post
Tuesday, 3 May 2011

Jonathan G - You will certainly be able to connect a "Freesat" HD receiver to the Lounge. You need to check where the other room points originate from eg:- a loft amplifier or booster sourced from a roof top aerial that distributes to each of the the additional outlets? Freeview doesn't perform well or at all where a booster is connected to the system. I think you might be better to have a local -reputable- installer check the system out for you as several options are open to you including the fitting of a 5 in 8 out multi-switch (Quad LNB capable). This would take account of the number outlets you have and twin tuner feeds required for a "Freesat" Plus recorder should you have this type of receiver(s).

Les Nicol's 991 posts
Wednesday, 4 May 2011

Jonathan D: Regarding your query, its always advisable (indeed a necessity!) when seeking assistance with reception for a person to give an indication of their locality, as one of a few possible reasons for you not picking anything up from any of the aerial points could be that you are not in a Freeview reception area?, it would have been interesting to know if anything had been picked up if you had carried out an analogue sweep of the channels.
A further piece of info that would also be of help is to know if the aerial points you refer to are Co-ax or "F" socket types, satellite obviously exclusively using "F" sockets, albeit that they can also be used for Freeview reception, whereas Co-ax types are exclusively for non-satellite use. (or as under mentioned!)
Another possible use the previous owner could have had for the sockets was to feed the Sky box's analogue RF output to the other rooms so that Sky or other analogue TV programmes could be viewed, the latter assuming that you do have an operational aerial!
A final point thats worth looking at is to try and check if all the sockets are all wired back to the loft, and if they are to make sure that there isnt a distribution amp installed up there that has possibly been switched off by the previous owner of the property.

jb38's 7,179 posts
W
wesley dilworth
9:12 PM
Newtownabbey

i have a panasonic cd vhs recorder with built in freeview my wife used vhs for recording and playing her tapes this worked p[erfectly with our sony trinitron tv. ibought a new sony tv with built in freeview now the freeview on panasonic does not work and she cant record. can i cancel one or other of these freeviews. many thanks. wesley

wesley dilworth's 3 posts
wesley's:
map
W's Freeview map
terrain
W's terrain plot
waves
W's frequency data
W's Freeview Detailed Coverage

wesley dilworth: The analogue recorder is included in the VHS, but it does not have a digital recorder.

The best course of action is to scrap the VCR and get a Freeview+ recorder.

Briantist's 38,899 posts
Thursday, 5 May 2011

Hello there
I am coming to the end of my SKY HD contract, and fancy moving to a Freeview HD PVR. The one thing I want to retain is the ability to use the one PVR in the living room and the bedroom. We have this with SKY, using a magic eye thing. Will that be available on a Freeview PVR?

Reg Burns's 1 post
Select more comments
Your comment please