Upgrading from Sky+HD to Freesat+HD

Brian Butterworth published on UK Free TV
You might get a glossy magazine every month, but what do Sky really think of your custom?

"Give me a f**king name on a direct debit and it's mine for life,"
- Sam Chisholm, former boss of BSkyB.

Perhaps you responded to an offer like the one blow that promised a gratis Sky+HD box (for new customers taking their first Sky+HD package) with free standard set-up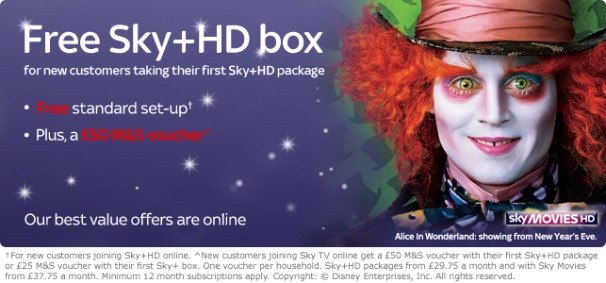 But you were so excited with the thought of a £50 M&S voucher that you didn't think to follow each of the little daggers and little stars to quite read all the terms and conditions:




So, your twelve months of commitment are over and, for reasons of budget (or politics) you have decided you want to keep all the features of Sky+ - live pause, high definition, extended electronic programme guide, series record, and recording two programmes at once whilst you watch another - but don't want to fork out every month on top of your TV Licence - and you still get hundreds of free TV channels

Here's what you can do.

First you need to buy a Freesat+HD box. There are many on the market, and can be bought from Argos, Currys DIGITAL, John Lewis, Comet and online at Amazon, as well as other stores.

When you use a Freesat+HD box NO SUBSCRIPTION HAS TO BE PAID. NONE. NOT A PENNY TO ANYONE.


Installing
This will take no more than ten minutes. First you will need to disconnect the Sky+HD box
mains
from the wall socket.
Then you will need to disconnect the cables from the back of the Sky+HD box.
Pull out the mains
power
connection (1), carefully unscrew the
satellite
dish
links (2) and (3), and then take out the HDMI lead (4) to your HDTV. If you have an "
surround sound
"
amplifier
, you may also have a
digital
audio connection (5).
Remove the Sky+HD box and put the Freesat+HD box back in the same position.
Then reconnect the cables: the mains power
cable
(1) - but not to the wall just yet, screw the two satellite dish links (2) and (3) and connect the HDMI cable (4) to your HDTV. If you had one, reconnect the digital audio connection (5).
If you have an Ethernet router, you can connect it to the Freesat+HD box at this point (5).
With everything in place, turn on the mains power and power up the Freesat+HD box.
The TV screen first displays the box's logo
The first set-up screen allows you to select the TV type, widescreen
mode
and resolution:
Next the box checks for the satellite
signal
:
Then there is a check for updated software:
Then you enter your postcode and the box checks it:
The next step is a
scan
for
channels
. This takes about 30 seconds:
And that's it. You can now view
channels
, like 108 for
BBC HD
:
Or press the GUIDE button for the EPG:
And that's it.
Comments
Thursday, 5 May 2011

Reg Burns: Very few Freeview devices have an RF modulator output and none understand Magic Eye, as far as I know. You can get plug-in RF modulators that connect to the box's SCART socket, and other infra-red remote control extenders, but I don't know of any generic remote control extenders that piggy-back on the TV wiring.

If you're not bothered about watching recorded programmes in the bedroom, you could just get a regular Freeview or Freeview HD set-top box.

Mike Dimmick's 2,486 posts
Sunday, 8 May 2011

I have a Sky dish and HD box and my Sky subscription (after 12 years)ends at the begining of June and would like to know if by obtaining a Freesat viewing card from Sky
what features of the HD box will be available

Pete's 1 post
Pete's:
map
P's Freeview map
terrain
P's terrain plot
waves
P's frequency data
P's Freeview Detailed Coverage
Monday, 9 May 2011

I have just terminated my Sky subscription does any one know how to view the remaining recordings that I have left on the Sky HD+ box

Keith's 1 post

Keith - I would normally advise anyone who is contemplating terminating their SKY subs to make sure they view their recordings prior to taking this step or during the period of notice to do so. It is possible to remove the hard drive and requires specific software to do this and not a process for the faint hearted. SKY disable your products ability to record when you stop your subscription - which you probably are aware of. "Freeesat" DTR's aren't open to this restrictive practice an action that makes SKy's offer to provide it's customers with a "Free" as advertised in their promotional material as somewhat of a "sham".

Les Nicol's 991 posts

If I terminate my Sky+HD subscription when the digital changeover occurs in my region can I still use my SKY+HD box to receive and record & playback FREESAT TV ? Or do I have to buy a new FreeSAT box? What do I have to do ? How much do Sky charge for retaining their Recording/Playback feature...? Thanks...

Steve's 2 posts

Hi Steve, Sky have it tied up so you can not legally record Satelite programs once you terminate your contract. I now use a Humax HD Freesat system with 320GB drive for recording. There are lots of programes inc film channels that you can veiw and record for free. All with no subscription and new channels being added regulary
Regards Ian in Devon

Ian Rangeley's 3 posts

Ian Rangeley, Steve: I don't think there's anything legal about it, they just consider recording an extra service to pay for and their boxes won't record, or let you play back recorded programmes, if you don't have an active subscription.

It's reportedly possible to get them to just activate recording, but they want £10 per month.

You can migrate to Freesat at any point - it's already up and running, you don't have to wait for your region to switch over. Switchover only affects TV through an aerial - satellite TV switched over to digital 10 years ago.

Mike Dimmick's 2,486 posts

Thank you to both Ian & Mike for helping to clarify my understanding ~ much appreciated. Steve.

Steve's 2 posts
Wednesday, 11 May 2011

Hi,I have a sky+ HD box installed and am running a tv in the bedroom and one in the office from it. I can only watch the same programmes on both tv's and wish to view programmes independently from each set. If i get an extra sky+HD box and have that connected up will i have too pay an extra subscription also?
Many thanks

Greg's 1 post

Greg - Yes. You could get a "Freesat" HD or HD DTR recorder Which will allow you to view and or record dependent on the model chosen. "Freesat" is supported by the BBC and ITV. Whilst you wouldn't get all what
you can get on SKY dependent on your subscription package you will receive over 200 channels and several hundred more with a receiver that can switch between the "Freesat" EPG and European standard FTA EPG - free to air. Effectively this gives you the ability to watch alternative channels from that on your existing SKY box You will require feeds from you existing dish which will have two spare connectors on the dish LNB to facilitate this. - Not expensive if you have to have a rigger to do this. Sky themselves would charge you their standard charge about dougble that of a local reputable tradesman.

Les Nicol's 991 posts
Select more comments
Your comment please