Local TV - an introduction

Brian Butterworth published on UK Free TV
The current situation
In comparison with most other countries in the world, the UK had always had a poor
local TV
service.
BBC News
runs a service each for Scotland (population 5.1 million),
Wales
(3.0 million) and Northern
Ireland
(1.8 million).
For the 51.1 million people in England the BBC runs
services
from
London
, Birmingham, Manchester, Leeds,
Newcastle
upon Tyne, Bristol, Southampton, Plymouth, Norwich,
Oxford
,
Cambridge
,
Nottingham
, Hull and
Tunbridge Wells
- an average of 3.65 million people per
region
.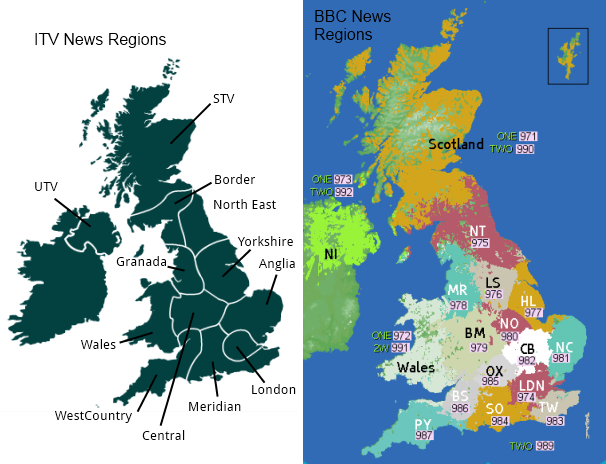 On
Channel
3,
UTV
provides a service for Northern Ireland, STV has two services for Scotland, and ITV provides a single service for Wales, and only nine services for England: Border, North East, Yorkshire,
Granada
, Anglia, Central, West +
West Country
, Meridian and London.
BBC and ITV local TV
The BBC did trail a "county based" local TV news service in Warwickshire, Herefordshire, Worcestershire, the West Midlands, Staffordshire and Shropshire, but it was of very poor
quality
and the BBC Trust afterwards placed a ban on the BBC providing any further breakdown of the traditional BBC One regional news service.
ITV also tried a service, ITV Local, in 2005 which used broadband to provide news, weather and other services for two schemes first in Brighton and
Hastings
. However, the service was closed in March 2009 due to the state of ITV plc finances.
The new proposed service
Following the election, the coalition government's culture secretary Jeremy Hunt put forward proposals for local TV in the UK.
It is proposed that:
Cities, towns and other areas of upwards 200,000 people should each have their own daily local television news service;
the services should start in 2012/13;
that people should be able to find a local TV service for their locality on channel 6, or 106 on cable, satellite and Freeview, as well as online;
There should be a "national backbone" sustaining service for the channel to pool advertising sales, programme buying and back-office functions.
Comments
Monday, 16 May 2011
N
Neil Rees
5:14 PM
Wisbech

My friend lived near Oxford and watched local TV, as part of a local TV franchise, on a channel called Six Oxford, but I understand this service ceased around or before April 2009.

Neil Rees's 3 posts
Neil's:
map
N's Freeview map
terrain
N's terrain plot
waves
N's frequency data
N's Freeview Detailed Coverage

Neil Rees: Yes, it was an analogue service Six TV - Wikipedia, the free encyclopedia - June 99 to April 09.

Briantist's 38,907 posts
Monday, 20 February 2012

I don't mean to be rude but when you say "In comparison with most other countries in the world, the UK had always had a poor local TV service." which countries do you mean? I know the United States is one such example, but which other countries do you mean?

Josh's 97 posts
Wednesday, 22 February 2012

Josh:

I think Germany may be another from my experience watching German TV channels... pop along to www.ard.de.

Terry's 18 posts
Terry's:
map
T's Freeview map
terrain
T's terrain plot
waves
T's frequency data
T's Freeview Detailed Coverage
Sunday, 16 September 2012

hi i live in west yorkshire reading all the details of local tv starting in next 12 months with the changes of the freeview numbers [ what the hell ] are freeview up to dont get me wrong the change are fine as long as there going to be MORE AND MORE FREE NON PAY BASE CHANNELS ON THE FREEVIEW SERVICES WHY SHOULD ANYBODY PAY FOR EXTRA CHANNELS THESE DAYS LETS FREEVIEW BE A FREE MARKET PLACE FOR FREE PAY TV CHANNELS LIKE GOLD DISCOVERY CHANNELS ETC B SKY B SHOULD HAVE LOST LICINESS TO BROADCAST THIS AND AS FOR PAYING FOR TV LICINESS SHOULD GO THEY PAY NOT A PENNY OVER IN AUSTRAILA AND FREEVIEW IS A AUSTRAILA COMPANY WITH SUB COMPANYS IN UK AND EUROPE SO COME ON

ANDY's 1 post

ANDY: Discovery, Gold etc choose to be pay channels as they receive more income from subscriptions than they would from only showing advertisements. As Sky already has a subscription collecting service in place it makes economic sense to be part of the Sky bouquet rather than each channel collecting individual payments. It is interesting to note that the proposed local channels are being funded in part by the TV licence, in addition to funding from commercials. Not only are the initial start up costs being subsidised, but it appears that the BBC is expected to take up some of the programmes made by these TV stations. The reality is that advertising revenue is now split too thinly between the various media, with the result that the original set up for public service based Independent local radio is now history in most areas; regarding commercial television only ITV can afford (just) to make new drama productions. Note too that the HD services of ITV2/3/4 are pay channels, in much the same way as the HD services are in Germany.

KMJ,Derby's 1,811 posts
Friday, 5 August 2016
N
nicholas mugford
11:53 AM

Hi,in respect of uk local tv stations,i don't think the uk audience was really interested,as long as the
network services were available,it possibly the mindset as local stations weren't there at the start,so unlike
radio,little interest.

nicholas mugford's 120 posts

nicholas Mugford: Hi, Nicholas. I think you do have a point here, although in the East of England tv viewers have always liked regional tv news magazine programmes, such as the BBC's Look East and itv's itv Anglia News and its predecessors. When Mustard TV launched in March 2014, I was one of a very significant minority of Norwich city tv viewers who expressed any interest in it. Two years on and the station seems to have developed a little more interest amongst those who live in the Norwich suburbs, with its local property programme developing in popularity recently. It has also been interesting for me to note how many Swansea tv viewers who don't get their signals from Kilvey Hill have posted on UKFREE.TV their dismay at not being able to receive Bay TV Swansea since its launch on 12th. July 2016. I'm not sure what you are saying about local radio because when radio broadcasting began in England in 1922, 2LO was a 'local station for London'. Richard in Norwich.

Richard Cooper's 466 posts
Wednesday, 15 March 2017

I've lost tiny pop for my 5 year old I've retuned the TVs but no good I need it back how?

Adam's 1 post

Adam: Tiny Pop has moved, if you can receive a local TV station on either channel 7 or 8 then Tiny Pop should still be available following a retune, however if you can't receive a local TV station then Tiny Pop is no longer available to you via Freeview.

StevensOnln1's 3,569 posts
Select more comments
Your comment please