Interleaved Frequencies maps (old ones)

Brian Butterworth published on UK Free TV
These are the maps, supplied by Ofcom, showing the coverage areas for the "Interleaved Frequencies" than can be used for the Freeview Local TV service.

The green areas have good predicted coverage for the "Interleaved Frequencies", yellow is possible coverage.

Note: these areas are considerably different from the normal Freeview coverage for each transmitter.

Update: Ofcom introductory comments

The study considered frequency channels -5 below and +2 above the receive aerial group for the station. Though for the 10 largest stations all channels were considered.

The ERP of main stations has been set at 10kW and relay stations at 1kW. It should be noted that in several cases these powers result in a higher ERP than allocated to the main multiplexes.

Coverage of the chosen channel has been assessed on the basis of the derived template and the use of a 64QAM 2/3 modulation scheme. Availability of mast aperture, mast loading and building space to support the required antennas and house transmitters was not investigated.

Coverage calculations are based on existing broadcast stations and reception via fixed roof top aerials.

The derived UK median templates are designed to protect populated coverage derived by the median method. The derived UK continental templates include Irish and Continental restrictions based on 23dB?V/m at the border.

The exercise has been based on version 5.51 of the UK digital plan and an interpretation of the GE-06 frequency plan for Europe. Coverage of each interleaved channel is quoted in isolation, i.e. only that channel and the v5.5 plan have been considered.

As coverage is based on the template at the planned height and at the maximum ERP, coverage using implemented antennas, heights and actual ERP will be lower.

Crystal Palace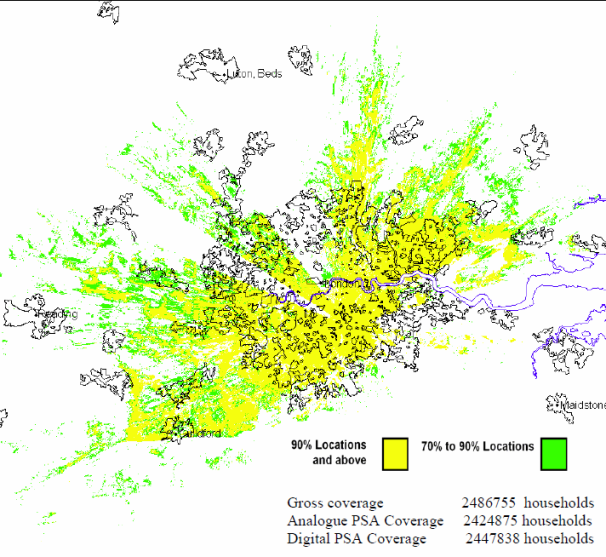 The Interleaved Map for the transmitter is created from three elements. The left circular image shows the UK post-switchover use of the same frequency, the central circular image is the Continental use of the same frequency. These are subtracted from the "normal" coverage area for the transmitter, the right hand image, to create the "Interleaved Frequency" coverage area.



Winter Hill




Black Hill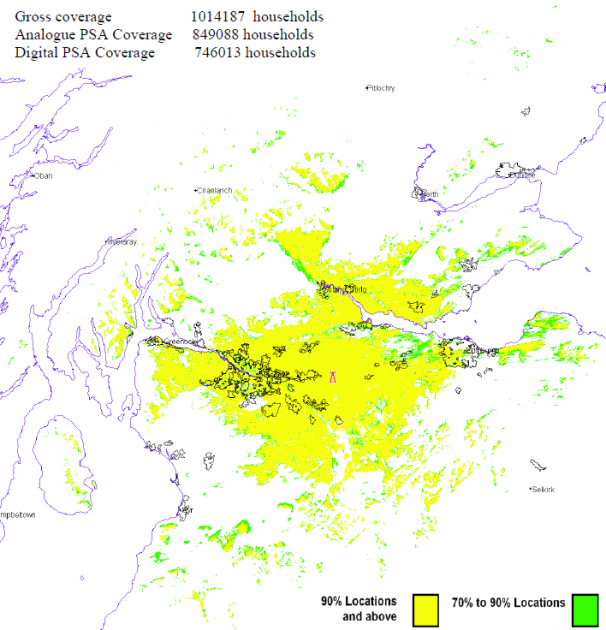 Sutton Coldfield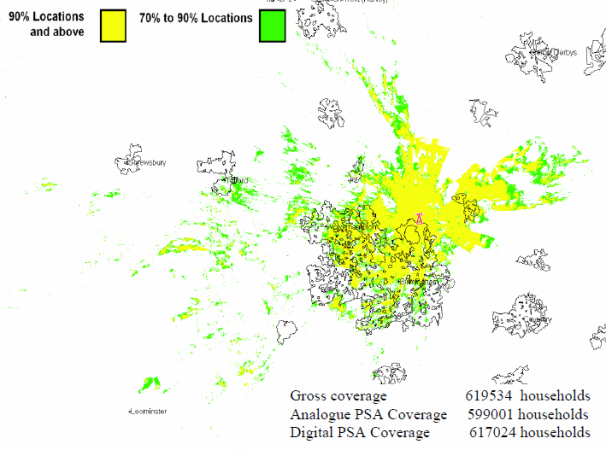 Pontop Pike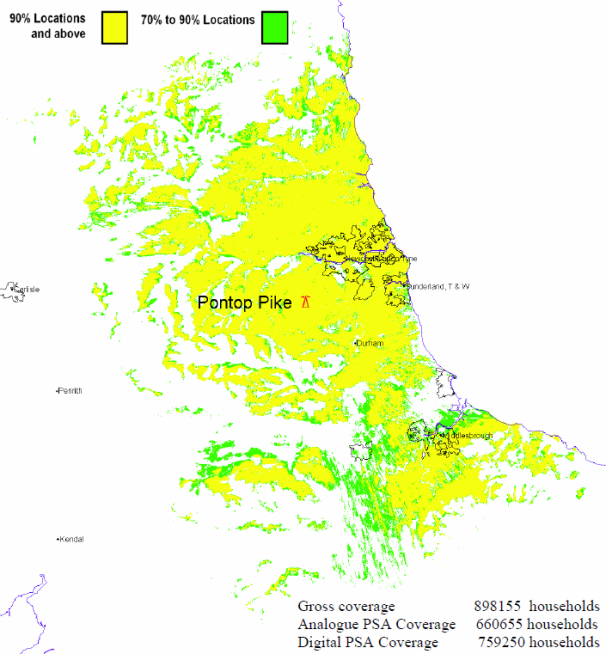 Emley Moor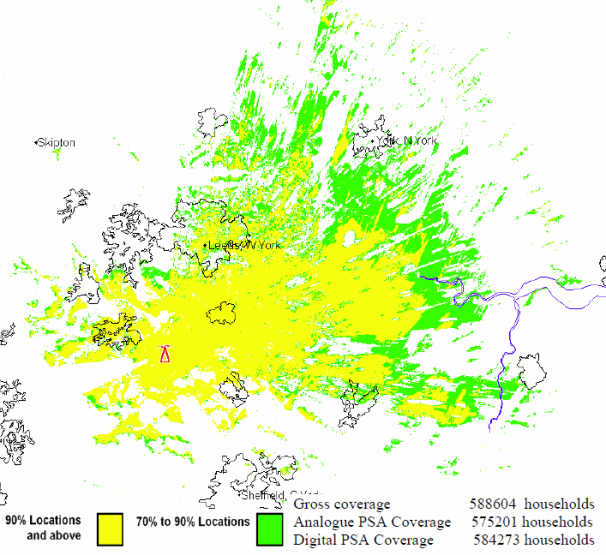 Bilsdale




Rowridge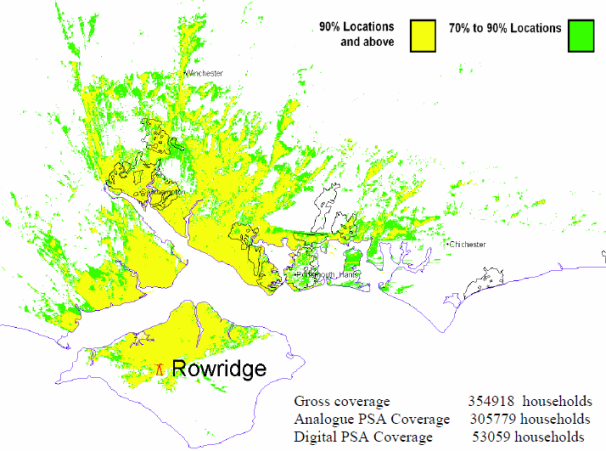 Waltham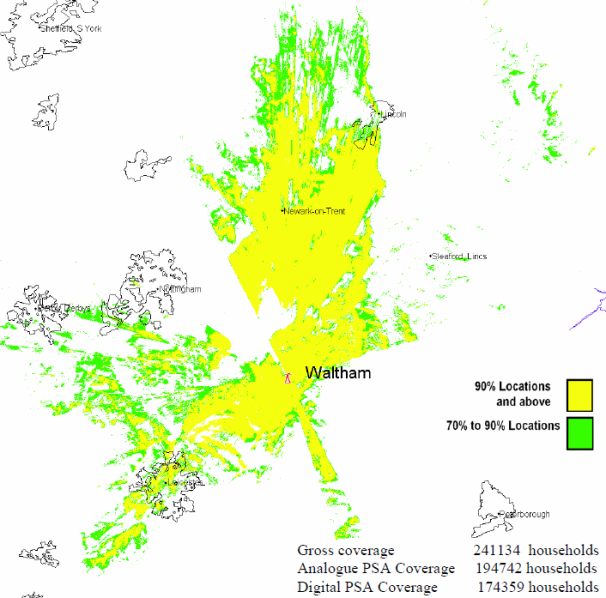 Craigkelly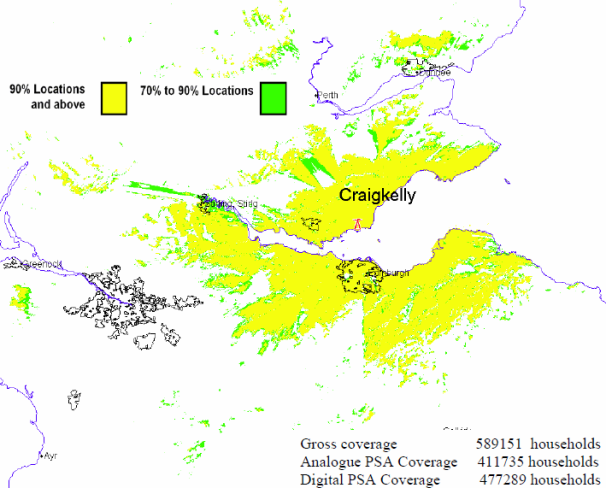 Wenvoe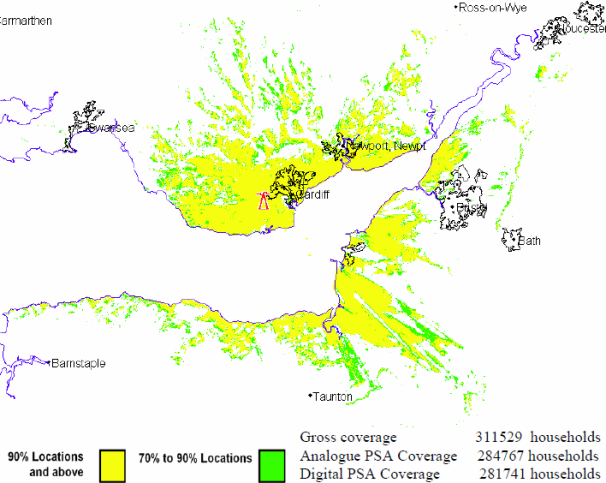 Belmont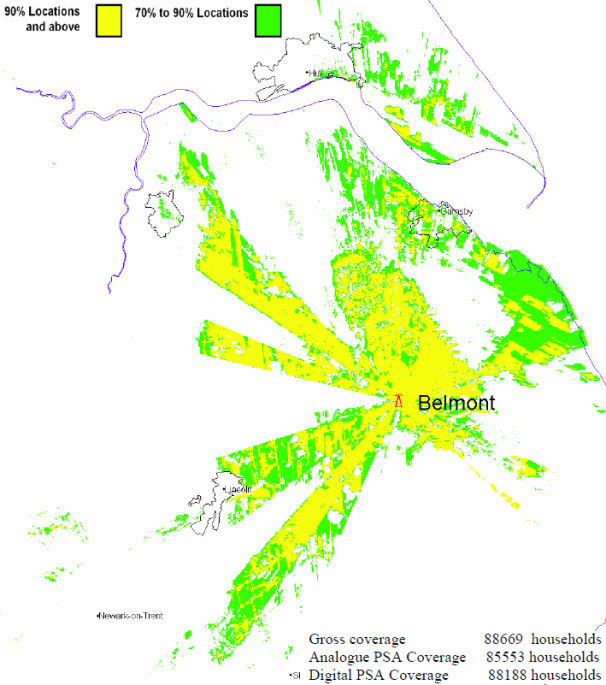 Hannington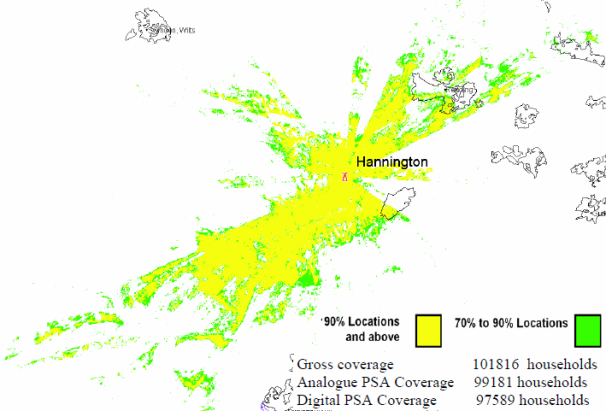 Divis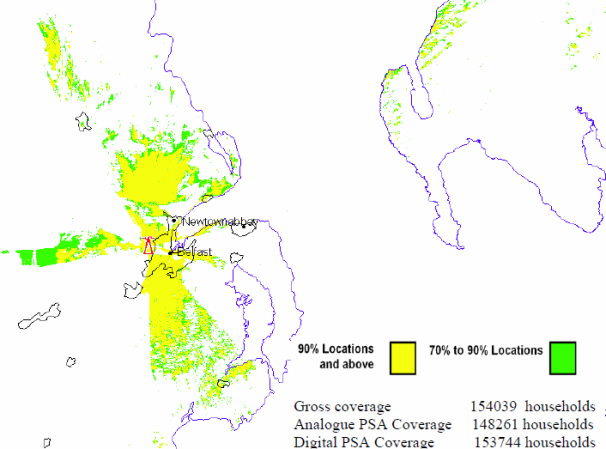 Tacolneston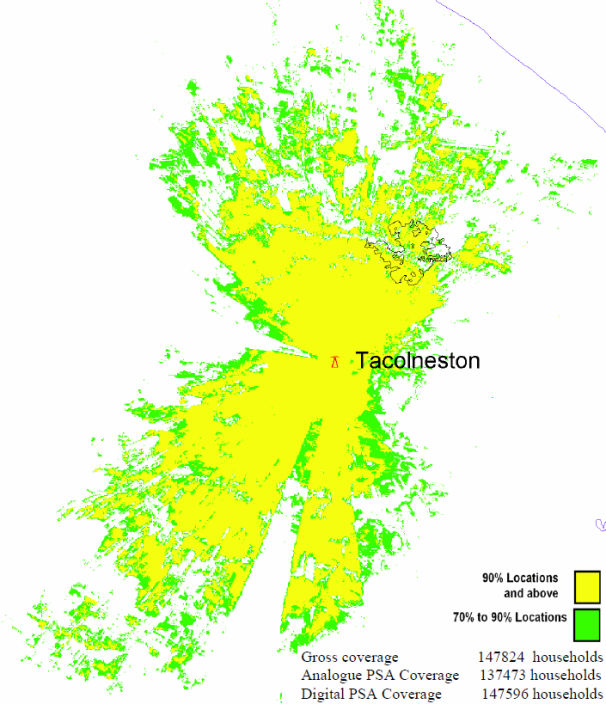 Sandy Heath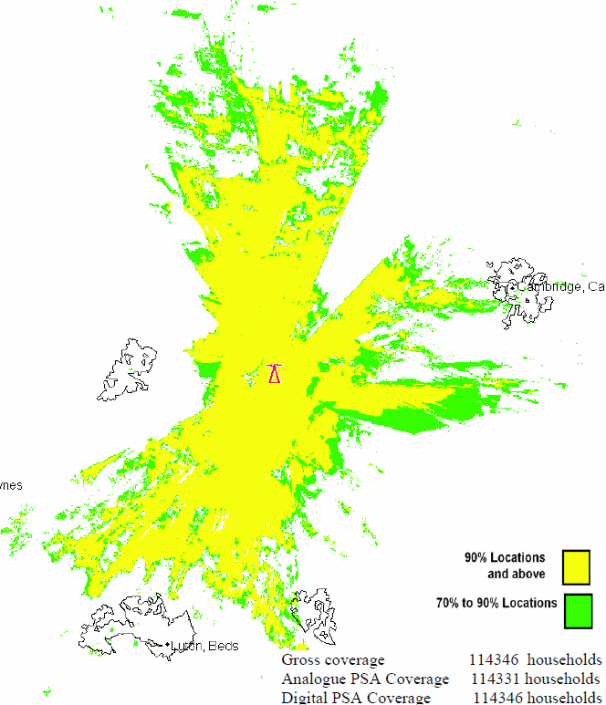 Mendip




Sudbury




Oxford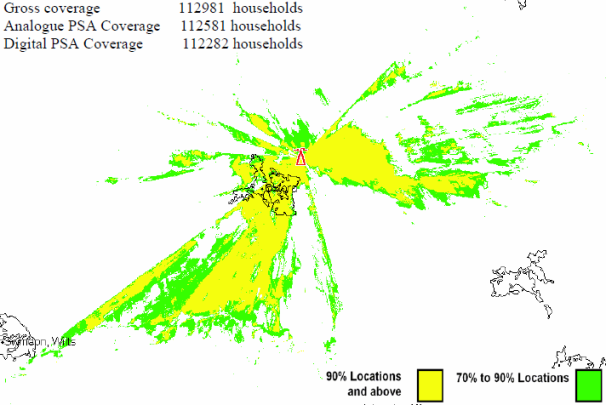 The Wrekin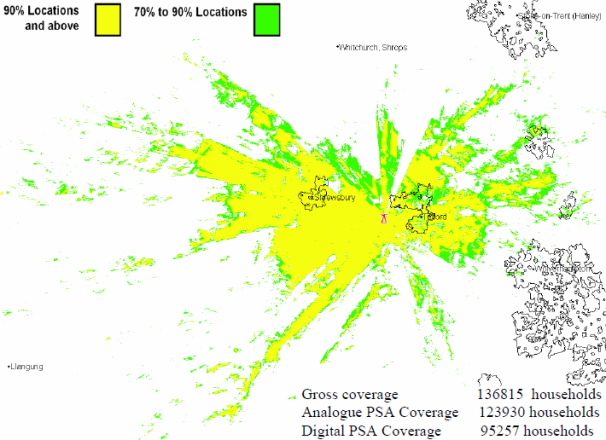 Dover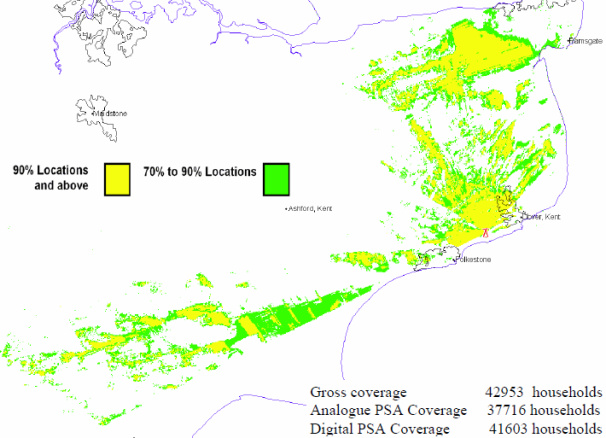 Ridge Hill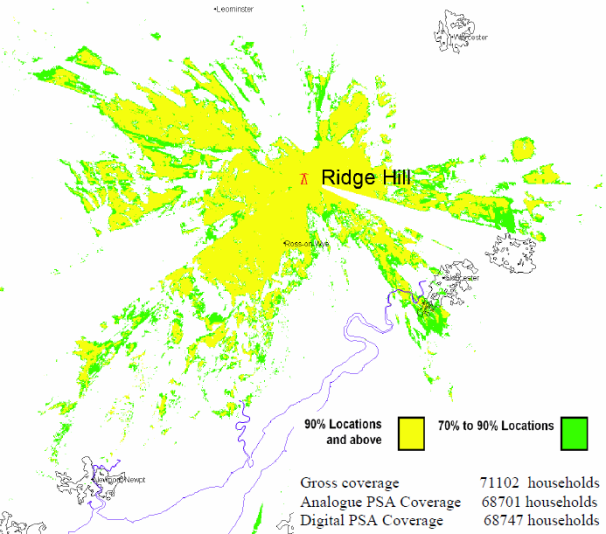 Caldbeck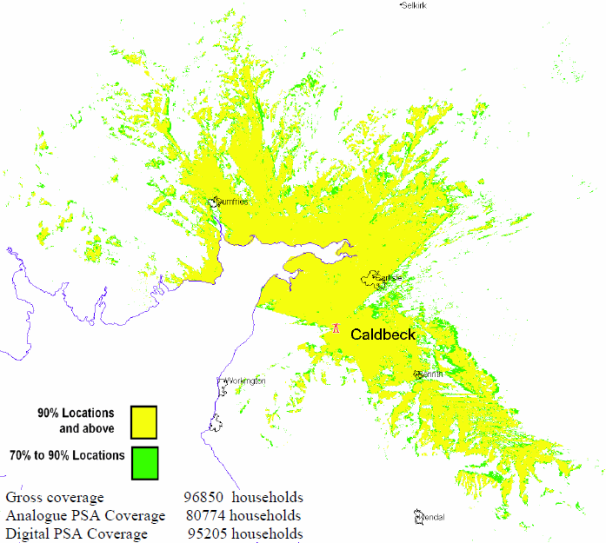 Durris




Angus




Limavady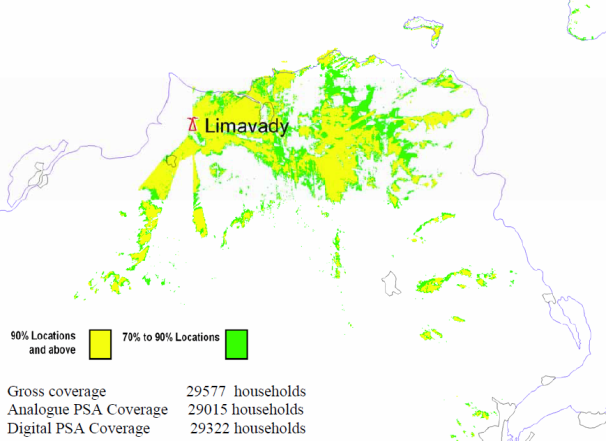 Knockmore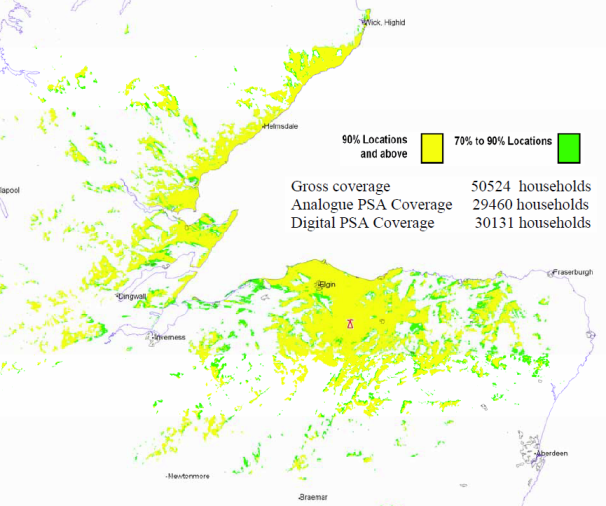 Rosemarkie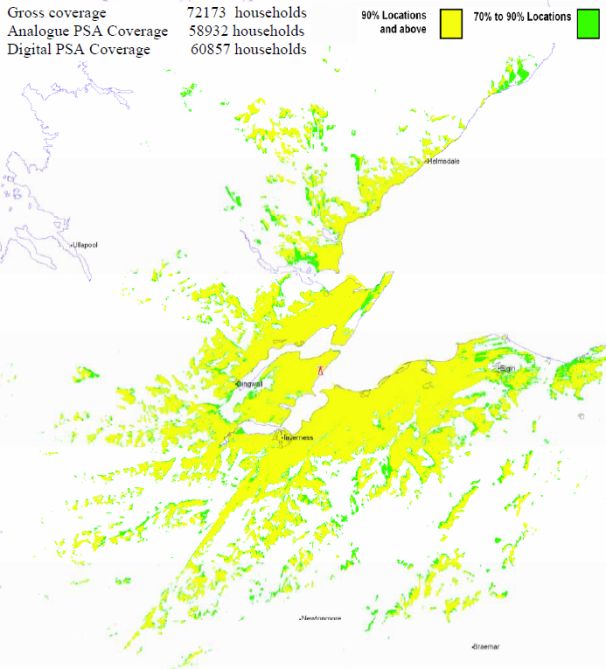 Hemel Hempstead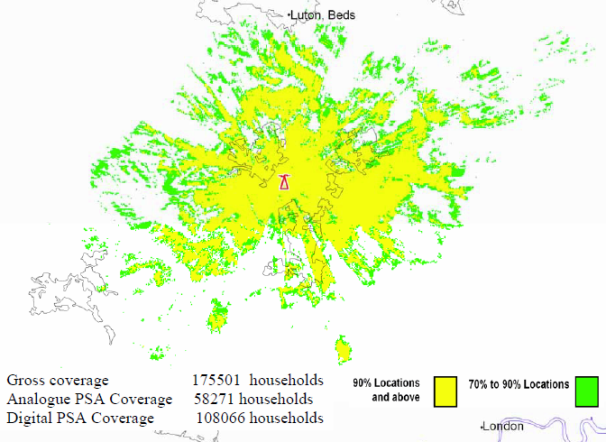 Brierley Hill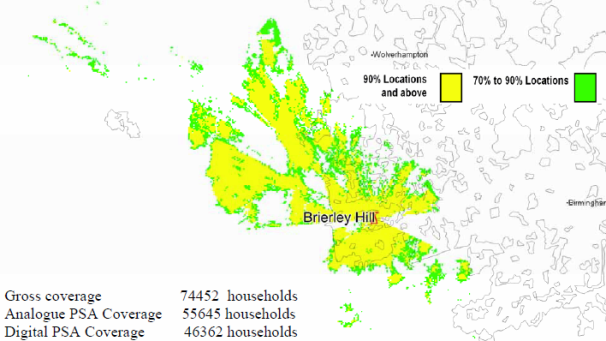 Bromsgrove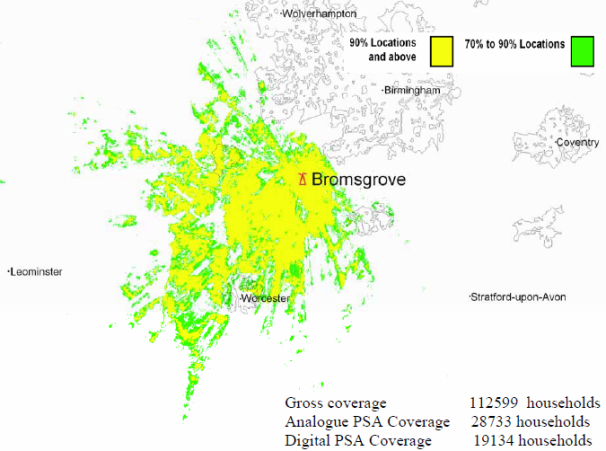 Kidderminster




Storeton




Sheffield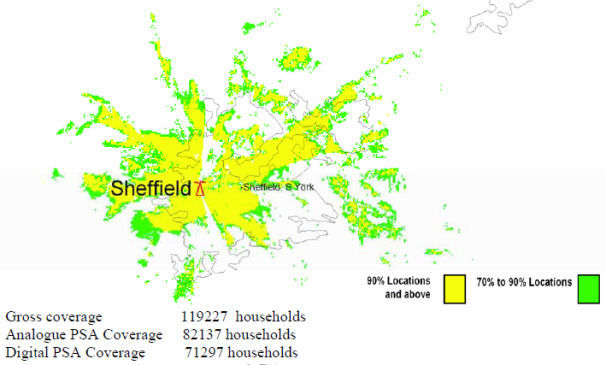 Guildford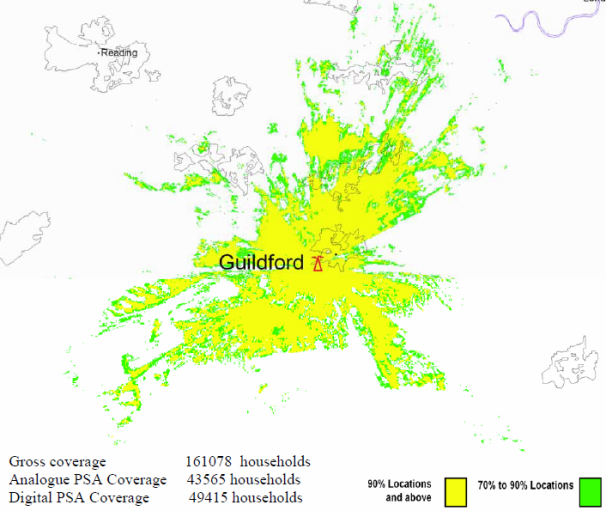 Reigate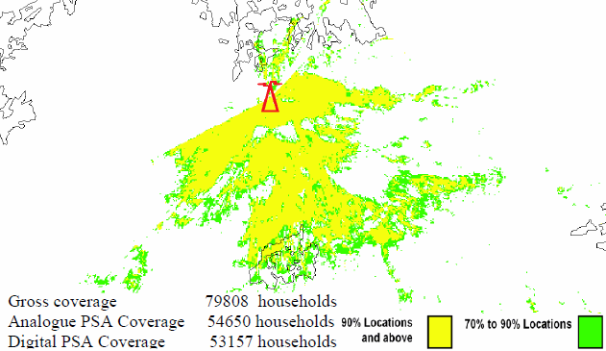 Tunbridge Wells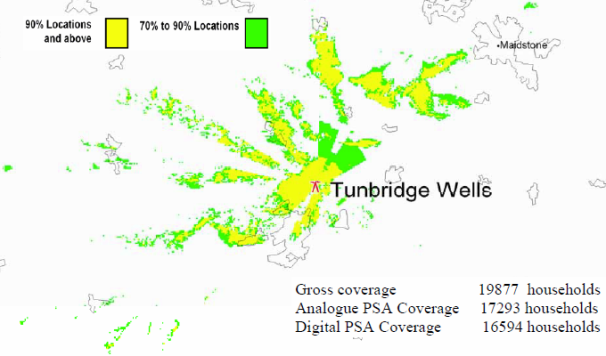 Malvern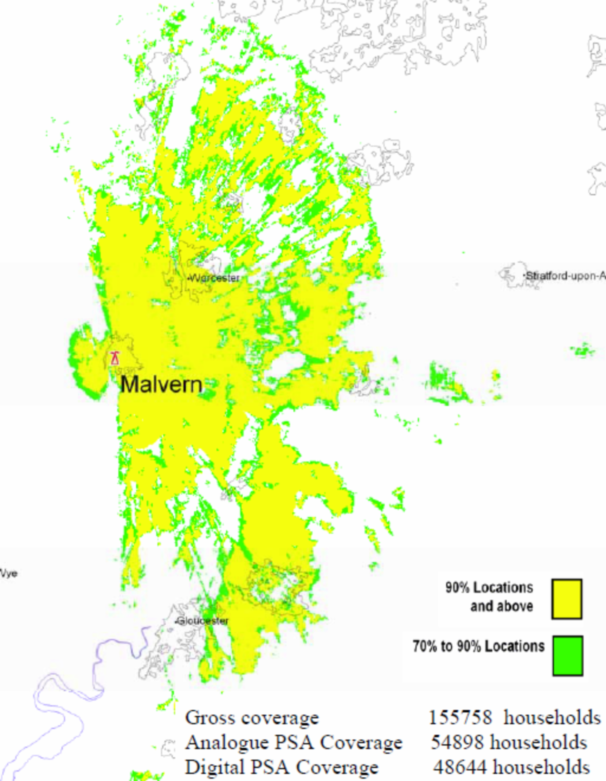 Lark Stoke




Fenton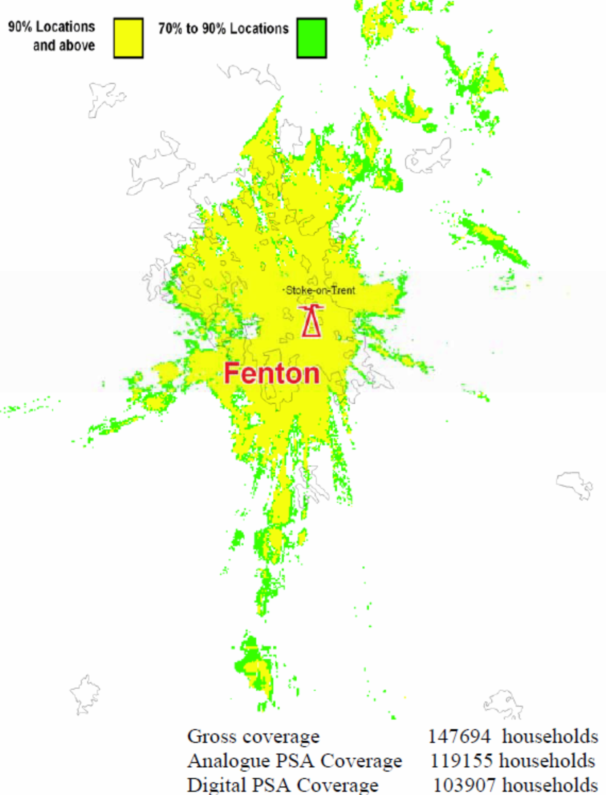 Pendle Forest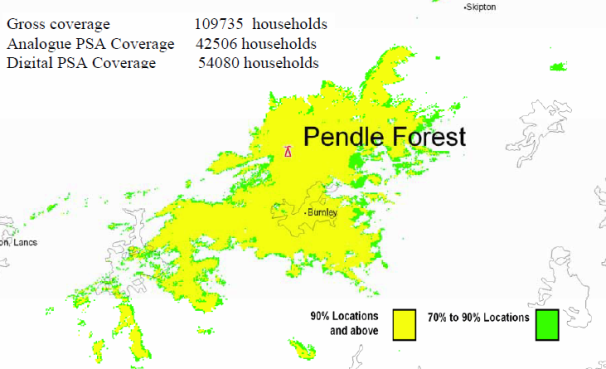 Saddleworth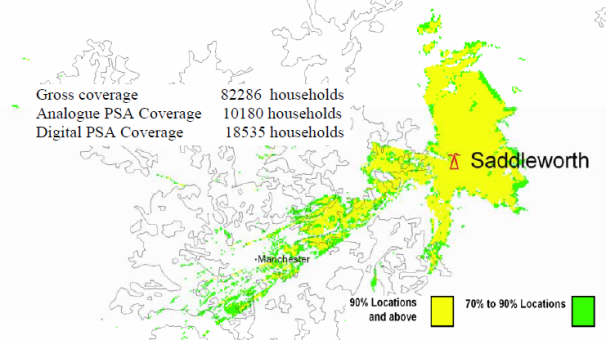 Lancaster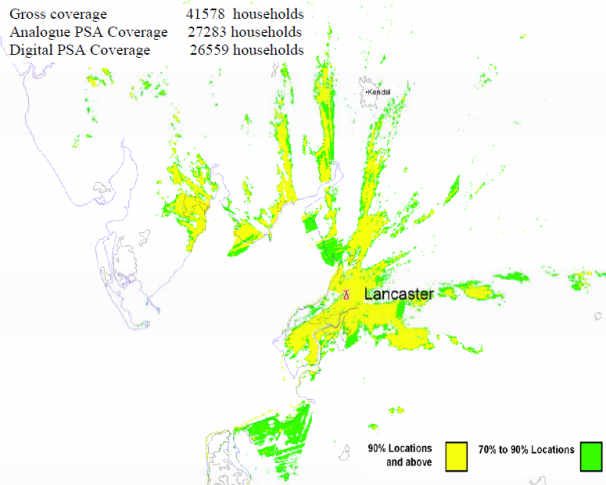 Keighley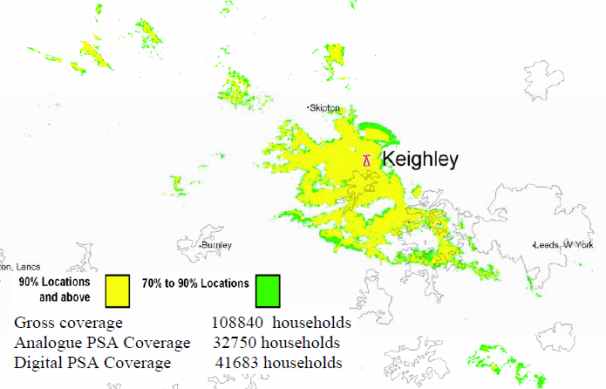 Kilvey Hill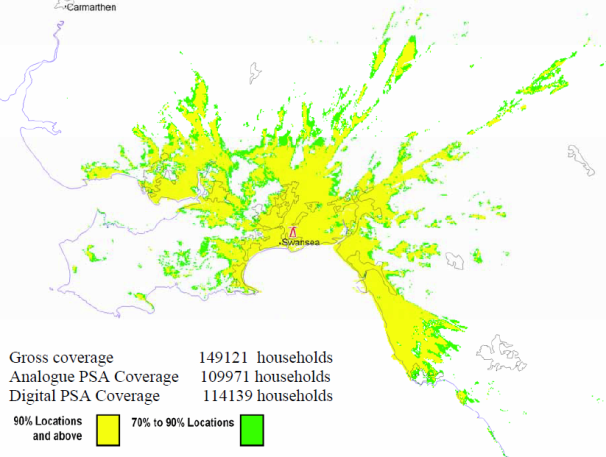 Salisbury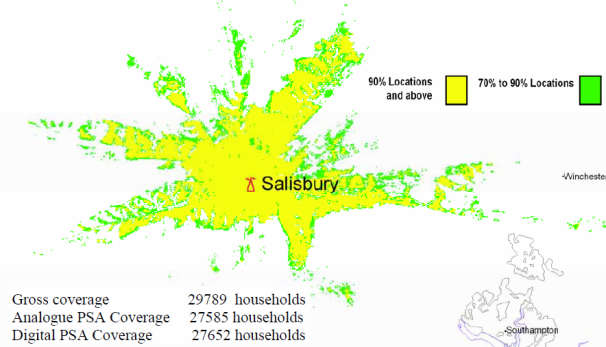 Poole




Whitehawk Hill




Fenham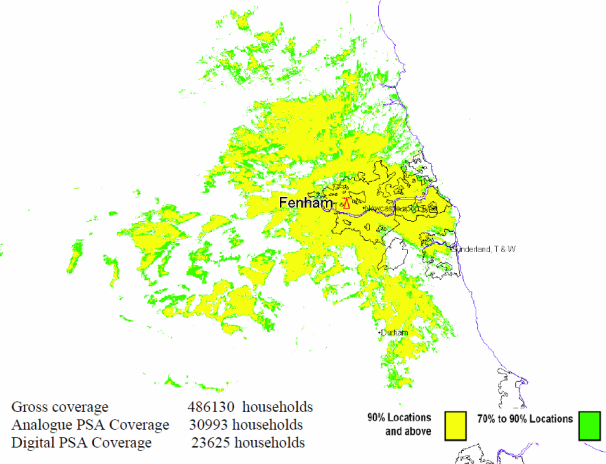 Bristol Kings Weston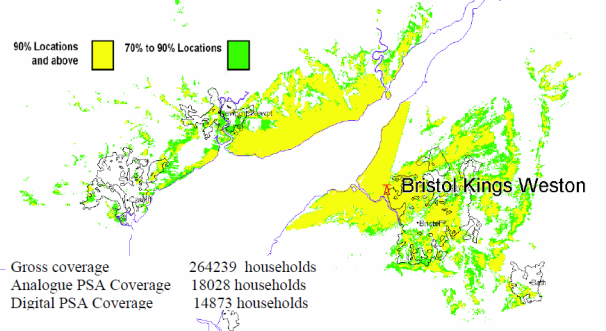 Bristol Ilchester Crescent




Nottingham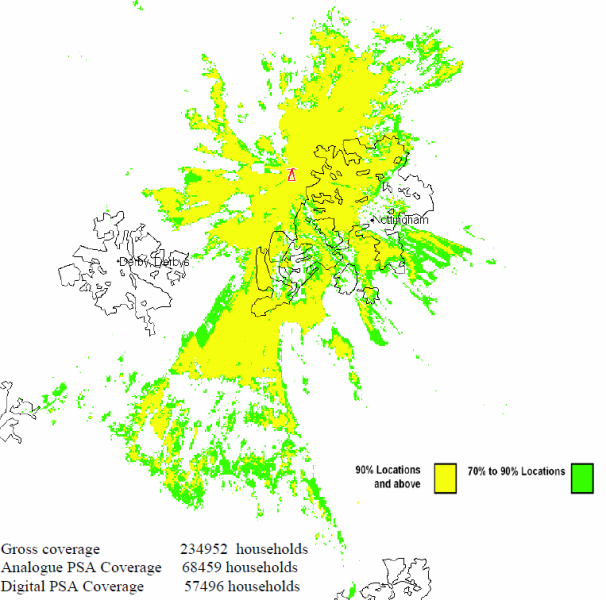 Llanddona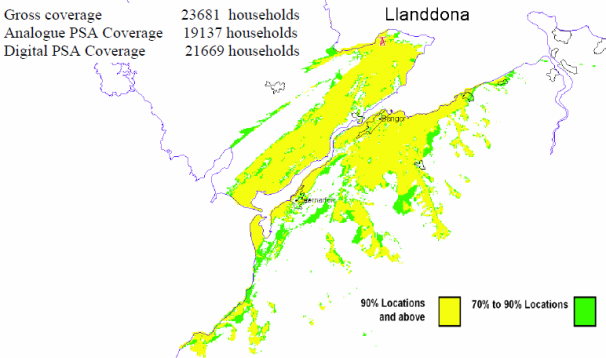 Carmel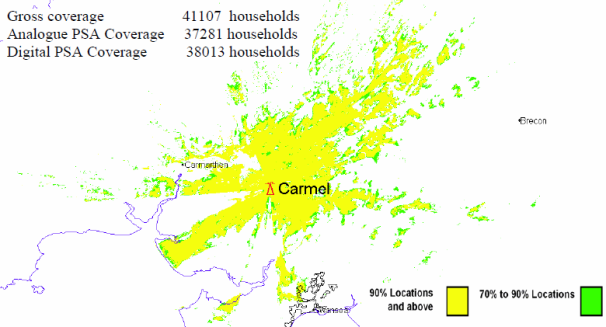 Olivers Mount




Luton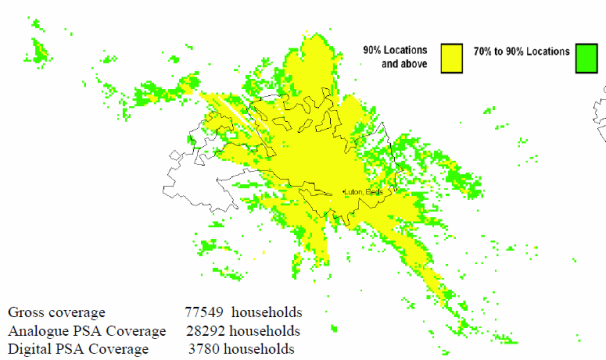 Midhurst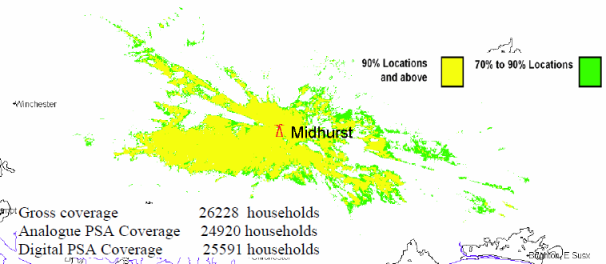 Preseli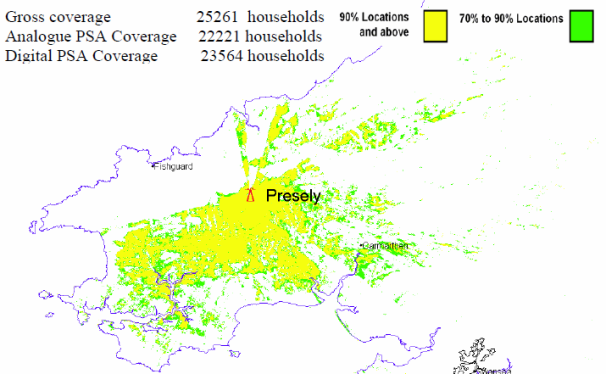 Caradon Hill




Plympton




Stockland Hill




Beacon Hill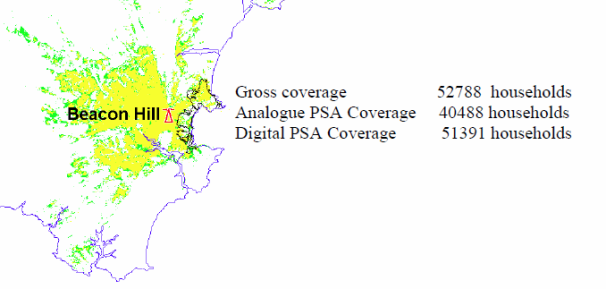 Huntshaw Cross




Redruth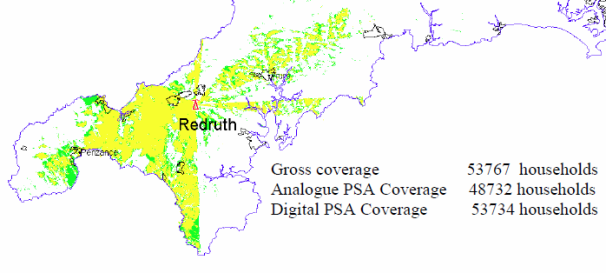 Moel Y Parc




Brougher Mountain




Darvel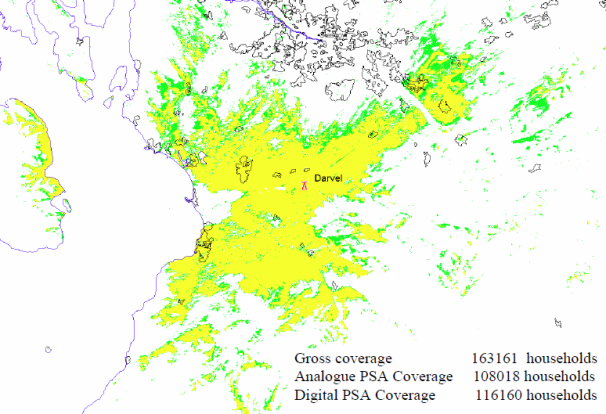 Rosneath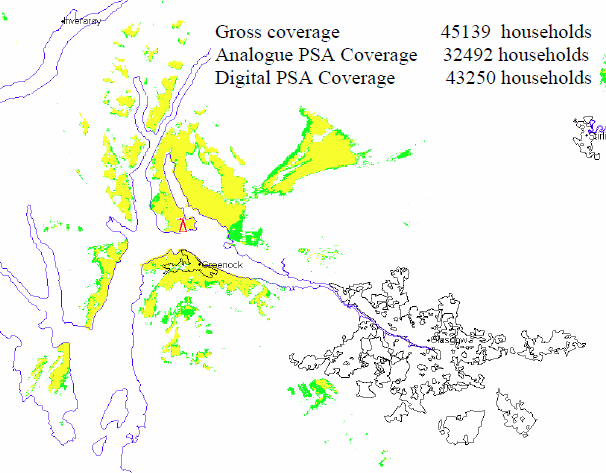 Bluebell Hill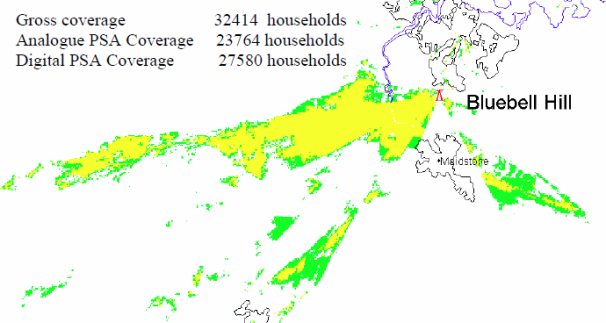 Londonderry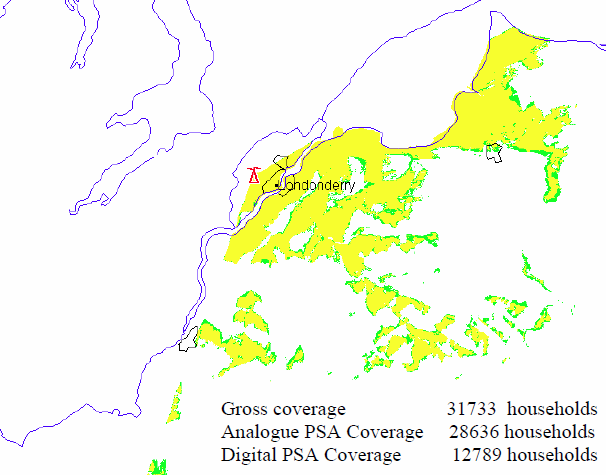 Heathfield




Selkirk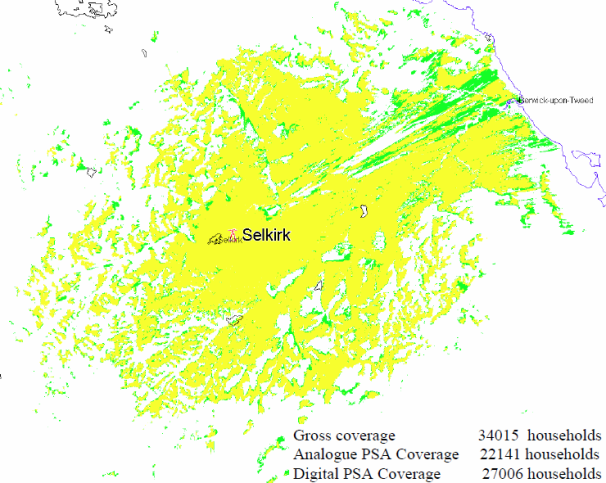 Bressay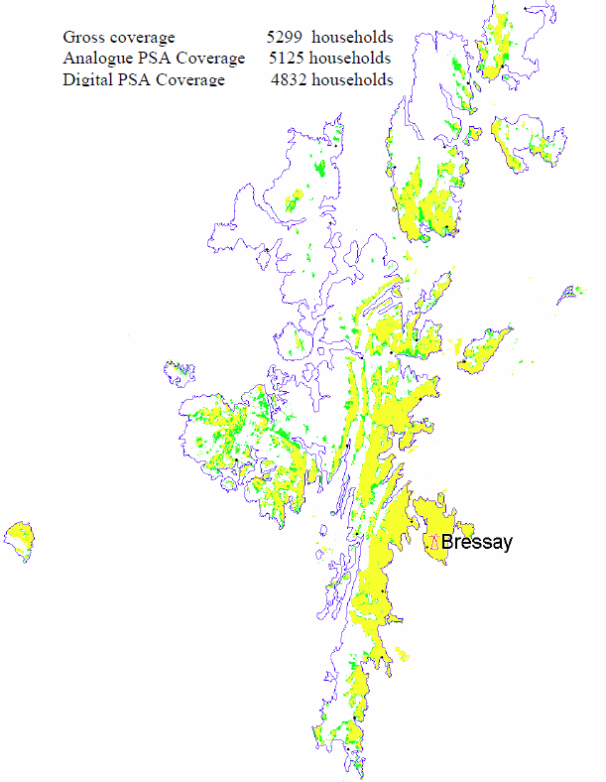 Torosay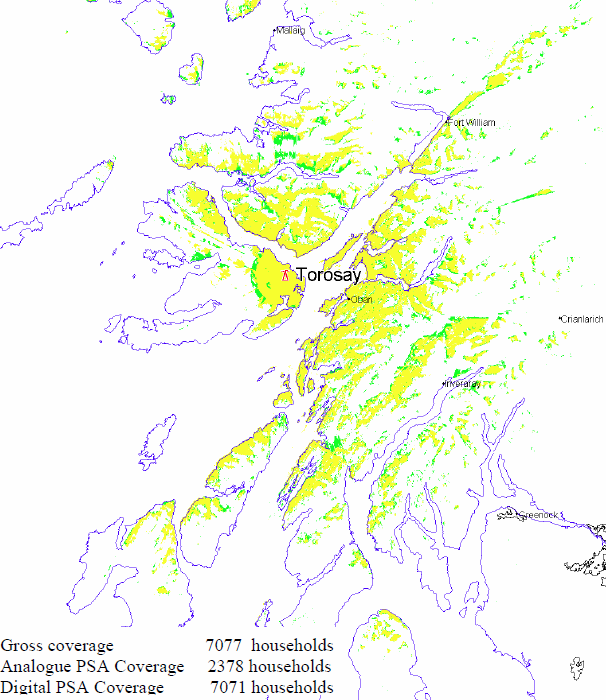 Perth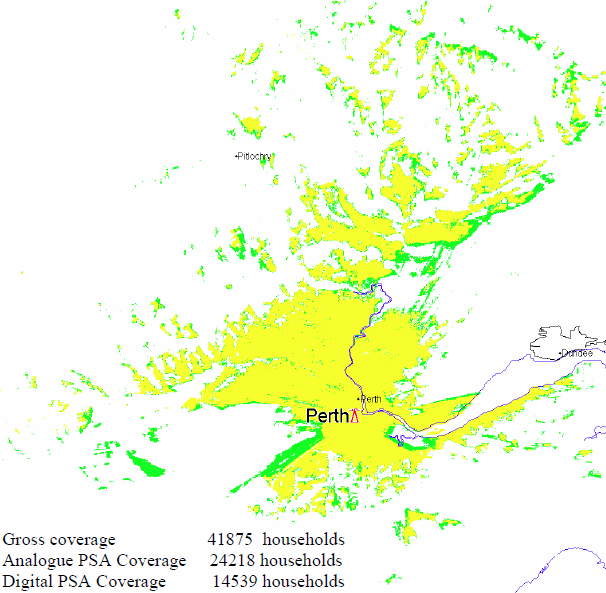 Tay Bridge




Keelylang Hill




Rumster Forest




Eitshal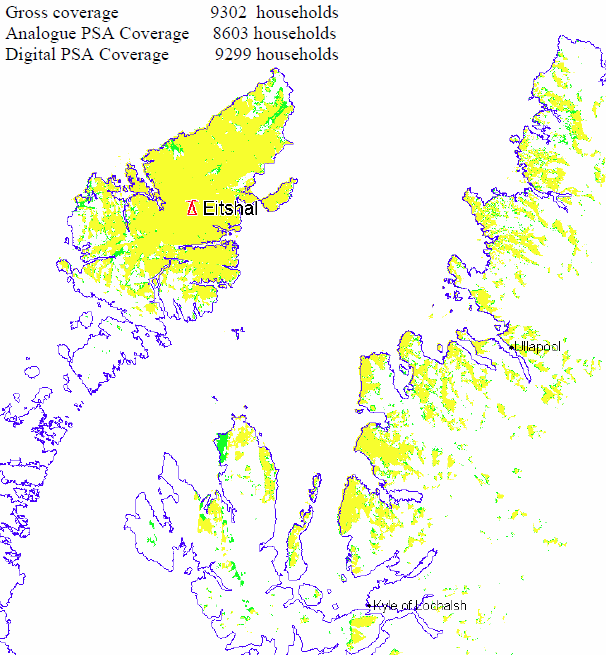 Balgownie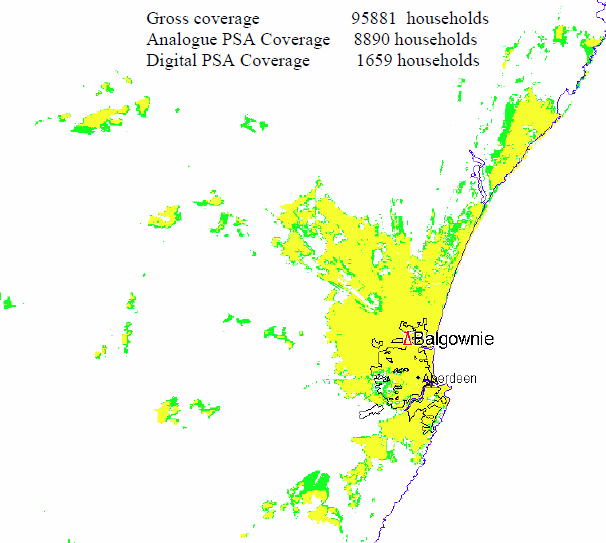 Comments
Wednesday, 9 March 2011

woodface: It's not the hill, these are Interleaved Frequencies so the restrictions are to prevent interference with UK and Continental transmitters using the same frequencies.

Do not confuse these with the normal multiplex radiation patterns.

Briantist's 38,907 posts

Mike Dimmick: I wish that was the reason I missed it off the original list, but that was in fact an error.

As the Interleaved Frequencies are just the "sweepings up" after the allocations are complete, it is somewhat random which places get covered and which do not.

Briantist's 38,907 posts

Ash: I've improved the introduction to assist with clarity.

Briantist's 38,907 posts
Thursday, 10 March 2011

All is clear now I've read the interleaved frequencies explanation (at Local digital TV or a 7th multiplex coming soon? | ukfree.tv - independent free digital TV advice ).

It might be good to have OFCOM's national map of them reproduced big enough to appreciate. Perhaps on this page?

woodface's 39 posts

woodface: I've updated the map with a larger image - it is from Ofcom DDR Annexes page 183.


Briantist's 38,907 posts
Monday, 14 March 2011
D
Des Collier
7:40 PM
Brigg

Brian-YOU'VE BEEN BUSY!,MAPS LOOK GOOD.

Des Collier's 171 posts
Des's:
map
D's Freeview map
terrain
D's terrain plot
waves
D's frequency data
D's Freeview Detailed Coverage
Tuesday, 15 March 2011

Des Collier: Thanks. I am hoping this will lead to a sensible evaluation of the options for local TV.

Briantist's 38,907 posts
Friday, 18 March 2011

Looking at the map comparing QPSK and 64QAM, it strikes me as absolutely obvious that QPSK should be used. 21 million households versus 16 million is a no brainer in commercial terms. The one big problem is the lack of coverage in a line from The Wash to The Severn. Do you think that some extra frequencies, perhaps channels 35 and 37 could be used to fill this and other smaller holes? It would also be nice to provide some coverage for Mid Wales and Herefordshire.

Charles Stuart's 159 posts
Monday, 21 March 2011

Charles Stuart: Two points:

a) QPSK delivers lower bitrates, and hence less channel capacity.

b) These are interleaved frequencies, the whole point of which is NOT to use channels being sold off in the Digital Dividend sale.

Briantist's 38,907 posts

QPSK may allow for fewer channels but if the objective is meaningful local television, QPSK will be needed for these local channels to reach many significant population centres. My understanding is that an 8MHz PAL I TV channel can deliver three or four DVB-T channels using QPSK. As few areas would have the economic ability to support more than one or two local channels, I think that QPSK is the obvious choice. I guess that it depends where you put the priority and I'd definitely go for greater coverage with fewer channels.

I think that if two or three Digital Dividend channels were sacrificed to allow full local television coverage, that would be a good thing. That would still leave 12 or 13 channels to be sold off. Again, I guess it's about priorities and I'd like to see local television heading the list.

Charles Stuart's 159 posts
Select more comments
Your comment please