2011 switchover week two: The Wrekin and Ridge Hill transmitter groups

Brian Butterworth published on UK Free TV
Hardly a Wednesday from 30th March until 23rd November 2011 will not involve a step in the UK digital switchover, and this week sees the first stage of switchover for 632,000 homes in the West of Central England.

From 6am Wednesday, you will need to retune your Freeview box or television set if you use The Wrekin, Ridge Hill, Bromsgrove and Lark Stoke full service Freeview transmitters.

If you use a The Wrekin or Ridge Hill relay transmitters, from this date you will also be able to receive all the BBC Freeview services (except HD), and you will no longer be able to view BBC TWO on analogue.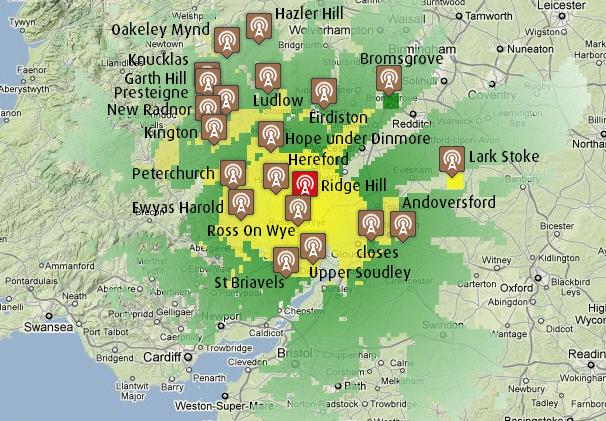 You MAY find that old equipment will no longer work - see TVs and boxes that do not support the 8k-mode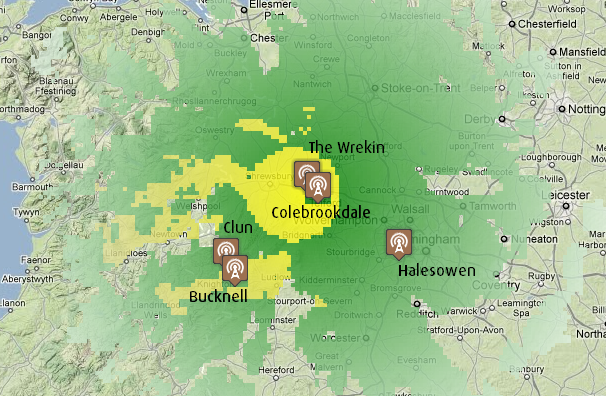 On Wednesday 20th April 2011 will see the second stage of switchover, which provide the final Freeview configuration, including Freeview HD for all transmitters in this region, except at The Wrekin where the commercial multiplexes will only be at their final output levels of 10kW in September 2011 - during this transition period the commercial multiplexes will use the following frequencies: SDN ch49 and ch31 (both 2kW), Arqiva A ch53 (1kW), Arqiva B ch57 (1kW).
Comments
Thursday, 14 April 2011

Hi Brian - I just tried to switch off alerts for "Sandy Hill" but seem to have stopped them all!

Is selection possible?

steve's 1,173 posts
steve's:
map
S's Freeview map
terrain
S's terrain plot
waves
S's frequency data
S's Freeview Detailed Coverage
Friday, 15 April 2011

steve: Sorry, I don't know what you mean.

Briantist's 38,908 posts

Rarely do myself.

I keep getting email alerts for new posts on "Sandy Hill" - presumably I posted there sometime. Do not want them, so tried to turn them off. Seem instead to have turned of ALL alerts.

Is there a way to select which I want and which not?

steve's 1,173 posts
steve's:
map
S's Freeview map
terrain
S's terrain plot
waves
S's frequency data
S's Freeview Detailed Coverage

steve: What is "Sandy Hill"?

You get emails for any page you have posted on.

Briantist's 38,908 posts

- Freeview on Sandy Heath TV transmitter | ukfree.tv - independent free digital TV advice -
Sorry - for "Hill" read "Heath".
Does this site cover equipment problems? My Wharfdate PVR - model LP250DTR - is not working. Cannot open disc, and making a noise. (SY132BT)

steve's 1,173 posts
Saturday, 16 April 2011

steve: Is there a disc still in there?

Briantist's 38,908 posts

The disc is built in not removable, so must be there.

In fact - latest update - it is now working again and not making odd noises. I suspect a dodgy bearing and not long before it fails again.

steve's 1,173 posts
steve's:
map
S's Freeview map
terrain
S's terrain plot
waves
S's frequency data
S's Freeview Detailed Coverage
Sunday, 17 April 2011

steve: It is quite a simple matter to replace it.

Briantist's 38,908 posts
Friday, 22 April 2011

I have a few general TV transmitting questions I was wondering if anyone knows the answer to:

1. What does HP and VP stand for? As in Garth Hill HP/VP or Melling HP/VP?

2. Are these two different masts, one for HP and one for VP? Or are they both transmitted at the same mast, one for HP and one for VP?

3. Is Fenton effectively a relay of Sutton Coldfield, despite it transmits the full 6 multiplexes and has no relays itself? When Sutton Coldfield turns off their analogue, would that then have an immediate effect on Fenton or do they each get their own feed so that one doesn't effect the other?

3. Why does Nottingham, Fenton, Bromsgrove and Lark Stoke not have any of their own relays?

4. Why is it that Sutton Coldfield has relays stretching as far West they stretch into The Wrekin and Ridge Hill 'territory', as far North they stretch between the Fenton and Nottingham 'territory' and as far South they stretch into the Lark Stoke and Oxford 'territory'?

Likewise, The Wrekin's relays, Coalbrookdale is right 'next door' to SC's Ironbridge relay, Halesowen is only a short distance from SC's Haden Hill. Clun and Bucknell are surrounded by Ridge Hill relays. Why not make them relays of Ridge Hill? Likewise for Whittingslow, Tenbury Wells and Malvern?

5. Why not keep relays to their surrounding area and not have overlaps of relays from one transmitter group with relays of other transmitter groups?

6. In the case of Coalbrookdale/Ironbridge, why not just have a taller mast/higher power at Coalbrookdale to eliminate the need for Ironbridge?
Likewise for Haden Hill to eliminate the need for Halesowen?

I expect it's probably like that with overlaps all across the UK but just think it would be better if they didn't do it like that.
Other such examples is Gronant and Prestatyn are surrounded by Moel-Y-Parc relays even though they are relays of Llanddona. Likewise Beddgelert is a relay of Blaenplwyf but surrounded by Llanddona relays.

I know I sound like a bit of an anorak! But I admit, I am! I have transmitter maps and lists! But hope Brian and some of the other regulars will be able to answer my queries.
Many Thanks in advance.
Regards, Stuart.

Stuart O.'s 156 posts
Stuart's:
map
S's Freeview map
terrain
S's terrain plot
waves
S's frequency data
S's Freeview Detailed Coverage

HP and VP are Horizontal and Vertical polarisation.

The radio waves do their waving either up and down or sided to side, according to the design of the transmitting antenna. And you use a receiving antenna to match - with elements either sideways or up/down. The "wrong" signal is not noticed by an aerial, so avoids interference with each other.

Main transmitters are horizontal; fill-ins vertical.

As to the rest of your questions; don't know the detail, but the big picture is as you suggest the need to fit a jigsaw of signals into the relief map of Britain.

Where are you in Wrexhamshire? I am in Chirk, so get the Wrekin, but once you get north of Ruabon you can see Granada!

Steve's 1,173 posts
Steve's:
map
S's Freeview map
terrain
S's terrain plot
waves
S's frequency data
S's Freeview Detailed Coverage
Select more comments
Your comment please