West central Scotland switchovers start 11th May 2011

Brian Butterworth published on UK Free TV
The final weeks for analogue television in Scotland commences today, with the first step of switchover for two transmitter groups in West Scotland.

From today you will need to retune your Freeview box if you use the Darvel or Rosneath transmitter. You MAY find that some very old equipment will no longer work - TVs and boxes that do not support the 8k-mode.

If you use the Ardentinny, Ardnadam, Arrochar, Ayr South, Blackwaterfoot, Bowmore, Campbeltown, Carradale, Catrine, Claonaig, Dunure, Garelochhead, Girvan, High Keil, Holmhead, Kirkconnel, Kirkmichael, Kirkoswald VP, Lethanhill, Lochgoilhead, Lochwinnoch, Millburn Muir, Muirkirk, New Cumnock, Port Ellen, Portnahaven, Sorn, Troon, Wanlockhead relay transmitters, you will no longer be able to watch BBC TWO on analogue from today, but you should be able now to use a Freeview box or TV set to watch ALL BBC services (apart from the two HD channels).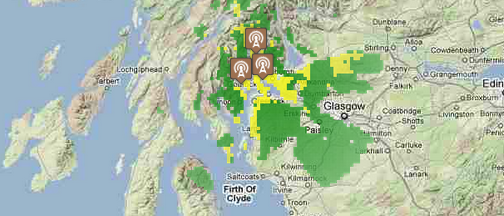 In two weeks time, on Wednesday 25th May 2011, the final switchover step will see the closure of all analogue services and the introduction of high power full Freeview for Darvel and Rosneath viewers, Freeview Light from all relay transmitters, plus the start of the Freeview HD service BBC One HD, BBC HD, STV and Channel 4 HD) on all the above transmitters.
Comments
Saturday, 11 June 2011

My elderly father lives in Lanarkshire and has two television sets, he has no idea how to retune them and is now left without most of his stations. I have been told there is help for the elderly for the switchover but unable to find details, can anyone help ?

Bob's 1 post
Monday, 13 June 2011

Bob: Please see
The Switchover Help Scheme can help you make the switch to digital TV. | Switchover Help Scheme . They should already have been in touch.

Briantist's 38,899 posts
Tuesday, 14 June 2011

I CAN WATCH BBC1 & BBC2 [ PICTURE PERFECT ] BUT CANNOT RECORD ON MY FREEWIEW RECORDER UNIT.IS THERE A PROBLEM WITH MY ARIEL? MY RECORDER AND TV ARE NEW.
I STAY IN CENTRAL GLASGOW. I WOULD APPRECIATE YOUR HELP WITH THIS MATTER

BILL ELLIS's 1 post

Bill Ellis: i had same problem and found a website explaining how to re-tune my panasonic dvd recorder (17 step process) and after that everything worked OK. question - why was there nothing in all the bumf we were bombarded with prior to the digital switchover about having to re-tune dvd recorders as well as TV's?

ALAN CARMICHAEL's 2 posts
Friday, 24 June 2011

My elderly neighbour has a JVC HD Ready TV, but when we try to retune it the process reveals all the channels and then a screen which wants each station to be edited. If a channel is highlighted and the edit button is pressed the channel disappears from the screen and next cannel is highlighted. She is then unable to watch any TV. Any suggestions as to what she can do to watch TV.

J Beaton's 1 post

J Beaton: It would possibly have helped if the model concerned was mentioned, but in general terms when the re-tuning process has completed on most devices you usually see a box at the bottom of the screen giving you the option to "save" or "store", this happening before any other options come on.

Maybe you could come back with the model number of the device, as I realise JVC have their own ideas about menu systems.

jb38's 7,179 posts
Wednesday, 29 June 2011

Hi

I recently bought my elderly mother a Bush 250gb DTR to replace her VCR due to the DSO on the Craigkelly transmitter.

Auto tuned all ok but after a couple of days she was unable to record BBC1 or 2 although both channels could be viewed.I assume BBC3 and 4 were also affected but channels were off air at the time.

All other channels were recordable.

Auto tuned again and was able to record BBC1 and 2.

However, esarlier today my mother called and the same problem had occurred - I talked her through auto retune and now able to record BBC1 and 2 again.

Why is this happening?

Is it signal or DTR box?

Mother stays in Prestonpans.

Any assistance will be gratefully received.


Mike's 1 post

Mike when you go to your mothers can you get the box to record. I ask this as i go to lots of older peoples homes and set up there digital recorder boxs and within a day i have to go back because they dont understand how to use the box. If you carnt get the box to record take it back if you got it from argos try the sagemcom one i am not a great lover of humax epg thats why i think the sagemcom might be best for your mum hope this helps

Mazbar's 384 posts

Mike: Just to add to what's already been mentioned, insomuch that you should be aware that although these Bush PVR's are extremely user friendly in operation compared to many of their rivals, they are however known to occasionally suffer from the problem you mention.

The other thing I have found is, that although they are listed as being 2k/8k compatible in operation they sometimes struggle to resolve a picture when operating on an 8k signal, this resulting in an aborted recording albeit the programme set for recording might still be seen in the recorded items listing.

Any box that suffers from this problem will nearly always be found to be OK if an instant recording it made, the fault only showing up on a timer set one.

jb38's 7,179 posts
Tuesday, 4 October 2011

why can Film 4 (Channel 15) cannot be received on Freeview from the Girvan mast?
anyone please.

Dave Brown's 2 posts
Select more comments
Your comment please