Sudbury transmitter group switchover begins

Brian Butterworth published on UK Free TV
This week sees the first stage of the digital television switchover for 460,700 homes in Essex and parts of Suffolk.

From 6am Wednesday 6th July 2011, you must to a perform a "first time installation" retune (sometimes "Factory Reset" or "Shipping Condition") on your Freeview box or television set if you use the Sudbury full service Freeview transmitter. This is because the "multiplex 1" BBC service will be replaced by the BBCA multiplex on a different frequency. Update: And, in the instance of Sudbury, multiplex A/SDN also moves at the first stage.

If you use Felixstowe, Ipswich Stoke, Somersham, Wivenhoe Park or Woodbridge relay transmitter, from Wednesday 6th July 2011 you will be able to receive the BBC Freeview services (with the exception of HD) for the first time, and you will no longer be able to view BBC TWO on analogue.

In addition there are three new transmitters at Burnham on Crouch (new), Clacton (new), Rouncefall (new). From Wednesday 6th July 2011 these three transmitters will start transmitting the BBC multiplex, with the normal (limited Freeview Light) service starting on 20th July 2011.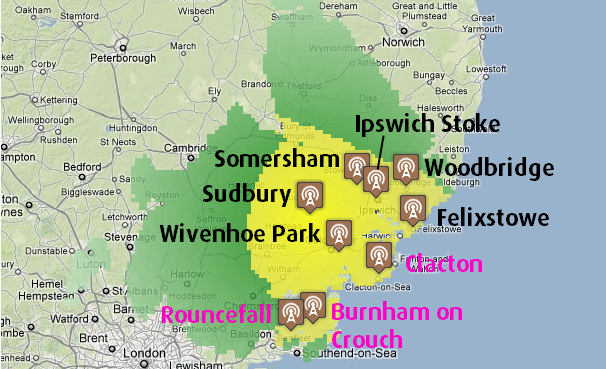 You MAY find that old equipment will no longer work - see TVs and boxes that do not support the 8k-mode




The University of Essex is also located in Wivenhoe Park.

On Wednesday 20th July 2011 will see the second stage of switchover, which provides the final Freeview configuration, including Freeview HD for all transmitters in this region.

On this date, you will need, once again, to do a "first time installation" as indicated above.
Comments
Sunday, 10 July 2011

Sean: Reception capabilities can very quite considerably between different brands of equipment dependant on design of their tuners, so this alone can cause one set to pick up something that another wont.

The other factor is that of the aerial feed arrangements to the various sets, if a daisy chaining (loop in/ out) method is used the set at the end of the chain will receive less signal, hence it might not operate correctly, but if the aerial goes into a powered splitter then that guarantees that each set will have the same signal, so if one device falters on that system its nearly always because that device itself is less sensitive than the others.

jb38's 7,179 posts
Wednesday, 13 July 2011
D
Dick Maddock
4:07 PM
Rayleigh

If all these digital retunes don't come up to expectations, then pay for a HUMAX free-to-air satellite box, plug it on a spare node by your satellite dish, tune it in, and away you go. No monthly SKY fees, job done :)

Dick Maddock's 14 posts
Thursday, 14 July 2011

Living in Bury St Edmunds (Fornham St Martin nr the River Lark) is the best transmitter the Sudbury one? Or is there a better one?

Dan's 3 posts

Dan : If you could provide a postcode, it will be possible to answer your question.

Briantist's 38,844 posts
D
Dan
12:01 PM
Bury St. Edmunds

Hi Brian, Thanks: IP28 6UQ

Dan's 3 posts

Dan : If you want all of the Freeview services, then the Tacolneston transmitter is your best choice, however you will not get them all at the highest level of stability until 23rd November 2011.

Briantist's 38,844 posts

Brian - Cheers for that. And from what I could divine from the other posts, only the HD Freeview boxes ask which transmitter you wish to tune in to? Or alternatively, I could move my aerial?

Dan's 3 posts
Sunday, 17 July 2011

Dan : There are some newer SD Freeview boxes that do it to, but not many of them. You only see the "choose region" menu if your aerial can receive more than one region.

Briantist's 38,844 posts
Monday, 1 August 2011

hi mate andyboy agin can you tel me when sumbury power is stabily i get 80% at night and 60% in thee day are that working on it thanhs

andyboy's 16 posts
Tuesday, 2 August 2011

andyboy: No one is working on the transmitter. If you have time-based problems, please see Freeview intermittent interference | ukfree.tv - independent free digital TV advice for help.

Briantist's 38,844 posts
Select more comments
Your comment please