Brighton transmitters will be in BBC South East from 7th March 2012

Brian Butterworth published on UK Free TV
Back on 3 September 2001, the BBC split the old Newsroom South East region.

The Oxford part had became an opt-out of South Today from Southampton in October 2000, and in late 2001 the rest of this large region was then split into two: a service for "M25" London (BBC London News) and another one for Kent and East Sussex.

This new service, which is based at studios in Tunbridge Wells, is called South East Today.




The city of Brighton and Hove, which is located in East Sussex, is just 33 miles from Tunbridge Wells, did not switch to this new service on analogue or Freeview, but Sky, Virgin Media cable and Freesat viewers have enjoyed South East Today for many years.

Central London is closer - and better connected - to Brighton than Southampton, Hampshire. Brighton and Hove's 250,000 population makes it the largest city in the South East Today region, larger than Canterbury's and Maidstone's 150,000.

Brighton and Hove is served by one main transmitter on Whitehawk Hill, and eight relays at Bevendean, Brighton (Central), Coldean, Hangleton, Ovingdean, Portslade, Patcham, and Saltdean; historically some viewers in the west of the city had their aerials pointing at the Rowridge transmitter on the Isle of Wight.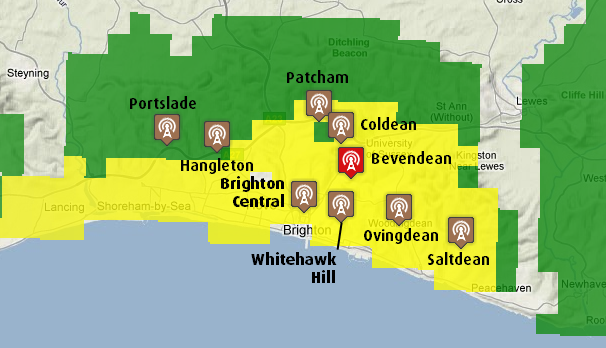 At switchover, all the transmitters in Brighton and Hove will switch to the South East Today region on Freeview.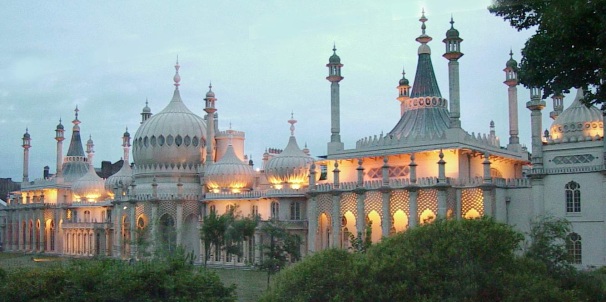 Comments
Friday, 30 March 2012

Derek Sanderson: As part of switchover, the power of the Findon transmitter was increased. This now provides a greater coverage and it still broadcasts BBC South as it is a relay of Rowridge.

Depending on your location you may be able to receive either from Findon or directly from Rowridge.

Be aware that Findon is a Public Service only transmitter so you will not get all the channels, so you may need to retain your current aerial for them.

Whilst it's probably not quite the news you were hoping for, it may nonetheless give you an opportunity to receive BBC South again.

If you provide your location, preferably in the form of post code, an assessment can be made as to the likelihood of reception from another transmitter that carries BBC South.

Dave Lindsay's 5,724 posts
J
John Clemence
3:14 PM
Brighton

I have to say that I really prefer the coverage from the South East. It better matches where I live and work than the old BBC South coverage tended to do.

John Clemence's 16 posts
Monday, 9 April 2012

LORRAINE: You are incorrect. Brighton and Hove became a Unitary Authority after the Local Government Commission for England (1992) review - and came into being in 1997.

The city status was given by HM Queen as part of the millennium celebrations in 2000.

Whilst unitary authorities do not take any governance from the County Council, addresses (as set by Royal Mail) within the UA remain in the "ceremonial county", which for Brighton and Hove is East Sussex.

Briantist's 38,844 posts

Ray France: The digital switchover has nothing to do with Virgin Media at all - the Virgin system has been fully digital for a long time.

Briantist's 38,844 posts

John Clemence: I can't disagree with that. I never found the "news for Southampton and Portsmouth" of massive personal relevance.

Briantist's 38,844 posts
Thursday, 12 April 2012

I miss South To Day. The South East news doesn't even show Brighton on there weather map.
And most of the news is about Kent. why can't I have the option as to which I receve, and why cant I have it in HD. Phil from Brighton

Philip Hemsley's 1 post
Friday, 13 April 2012

Philip Hemsley:
Hi, I live in Margate and often complain because BBC South East shows a lot of Brighton news so I guess it is swings and roundabouts. BBC local news is not shown in HD even on Sky.

alan tilbury's 3 posts
Thursday, 24 May 2012

I have every sympathy with viewers who for no other reason that a TV shop or engineer has erected an aerial directed towards Brighton.
Indeed I have noticed that even as far west as Littlehampton, there are vertical aerials on chimney pots facing east.
BBC South East is primarily concentrating on Kent and East Sussex and very rarely strays into West Sussex territory--BBC South however despite the geographical nonsense about coming from Southampton covers West Sussex news superbly every night.

Perhaps there needs to be a focus on residents investing in a new Group A aerial pointing towards Rowridge??

Mike Pritchard's 1 post
Saturday, 7 July 2012
A
Amelia
10:17 PM
Faversham

How come I am not receiving newsroom southeast but am getting look east. And I live in Kent ?

Amelia's 1 post
M
Mark Fletcher
10:53 PM
Halifax

Amelia.Faversham,ME13 0NW.
Are you using Bluebell Hill or Dover main transmitter if your aerial is polarised horizontally ?
Did you perform an automatic scan instead of a manual scan as auto scan often picks up incorrect transmissions from neighbouring mast more so in overlap regions ?
In this instance you picked up BBC Look East transmissions from Sudbury on the BBCA multiplex on frequency 44 !
If you know which of the two main transmitters in Kent yer using,delete all your current set up then manually scan all available multiplexes from either Bluebell Hill or Dover mast whichever yer using.
This way you will rid the unwanted BBCA multiplex from Sudbury (fr 44) itself and at your location preferably manual scanning instead of automatic scanning will in future prevent wrong transmissions being received.

Mark Fletcher's 673 posts
Select more comments
Your comment please