Brighton transmitters will be in BBC South East from 7th March 2012

Brian Butterworth published on UK Free TV
Back on 3 September 2001, the BBC split the old Newsroom South East region.

The Oxford part had became an opt-out of South Today from Southampton in October 2000, and in late 2001 the rest of this large region was then split into two: a service for "M25" London (BBC London News) and another one for Kent and East Sussex.

This new service, which is based at studios in Tunbridge Wells, is called South East Today.




The city of Brighton and Hove, which is located in East Sussex, is just 33 miles from Tunbridge Wells, did not switch to this new service on analogue or Freeview, but Sky, Virgin Media cable and Freesat viewers have enjoyed South East Today for many years.

Central London is closer - and better connected - to Brighton than Southampton, Hampshire. Brighton and Hove's 250,000 population makes it the largest city in the South East Today region, larger than Canterbury's and Maidstone's 150,000.

Brighton and Hove is served by one main transmitter on Whitehawk Hill, and eight relays at Bevendean, Brighton (Central), Coldean, Hangleton, Ovingdean, Portslade, Patcham, and Saltdean; historically some viewers in the west of the city had their aerials pointing at the Rowridge transmitter on the Isle of Wight.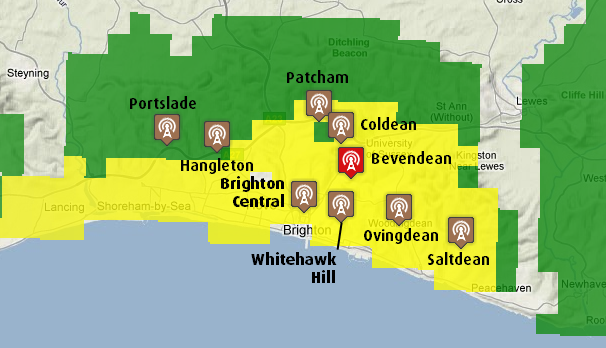 At switchover, all the transmitters in Brighton and Hove will switch to the South East Today region on Freeview.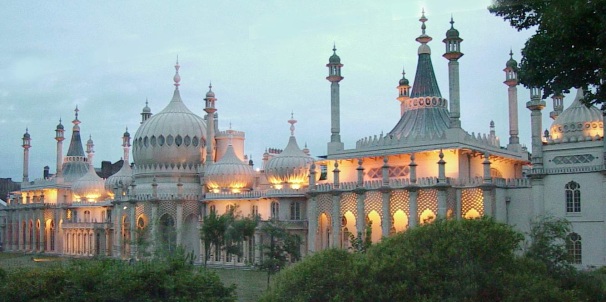 Comments
Tuesday, 24 July 2012

Hello
I wonder if anyone can throw some light on the best way to go for Freeview reception in Patcham, Brighton. About a year ago putting the postcode BN1 8RA into the official Feeview site, the Patcham relay was the only transmitter shown as viable for this postcode - the main Whitehawk transmitter was no go. Now a postcode search gives both Patcham relay and Whitehawk as viable, and a quick test with a vertically polarised aerial out of the bedroom window gave reasonable results from the Whitehawk direction, certainly as good as Patcham relay, horizontally polarised. The advantage of Whitehawk is the wider range of content. I noticed that a number of new aerials are also pointing in the Whitehawk direction. Has something happened recently that makes Whitehawk a possibility?
Thanks

piglet's 5 posts
piglet's:
map
P's Freeview map
terrain
P's terrain plot
waves
P's frequency data
P's Freeview Detailed Coverage

piglet: Prior to switchover, the low power Freeview signals, and maybe analogue Channel 5 were too low a power to be useable at your location. Thus, even "if" the four analogue channels could be received from Whitehawk, there would be nothing to gain over the choice offered by Patcham which was probably a much better signal anyway.

Post-switchover, the equivalent transmission power of Whitehawk is twice that of the former four-channel analogue.

The difficulty is the high-ground that is in the way:


Terrain between ( m a.g.l.) and (antenna m a.g.l.) - Optimising UK DTT Freeview and Radio aerial location

Dave Lindsay's 5,724 posts
Thursday, 16 August 2012

Before the digital changeover I used to receive BBC South for my local news. Now I get BBC South East which is all about Kent. We have much more in common with Worthing, Chichester, Bognor etc that are all within 40 miles of Hove. BBC South has always covered West Sussex and often East Sussex.

BBC South East often doesnt even have Brighton on the weather map.

Why dont we get South Today and BBC South anymore ?

HoveActually's 2 posts
Wednesday, 22 August 2012

I prefer BBC South East, despite the fact that the coverage stops just short of Worthing, at Shoreham by Sea (although Worthing is frequently on the weather map).

South Today was always useless in my opinion - it just couldn't help but rabbit on about Hampshire and Dorset, whilst completely ignoring West Sussex three-quarters of the time.

I'm pleased to an extent - if only BBC South East could just move a few miles to the west.




Alex's 1 post
Alex's:
map
A's Freeview map
terrain
A's terrain plot
waves
A's frequency data
A's Freeview Detailed Coverage

Alex: Digital UK Postcode Checker suggests that you might have a good chance of reception from Whitehawk Hill, which would allow you to watch BBC South East. A look at your road on Streetview shows a fairly even mix of aerials on Whitehawk and aerials on Rowridge.

If you decide to have an aerial fitted for Whitehawk whilst retaining the Rowridge one, whilst the installer is up there, it might be worth getting the Rowridge aerial switched for vertical polarisation so as to take advantage of the stronger Commercial multiplexes (which are stronger vertically).

Dave Lindsay's 5,724 posts

Dave Lindsay: I assumed that the "coverage" you were referring to was that of the signal. I wonder now if you were in fact referring to the area that the news reports relate to.

Dave Lindsay's 5,724 posts
Friday, 24 August 2012

I Think BBC South East is only interested in kent.Its very rare that any news starts with a Brighton subject.It's all about Kent with the odd mention of Brighton.And still not on the weather map.It's a joke.
Is it not posible to move my arial to get South today.
WHY ARE WE NOT GIVEN THE CHOICE

phil hemsley's 2 posts

Just watched South To Day at daughters ,and there was more news on Brighton then any over the last week on South East. And no one in Brighton is watching!!!

phil hemsley's 2 posts
Friday, 21 September 2012

These people that are complaining that BBC South East does not give much news about Brighton, must be asleep most of the time. I have found that Brighton gets far more coverage on BBC South East than on BBC South which seems to concentrate on Southampton, Hampshire, Dorset and any opportunity to show something with sailing in it. I was really please when I started getting BBC South East in March, but last night a notice came on my TV to say it needed re-tuning. Now I'm stuck with BBC South again, which is of very little interest to me. Please let us have news from the South East again.

Mick Carter's 3 posts

Mick Carter: In which case your TV must have tuned to a transmitter other than your own.

Without knowing where you are or which transmitter you have your aerial directed to, I cannot be very certain.

However, if your aerial is directed to Whitehawk Hill, then Rowridge may have been tuned in instead. You can find this out by viewing the signal strength screen whilst on BBC One. For Whitehawk it will say that it is tuned to UHF channel 60, whereas for Rowridge it will be tuned to C24. Other channels (those other than the BBC) may also be tuned incorrectly for the same reason.

Rowridge uses all low UHF channels (frequencies) and Whitehawk, high ones. Thus, if you do find that you are tuned to Rowridge when you require Whitehawk, run the automatic tuning scan with the aerial unplugged for the first 50%.

Dave Lindsay's 5,724 posts
Select more comments
Your comment please