Switchover starts in the East Midlands

Brian Butterworth published on UK Free TV
This week sees the first stage of the digital television switchover for 813,298 homes in the East Midlands.

From 6am Wednesday 17 August 2011, you must to a perform a "first time installation" retune (sometimes "Factory Reset" or "Shipping Condition") on your Freeview box or television set if you use the Waltham full service Freeview transmitters. This is because the old "multiplex 1" BBC service will be replaced by the BBCA multiplex on the old analogue ITV-1 frequency, C61. Analogue ITV-1 moves to to C64 for two weeks.

If you use the Ambergate, Ashbourne, Ashford in the Water, Belper, Birchover, Bolehill, Darley Dale, Eastwood, Leicester, Little Eaton, Matlock, Parwich, Stamford, or Stanton Moor relay transmitters from mid-morning on Wednesday 17th August 2011 you will be able to receive the BBC Freeview services (with the exception of HD) for the first time, and you will no longer be able to view BBC TWO on analogue.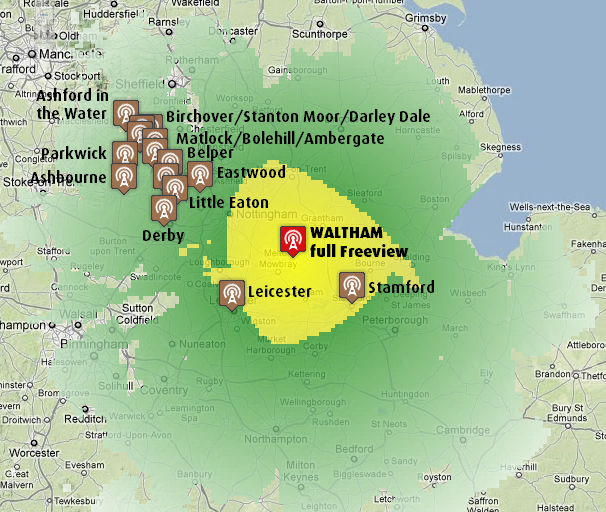 You MAY find that old equipment will no longer work - see TVs and boxes that do not support the 8k-mode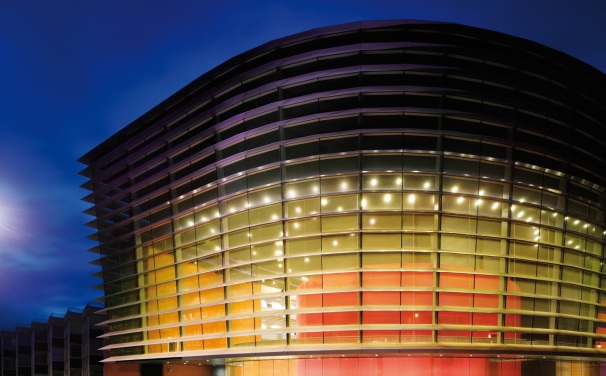 On Wednesday 31th August 2011 will see the second stage of switchover, which provides the final Freeview configuration, including Freeview HD for all transmitters in this region.

On this date, you will need, once again, to do a "first time installation" as indicated above. If you are over 75, you should aleady have been supplied new equipment by the Switchover Help Scheme.
Comments
Sunday, 21 August 2011
KB Aerials Sheffield
8:30 AM
Sheffield

Jackie - need a post code to get a prediction
We need to know where you live

as for your dad being a mile away ive known situations where 1 house 2 chimneys - Chimney 1 has no reception at all - move the aerial to the other chimney on the other side of the house and it booms in

there are places in sheffield that receive waltham or belmont and neither were paticularly strong but no other transmitters so had to use one or other


KB Aerials Sheffield's 274 posts

all our channels are down here in sheffield too postcode s205pe.

warren's 1 post
KB Aerials Sheffield
4:12 PM
Sheffield

Warren
You will be on Emley moor where your are - you could receive from Belmont but I doubt that an aerial rigger would pick Waltham

The signal Booms in where you are as you are high up and in line of site to Emley
Just Checked My tv and signal seems to be fine - Not got analyser on it though I live at Beighton - If I had a problem then yes transmitter would be down but its working fine

Keith

KB Aerials Beighton Sheffield

KB Aerials Sheffield's 274 posts

We returned from holiday today and after a total retune of our usually very reliable digibox we seem to have lost BBC1, BBC2, BBC3 and CBBC since switchover. All had excellent digital reception before. We live on the Lincs/Leics border (postcode NG32 1AZ) and usually receive BBC1 East Midlands from the Waltham transmitter. Our aerial points to this, was new last year and was specifically chosen by a local firm (who are very highly regarded and whom we have used before in previous homes over many years) to be ready for the switchover so no boosters fitted etc, to ensure it could cope with the new stronger signal.
Every other channel is still available and has perfect reception and the EPG lists all the channels in their correct positions, including the missing 4 - it's simply that when you select, the channel title is there but no content.
My limited knowledge leads me to assume it must be connected with the MUX1 and BBCA change but I can't see how to correct it. We rarely watch anything but BBC and luckily we still have BBC4 but we're missing our super BBC1 news - Central news is just too awful!
Does anyone have any clues on this, please?
Thanks in advance

Helen's 5 posts
Monday, 22 August 2011

Helen: Check in the 800s of the channel list for BBC channels that work. Did you do a factory reset to erase all memory of the original channels? It is also possible that you are storing Belmont channels first before finding those from Waltham.

KMJ,Derby's 1,811 posts

Note to Web site owner I'm not getting ".. minutes ago" correct.
EG Helen's post of Sunday is shown as 7 minutes ago.

David's 306 posts

Thanks for that. There were no channels listed in the 800s and no BBC1, 2, 3 etc listed elsewhere so I've just tried another reset and retune. I've now no longer got anything listed for BBC1, BBC2 and BBC3 in the EPG and seem to have lost a few more channels and still nothing in the 800s . I've got our old Asda Durabrand box to try next instead - but our other ondigital box has been far more reliable in the past so I assumed it would be now as it's far more programmable than the Asda one.
This digital switchover stuff is an absolute mess and looks like it going to cost me a lot of money. Typical of the idiots in successive Governments on their over-inflated salaries to come up with something most of us don't want anyway and then it not work once they've done it!
Thanks again.

Helen's 5 posts

Helen just to clarify is it an old OnDigital box you are using?
I thought these got killed off at switch over if not killed allready by changes to the transmission specs.

David's 306 posts

Yes it is an Ondigital box. It's been super-reliable and has an excellent picture quality. I've just tried the old Asda one and have picked up the channels although the picture clarity isn't a patch on what we had before.
So it seems that our high picture quality box no longer works yet so we're forced into a second rate reception!

Helen's 5 posts

Helen: The reason for your problem is highly suggestive of your box not being capable of operating on the new 8K mode that is being used ONLY on the BBC1 etc Mux transmitter.

The thing is, that if this is the cause of the problem then come the end of the month they will all vanish, as then the other channels also go over to the 8K operating mode, this affecting quite a number of older boxes.



jb38's 7,179 posts
Select more comments
Your comment please