Switchover starts in the East Midlands

Brian Butterworth published on UK Free TV
This week sees the first stage of the digital television switchover for 813,298 homes in the East Midlands.

From 6am Wednesday 17 August 2011, you must to a perform a "first time installation" retune (sometimes "Factory Reset" or "Shipping Condition") on your Freeview box or television set if you use the Waltham full service Freeview transmitters. This is because the old "multiplex 1" BBC service will be replaced by the BBCA multiplex on the old analogue ITV-1 frequency, C61. Analogue ITV-1 moves to to C64 for two weeks.

If you use the Ambergate, Ashbourne, Ashford in the Water, Belper, Birchover, Bolehill, Darley Dale, Eastwood, Leicester, Little Eaton, Matlock, Parwich, Stamford, or Stanton Moor relay transmitters from mid-morning on Wednesday 17th August 2011 you will be able to receive the BBC Freeview services (with the exception of HD) for the first time, and you will no longer be able to view BBC TWO on analogue.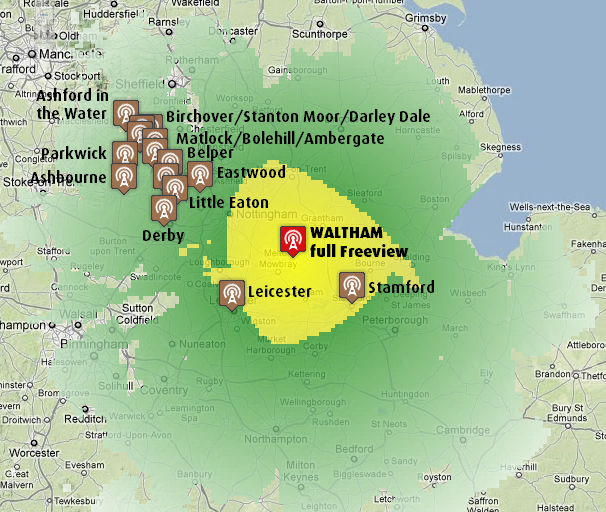 You MAY find that old equipment will no longer work - see TVs and boxes that do not support the 8k-mode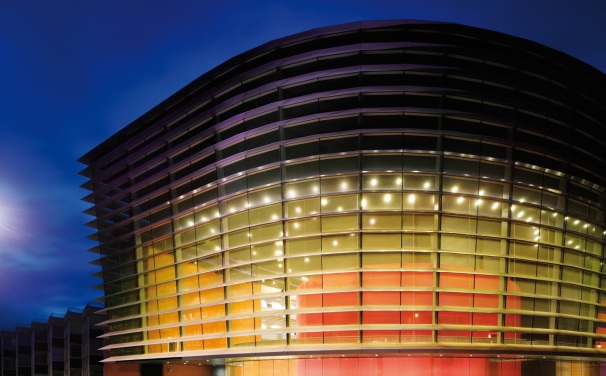 On Wednesday 31th August 2011 will see the second stage of switchover, which provides the final Freeview configuration, including Freeview HD for all transmitters in this region.

On this date, you will need, once again, to do a "first time installation" as indicated above. If you are over 75, you should aleady have been supplied new equipment by the Switchover Help Scheme.
Comments
Monday, 22 August 2011

I've just checked the OnDigital (Pace) serial no and found that it is one listed as being unable to receive the new signal. Obviously the people in charge of all this sort of thing think a) we're all rich and can afford just to replace equipment and b) green ethics have no place in the modern world and we can just throw stuff away ready for the next fancy thing!
The Asda one should be okay as my parents live a couple of miles away in a valley and have the same model box on the bedroom tv and theirs is fine (so the model obviously is working with the new signal.) Our house on one of the highest points for miles around (aircraft use our village as a trig point!) and we're nearer the Waltham transmitter so I'm hoping that when the next stage of switchover comes at the end of the month the picture clarity will improve.
I just have to wait for the local news at 1.30pm to see if I've got the right BBC1 channel or whether I need to search for it. It seems from what I've read that Belmont (broadcasting Look North) is sometimes overpowering Waltham (broadcasting East Midlands Today). As we only live 30 mins from the East Midlands studio it seems ironic that Yorkshire news should be on Lincs and Leics TVs yet local stuff isn't! The aerial is definitely pointing straight at Waltham so fingers crossed!
Thanks yet again.

Helen's 5 posts

Just to update - we have East Midlands today! Hurrah.
It concerns me how some less technically minded people are coping - this whole mess just isn't the way things should be done. Hopefully the economic issues will put paid to this constant stream of so-called improvements and forcing us into spending money on silly toys!
Thanks for all the help.


Helen's 5 posts

David: Yes, I seem to introduce a bug into the system with the "comments cache" system. I have now fixed this so the correct "time ago" is added in later.

Thank you for pointing out the error, it is always helpful.

Briantist's 38,844 posts
Tuesday, 23 August 2011

I have retuned my disc recoder and I now have BBC 1 Yorkshire instead of east midlands. to receive east midlands I have to key in channel 819 is there a low signal in my area?

Ron Stringer's 1 post

I contacted DigitalUK and complained about this extremely powerfull Belmont ch 22 getting all over the country and upsetting the local BBC programs by installing BBC Look North Lincoln.
They said nothing to do with them.
So who is responsible for the power and radiation og Belmont?

David's 306 posts

Ron Stringer: Please see Digital Region Overlap | ukfree.tv - independent free digital TV advice .

Briantist's 38,844 posts

David: Ofcom issues the licences.

As pointed out elsewhere it is your responsibility to operate your equipment to choose the correct service if you live in an area served by more than one transmitter: Digital Region Overlap | ukfree.tv - independent free digital TV advice .

The overlaps are 100% intentional and have existed for over 50 years.

Briantist's 38,844 posts

David: Belmont has always been available in most of Derbyshire (including Derby) and West Yorkshire since the start of UHF transmissions from there. Analogue BBC1 was on C22, so was found first when tuning in a TV or VCR. It was up to the viewer whether it was stored on button 1 or a "spare", or simply ignored.

KMJ,Derby's 1,811 posts

Well in that case I will blame the box/TV set makers for not making the equipment user friendly.
Your right we can take steps to make it right manualy but can the normal Joe Public?
I bet many stuck with Look North Lincoln who are not in Linconshire area.
People want plug and play things today.
I still think someone made a bad decision somewhere.

David's 306 posts

David: If you find it so troublesome, you can buy a Freeview HD box, the software will present a menu of regions if it sees more than one when it scans, and allocates the channels numbers as per the choice you make.

Briantist's 38,844 posts
Select more comments
Your comment please