Tacolneston (East Anglia) transmitter Freeview retune

Brian Butterworth published on UK Free TV
If you live in East Anglia and use Freeview from the Tacolneston transmitter, you will need to perform a retune on Wednesday 17th August 2011.

At around midnight, multiplex B (BBC Four, CBeebies, BBC Parliament, 303, BBC Radio 1, BBC 1Xtra, BBC Radio 2, BBC Radio 3, BBC Radio 4, BBC Radio 5 Live, BBC Radio 5 Live Sports Extra, BBC 6 Music, BBC Radio 4 Extra, BBC Asian Network, and BBC World Service) moves from C58 moves to C66, and Multiplex C (PICK TV, Dave, Really, E4+1, Big Deal, Create and Craft, Price Drop TV, Gems TV 1, PICK TV +1, Daystar TV, Food Network and Sky News) from C61 to C68.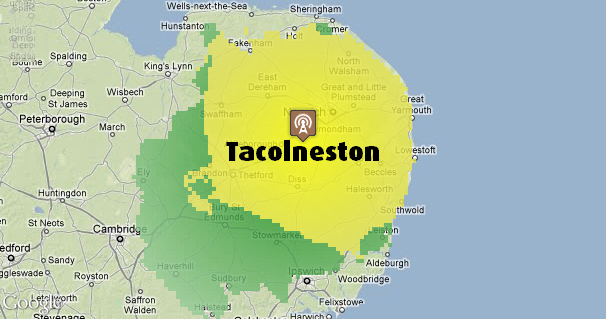 From 6am Wednesday 17 August 2011, you must to a perform a "first time installation" retune (sometimes "Factory Reset" or "Shipping Condition") on your Freeview box or television set

This is NOT the digital switchover for Tacolneston - that starts on Wednesday 9th November 2011 and completes on Wednesday 23rd November 2011.

These changes are required to protect the BBC multiplexes on the Waltham transmitter.
Comments
Saturday, 20 August 2011

I have now tried all the advice above and still since the re-tune have no BBC4, ITV4,Sky news, Cbeebies, BBC Parliament etc. When I try to manually re-tune channel 66 says no or poor signal. As I mentioned before I do have a hard drive which does pick it up so can at least still watch the channels but am puzzled as to why still no joy on the TV.

Alex's 4 posts
Alex's:
map
A's Freeview map
terrain
A's terrain plot
waves
A's frequency data
A's Freeview Detailed Coverage

Annie (& Alex): If manual retuning is telling you that the signals are poor, then I'd suspect adjacent channel interference from the existing analogue TV channels.
I've no idea whether they're using different antennas at Tacolneston (could be; its the sort of thing that happens in the run up to DSO), but that might explain your difficulty.
Different receivers use different filtering in the tuner, so some are less susceptible to adjacent channel interference than others (e.g. good quality PVR works when cheap TV doesn't).
It will cease to be a problem at DSO2 when the analogue signals have gone - that's on the 23rd November.

Jim F's 141 posts

Thanks Jim F very helpful. Roll on November!!

Alex's 4 posts
Alex's:
map
A's Freeview map
terrain
A's terrain plot
waves
A's frequency data
A's Freeview Detailed Coverage

Thanks to this forum I've been able to talk my mum through sorting her channels out. She has a Humax box that lost all channels after an auto-retune on Wednesday. She was told by someone on the freefone number that Tacolneston is "waiting for a part - you'll have to be patient". After reading what's on here I talked her through a Default Install, rather than Auto Search and all her channels have returned. Hope this might help someone else. If you've lost channels - make sure you do a full install, rather than auto search.

MarkW's 1 post
Sunday, 21 August 2011

Quite bizarre results for me. Just retuned the Topfield and now we have 90+% signal and quality strength for 85% of the channels but none at all for others.

Gone/No Signal -
Pick TV
Dave
Really
E4+1
PickTV+1
Sky News
CNN

Jason's 3 posts

Further follow ups seems to me I cant get Mux C.

Have reset the Freeview box to factory settings and cleared out the previous tunings but still only finds 63 channels (no Mux C).

Why would it be single freq interference when everything was fine before the retune?

Always felt Freeview was a bit of a cock up technically.

Jason's 3 posts

Tacolneston Retune

I noticed last night that, since the retune on 17 Aug, I'm now receiving BBC1 HD on ch50 :-D - and the other HD channels elsewhere in the 50's.

It breaks up occasionally, but good nevertheless. Receiving on my Panasonic plasma, which has built-in DVB-T2 tuner. I assume that reception will improve approaching November?

TV displays 1080i/50 when switching to HD channels.

(I can see directly to Tacolneston from NR17 1**).

Richard's 7 posts

Richard: Taking it that you are referring to EPG Ch50, try going into the signal check screen (condition on some Panasonics) and note what Mux channel number you see, as you might find its Mux Ch47 HD from Sudbury / Rouncefall, as according to my info HD isn't transmitted from Tacolneston until November 23rd.

(The trade reception predictor does though indicate HD from Sudbury/Rouncefall as being possible for your code area)


jb38's 7,179 posts
jb38's: ...

Hi jb38

Yes, against 'Parameter' I've got [CH47] 682.00 MHz - with 'Signal Quality' all over the place. I lose picture and sound intermittently.

Oh well, roll on November ;-)

Richard's 7 posts

Richard: Yes quite so! although somehow I thought you would report less than satisfactory reception, as predictors (even trade ones) are notoriously unreliable as far as their accuracy is concerned, this because of the number of local variables that nearly always exist.

Plus of course your aerial might not be even remotely in line with these other transmitters.

jb38's 7,179 posts
Select more comments
Your comment please