EXCLUSIVE More Freeview capacity coming 2012-2016

Brian Butterworth published on UK Free TV
It appears the Ofcom has decided that the UHF channels C31, C32, C33, C34, C35, C36 and C37 will be used for new Freeview services which will be rolled out on the 80 main transmitters by autumn 2016.

It appears that the seven UHF channels in the lower "digital dividend review" cleared spectrum for additional Freeview services.





It is possible that these services could be used for seven single-frequency networks (SFN) multiplexes, or less if they are used for multi-frequency networks.

Ofcom could assign C37 to a second public service high definition multiplex, as it can be received by all aerial groups. This could provide BBC three and BBC FOUR in HD, with perhaps ITV 2 HD and ITV 3 HD plus E4 HD, as Ofcom expect to get five HD channels per multiplex by 2013 - Five HD is expected on the BBCB multiplex at the end of 2012.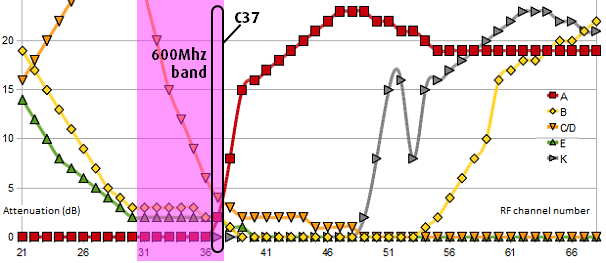 The remaining channels C31 to C36 will be receivable for group A, group B, group E group K and wideband aerial, and could provide high definition capacity to match all of the existing standard definition Freeview channels. (See also Aerial group performance).

Seven single frequency HD multiplexes would give Freeview HD another 35 high definition channels, making a total of 40 by 2016.

The six lower frequencies (C31-C36) will mean users of the following transmitters users require wideband aerials to watch the new services: Angus, Beacon Hill, Brierley Hill, Brighton (Whitehawk Hill), Carmel, Dover, Heathfield, Huntshaw Cross, Keighley, Limavady, Llanddona, Malvern, Mendip, Midhurst, Olivers Mount, Oxford, Plympton, Pontop Pike, Reigate, Rosneath, Salisbury, Selkirk, Tacolneston, Waltham and Winter Hill.

Ofcom has yet to consult on the actual usage and bidding process for these new frequencies.
The evidence
Arqiva is the company that owns all of the television transmitters in the United Kingdom, as well as two of the six Freeview multiplexes.
Regular contributor Mike Dimmock has pointed out that Arqiva have
applied to South Norfolk District Council, to make changes to the Tacolneston transmitter
, in which they say
"The decision has now been taken to reallocate spectrum at 600 MHz for additional terrestrial television broadcast services and OFCOM is tasked with the preparatory work leading up to the auction of this spectrum."
September 2011 - Arqiva Reference Offer prepared for OFCOM
Q2 2012 - Government holds Spectrum Auction
Q3 2012 new licences issued
Q3 2016 - Arqiva antenna works completed at Main Stations
Ofcom have been asked to comment.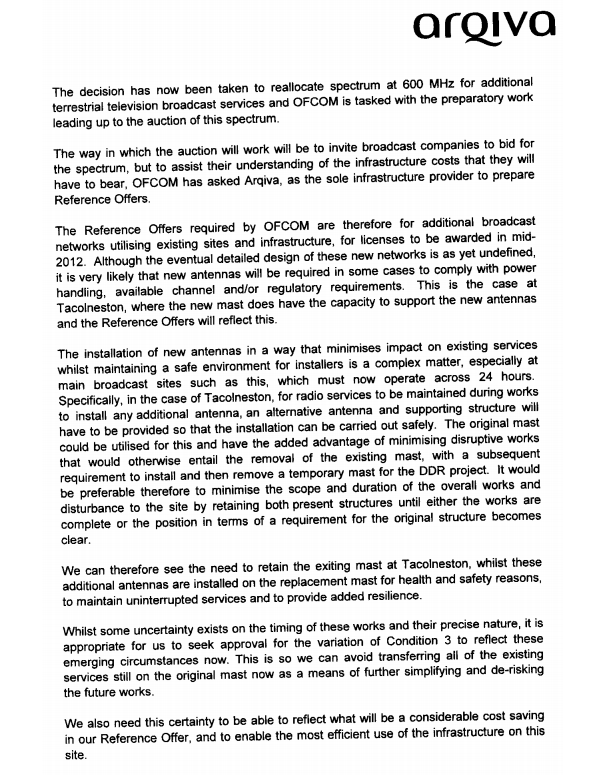 Comments
Thursday, 18 August 2011

Mark Aberfan Aerials: I think you are right.

If they use the frequencies to implement a number of SFN networks, then this will limit the coverage even more.

I note that the document says "Arqiva antenna works completed at Main Stations" which could imply that they are going to be done first, with others to follow.

I think if the BBC get involved with another HD multiplex there is a good chance of them wanting to provide better coverage than the "main 80".

Generally speaking, it is the valley that have problems, the more flat rural areas tend to get coverage.

As far as I understand it DVB-T2 is more suited to a UK-wide SFN network than DVB-T would be.

Briantist's 38,906 posts

Hi Brian,

Thanks for the quick reply, We will keep our fingers crossed (but it would be too risky to hold our breath !)

Mark Aberfan Aerials

Mark Aberfan Aerials's 1,059 posts

Hopefully Scotland can get its main radio programmes back when this happens

At the moment, any sports broadcast, such as Test Match cricket on Radio 5 live extra, as well as Radio 4, disappear at 5pm weekdays and 4pm weekends so that we can watch gobbledegook BBC Alba

Rod Gray's 7 posts

Mark Aberfan Aerials: Yes, but given that Ofcom have not make a public statement I guess all options are possible.

Briantist's 38,906 posts

Rod Gray: Yes, that's covered here BBC Alba on Freeview in Scotland, but at loss of peak time BBC Radio services | ukfree.tv - independent free digital TV advice and BBC Alba to start broadcasting on Freeview Scotland from 8 June | ukfree.tv - independent free digital TV advice .

Briantist's 38,906 posts

The idea of trying to squeeze 5 HD channels into a multiplex is really bad. Because of the current bandwidth limitations the BBC only transmits 1440x1080 instead of the full HD 1920x1080. A reduction in bitrate will certainly reduce the quality even more. The BBC will say that encoder improvements will compensate but certainly not enough.

I think it will be very optimistic to believe that all these channels will be filled by so called free television. The quality of BBC programs has certainly deteriated over the last year. Just look at the number of repeats being shown this week. Most of the new programs are cheap rubish. The abandoment of F1 is another example of dumbing down.

I would certainly expect the Sky Sports HD channels to be available. And on that bomb shell I will say goodbye.

Trevor Harris's 367 posts

Trevor Harris: Ofcom says that the improvement in computing power of the encoder, due to Moore's Law will allow a fifth channel into the Freeview HD multiplex in 2012. http://stakeholders.ofcom….pdf .

Briantist's 38,906 posts
Martin
3:21 PM


You can actual see this was going to happen in the next few years after switchover. I receive my channels through Belmont and since it also started broadcasting digital signals, there have been 11 frequencies used 5 analogue & 6 digital.

Now we have gone back to 6 frequencies again you would of thought what they would do with the other 5. Plus Freeview desperately needs more capacity due to the compression of a lot of channels.

Now if they broadcast and use on all the frequencies using the newer DVB-T2 MPEG4 system by 2016. I bet on it that by about 2020 the rest of the DVB-T channels will cease to be broadcasted and switched to DVB-T2. Hence another switchover on equipment like I was saying earlier. When people are only just buying equipment for this switchover still with only the DVB-T spec.

The DVB-T MPEG2 spec has been broadcasting here since 1998. Over the next 5-10 years I would say DVB-S broadcasting on satellite will go the same way and completely switch to DVB-S2 MPEG4.

Martin's 9 posts

Actually Brian I looked at you reference and I could not find any thing about 5 channels in it.

Computing power is not really the problem here. It is a question of encoding quality which has certainly been increasing over the last few years. But the improvements that can be made are limited by the requirement to hold to the H264 specifications. In my view any improvements should be used to upgrade to 1920x1440.

I notice you have not mentioned 3D which must surely be a part of any expansion.


Trevor Harris's 367 posts

Trevor Harris: Sorry, wrong link, that the DRM document... The one you want is http://stakeholders.ofcom….pdf (see 5.2.2 2012 Scenario).
There is no consumer demand for 3D at the moment.

Briantist's 38,906 posts
Select more comments
Your comment please