EXCLUSIVE More Freeview capacity coming 2012-2016

Brian Butterworth published on UK Free TV
It appears the Ofcom has decided that the UHF channels C31, C32, C33, C34, C35, C36 and C37 will be used for new Freeview services which will be rolled out on the 80 main transmitters by autumn 2016.

It appears that the seven UHF channels in the lower "digital dividend review" cleared spectrum for additional Freeview services.





It is possible that these services could be used for seven single-frequency networks (SFN) multiplexes, or less if they are used for multi-frequency networks.

Ofcom could assign C37 to a second public service high definition multiplex, as it can be received by all aerial groups. This could provide BBC three and BBC FOUR in HD, with perhaps ITV 2 HD and ITV 3 HD plus E4 HD, as Ofcom expect to get five HD channels per multiplex by 2013 - Five HD is expected on the BBCB multiplex at the end of 2012.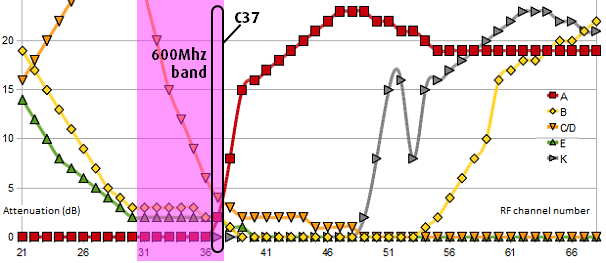 The remaining channels C31 to C36 will be receivable for group A, group B, group E group K and wideband aerial, and could provide high definition capacity to match all of the existing standard definition Freeview channels. (See also Aerial group performance).

Seven single frequency HD multiplexes would give Freeview HD another 35 high definition channels, making a total of 40 by 2016.

The six lower frequencies (C31-C36) will mean users of the following transmitters users require wideband aerials to watch the new services: Angus, Beacon Hill, Brierley Hill, Brighton (Whitehawk Hill), Carmel, Dover, Heathfield, Huntshaw Cross, Keighley, Limavady, Llanddona, Malvern, Mendip, Midhurst, Olivers Mount, Oxford, Plympton, Pontop Pike, Reigate, Rosneath, Salisbury, Selkirk, Tacolneston, Waltham and Winter Hill.

Ofcom has yet to consult on the actual usage and bidding process for these new frequencies.
The evidence
Arqiva is the company that owns all of the television transmitters in the United Kingdom, as well as two of the six Freeview multiplexes.
Regular contributor Mike Dimmock has pointed out that Arqiva have
applied to South Norfolk District Council, to make changes to the Tacolneston transmitter
, in which they say
"The decision has now been taken to reallocate spectrum at 600 MHz for additional terrestrial television broadcast services and OFCOM is tasked with the preparatory work leading up to the auction of this spectrum."
September 2011 - Arqiva Reference Offer prepared for OFCOM
Q2 2012 - Government holds Spectrum Auction
Q3 2012 new licences issued
Q3 2016 - Arqiva antenna works completed at Main Stations
Ofcom have been asked to comment.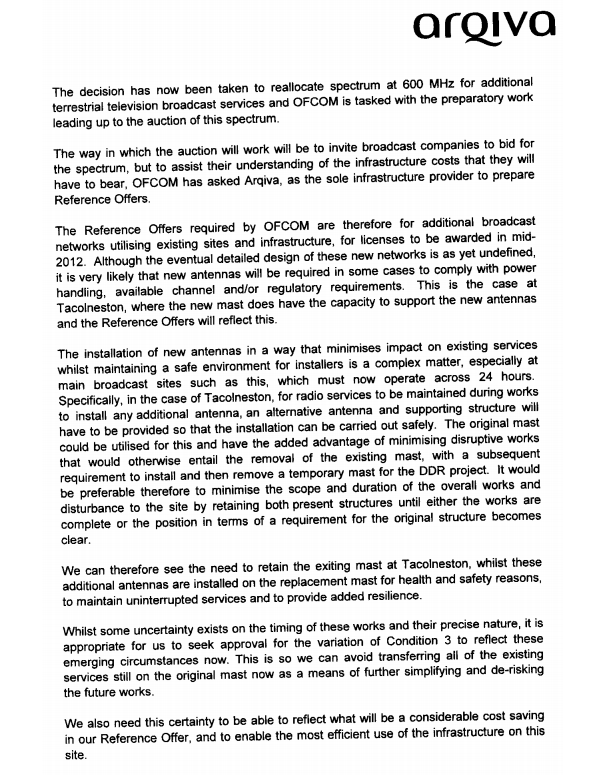 Comments
Monday, 29 August 2011

Rod Gray:

Your description of Gaelic as 'gobbledegook' will be offensive to many.

George Buchanan's 43 posts

George Buchanan: It's not really offensive, just inaccurate, "gobbledegook" means "jargon", not "foreign".

It reminds me of when I was in Athens looking at the ancient amphitheatre and some loud-mouthed American was going on about "decoding" the wording - it wasn't encoded information, it was just Ancient Greek and required either reading or translation.

Briantist's 38,906 posts
M
Maurice Webb
3:10 PM
Deal

I get high signal strength and quality on all digital channels except channel 42 ( most ITV stations,4,5 and all other stations within Channel 42) On Channel 42 stations I rarely get any picture except when the weather is bad with low pressure prevailing and even then the picture quality is not reliable.
The analogue stations are not affected.
My Post Code is CT14 8HG. Why are Channel 42 stations the only ones affected in this way.?

Maurice Webb's 1 post
Maurice's:
map
M's Freeview map
terrain
M's terrain plot
waves
M's frequency data
M's Freeview Detailed Coverage

Maurice Webb: Please see Single frequency interference | ukfree.tv - independent free digital TV advice .

Briantist's 38,906 posts
Friday, 2 September 2011

I've read that the White Space between 400MHz and 800MHz will be used for Local Broadband and MiFi.

UK start-up uses TV's white spaces for broadband | Networking | ZDNet UK

Will this interfere with Freeview reception? Or will it be lower power and squashed between the TV frequencies? (LU74HH)

Bill's 63 posts

Bill: The whole point of a "white space" device is that it will not operate using an allocated frequency. The transmitter discovers the frequencies in use in the area (GPS+database) and disables them.

Actually, Ofcom is proposing that FM is used for whitespace, not the "TV band" - Ofcom | Ofcom considers future of FM radio band .

Briantist's 38,906 posts
Saturday, 3 September 2011

What does it mean that C37 can be received by all aerial groups? Group C/D starts at channel 48 according to the details elsewhere.

Scott's 110 posts

Scott: Whilst the recognised frequency range for a group C/D aerial is C48 to C68, in practice C37 would still be received with an acceptable signal strength unless it was in a poor signal area. Many viewers to the Waltham transmitter watched Channel Five on C35 using their original group C/D aerials without difficulty, in some cases, because the propagation was better on the lower frequencies, the reception on Channel Five was better than that on BBC2 on C64!

KMJ,Derby's 1,811 posts
Friday, 9 September 2011

Briantist: Did you ever see Arqiva's study on possible multiplexes 7 and 8 using the DDR frequencies? You might have missed it, as it is entitled "Ch 21 to 60: Creation of Layers 7 and 8 in released Spectrum".

http://stakeholders.ofcom….pdf

The section about Service Insertion Points, having to carry SI data for all multiplexes on each mux, and SFNs having to carry SI data for all regions that are part of the SFN, is quite interesting.

The new sites suggested, that don't carry the COM multiplexes after DSO, are Whitehaven, Camlough, Poole, Peterhead, Chartham, West Runton, Aldeburgh, Londonderry, Strabane, Exeter St Thomas, Weymouth, Stranraer, Cambret Hill, Newhaven and Eastbourne. They actually say 97 sites but only list 96; Rowridge VP is one of the 96 and I'm not counting that as a 'new' site.

Mike Dimmick's 2,486 posts
Monday, 12 September 2011

Mike Dimmick: Thanks for that link, I had a briefing from someone at Arqiva a while ago about using "reduced MFN" because SFN are problematic in the UK because of the transmitter locations.

I've given it a skim-read, I will give it a proper in-depth read this evening.

Briantist's 38,906 posts
Select more comments
Your comment please