Will there ever be more services on the Freeview Light transmitters?

Brian Butterworth published on UK Free TV
The digital terrestrial service that is known today as Freeview, started life in Parliament as the Broadcasting Act 1996.

Part I act gave the regulator, then the Independent Television Commission, the authority to establish digital terrestrial television services in the UK, and paved the way for a "six multiplex" service. One multiplex was reserved for the BBC, a second jointly between the "Channel 3 licence holder", Channel 4, Gaelic programming in Scotland plus Teletext UK as the "national teletext provider"

One half of the third multiplex was passed to Channel 5 and the S4C Corporation, with the remaining three and a half being put up for a public auction. The ITC duly awarded the remaining three multiplexes to "British Digital Broadcasting" in 1997, which was a combination of two big ITV companies at the time, Carlton and Granada.





On Sunday 15th November 1998, the services was launched under the name "ONdigital", a mixture of free-to-air and pay services, and rather dwarfed by the launch six weeks earlier of the much superior Sky Digital service.

ONdigital renamed itself ITVdigital on 11th July 2001, but the woollen monkey toy in the adverts proved more popular than the service, and the service closed on 1st May 2002.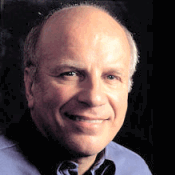 It became clear (especially to BBC director-general Greg Dyke, pictured right) that the digital terrestrial service was popular with viewers, but it was unsuitable as a pay-TV platform.



ITVdigital handed back three multiplex licences to the ITC, and the ITC then re-awarded one to the BBC and the other two to Crown Castle International, a company formed when the BBC's engineering division was sold off.

A company, DTV Services, formed to publicise the new service, which was now called Freeview.

Sky joined in, and purchased slots on the new service (from CCI) for Sky News, Sky Sports News and Sky Travel. Also there from the start of Freeview was Flextech Television "ftn", music channel TMF, UKTV's UK History and UK Bright Ideas, and shopping channel, QVC


Digital switchover process
When it was decided that the
analogue
television signals would be turned off, the BBC, as it funded by a universal fee decided that it must provide the two multiplexes of services to all homes.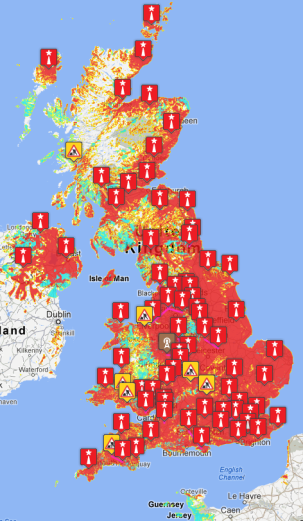 Ofcom
, now the regulator, decreed that the multiplex shared by Channel 3 and Channel 4 (called "Digital 3 and 4 Ltd") must also provide service to all homes that had analogue. This was because Channel 4 already provided this level of coverage, and as the licence holder for Channel 3 has "public service obligations", the broadcasting of multiplex 2 should also extend to all existing TV masts.
However, for the commercial multiplexes, Ofcom simply invited Crown Castle Ltd and S4C Digital Networks (SDN) to apply to extend their networks. Ofcom, having granted the multiplex licences already, felt it had no legal
power
of compulsion to insist more homes were served, and in
December 2006 announced that no application had been received
- at this point Ofcom no longer planned for additional frequencies for the commercial multiplexes.
Both commercial operators decided that the cost of providing the equipment, installation and ongoing operation of services from the 1,000 smaller transmitters would cost more than any additional revenue they could get from the TV
channels
that rent their broadcast capacity, as the work would only expand the actual number of homes broadcast to by 9%.
Since this time, S4C Digital Networks multiplex was bought by ITV plc, and Arqiva acquired the CCI multiplexes. For this reason the commercial multiplexes are known as SDN, ArqA and ArqB.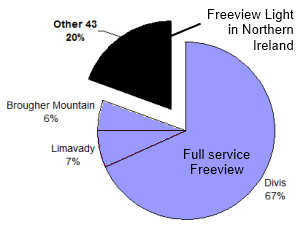 The map shows the locations where Freeview Light service is generally the only Freeview
reception
option.
See also:
Where are the public service (Freeview Light) transmitters?
Comments
Tuesday, 6 September 2011

David: Sorry, that is plain wrong. The Wireless Telegraphy Act instigates one of only two hypothecated taxes in the UK (the other being the London Congestion Charge).

You must pay the tax because you CAN receieve a television signal. It does not authorised you do so, nor does it make provision for you to demand that you should be provided with a signal.

As a hypothecated tax, the money is collected by the TV Licencing and handed directly to the BBC, it does not pass though "the government".

So, what you "feel" is just wrong, and highly irrelevant.

The documentation for this system, which has been in place since it was set up for radio in the 1920s is highly clear on the matter.

The money does not "happen" to be given to the BBC, the relevant Acts and associated Royal Charters determine that this is what happens.

Briantist's 38,906 posts

David, Briantist: Read the Communications Act 2003 Part 4: Communications Act 2003

363 Licence required for use of TV receiver

(1) A television receiver must not be installed or used unless the installation and use of the receiver is authorised by a licence under this Part.

(2) A person who installs or uses a television receiver in contravention of subsection (1) is guilty of an offence.

(3) A person with a television receiver in his possession or under his control who

(a) intends to install or use it in contravention of subsection (1), or

(b) knows, or has reasonable grounds for believing, that another person intends to install or use it in contravention of that subsection,

is guilty of an offence.

(4) A person guilty of an offence under this section shall be liable, on summary conviction, to a fine not exceeding level 3 on the standard scale.

[...]

365 TV licence

(1) A person to whom a TV licence is issued shall be liable to pay

(a) on the issue of the licence (whether initially or by way of renewal), and
(b) in such other circumstances as regulations made by the Secretary of State may provide,

such sum (if any) as may be provided for by any such regulations.

(2) Sums which a person is liable to pay by virtue of regulations under subsection (1) must be paid to the BBC and are to be recoverable by them accordingly.

[...]

368 Meanings of television receiver and use

(1) In this Part television receiver means any apparatus of a description specified in regulations made by the Secretary of State setting out the descriptions of apparatus that are to be television receivers for the purposes of this Part.

(2) Regulations under this section defining a television receiver may provide for references to such a receiver to include references to software used in association with apparatus.

(3) References in this Part to using a television receiver are references to using it for receiving television programmes.

(4) The power to make regulations under this section defining a television receiver includes power to modify subsection (3).


The Wireless Telegraphy Act 2006 only modifies this section to the extent of replacing references to the 1949 WTA with references to itself.


So yes, you are required to have a licence to watch any TV, and the licence fee is paid to the BBC.

What David is asking for is to impose an ongoing running cost on the licensed operators which they didn't agree to when they took out the licences, with no reimbursement of those costs. That's not unknown for governments, but it's relatively rare and probably requires primary legislation (an Act of Parliament). Even then it might fall foul of EU state intervention rules. I'm not a lawyer though! As I said, the law *does* make provision for Ofcom to vary the terms of the renewal (through putting requirements on the Technical Plan that the licensee has to submit), and they haven't done so.

Your driving licence is a pre-requisite for driving a car, but it doesn't entitle you to drive *my* car.

Mike Dimmick's 2,486 posts

Mike Dimmick: I think you are right about the "EU state intervention rules" because the BBC were asked to contribute £14m to Channel 4 to "help with switchover costs" and this was banned by the EU rules - Government withdraws proposal to give Channel 4 state aid of £14m - Telegraph .

Quite why it is now OK to dish out BBC money for S4C will, I am sure, eventually fall foul of the same rules.

Briantist's 38,906 posts

Dave Lindsay: The "smaller relays" (and indeed the big transmitters) were built with public money, half of it with the Licence Fee, half of it under the auspicious of the IBA Engineering division.

The BBC sale happened in the 1990s -
Bottomley to put BBC transmitters on market -
News - The Independent .

"In 1990 the IBA was disbanded and the engineering division entered the private sector as National Transcommunications Ltd (NTL)" - Heritage .

Briantist's 38,906 posts
Thursday, 15 September 2011

Only a few years ago the BBC forced me to give up terrestrial TV and change to digital. The main benefits would be loads of more stations. At considerable personal expense I upgraded all five of my TV sets. However, as I am in a Freeview Light area I can receive only a handful of new stations and the only distinctive one worth viewing is BBC4. Now the BBC wants to take it away. So what was the point of going digital and can I sue the BBC for false claims?

JOHN's 3 posts

John: The BBC didn't force you to do anything. The government and its European partners decided on a shut-down of analogue. Freeview is still terrestrial.

It is also the government's fault - either the politicians or Ofcom, the regulator - that there are sites with fewer multiplexes. They should have required that the services were extended at switchover.

The BBC doesn't want to take BBC Four away; this government chose to freeze the licence fee, effectively decreasing it in real terms, and make the BBC responsible for funding some things from the licence fee that had traditionally been funded by general taxation: BBC Monitoring, which is basically a signals monitoring intelligence operation for the government, and BBC World Service, which is British propoganda overseas. They have also made the BBC responsible for the S4C service in Wales, licence fee funds will be needed to supplement its advertising income.

The BBC obviously has a choice over which programmes and services to be cut back on. We still don't know what has been decided, we just keep getting leaks of purported suggestions. The BBC Trust, which regulates the Executive, has said that no services will be closed.

Mike Dimmick's 2,486 posts
Friday, 25 November 2011

I have just seen the logo freeview light what a joke
why was this not made clearer in the dawlish area and in the news or were you keeping this a secert
and now we are loseing more.
i am lost for words.
and thats the nice way to say it.
I am going to let the tv channels hilight this and see what happens

Steve little's 1 post
Wednesday, 7 December 2011

Steve little: *ALL* Freeview adverts and boxes say "All channels are subject to coverage and may be changed from time to time. Aerial upgrade may be required."

Briantist's 38,906 posts

It seems this is just one more thing people who live in rural areas etc. have to put up with.
EG, Higher prices for food due to no big supermarkets, slow internect connections etc.
Regards
David

David's 306 posts

David: As TV transmitters are located in "rural areas" this is only a problem in certain areas.

As it costs a lot more money to provide rural services in supermarkets and for broadband than it does in the cities, you should perhaps not expect other people to subsidize your choice of living location?

Briantist's 38,906 posts
Select more comments
Your comment please