Will there ever be more services on the Freeview Light transmitters?

Brian Butterworth published on UK Free TV
The digital terrestrial service that is known today as Freeview, started life in Parliament as the Broadcasting Act 1996.

Part I act gave the regulator, then the Independent Television Commission, the authority to establish digital terrestrial television services in the UK, and paved the way for a "six multiplex" service. One multiplex was reserved for the BBC, a second jointly between the "Channel 3 licence holder", Channel 4, Gaelic programming in Scotland plus Teletext UK as the "national teletext provider"

One half of the third multiplex was passed to Channel 5 and the S4C Corporation, with the remaining three and a half being put up for a public auction. The ITC duly awarded the remaining three multiplexes to "British Digital Broadcasting" in 1997, which was a combination of two big ITV companies at the time, Carlton and Granada.





On Sunday 15th November 1998, the services was launched under the name "ONdigital", a mixture of free-to-air and pay services, and rather dwarfed by the launch six weeks earlier of the much superior Sky Digital service.

ONdigital renamed itself ITVdigital on 11th July 2001, but the woollen monkey toy in the adverts proved more popular than the service, and the service closed on 1st May 2002.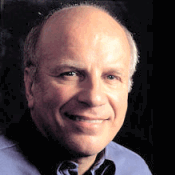 It became clear (especially to BBC director-general Greg Dyke, pictured right) that the digital terrestrial service was popular with viewers, but it was unsuitable as a pay-TV platform.



ITVdigital handed back three multiplex licences to the ITC, and the ITC then re-awarded one to the BBC and the other two to Crown Castle International, a company formed when the BBC's engineering division was sold off.

A company, DTV Services, formed to publicise the new service, which was now called Freeview.

Sky joined in, and purchased slots on the new service (from CCI) for Sky News, Sky Sports News and Sky Travel. Also there from the start of Freeview was Flextech Television "ftn", music channel TMF, UKTV's UK History and UK Bright Ideas, and shopping channel, QVC


Digital switchover process
When it was decided that the
analogue
television signals would be turned off, the BBC, as it funded by a universal fee decided that it must provide the two multiplexes of services to all homes.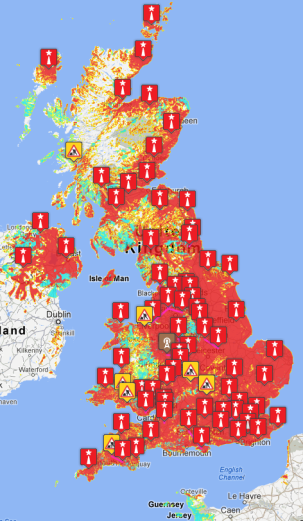 Ofcom
, now the regulator, decreed that the multiplex shared by Channel 3 and Channel 4 (called "Digital 3 and 4 Ltd") must also provide service to all homes that had analogue. This was because Channel 4 already provided this level of coverage, and as the licence holder for Channel 3 has "public service obligations", the broadcasting of multiplex 2 should also extend to all existing TV masts.
However, for the commercial multiplexes, Ofcom simply invited Crown Castle Ltd and S4C Digital Networks (SDN) to apply to extend their networks. Ofcom, having granted the multiplex licences already, felt it had no legal
power
of compulsion to insist more homes were served, and in
December 2006 announced that no application had been received
- at this point Ofcom no longer planned for additional frequencies for the commercial multiplexes.
Both commercial operators decided that the cost of providing the equipment, installation and ongoing operation of services from the 1,000 smaller transmitters would cost more than any additional revenue they could get from the TV
channels
that rent their broadcast capacity, as the work would only expand the actual number of homes broadcast to by 9%.
Since this time, S4C Digital Networks multiplex was bought by ITV plc, and Arqiva acquired the CCI multiplexes. For this reason the commercial multiplexes are known as SDN, ArqA and ArqB.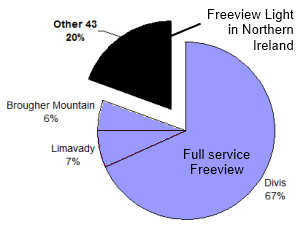 The map shows the locations where Freeview Light service is generally the only Freeview
reception
option.
See also:
Where are the public service (Freeview Light) transmitters?
Comments
Saturday, 10 November 2012

bob: It's great to hear that you have the missing channels now and that it all came good in the end.

It is always the thing that you don't know whether and perhaps don't expect that the signals will improve at a later date. It turned out to be worth waiting rather than opting to incur expense changing the aerial, with such expense possibly only really being necessary in the mean time.

Dave Lindsay's 5,724 posts
Wednesday, 30 January 2013

I've had a thought. Given that pre-DSO, the thousands of small relay transmitters carried 4 analogue transmissions (BBC1, BBC2, ITV, Ch4), why post-DSO are they only carrying 3 digital transmissions for Freeview Lite? Isn't the radio side much the same?

I feel that Ofcom should have required the licence holders to maintain the public service transmitters at the same level, rather than allow them to reduce it by a quarter.

John Robinson's 43 posts

John Robinson: The Public Service Broadcasters being those you identify plus Channel 5 have maintained their transmitters; they have not reduced them.

With digital transmissions, multiple services can be carried on a single channel where only one was possible with the former analogue.

Dave Lindsay's 5,724 posts

John Robinson: In addition, the "fourth" set of frequencies have been the "digital dividend", which are about to be used for 4th generation mobile broadband .

Briantist's 38,905 posts

Dave Lindsay: yes, I know about muxes. But 9% of the country get only 3 muxes, and I was thinking they should be getting 4, especially since the radio gear for all those transmitters will have been there already.

Briantist: So the Digital Dividend is that the TV operators get to save a little money maintaining fewer radios, the Government makes a fortune which we'll all end up paying for in further overpriced mobile phone bills, and 9% of the population gets a second-class television service. Hurrah.

Less cynically, I think +1 channels should be removed from the PSB muxes, to make room for more content. Both ITV and Channel 4 have split their output over several channels which are targeted at different audiences, but they should be covering all the audiences on channels on the PSB muxes. Who should I write to?

And what's going to happen when the HD switchover happens - 3 muxes with 5-6 channels each will be even less than there is just now for Freeview Lite viewers - or will it just be a DVB-T2 switchover?

John Robinson's 43 posts

John Robinson: In addition to the BBC, the only commercial services that *must* go on the PSB2 mux are Channel 3 (ITV/STV/UTV), Channel 4 and Channel 5.

The licencees of these services are under no obligation to provide any other services.

What you are saying is that, not only should these licencees be under an obligation to provide services that they don't have to now, but that they should be forced to provide more so as to necessitate use of another multiplex.

Not sure where they would stand legally, but two things strike me:

1. These broadcasters would be under an obligation to provide far more services than they are obligated to do so now.

2. There will be less room for other broadcasters, and thus the Public Service ones will have greater power.


If anything, the Commercial (COM) mux licencees should have been compelled to provide greater coverage. The buck stops with lawmakers for not ensuring that this was the case, before licences were applied for.

There are only two '+1' services on the PSB muxes: ITV+1 and Channel 4+1. If ITV+1 were to be moved to one of the Commercial multiplexes, then this would increase costs because there would need to be different macro-ITV-region variants of that mux. At the present time there is a single UK-wide variant of COM5 and COM6. COM4 has two variants: Wales and not Wales, this being because E4 is displaced from PSB2 by S4C.


The four-channel transmitter network was a wonderful system. The same gorup of four channels were allocated to different transmitters. All transmitters used channels within a single aerial Group.

In the majority of cases post-DSO three out of the four analogue channels are used for PSB muxes with the COMs fitting in wherever. I think that it's safe to say that, even if they wanted, the forth channel won't still be available at many relays. This is because the COM networks have been allocated spare channels, 61 to 68 will soon be cleared for 4G and 31 to 34 are ringfenced.

So useable Group A is 4 channels smaller: used channels 21 to 30, albeit that 30 is used only a handful of times. And C/D has lost 8 channels.


Someone has to pay for the equipment upkeep and maintenance costs which is why the Commercial broadcasters are nowhere to be seen at many small relay stations.

Dave Lindsay's 5,724 posts
Saturday, 17 August 2013

So why not offer those of us who are in fact 31 channels short of a proper service not given a decent discount on our TV Licence.
That would be fairer than the current system


Alan Smith: The TV licence pays for the BBC channels, and since every transmitter carries the BBC channels, why should you get a discount?

Michael's 358 posts
Sunday, 8 September 2013

Why should someone living in Chesham paying the same licence fee, not get the same channels as someone who lives within the range of the Crystal Palace transmitter? Post Code lottery- Discrimination.
A relay transmitter just has to RELAY what Crystal Palace is broadcasting.

D. Massingham's 1 post

D. Massingham: Because payment of the Licence Fee is required by law for viewing of TV broadcasts.

However, as explained above, the Commercial networks could not be mandated to be carried from all transmitters. As such, they stick to those which give most return. They operate purely for profit and are therefore a product of free market capitalism.

The Public Service relays like Chesham are there to provide a public service. They carry the BBC, which is where the Licence Fee goes.

If there was no such thing as Public Service Broadcasting then you wouldn't have any television. The point is that the Commercial networks, under the terms of their licences, have no obligation to provide a Public Service.

For a further explanation see:

Londonderry (Northern Ireland) Freeview Light transmitter | ukfree.tv - 11 years of independent, free digital TV advice

The question you have to ask is can you receive from a full-service transmitter such as Crystal Palace or Sandy Heath?

Dave Lindsay's 5,724 posts
Select more comments
Your comment please