Last switchover dates for England confirmed - Tyne and Tees, 26 September 2012

Brian Butterworth published on UK Free TV
Today Digital UK priovided the final switchover dates for England - all of the transmitters in the North East of England will switch to high-power, digital-only transmissions on the 26th September 2012.

Two weeks before, on the 12th September 2012, the first stage of switchover will see the closing of BBC TWO analogue and the low power digital multiplex 1 service on the Pontop Pike, Bilsdale, Chatton and Fenham transmitters and the start of the BBCA high power transmissions.

Also on 12th September 2012, BBC TWO analogue will close on Aislaby, Allenheads, Alston, Bainbridge, Bellingham, Berwick, Blaydon Burn, Burnhope, Byrness,Castleton, Catton Beacon, Durham, Esh, Eston Nab, Falstone, Felling, Fenham, Grinton Lodge,Guisborough, Haydon Bridge, Hedleyhope, Humshaugh, Ireshopeburn, Kielder, Limber Hill, Morpeth,Newton, Peterlee, Ravenscar, Romaldkirk, Rookhope, Rosedale Abbey, Rothbury, Seaham, Shotleyfield, Skinningrove, Staithes, Sunderland, Wall, Weardale, West Burton, Whitaside, Whitby and Wooler to be replaced with the BBCA digital service for the first time.




At Bainbridge, Catton Beacon, Esh, Guisborough, Humshaugh, Ireshopeburn, Morpeth, Peterlee, Pontop Pike, Rothbury, Seaham, Shotleyfield, Weardale and Whitby viewers will find ITV1 analogue on the BBC TWO analogue frequency for the two switchover weeks.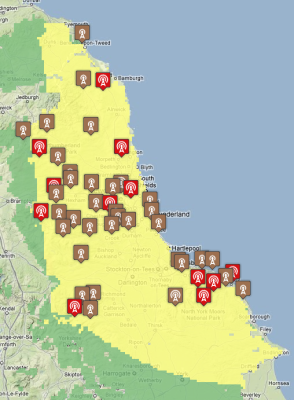 In addition, the Burnhope transmitter will stop television services on 26th September 2012.
Comments
Monday, 19 September 2011

BBC has allready changed to high power at Emley Moor and Bilsdale so her aerial should be pionting south'ish is it?

David's 306 posts

I don't know the answer to that question, and as I live in York, wont be able to find out till my next visit to Harrogate, (probably next Sunday 25 Sep).
Can you answer this question? Harrogate residents....do they/should they or will they, after digital switchover (21 Sep), be able to receive Yorkshire regional programmes providing they have the correct aerial pointing in the right direction (south'ish?)?


Super Saint's 5 posts

Sorry Correction
"BBC has allready changed to high power at Emley Moor and BELMONT so her aerial should be pionting south'ish is it?"

David's 306 posts

Can you please answer my question posted today at 3:12PM, and also confirm what transmitter Harrogate comes under?

Super Saint's 5 posts

Put the post code into here,
UK analogue TV reception predictor
I would think those that can get Emley Moor will choose it to get Yorkshire based local news rather than NE local.
When caravaning in North Yorkshire I certainly try for EM first.

David's 306 posts

I need answer based on DIGITAL reception not analogue....switchover takes place Wed 21 Sep.

Super Saint's 5 posts
Tuesday, 20 September 2011

OK Super,
Same web site
UK digital TV reception predictor
Harrogate central is approx half way between the 2 main transmitters, so as I said before Think it will be down to choice a of local region and having aerial in that direction.
( Sorry about my errors of yesterday was a bit tired.).

David's 306 posts

Super Saint: You will always get best results from whatever transmitter the aerial points to. If she's already receiving Tyne Tees programmes, the easiest thing to do is follow the Tyne Tees schedule.

If she would *like* to get 'Yorkshire' news, you could try getting a new aerial pointed at Emley Moor, but there may be a good reason why the old one was pointed at Bilsdale.

If the aerial appears to be pointing at Emley Moor, she may have a box that stores the first version found, rather than the best quality. See Digital Region Overlap for information on how to get around that.

If it does point to Bilsdale, it might be possible to get Yorkshire if you retune, but it will always be less reliable than if the aerial was pointing the right way, and was the right type.

Mike Dimmick's 2,486 posts

Thanks for that Mike (?). She doesn't have a 'box', she has a TV with built-in Freeview. I shall try a re-tune when I next visit her, probably this coming Sunday and see what transpires....? Shall keep you posted after that.

Super Saint's 5 posts
Thursday, 22 September 2011
C
Christine Garrett
8:53 PM
Hereford

I don't know if this is the correct place to ask this question but - is Ridge Hill, Herefordshire fully digital OR when do we do a final re-tune please?

Christine Garrett's 2 posts
Select more comments
Your comment please