Freeview signals: too much of a good thing is bad for you

Brian Butterworth published on UK Free TV
Most people will experience nothing but simplicity and joy with the digital switchover - the process that turns off the old five high power analogue signals, and the existing six low power digital services and replaces them with six new high power Freeview multiplexes.

For those with problems, there are generally three issues.


Eliminating other possible problems first
The first is that very, very old equipment will not function with the digital signals split into 6,817 sub-signals, as it was only designed to work with 1,705 sub-signals. This is known as the "8k
mode
issue" - see
TVs and boxes that do not support the 8k
It is also common that people do not clear out the old
channel list
(by selecting "first time installation" retune, "Factory Reset" or "Shipping Condition") before doing an "autoscan" for the available broadcast frequencies, and this results in everything from missing
channels
to no subtitles, programme guide, wrong channel numbers and no text services. If you can't find how to do it see either
Freeview Retune - list of manuals
or do it this way:
My Freeview box has no EPG, is blank, has no sound or the channel line up is wrong
.
A third problem is caused by having signals from more than one
transmitter
- see
Digital Region Overlap
.
The final very common issue is "too much
signal
".
Transmitters have much more digital power after switchover
At most transmitters, the digital signals after switchover are considerably more powerful than before. This was because when the analogue and digital services ran together, the digital services were kept low to prevent appearing as snowy
interference
on television sets using analogue
reception
.
Here is an example, from
Sutton Coldfield
, of how the signals change at switchover:

4,000kW of analogue signals are turned off, and the digital services increase in total power from 48kW to 1,200kW - that is an increase of 25 times in numerical terms, also know as +14dB. (The reduction of -7dB from the analogue strength is intended - the digital services require less power to cover the same number of homes).
This large increase in power should cause no effect for most people. A stronger signal does not increase the
picture
quality
(you need
Freeview HD
for that), sound levels - the only effect should be that more homes that are further away from the transmitter
mast
can receive a stable digital signal.
High gain aerials and signal boosters
However, many people have been tempted into buying one both high
gain
aerials and signal boosters.

High-gain aerials were very suitable for places where the Freeview signal before switchover was very weak indeed, but if you have one of these and you are located closer to the transmitter, you will probably now have a signal overload.
Generally speaking, signal
booster
devices are never
really
much use for Freeview reception, and much of the time they actually amplify the interference more than they do the signal, causing reception to get worse, not better.
How to tell if you have too much signal
There are almost as many ways for a Freeview box to display the "signal strength" and "signal quality" as there are types of Freeview box. Here are some of them: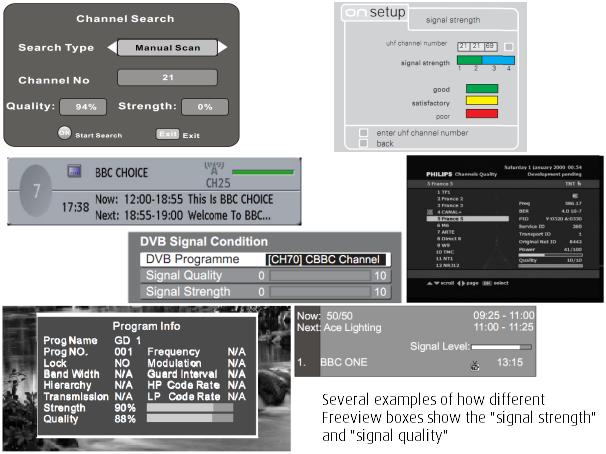 Speaking generally, there will be two indicators:
One is
signal strength
- this shows the power level of the signal entering the Freeview box. Often "0" is the lowest and "10" the highest, but sometimes it can be a percentage, sometimes coloured boxes and so on.
The signal strength should be around 75% - more than this indicates too much signal.
The other measure is the
signal quality
and this is much more important to high-quality Freeview viewing. Any measures that increase this to the maximum will provide for uninterrupted viewing, lower values will result in "bit errors" that cause the picture to freeze and the sound to mute out.
One problem with over powerful signals is the overload can sometimes show as a low signal because the receiver circuitry will enter a "blown fuse" state to protect itself.
How to deal with too much signal
First, if you have a booster or
amplifier
- remove it from your system. Don't just unplug the power, as this will result in
no signal
getting though the device.
If you can't just disconnect the
output
cable
and connect it to the input cable, you might need a coax female-female coupler to connect two male connectors together.

If you don't have a booster or amplifier, you might have to fit an attenuator onto the cable. They come in two types, either a "single attenuator", around five pounds, or a variable attenuator, for around ten pounds. The variable sort has a knob that can be turned to select the required level of signal dampening.
Comments
Sunday, 23 September 2012

I'm only 9 miles from the transmitter and getting 100% signal strength. Going to buy an attenuator as we get break up on BBC most of the time. Other channels are ok. I assume I can fit it pretty much anywhere on the aerial cable.

We have 2 TVs one 2 separate aerial cables from the one aerial - do I need an attenuator on both ?

Neil A's 1 post
Neil's:
map
N's Freeview map
terrain
N's terrain plot
waves
N's frequency data
N's Freeview Detailed Coverage

Neil A: Basically yes! that is if as I understand it you have two separate cables from the aerial, the BBC channels are on double the power of the commercials like ITV3 Dave etc, and if you are genuinely suffering from an excessive signal level I assume that these commercials are the ones that are OK?

jb38's 7,179 posts
Monday, 8 October 2012

DT2 8GX. About 6 weeks again I started to get Freeview reception problems starting around 7-8pm but clearing 10-11pm. It began with glitching, blockiness and pixelation. on 07/10/2012 the only watchable channel was BBC1. ITV1 looked like the signal was scrambled and the Film 4 mux had gone completely. Our aerial is horixontally pointed at Rowridge. We had a similar problem 18 months ago when then went away. Anyone got any ideas what the problem might be?

Keith's 1 post
Keith's:
map
K's Freeview map
terrain
K's terrain plot
waves
K's frequency data
K's Freeview Detailed Coverage
Tuesday, 9 October 2012

Keith:

We live about 4 miles from Dorchester (Dorset) and also get interference on Freeview from time-to-time. Before digital switchover and the subsequent power increase, the interference would completely wipe out all channels. Now, the stronger signal is only partially interfered with - and the picture is still (just about) watchable. We have to have a masthead aerial booster so that boosts the interference of course. We mainly watch on Freesat so don't know about Freeview problems on 7th October. Perhaps Briantist could suggest what sort of rogue transmissions could be made in the Freeview frequency ranges to cause the interference?

Tony Hill's 65 posts

Tony Hill: Which channels are you having difficulty with?

Rowridge's COMs are co-channel with those of Stockland Hill, so you could be affected by interference this way.

Rowridge's COMs are 50kW horizontally and 200kW vertically but the PSBs are 200kW for each polarity. The reason for the horizontal restriction on the COMs is because they are co-channel with Stockland Hill to the west and Crystal Palace to the north east.

As Stockland is only broadcasting horizontally, switching the aerial to vertical should help take advantage of the stronger signal from Rowridge and help reduce the level of interference from Stockland.

Unlike with some transmitters, a replacement aerial should not be expected to be needed for Rowridge as all channels are group A, as they were for former analogue.

Dave Lindsay's 5,724 posts
Wednesday, 10 October 2012

Dave Lindsay:

The last time we had trouble was on a recorded Freeview broadcast and I can't remember what it was. As we watch 90% of the time on Freesat ("freesat") - we have a HD freesat box but only SD for Freeview - so I am not monitoring the Freeview situation. All I can say is that the effect was much, much reduced compared with pre-switchover. I don't think that Stockland Hill could affect us as there is considerable high ground between Somerset and here. My guess is that it is something local - perhaps military (or similar) - as we have various establishments relatively near. Could that be so?

As far as horizontal v vertical - our aerial is horizontal as are all in the neighbourhood.

I have just checked signal info (Strength/Quality)
BBC1 84/98
ITV4 73/98
Dave 63/90
Pick TV 63/90

But we do have an arrangement of boosters (see my post of 6th April).

Tony Hill's 65 posts
Wednesday, 12 December 2012

Hi. Just purchased a Samsung http://www.johnlewis.com/…6439

Aparently to receive Freeview HD channels signal strength should be 90+. It is currently flashing between 9 and 10! SD picture is ok but I really want to recieve the HD channels. Do I require a booster box or might the dish be in the wrong position?

Bit error level: 0
Freq: 682000KHz
Network: Yorkshire ID302d

matt's 2 posts
Thursday, 13 December 2012

matt: Unfortunately your link does not seem to work, at least with me anyway, so could you please supply the model number of the Samsung in question.

Regarding your query about requiring a booster, I very much doubt if this aspect is in any way connected to your problem and neither does the "dish" referred to, as the info provided suggests that you are receiving from the Emley Moor transmitter, the frequency given being the BBC mux.

It would also have been of assistance if you had provided your location, this in the form of a post code or one from nearby (e.g: a shop) as knowledge of this would enable access to the reception predictor.

jb38's 7,179 posts

Apologies its Samsung UE32EH5000 LED HD 1080p TV, 32 Inch with Freeview. Spec says the digital tuner is HD and also confirmed by both samsung and John Lewis.

My main TV is infact Freesat HD which is possibly why I dont have a problem recieving HD channels with it whereas this is Freeview HD.

Samsung say check signal strength is 90+.. so concerning when im seeing just 9 and 10.

Postcode: HD74DA

Any advise would be great. Cheers!

matt's 2 posts

matt: Thanks for the updated info and especially with regards to your location, because by residing at just under 8 miles from the powerful Emley Moor transmitter could suggest that the exact opposite of what you were wondering about is possibly the answer to your problem (i.e: an attenuator) as it might possibly be caused by your TV's tuner being overloaded by an excessively strong signal as Samsung tuners perform very badly with even the slightest overload, the other problem being that this also results in false strength / quality indications to be seen on any signal check carried out and is caused by instability in the system used to measure the signal.

The way to verify if this is the cause (or not) of the problem requires the signal from your aerial (unknown) being attenuated, this usually be done by inserting an attenuator (pref variable) in line with the aerial socket on your TV, but purely as a test if you have access to an old set top aerial then plug that in and see if an HD image of sorts is shown, it doesn't matter what the picture is like as its just really a way of sussing out the signal strength in your area, as I notice that the Primrose Hill relay is only about 2.5 miles away and this points to reception problems existing not too far away from your own location.


jb38's 7,179 posts
Select more comments
Your comment please