Freeview signals: too much of a good thing is bad for you

Brian Butterworth published on UK Free TV
Most people will experience nothing but simplicity and joy with the digital switchover - the process that turns off the old five high power analogue signals, and the existing six low power digital services and replaces them with six new high power Freeview multiplexes.

For those with problems, there are generally three issues.


Eliminating other possible problems first
The first is that very, very old equipment will not function with the digital signals split into 6,817 sub-signals, as it was only designed to work with 1,705 sub-signals. This is known as the "8k
mode
issue" - see
TVs and boxes that do not support the 8k
It is also common that people do not clear out the old
channel list
(by selecting "first time installation" retune, "Factory Reset" or "Shipping Condition") before doing an "autoscan" for the available broadcast frequencies, and this results in everything from missing
channels
to no subtitles, programme guide, wrong channel numbers and no text services. If you can't find how to do it see either
Freeview Retune - list of manuals
or do it this way:
My Freeview box has no EPG, is blank, has no sound or the channel line up is wrong
.
A third problem is caused by having signals from more than one
transmitter
- see
Digital Region Overlap
.
The final very common issue is "too much
signal
".
Transmitters have much more digital power after switchover
At most transmitters, the digital signals after switchover are considerably more powerful than before. This was because when the analogue and digital services ran together, the digital services were kept low to prevent appearing as snowy
interference
on television sets using analogue
reception
.
Here is an example, from
Sutton Coldfield
, of how the signals change at switchover:

4,000kW of analogue signals are turned off, and the digital services increase in total power from 48kW to 1,200kW - that is an increase of 25 times in numerical terms, also know as +14dB. (The reduction of -7dB from the analogue strength is intended - the digital services require less power to cover the same number of homes).
This large increase in power should cause no effect for most people. A stronger signal does not increase the
picture
quality
(you need
Freeview HD
for that), sound levels - the only effect should be that more homes that are further away from the transmitter
mast
can receive a stable digital signal.
High gain aerials and signal boosters
However, many people have been tempted into buying one both high
gain
aerials and signal boosters.

High-gain aerials were very suitable for places where the Freeview signal before switchover was very weak indeed, but if you have one of these and you are located closer to the transmitter, you will probably now have a signal overload.
Generally speaking, signal
booster
devices are never
really
much use for Freeview reception, and much of the time they actually amplify the interference more than they do the signal, causing reception to get worse, not better.
How to tell if you have too much signal
There are almost as many ways for a Freeview box to display the "signal strength" and "signal quality" as there are types of Freeview box. Here are some of them: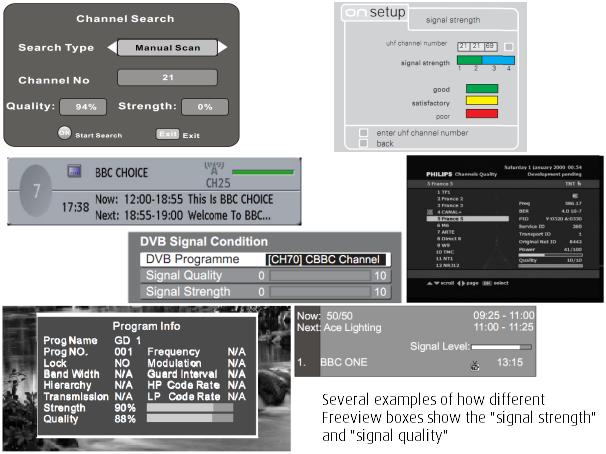 Speaking generally, there will be two indicators:
One is
signal strength
- this shows the power level of the signal entering the Freeview box. Often "0" is the lowest and "10" the highest, but sometimes it can be a percentage, sometimes coloured boxes and so on.
The signal strength should be around 75% - more than this indicates too much signal.
The other measure is the
signal quality
and this is much more important to high-quality Freeview viewing. Any measures that increase this to the maximum will provide for uninterrupted viewing, lower values will result in "bit errors" that cause the picture to freeze and the sound to mute out.
One problem with over powerful signals is the overload can sometimes show as a low signal because the receiver circuitry will enter a "blown fuse" state to protect itself.
How to deal with too much signal
First, if you have a booster or
amplifier
- remove it from your system. Don't just unplug the power, as this will result in
no signal
getting though the device.
If you can't just disconnect the
output
cable
and connect it to the input cable, you might need a coax female-female coupler to connect two male connectors together.

If you don't have a booster or amplifier, you might have to fit an attenuator onto the cable. They come in two types, either a "single attenuator", around five pounds, or a variable attenuator, for around ten pounds. The variable sort has a knob that can be turned to select the required level of signal dampening.
Comments
Saturday, 17 September 2011

Just out of interest you can get Waltham at my Mum & Dad's house Postcode CV10 7ND if you walk up the road from the house you can see the Sutton Coldfield mast in the distance. I don't give much to any reception predictor, even out in the caravan I have picked up transmitters that are supposed to be a no no.

Ian's 497 posts
Ian's:
map
I's Freeview map
terrain
I's terrain plot
waves
I's frequency data
I's Freeview Detailed Coverage

I live in Rowridge area - due to switchover in 2012.

Currently have sig strength btween 74 and 81% VARIES BETWEEN MUXES and 100% quality on all muxes - measured on Humax 9150 PVR.

Does this sound like I will need an attenuator when switchover happens?

Postcode BN180EQ

Tim's 22 posts
Sunday, 18 September 2011

Well I hope I can find this thread again after I've tried removing the signal boosters!

Had nothing but probs since the changeover on two TV's (a small Toshiba and a small Acoustic Solutions) but for some reason not so much with a large Panasonic. Have done multiple first-time installs but to no avail.
Have signal boosters in place for last 12 years and never thought about them as a potential source of the problem.

Now I read this!

Well, will try removing and post an update.

Nick's 1 post
Nick's:
map
N's Freeview map
terrain
N's terrain plot
waves
N's frequency data
N's Freeview Detailed Coverage

Ian Grice: Using the alternative post code given for your parents house a few miles away gives a different result altogether, as it does indicate them as being able to have good reception from both Waltham and Sutton Coldfield, that is with the exception of variable reception being indicated on ArqB Mux Ch57 from Waltham.

But as was previously mentioned, I feel that in your case you are just lucky enough to be in a favourable spot for reception from Waltham, (MuxCh29 confirming) although possibly on the verges of it not being if checks were carried out say a quarter of a mile away in another direction, as its not unusual in iffy reception areas for people even living in adjoining properties to have totally different signal strengths from each other.

Still, I did voice my reservations about the predictor, the only thing about it this time being, that in this case the rose tinted glasses effect that's usually in seen evidence, was changed to over darkened ones.





jb38's 7,179 posts

Nick: Its very unlikely (although not impossible!) for a normal booster to cause overloading problems for anyone residing in the Spalding area, and you are shown as being able to have good reception from Waltham - Belmont - Sandy, although Waltham being the best.

You havent mentioned exactly what your problem is, but one I think you might well experience is with channels being in incorrect positions, but maybe you could clarify regarding the nature of your problem.

jb38's 7,179 posts

Nick: You need to make sure that the receivers are storing the channels for the transmitter that your aerial is pointing to. When doing an automatic scan Belmont is found first for Mux BBCA, Sandy Heath for Mux D3+4 and Waltham for Mux SDN. If possible do a manual tune for the set of frequencies used on the chosen transmitter.If only autotune is possible try inserting an attenuator in the aerial feed just for the duration of the scan, this should with a bit of luck reduce the strength of signals arriving from the side of the aerial sufficiently for them to be overlooked. One other thought is if you have two aerials linked via a diplexer the out of group COM mux channels will be very weak or missing from each transmitter.

KMJ,Derby's 1,811 posts

To be fair most aerials around us point to Sutton Coldfield but I am not alone in the area using Waltham and 90% of people at the far end of town use Waltham. There is a man 2 streets away that has his pointing to Sandy Heath. I can remember as a kid at my Mum & Dad's we could pick up ITV from Sandy Heath when our aerial fell of the pole.

Ian Grice's 497 posts
Ian's:
map
I's Freeview map
terrain
I's terrain plot
waves
I's frequency data
I's Freeview Detailed Coverage
Tuesday, 20 September 2011

Sandy Heath transmitter Location - MK45 1LJ
I used to get Sky News on My LG LCD 19 inch digital TV. However since the last switch over on the 14th Sept I no longer get it together with some other programs. I have tried re tuning several times (including unplugging and the factory reset. I can get it on other TV's situated around the house that are working of the same aerial. Has anyone any ideas why I cannot get these programs now? Thanks

Arthur's 1 post
Arthur's:
map
A's Freeview map
terrain
A's terrain plot
waves
A's frequency data
A's Freeview Detailed Coverage

Arthur: If you had trouble getting BBC Four before April's analogue switch-off, and trouble getting ITV4 and Film4 before the changes on the 14th, the problem is likely reception of C67.

I'm guessing that this is the longest cable run from the aerial? Is the splitter as close to the aerial as possible, and all cables run from there? If not, that may improve matters.

If the cables run outside at all, check that they cannot move and rub against the brickwork or tiles. If they have been, the outer insulation will have deteriorated and let water in - water in the cable increases the losses along it, and this is greater at higher frequencies than low ones.

A *small* amount of amplification before the splitter, to offset the amount of signal lost in the cables, may help.

You're very close to the transmitter - did you ever get a wideband aerial? If you didn't, there may not be very much signal going into the system on C67 in the first place. The highest frequency in use will be C52, from 23 November. Even as close as you are, a wideband is still recommended, although it won't have as much gain at lower frequencies as a Group A.

Mike Dimmick's 2,486 posts

Hi all. I wonder if Briantist can answer this: The transmitter serving our area is Oxford. Since last weeks re-tune on the 14th Sept, I have experienced all BBC channels and some ITV chanels having no programme info. My Panasonic Viera just says: "No information available!" A bit of a pain really because without it means having to buy a TV guide and i don't want to have to do that. Could it be that after we have to re-tune on Sept 28th, all will return to normal?

Canukinuk's 1 post
Select more comments
Your comment please