More Freeview capacity - COM7, COM8 and COM9 - in the 600MHz band

Brian Butterworth published on UK Free TV
Following on from More Freeview capacity coming 2012-2016 article I posted on 17th August 2011, Ofcom has now official announced the proposals for the 600MHz spectrum - Ofcom - 600 MHz band and geographic interleaved spectrum.

The new proposals will make for the provision of three new Freeview multiplexes, which I have provisionally called com7, com8 and com9 for the purpose of showing something on UK Free TV:





The proposals now suggest that the seven frequencies (C31 to C37) are split into three networks: two multiple-frequency networks and a national single-frequency network on C36.

The post-switchover UK Freeview comprises of two types of service - the public service multiplexes which are broadcast from all main and relay transmitters, and the so-called commercial multiplexes that broadcast from 80 "main" masts: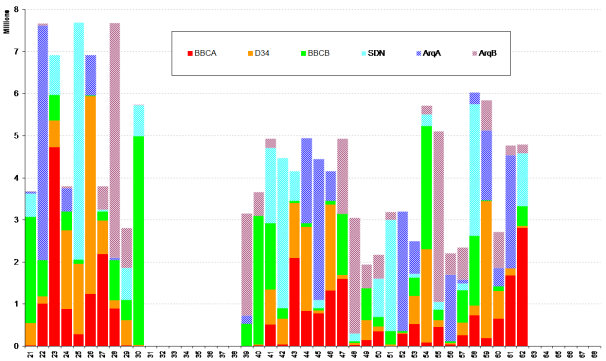 Arqiva, providing a solution to Ofcom have come up with a method of simplifying the 80-transmitter network plan to allow just three frequencies to be used to provide a further national multiplex. This is done by a number of techniques which include merging some areas into small single-frequency networks, as well as reducing the power level and using the DVB-T2 transmission system.

The reduced network configuration looks like this: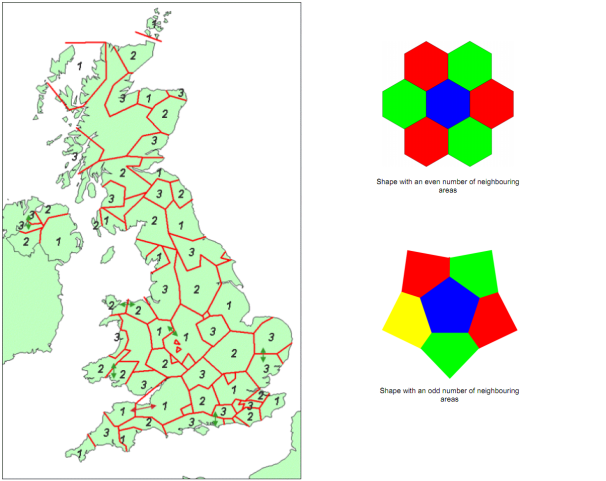 This allows for almost all homes that currently have access to the current commercial multiplexes (ArqA, ArqB and SDN) to be served by the two multiplexes. In addition C36 is configured for a national signle-frequency network. The provided level of coverage is shown on these maps: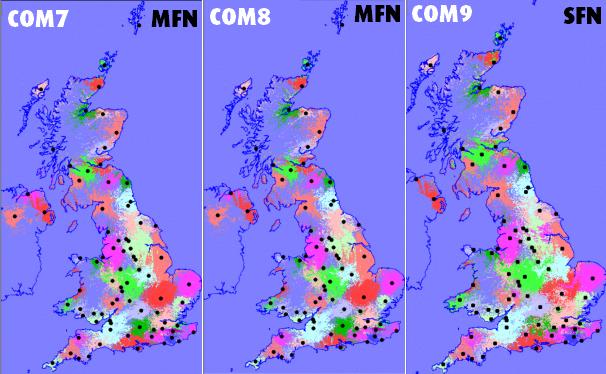 Comments
Sunday, 25 September 2011

Ian Grice: Not really, as the 600MHz band has been cleared these new services will have no impact on existing allocations.

Briantist's 38,906 posts

trevorjharris: The BBC want to replace the "BBC HD channel" with BBC TWO, BBC three and BBC FOUR HD, so the BBC do need more capacity.

ITV2, ITV3, ITV4, E4 and Film4 are already broadcasting.

Briantist's 38,906 posts

Briantist: Thanks for the link on The Inversion Effect.

Will the signals reflected back down (from an normally unreceivable transmitter) only interfere with a local signal on the same UHF channel anyway? In which case, how could the Group system be of any benefit?

Dave Lindsay's 5,724 posts

Dave Lindsay: That's the general problem with analogue signals, in that they can both shift up and down frequencies when they are reflected and refracted, plus the also have side-band effects.

This is why all analogue channels were allocated at least two channels apart on each transmitter, but it's fine for two COFDM signals to occupy consecutive channels.

Briantist's 38,906 posts

Briantist: I don't understand how the frequency of TV signals can be changed siginficantly in frequency by reflection or refraction. The only frequency shift I am aware of is the few kHz doppler shift that can occur if the zone of reflection is moving rapidly. At UHF this is only likely to be seen with Sporadic E propogation.

The reason for having a two channel separation on analogue transmitters would be what you refer to as "the sideband-effect", i.e. adjacent channel interference due to the imperfections of the transmitters and receivers, which I expect would cause patterning on an analogue picture.

While digitalTV is less prone to cochannel interference, I expect we will still experience the occasional problem when the interferring signal becomes larger than the wanted signal. This certainly used to happen when I lived in Essex; sometimes a French channel would comletely wipeout the local signal for several minutes.

Chris

ChrisW's 21 posts
ChrisW's:
map
C's Freeview map
terrain
C's terrain plot
waves
C's frequency data
C's Freeview Detailed Coverage

I think BBC3 HD and BBC4 HD looks very unlikely unless there is a substantial increase in licence fee. It looks as though BBC2 will become a mainly a repeats channel and they are already reducing red button services. The BBC is still making new programs in SD and have been very slow in going HD. There is also the question of whether the BBC will loose the licence fee by 2016 in any case.

I wonder if Sky might bid for one multiplex as they could use for Sky Sports HD.
ITV 2,3,4 HD and E4 HD are all on pay tv and are unlikly to go to freeview unless there is a substancial increase in advertizing revenue. Not sure what 5 HD will do.

trevorjharris's 367 posts

trevorjharris: 99% the content the BBC uses is already produced and delivered in HD, providing BBC three and BBC FOUR in HD. *ALL* BBC TWO content has been made in HD for over a year. BBC - Commissioning - TV & Multiplatform

The BBC simply needs bandwidth to provide the channels, not content delivery.

Sky are prevented by Ofcom from providing Sky Sports on Freeview themselves following a review.

Briantist's 38,906 posts

ChrisW: Sorry to be brief, what what you "expect" to happen with digital wrong.

Briantist's 38,906 posts

I am afraid the BBC statements are very miss leading. To start with no News is in HD. New series such as Spooks, Casualty, Celebrity Master Chef, Pointless to name but a few are not in HD. As for BBC 2 today no HD at all from 6:00am to 5:00pm. Even Match of the Day 2 and Top Gear are not in HD today.

Terestrial broadcasting is not cheap and it looks to me as though the BBC cannot afford to buy any more space.



trevorjharris's 367 posts
Select more comments
Your comment please