More Freeview capacity - COM7, COM8 and COM9 - in the 600MHz band

Brian Butterworth published on UK Free TV
Following on from More Freeview capacity coming 2012-2016 article I posted on 17th August 2011, Ofcom has now official announced the proposals for the 600MHz spectrum - Ofcom - 600 MHz band and geographic interleaved spectrum.

The new proposals will make for the provision of three new Freeview multiplexes, which I have provisionally called com7, com8 and com9 for the purpose of showing something on UK Free TV:





The proposals now suggest that the seven frequencies (C31 to C37) are split into three networks: two multiple-frequency networks and a national single-frequency network on C36.

The post-switchover UK Freeview comprises of two types of service - the public service multiplexes which are broadcast from all main and relay transmitters, and the so-called commercial multiplexes that broadcast from 80 "main" masts: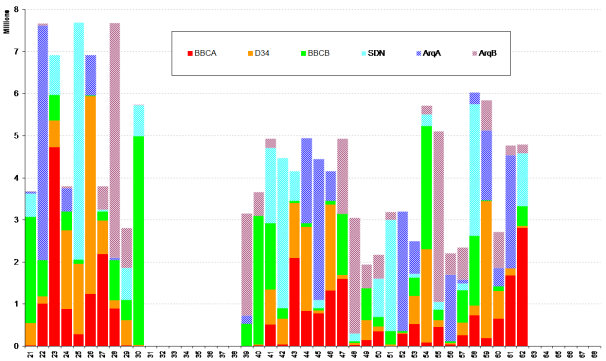 Arqiva, providing a solution to Ofcom have come up with a method of simplifying the 80-transmitter network plan to allow just three frequencies to be used to provide a further national multiplex. This is done by a number of techniques which include merging some areas into small single-frequency networks, as well as reducing the power level and using the DVB-T2 transmission system.

The reduced network configuration looks like this: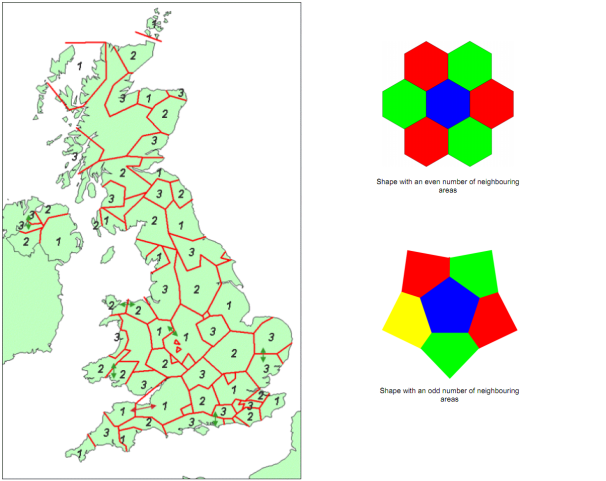 This allows for almost all homes that currently have access to the current commercial multiplexes (ArqA, ArqB and SDN) to be served by the two multiplexes. In addition C36 is configured for a national signle-frequency network. The provided level of coverage is shown on these maps: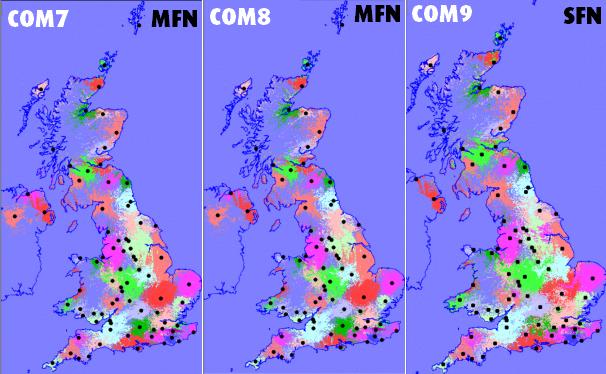 Comments
Monday, 26 September 2011

ChrisW: I am sorry Briantist, I must disagree, co-channel interference does affect DTV. Interference degrades the signal to noise ratio until at some point the error correction cannot cope, and the picture will begin to degrade.
From Ofcom Guidelines for Improving Digital Television and Radio Reception:
"Co-channel interference occurs when signals are received not only from the wanted transmitter but also from one or more distant transmitters operating on the same channel. It can degrade the bit error ratio of a DTT multiplex until the failure threshold is exceeded, resulting in prolonged loss of picture."

Guidelines for Improving Digital Television and Radio Reception

(Sorry, I don't know how to insert links properly on this board)

Chris (LS213PN)

ChrisW's 21 posts

ChrisW: Actually, the post you make is showing that DTV signals are effected by co-channel interference from pre-switchover analogue signals, not from a pure-digital network.

Briantist's 38,908 posts
Tuesday, 27 September 2011

Briantist: That document was one I found in a hurry. I have done some more research and found some more definitive documents:


Ofcom: The feasibility of DVB-T on-channel repeaters for coverage repair on Channel 60; Section 2.1; Page 2;
http://stakeholders.ofcom….pdf

"In practice, most of the DTT network will be interference-limited, rather than noise-limited. Co-channel interference from DVB-T transmissions must be 19.8 dB below the wanted signal, expressed as a 'protection ratio' of +19.8dB."



Aegis for Ofcom: Preparatory study for UHF spectrum award, Annex A: UHF Technical Compatibility Issues
Sections 1.2.1, 2.2.1, 2.2.6
http://stakeholders.ofcom….pdf

"For co-channel interference between DVB-T services, Reference [D-Book] gives
C/I values of 17dB for 64-QAM (2/3 code rate) and 13dB for 16-QAN(3/4 code
rate), for a Ricean channel."
http://stakeholders.ofcom….pdf



ERA Technology for Ofcom; Conducted Measurements to Quantify Different Types of interference in the DDR Frequency Spectrum; Summary; Page 4; Table 1
Shows measured results for adjacent and co-channel interference. Co-channel protection ratio 15dB
http://stakeholders.ofcom….pdf


Digital Terrestrial Television Steering Committee: REPORT ON THE TECHNICAL TRIAL OF DIGITAL TERRESTRIALTELEVISION (DTT); Pages 26 & 27;Co-channel Interference (CCI) for DVB-T;
http://www.ofta.gov.hk/en….pdf

Laboratory measured results, DVB-T to DVB-T protection ratio 19-21dB. Interestingly this table shows that DVB-T is more susceptible to to DVB-T cinterference than PAL interference, by about 10dB.

Also interesting is this document which does not give figures for co-channel interference but tests the performance of 15 DVB-T receivers for adjacent channel interference.

ERA Technology for Ofcom: Conducted Measurements to Quantify DVB-T Interference into DTT Receivers.
http://stakeholders.ofcom….pdf

As an aside, while I do not have any specialist knowledge of DTT, my "expectations" were based on nearly 30 years as a practicing RF Design Engineer, the last 15 of which have been spent designing (very specialist) RF data links.
While the characteritics of DTT are very different from my professional work, it is essentially just a digital data link.

Chris. (LS213PN)

ChrisW's 21 posts
Thursday, 29 September 2011

ChrisW: Yes, I have read all these, and I have been involved with terrestrial digital TV since some years before the launch of ONdigital, and many years of digital comms before that.

Briantist's 38,908 posts
Tuesday, 4 October 2011

Re: the suggestion to deprecate analogue TV distribution around the house from a Sky box etc., it would be useful if a future generation of Sky+ HD box could generate a single channel 'Freeview' mux to pipe around the house; but I don't doubt the cost vs practicality metrics of an STB being able to encode a mux being anything other than immensely challenging - if STB manufacturers are even legally allowed to generate DTV muxes of their own as well as receive and decode them.

For now those with the luxury of a Ca5e/Cat6 link or two need to make do with something like the Octava HDCATS-100- HDMI which is stunning beasty (pricey too!) but it means I can get an HDMI signal with sound upstairs now that I've killed off RF out from my Sky+ HD box after 10 years of faithful service.

Paul's 1 post
Paul's:
map
P's Freeview map
terrain
P's terrain plot
waves
P's frequency data
P's Freeview Detailed Coverage
Tuesday, 11 October 2011

Is there any prospect of those of us stuck with Freeview lite because of relay transmitter limitations will ever get more channels?

Alastair Lloyd's 1 post
Thursday, 13 October 2011
Wednesday, 14 December 2011

Arqiva's Reference Offers for Transmission Services and Network Access have now been published at Useful documentation .

Mike Dimmick's 2,486 posts

Mike Dimmick: Thanks for that link.

Briantist's 38,908 posts
Monday, 9 January 2012
C
Charles Stuart
7:54 PM
Kettering

Someone may have asked this question already but, if they have, I don't know where it is.

If a multiplex transmitting DVB-T2 were to be used for transmitting standard definition channels, how many channels could it transmit? If it were to transmit HD at 720p, how many channels could it transmit? Approximately how many stereo radio stations equal the bandwidth of one SD TV channel?

Charles Stuart's 159 posts
Charles's:
map
C's Freeview map
terrain
C's terrain plot
waves
C's frequency data
C's Freeview Detailed Coverage
Select more comments
Your comment please