Switchover starts in Norfolk

Brian Butterworth published on UK Free TV
This week sees the first stage of the digital television switchover for 387,500 homes in Norfolk.

From 6am Wednesday 9th November 2011, you must perform a "first time installation" retune (sometimes "Factory Reset" or "Shipping Condition") on your Freeview box or television set if you use the Tacolneston full service Freeview transmitter.

This is because the old low power "multiplex 1" BBC service (on C63) will be replaced by the high power BBCA multiplex on the old analogue BBC TWO frequency, C55.

On Wednesday 9th November 2011 if you use the Aldeburgh at 10am, Bramford at 6am, Burnham noon, Bury St Edmunds at 6am, Creake at 3pm, Gorleston on Sea at 6am, Great Yarmouth (new transmitter) noon, Kings Lynn at 9am, Linnet Valley at 6am, Little Walsingham at 6am, Lowestoft (new transmitter) at 8am, Norwich Central at 9am, Overstrand noon, Thetford at 6am, Wells next the Sea at 3pm or West Runton at 9am relay transmitters you will be able to receive the BBC Freeview services (with the exception of HD) for the first time, and you will no longer be able to view BBC TWO on analogue.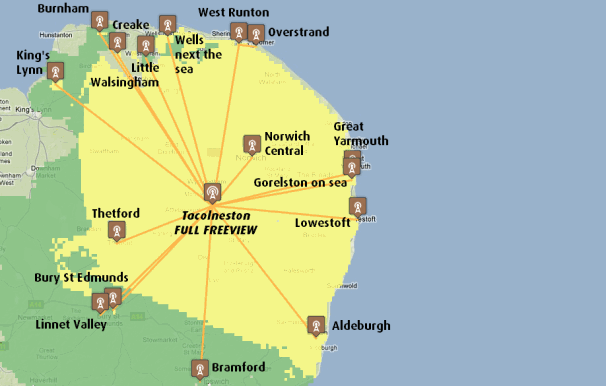 You MAY find that old equipment will no longer work - see TVs and boxes that do not support the 8k-mode

Another common problem at switchover is the ten-fold increase in signal from 10kW to 100kW will overload amplifiers and over-the-top aerial installations. If this is the case you will have to remove the booster or amplifier from the system, or perhaps fit an attenuator if you have no amplification. - see Freeview signals: too much of a good thing is bad for you.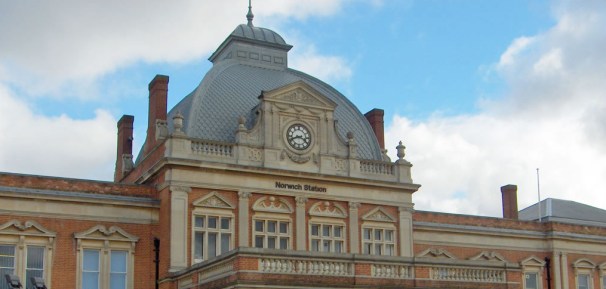 On Wednesday 23rd November 2011 will see the second stage of switchover, which provides the final Freeview configuration, including Freeview HD for all transmitters in this region.

On this date, you will need, once again, to do a "first time installation" as indicated above.

If you are over 75, you should already have been supplied new equipment by the Switchover Help Scheme.
Comments
Thursday, 17 November 2011

Hi, I have an old Philips widescreen tv with in-built digital tv. Since the 9th Sept I have lost BBC1,2,3,&CBBC and my digital download keeps on failing. Any ideas?
Thanks

Jacqueline's 1 post
Friday, 18 November 2011

Jacqueline someone might be able to help you if you let us know you post code so we can see what transmitter you receive from and then we can go from there. Just the post code will suffice not the full address. In the meantime have you gone into the menu set-up and tried a first install type rescan of channels. also roughly how old is the TV and perhaps the model number will help too it should be on the back of the set somewhere because the TV it may not be compatable.

Have you also got the month wrong, did you mean 9th Nov because as far as I can see there were no changes to transmitters in this area done on the 9th Sept. but was on 9th of Nov.

Mike Smith's 19 posts

Dave Lindsay: Many thanks for your posts, links and advice.

At least I've got the cable (copper foil shielding) and use of the amp correct although it's been impossible to avoid aiming the aerial through the end wall - but my concern is too strong a signal anyway!

I'll try bypassing the amp (not variable gain I'm afraid) and see what strength I get indicated on the plasma TV.

Richard's 7 posts
Tuesday, 22 November 2011

I am in March post code PE159NZ. My loft aerial is pointing to Sandy Heath (Bearing 204 degrees)as you would expect. The aerial feeds a 6 way distribution amp. The lounge TV has a Humax 9300T PVR and Mux channels 27,24,21,31,67,48 all work fine. Now for the odd ball. One of the amp outputs feeds a AVER Media DVB-T card in my PC. and I'm using Windows Media Centre. When I checked some of the mux,s are as expected, but PSB1 is tuned to 794 mhz, which I beleive is the Waltham Txr. The signal is strong and quality 100% When I checked the map, Waltham is about 90% further north from March. Can you explain what may be going on please
Brian Greensides

Brian's 17 posts
Brian's:
map
B's Freeview map
terrain
B's terrain plot
waves
B's frequency data
B's Freeview Detailed Coverage

Brian: Aerials pick up, to a lesser degree, signals from other transmitters.

Can you manually tune your PC to the correct UHF channel?

Dave Lindsay's 5,724 posts

Thanks for the reply Dave. I have been delving into Windows Media Centre, and I believe that different TX'ers can be selected provided that they were detected during the original tunning scan. The bit I found odd was that the Loft aerial is directed to Sandy Heath and yet I'm getting (In addition) strong signals from Waltham (90 degrees further North)!!!
Incidentally can you please confirm as of tomorrow the sandy Heath channels will be 27,24,21,51,52,48
Regards Brian

Brian's 17 posts
Brian's:
map
B's Freeview map
terrain
B's terrain plot
waves
B's frequency data
B's Freeview Detailed Coverage

Brian: That is correct. ArqA moves from Ch67 to Ch52.

Dave Lindsay's 5,724 posts

Thank you, I'll do a full retune on all (Wipe all original stuff first) systems (3 TV's 1 PVR and 1 PC)
Thanks again for the advice (great forum)
Brian

Brian's 17 posts
Brian's:
map
B's Freeview map
terrain
B's terrain plot
waves
B's frequency data
B's Freeview Detailed Coverage

Brian: SDN at Sandy Heath will be on CH31 not CH51 until May next year.

Hope this helps,
Adam.

Adam B's 91 posts
Adam's:
map
A's Freeview map
terrain
A's terrain plot
waves
A's frequency data
A's Freeview Detailed Coverage
Select more comments
Your comment please