Sudbury Arqiva multiplex B changes 16 November - retune required

Brian Butterworth published on UK Free TV
After 6am 16th November 2011, viewers in Suffolk and Essex who receive the full Freeview service from the Sudbury transmitter will need to do a full retune of their Freeview boxes - you must perform a "first time installation" retune (sometimes "Factory Reset" or "Shipping Condition") to ensure you can watch the all the available Freeview channels on the correct channel numbers.

The ArqB multiplex is moving from C50 to C63 for seven months. There will be no changes to the power level or transmission mode parameters of the service. C50 is required for the ArqB at the Tacolneston transmitter digital switchover next wednesday.

Sudbury not see the commercial multiplexes operating at their final power levels until 27th June 2012. On this date SDN will move to C58, ArqA to C60 and ArqB to C56. Until this time some viewers on the edges of the service area for the transmitter will be unable to receive the commercial services.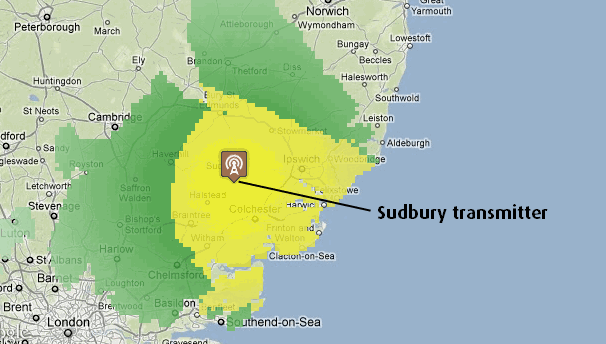 Comments
Tuesday, 22 November 2011

Does anyone know when the FEC change happens? Is it 6am, as per the other changes?

yes's 13 posts
yes's:
map
Y's Freeview map
terrain
Y's terrain plot
waves
Y's frequency data
Y's Freeview Detailed Coverage
M
Michael
8:54 AM
Chelmsford

I'm in Chelmsford, CM2 postcode, and receiving from Sudbury. I still receive Film4 and ITV4 after the change on 16th November, albeit with occasional picture break-up and glitches.
However, I've recently discovered that my Bush 250GB freeview recorder will no longer set a timer for a programme on Film4 by selecting from the EPG. I find the programme on the EPG, hit the record button and get a 'Please Wait' message, but nothing happens. The programme is not highlighted in red and does not appear in the Timers list. I've had similar trouble with programmes on ITV4, 5* and 5 USA although the problem seems more intermittant with these channels. With Film4, it doesn't appear to work for any programme.
Could this be related to all the problems with the Sudbury C63, given that it involves the same channels? I've tried doing another first time installation, but the problem is still there. Other channels such as all BBC, ITV1, Ch4, Ch5, E4, More4 etc. are fine, so I'm inclined to think there is a problem with the broadcast EPG rather than my box. Also, I am able to set instant, one-touch recording on Film4 and set a timer manually (by inputting channel and start and end times).
Has anyone else experienced this problem?

Michael's 1 post
Michael's:
map
M's Freeview map
terrain
M's terrain plot
waves
M's frequency data
M's Freeview Detailed Coverage

Dave : amazingly, you've just raised an issue that I was thinking about yesterday but hadn't got round to posting : basically, which Sudbury mast was/is transmitting what?
In answer to your first question, pre-DSO I received Mux 2 on CH56, which was always listed as being on Sudbury B, and I also received ALL of the other MUXes, which were listed as simply Sudbury, EXCEPT for 'Primary' MUX 2 (CH68) which was never receivable here in Ipswich, deliberately I think.
'Alternative' MUX 2 (CH56), although intended for Ipswich and other points East of Sudbury, was VERY hit and miss : I got it OK, but it often broke up ; my dad who is higher up got it without problems (though he does have a mast-head amp!) ; my brother-in-law who is slightly lower down never received it, even with a brand spanking new hi-gain aerial. I DID have my signal booster in situ at the time, so am guessing I might not have received it without. In fact, one of the things I have been wondering about this last week, is whether Arqiva have re-used the old 'alternative' MUX 2 directional transmitter to transmit ArqB on CH63 since last Wednesday! It would explain why people quite close to Sudbury (but NOT to the East) can't pick it up, and why to the East, like here in Ipswich, it is very weak (you will recall I got it back by reinstating my signal amp : that had been removed at DSO2 with no problems). If they HAVE done that, then they would surely have known the problems that would ensue??
Overall the issues that you raise are exactly what I was going to raise myself (great minds ...)
i.e. OFCOM says only 'alternative' MUX 2 was on Sudbury B but the ATV site shows ALL digital transmission pre-DSO happening from there ;
ATV do not account for 'alternative' MUX 2 transmission at all from those masts ;
why are the 'B' mast transmission height figures more than the 'A' mast, when all the other information shows that the 'B' mast is 30 metres LOWER in height?

I suspect we would need a local (i.e. Sudbury) Arqiva technician to answer these questions, as clearly there is much contradictory information on the internet. And though much of it is academic, I still have that 'niggle' that the ArqB / CH63 problems are somehow all wrapped up in the answer!

Dale's 78 posts
Dale's:
map
D's Freeview map
terrain
D's terrain plot
waves
D's frequency data
D's Freeview Detailed Coverage

Michael: See if you can find out what UHF channel your receiver has tuned to for Pick TV and for Yesterday. This might be on the signal strength screen.

I am wondering if it is tuned to Crystal Palace for these which are on 34+ and 29- respectively. I am wondering if there are issues with the EPG/timer having selected channels from different transmitters or regions.

If it is tuned to Sudbury, then they will be 54 and 63.

Dave Lindsay's 5,724 posts
D
drgeoff
11:11 AM
Felixstowe

@ yes.

One of my STBs shows that Arq A on C54 (Sudbury) is now using 3/4 FEC.

It still does not get Arq B.

drgeoff's 22 posts
drgeoff's:
map
D's Freeview map
terrain
D's terrain plot
waves
D's frequency data
D's Freeview Detailed Coverage

Is there anywhere I can find details of the power that the different muxes are broadcasting at for different transmitters? This website has current levels so the data must be available somewhere. Ideally I want future data for transmitters that will soon be switching (e.g. Crystal Palace)

yes's 13 posts
yes's:
map
Y's Freeview map
terrain
Y's terrain plot
waves
Y's frequency data
Y's Freeview Detailed Coverage

yes: Ofcom publishes information about post-DSO transmitters here:

Ofcom | Digital Switchover Transmitter Details

Dave Lindsay's 5,724 posts

We are in Colchester (CO3) and have lost several Freeview channels since the latest retune - as have my Mum and mum-in-law nearby. What is going on!

Chris's 4 posts
Tim CO14
1:05 PM
Walton On The Naze

Apologies if I've not seen the answer in other posts, but is the vast difference in power output between the PSB muxes @ 100kW having any affect on the low power COM muxes? Currently, my channel 41 & 44 have 100% strength and 100% quality, Ch49 100% strength and 90% quality, Ch54 100% strength but only 10% quality, and Ch63 nothing at all. According to what I've read, 100% signal strength is not necessarily a good thing, so my next step is to fit a variable attenuator, and see what affect reducing signal strength has. Or would that eliminate COM mux reception completely?

Tim CO14's 34 posts
Tim's:
map
T's Freeview map
terrain
T's terrain plot
waves
T's frequency data
T's Freeview Detailed Coverage

Tim: 100% Signal strength suggests that you have way too high signal level going into your tuner. This is likely to cause a reduction in quality.

Is there a signal amplifier/booster in there somewhere? Some receivers have them built in (which can be turned on or off).

Are you in a flat with a communal aerial?

Dave Lindsay's 5,724 posts
Select more comments
Your comment please