Sudbury Arqiva multiplex B changes 16 November - retune required

Brian Butterworth published on UK Free TV
After 6am 16th November 2011, viewers in Suffolk and Essex who receive the full Freeview service from the Sudbury transmitter will need to do a full retune of their Freeview boxes - you must perform a "first time installation" retune (sometimes "Factory Reset" or "Shipping Condition") to ensure you can watch the all the available Freeview channels on the correct channel numbers.

The ArqB multiplex is moving from C50 to C63 for seven months. There will be no changes to the power level or transmission mode parameters of the service. C50 is required for the ArqB at the Tacolneston transmitter digital switchover next wednesday.

Sudbury not see the commercial multiplexes operating at their final power levels until 27th June 2012. On this date SDN will move to C58, ArqA to C60 and ArqB to C56. Until this time some viewers on the edges of the service area for the transmitter will be unable to receive the commercial services.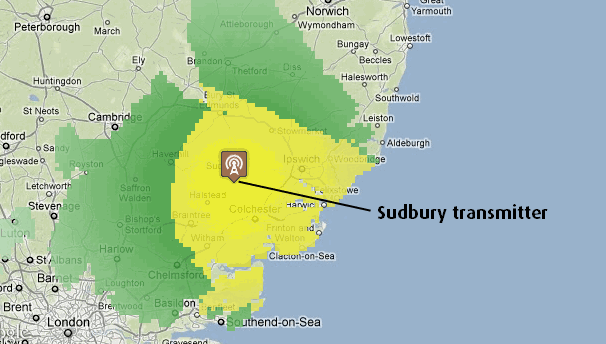 Comments
Thursday, 24 November 2011

Hi

Even for my parents who are line-of-sight about 10miles NE and you can see Sudbury from the roof/aerial with no obstructions CH63 is just useless.

They are now resigned to either getting a log-periodic professionally installed or waiting till next June. I've told them to go with the log p.

JC's 13 posts

JC

Why the preference for a log-periodic over a normal wideband?

drgeoff's 22 posts

Tim CO14: If these other muxes that were picked up by your PC are Tacolneston, try tuning to Ch50 which is its ArqB.

Dave Lindsay's 5,724 posts

Dale: It is very difficult to rebuke any statement that "most customers will not need new aerials" to receive Freeview.

The PSB muxes are in the same Group that the four analogue channels were, as they are for most transmitters. Thus, Digital UK could maintain that (most) viewers can receive Freeview without changing their aerials.

The Commercial muxes operate on a commercial basis. That is, it is up to the providers where they put their transmitters. The free market does not impose obligations on providers to provide or consumers to consume. Therefore one cannot argue that viewers "need" to replace their aerials; however they may do so in order to consume.

Only the PSB transmitter network is built with the primary objective being to serve the public, which is why so much money is spent on many small relays. In most cases PSB services are in-Group.

Dave Lindsay's 5,724 posts

For those interested in reading about aerials, see ATV Sheffield:

Aerials, TV Aerial and Digital Aerial

Dave Lindsay's 5,724 posts
Tim CO14
8:54 PM
Walton On The Naze

Dave Lindsay: Did a scan of 642mHz through to 786mHz on the PC tuner, but still getting the same results there, 100% strength, but only 10% quality on Ch42 and 50(same on Ch54), but worse still on the higher frequencies. The Samsung only displays 'Signal Status', which I guess is a blend of strength and quality, and looks to be around 60% (bar graph) on the above channels.
Still, I'll have the attenuator in a couple of days, so we'll have to wait and see what that does!

Tim CO14's 34 posts
Tim's:
map
T's Freeview map
terrain
T's terrain plot
waves
T's frequency data
T's Freeview Detailed Coverage

drgeoff : the chart that I've seen, as part of the excellent ATV Aerials site, shows that a Group-B aerial gain plummets after CH55 and is down to zero at CH60. Naturally, if you are getting a strong enough signal you'll still pull the higher channels in, just as you would with a coat hanger or similar!
Dave : I still consider, from the perspective of the ordinary man in the street like me, that when Digital UK say you don't need a new aerial for the switch to Freeview, then you would reasonably expect to receive ALL of the advertised channels. Every one I spoke too pre-DSO around here had that expectation, and thought it would happen from July 2011 : many have been sadly disappointed. Apart from people who visit forums like this, or are connected with the TV transmission industry in some way, no-one would have a clue as to what PSB or COM terminology means.

Dale's 78 posts
Dale's:
map
D's Freeview map
terrain
D's terrain plot
waves
D's frequency data
D's Freeview Detailed Coverage
Friday, 25 November 2011

I think the problem I have is that when I tried a manual scan on channel 63 I got no signal whatsoever!

Chris's 4 posts

A neighbour spoke to Channel 4 this morning complaing about this fiasco - the guy he spoke to was very interested and concerned about the issue. He said that the more people who contact Channel 4 to complain, the better, then they can get something done about it as they don't viewers missing out on Film 4.

The phone number is 0845 076 0191. Select the 'Complain about reception or interference' option to get a human voice - if you select 'Problems with DSO' you'll just get the DigitalUK number. The more this number is propagated and used the better chance we have of getting something resolved.

Furthermore he said that the BBC have a responsibility as well, even though there are no BBC channels on ArqB and suggested also calling them on 03700 100222.

Local TV suppliers and Aerial installers say they have had hundreds of complaints just in the Sudbury area where we are, with some suggesting that a cheap booster is doing the trick for some people.

Aaron's 11 posts
Aaron's:
map
A's Freeview map
terrain
A's terrain plot
waves
A's frequency data
A's Freeview Detailed Coverage

As someone who works hard on SAYNOTO0870.COM, I would advise that Channel 4 Viewer Enquiries can be contacted on (028) 9092 1702 instead of the published 0845 076 0191 number.

This will be cheaper for many people, including those on Virgin Media, Sky Talk, mobile phones and many others. The main exception are those on BT Calling Plans who pay for their calls where the 0845 number will be cheaper.

The 028 number goes through to the same automated menu as the 0845 number.

Dave Lindsay's 5,724 posts
Select more comments
Your comment please