Sudbury Arqiva multiplex B changes 16 November - retune required

Brian Butterworth published on UK Free TV
After 6am 16th November 2011, viewers in Suffolk and Essex who receive the full Freeview service from the Sudbury transmitter will need to do a full retune of their Freeview boxes - you must perform a "first time installation" retune (sometimes "Factory Reset" or "Shipping Condition") to ensure you can watch the all the available Freeview channels on the correct channel numbers.

The ArqB multiplex is moving from C50 to C63 for seven months. There will be no changes to the power level or transmission mode parameters of the service. C50 is required for the ArqB at the Tacolneston transmitter digital switchover next wednesday.

Sudbury not see the commercial multiplexes operating at their final power levels until 27th June 2012. On this date SDN will move to C58, ArqA to C60 and ArqB to C56. Until this time some viewers on the edges of the service area for the transmitter will be unable to receive the commercial services.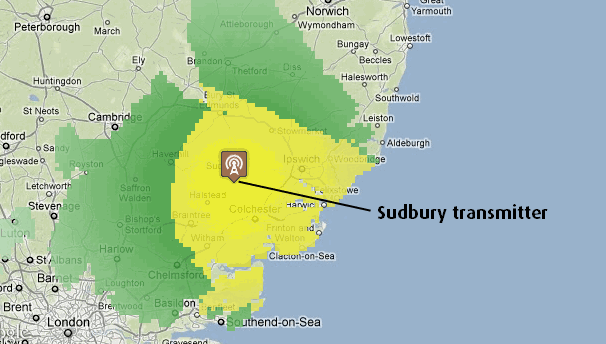 Comments
Saturday, 10 December 2011
P
Paul Schonbeck
6:00 AM
Ipswich

Disappointed to have lost " Yesterday " and " Film 4" Channels since around mid November . My TV retailer said to wait until around 27th November for resumation of reception as work was being carried out on the SUDBURY Transmitter . Despite many 're-tunes' I am still without these favourite channels . Signal strength and reception is good on other Freeview channels . Suggestions and comments would be much appreciated . Thank you

Paul Schonbeck's 3 posts
Paul's:
map
P's Freeview map
terrain
P's terrain plot
waves
P's frequency data
P's Freeview Detailed Coverage
D
drgeoff
11:40 AM
Felixstowe

Paul Schonbeck

There are plenty of comments and suggestions already in this thread. Don't hold your breath waiting for any new ones with different advice.

Basically, if you think your aerial is old/in bad condition/not a wideband one and/or the downlead is bad, and you cannot wait until next June then think about a new aerial installation. Otherwise, wait and hope all will be well again when the power is boosted 900% next June.

drgeoff's 22 posts
drgeoff's:
map
D's Freeview map
terrain
D's terrain plot
waves
D's frequency data
D's Freeview Detailed Coverage

Paul Schonbeck: Being only 18 miles away from Sudbury, and although I generally never advise this form of action to be taken as its a hit and miss thing to do, but you could try using an amplifier of about 15/20dB in line with your aerial, as the mux channels containing these programmes are exceptionally low powered when compared to the main ones, and albeit that its only a temporary measure until next year, its still an odd ball situation that has created problems for numerous people when trying to pick them up.

The reason I say "hit and miss" is because it depends entirely on how good your equipments tuner is at selecting and picking up weak channels when they are in a group containing high powered ones, plus using an amplifier can take the already high powered multiplexes "over the top" in strength, and is something which can cause some tuners to stop receiving all together by the swamping their input circuitry, something which causes general instability to occur.

That said, if you do decide to try an amplifier, then you should blank out everything stored first by carrying out a factory re-set before performing an auto-tune, although sometimes in this type of situation its best to "manually" tune in the elusive muxes first, then use the "add channels" facility to recover the remainder.

jb38's 7,179 posts
Saturday, 17 December 2011
M
Maria
5:22 PM
Bury St. Edmunds

Hi,

I've been trawling through this about Film4 very miserably and don't understand this so please bear with me....

Seems Film4 and Yesterday are up the Swanny for months... if I get Freesat or BT Vision will it then work?

Many thanks

Maria's 9 posts
Maria's:
map
M's Freeview map
terrain
M's terrain plot
waves
M's frequency data
M's Freeview Detailed Coverage

Maria: BT Vision gives access to Freeview channels and on-demand content provided by a BT Broadband connection. Thus, a BT Vision box effectively contains a Freeview box.

The problems encountered by those in Suffolk and surrounding areas will be alieviated in June. Therefore, any change that is made to receive the missing channels (*if* such a change can be made), is only of benefit for the next six months.

My advice would be NOT to retune as it is not a tuning problem. Retuning simply causes you more trouble because then you have a TV that isn't tuned to the relevant frequency and therefore you won't know when the reception of the signal has improved.

Dave Lindsay's 5,724 posts
M
Maria
5:42 PM
Bury St. Edmunds

Ah thanks - you found my other post after I had started trawling more :)

So Bt Vision won't help :(

Once it has been located, don't retune as it won't make any difference and I won't know if is working or not at that moment in time. This makes sense - thanks.

All will be rosy in the garden in 6 months...

but....

Does freesat pick up from the same transmitter and so would not work, or is it completely different? Am I being dim? Does it pick up from a satellite? Oh my word - I am feeling really clueless on this :(

I hardly watch TV apart from Film4!




Maria's 9 posts
Maria's:
map
M's Freeview map
terrain
M's terrain plot
waves
M's frequency data
M's Freeview Detailed Coverage

Maria: As I say, that any changes you make to receive these services will only be of benefit for the next 6 months because you will be (as sure as you can ever be) sure that it will work in 6 months time.

Freesat is a satellite service and therefore the signal comes from a satellite which serves the whole of the country.

If you have received these services previously, then perhaps it was the case that you were "only just" getting them (i.e. the signal was *just* strong enough). A slight change (maybe a tiny tiny change to the signal) means that you can't pick them up.

You say that you have three TVs and that they are all having issues picking up these channels. Are they all connected to the same aerial? If so, how is this connected?

Dave Lindsay's 5,724 posts
M
Maria
6:03 PM
Bury St. Edmunds

I now feel completely daft! It would pick up from a satellite wouldn't it - doh!

You may notice that I know nothing about satellite TV in any form or the benefits of having it.

I have two TVs that did pick up Film4 perfectly until suddenly it went wrong a few weeks ago.

There is a cable that has a 'doubler' thingy plugged into the back of the main one and then a cable snakes in a rather inelegant fashion out the window and in the upstairs window to serve the second one.

Third TV is on a little old-fashioned internal aerial and is hit and miss anyway so I don't expect much of that one as it requires wiggling regularly anyway.

Maria's 9 posts
Maria's:
map
M's Freeview map
terrain
M's terrain plot
waves
M's frequency data
M's Freeview Detailed Coverage
M
Maria
6:05 PM
Bury St. Edmunds

p.s. It did used to be a bit shaky reception when it was stormy before

Maria's 9 posts
Maria's:
map
M's Freeview map
terrain
M's terrain plot
waves
M's frequency data
M's Freeview Detailed Coverage

Maria: This definately is a try it and see thing. It is a case of making suggestions that might increase your chances, therefore there are no guarantees.

Remove the doubler from the downstairs TV so that the lead that feeds the upstairs TV is disconnected (and therefore so that the upstairs TV has no signal).

Now see if that improves things.

Downstairs (I guess in the lounge), what equipment do you have? For example, do you have a recorder with built-in Freeview (e.g. DVD recorder, hard drive recorder). What about the TV, does it have Freeview built in?

Dave Lindsay's 5,724 posts
Select more comments
Your comment please