Sudbury Arqiva multiplex B changes 16 November - retune required

Brian Butterworth published on UK Free TV
After 6am 16th November 2011, viewers in Suffolk and Essex who receive the full Freeview service from the Sudbury transmitter will need to do a full retune of their Freeview boxes - you must perform a "first time installation" retune (sometimes "Factory Reset" or "Shipping Condition") to ensure you can watch the all the available Freeview channels on the correct channel numbers.

The ArqB multiplex is moving from C50 to C63 for seven months. There will be no changes to the power level or transmission mode parameters of the service. C50 is required for the ArqB at the Tacolneston transmitter digital switchover next wednesday.

Sudbury not see the commercial multiplexes operating at their final power levels until 27th June 2012. On this date SDN will move to C58, ArqA to C60 and ArqB to C56. Until this time some viewers on the edges of the service area for the transmitter will be unable to receive the commercial services.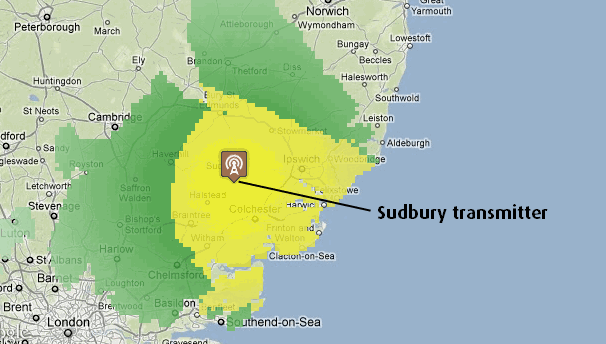 Comments
Saturday, 17 December 2011
M
Maria
6:20 PM
Bury St. Edmunds

That makes sense - I'll try that in a mo. Thank you.

Have no recorder though I have been contemplating getting one - do they make a difference? The freeview is built in to the telly. I have a DVD player and a video recorder(!) plugged in to the telly too.

Maria's 9 posts
Maria's:
map
M's Freeview map
terrain
M's terrain plot
waves
M's frequency data
M's Freeview Detailed Coverage

Maria: Firstly, the doubler you have splits the signal in two. Therefore, each output is not a strong a signal as at the input. In many many circumstances this is perfectly fine and will not affect reception because the incoming signal (from the aerial) is strong enough anyway. Clearly the other channels are fine and quite happy being split like that.

The reason I asked you about what else you have is because had you got a TV that does not have Freeview built in (i.e. it is an analogue only TV), then there is no point in feeding the aerial into it (as it doesn't "read" the signal) and therefore you might as well do away with the splitter and feed the upstairs TV directly from what was put into the TV. As you have a Freeview TV, that might not be an option.

If the video recorder does not have Freeview built in (i.e. it is analogue only) then again, there is no benefit in having it connected to the aerial. So remove the video from your aerial by removing the aerial into it and putting it into whatever the output feeds into. Same goes for the DVD player if it has only an analogue tuner in it but no digital (Freeview) one.

Dave Lindsay's 5,724 posts
M
Maria
6:44 PM
Bury St. Edmunds

Hooray! I have Film4 by doing what you have suggested.

Having double-checked the aerial cable actually goes into the video which I doubt very much has Freeview built in!

So, presumabley I am likely to have more success with the splitter if it goes direct into the TV?

And.. I might be able to get both TVs to pick it up if it has a booster rather than a thing that splits the signal?

Am I right or am I interpreting wrongly?

You are being a complete star!

Many thanks

Maria's 9 posts
Maria's:
map
M's Freeview map
terrain
M's terrain plot
waves
M's frequency data
M's Freeview Detailed Coverage

Maria: From what you describe, I gather that you have two devices with Freeview in and these being the two TVs. You do not have any other box that requires an aerial (at the moment).

Try connecting the splitter to the aerial where it comes in and connecting one output to the lead that goes upstairs and the other to the TV.

I would avoid having a splitter plugged directly into a wall socket or the back of a TV/box because it could end up damaging the socket. For example, if the splitter were to be put directly into the aerial socket of the TV, and the TV were to get pushed back against the wall, it's likely to damage the TV's aerial socket. I would connect it using one of the aerial leads (you will have at least one spare now you've disconnected the video).

A powered booster is a possibility, although as I said, it will only be of benefit until June. At that time you will be able to remove it and go back to your unpowered splitter. Remember that the booster would only be needed for those channels carried on the Arqiva B multiplex (Film4, Yesterday etc) which you are having trouble with.

The reason you might need a booster is to make the signal bigger because splitting it makes it smaller. So it's to counteract the effect of splitting it in two.

You have proved that there is sufficient signal coming from your aerial to watch Arqiva B channels (when you connected only one TV). Hence if you do get a booster with a variable control on it, it won't need to be set to high (too high could also be bad).

Your other possibility is that when you want to watch one of the affected channels, you will have to remove the splitter and only have one TV connected. It probably depends how often you are likely to watch and maybe how often you use the upstairs TV.

Dave Lindsay's 5,724 posts
Wednesday, 28 December 2011

Hello

Im in Watford, and my ITV and Ch4 keep on jumping (glitching)...This has only started recently. Ant reasons for this?

Joel's 1 post
Joel's:
map
J's Freeview map
terrain
J's terrain plot
waves
J's frequency data
J's Freeview Detailed Coverage
Tuesday, 3 January 2012
P
Philip
2:35 PM
Chelmsford

It seems to me that the Freeview service is run by geeks for Geeks. They seem to have no regard for the end user and continuously keep changing things for their advantage to the annoyance of the customer.

IMHO digital is a disaster - I am on the edge of the Sudbury transmitter at Chelmsford but want to use Sudbury as I am in East Anglia and want the East Anglia news etc.

Recently I lost Film4 and Yesterday channels presumably for the conveniece of the Geeks.

I guess i shall have to get in touch with my MP to express my disgust.

My official transmitter is Croydon which is all London stuff.

The geeks are rampant and stuff the customer seems to be the motto of Freview

Philip's 6 posts
Philip's:
map
P's Freeview map
terrain
P's terrain plot
waves
P's frequency data
P's Freeview Detailed Coverage

digital uk have finally come clean about the sudbury problems & say they are sorry but some of us will have to wait until june 20 2012 why is it when every thing was ok they ruin it & make a lot of us wait to have it put right after paying to upgrade aerials ect.whoever was responsable should be sacked

colin's 9 posts
Thursday, 5 January 2012

Any details Colin of what digitalUK actually admitted do? As usual their (cr*p) website says almost nothing.....

George's 9 posts

.... admitted TO even! LOL

George's 9 posts
Friday, 6 January 2012

colin: I suspect you've only just discovered information that has been known all along; that the commercial multiplexes have to run on lower power until 27 June 2012, because of a clash with Dover. Basically, increasing the power at Sudbury any earlier would cut off services for many viewers of the low-power digital services, and even cause problems for some analogue services. Once Dover has switched over - on 27 June - the restrictions at Sudbury can be lifted, and final channels and power levels can be used. You will need to retune on this date.

Compared to pre-switchover reception, the current coverage might be worse as although the power levels were increased somewhat, the transmission mode was changed, trading off increased capacity for reduced coverage, and the increased power level doesn't quite make up for the mode change. The mode was changed again on 22 November, again to increase capacity, which may have reduced coverage a bit, as there was no power increase to compensate this time.

The mode changes were purely commercial decisions by Arqiva, who had pre-sold the additional capacity on ArqB before Sudbury switched over. The extra capacity was sold to BT to carry Sky Sports 1 and 2. The BBC had agreed to match this extra capacity with their own unused space on Mux B before switchover, so if the ArqB mode had not changed, all viewers paying BT or Top-Up TV for Sky Sports would have lost the channel. (This happened at Mendip, for example.)

This information has all been in Digital UK installer documents (except the detailed information about interim power levels). The brochures sent out have perhaps been too simplified, over-emphasising the idea of two stages and everything's done, when at many sites - and particularly the Anglia region - more stages are required. The Anglia booklet does include additional retune dates in 2011; I think the exact date of Dover's switchover wasn't announced when it was published, so 2012 dates weren't included. Some indication should have been made of further retunes being required in 2012.

Mike Dimmick's 2,486 posts
Select more comments
Your comment please