Sudbury Arqiva multiplex B changes 16 November - retune required

Brian Butterworth published on UK Free TV
After 6am 16th November 2011, viewers in Suffolk and Essex who receive the full Freeview service from the Sudbury transmitter will need to do a full retune of their Freeview boxes - you must perform a "first time installation" retune (sometimes "Factory Reset" or "Shipping Condition") to ensure you can watch the all the available Freeview channels on the correct channel numbers.

The ArqB multiplex is moving from C50 to C63 for seven months. There will be no changes to the power level or transmission mode parameters of the service. C50 is required for the ArqB at the Tacolneston transmitter digital switchover next wednesday.

Sudbury not see the commercial multiplexes operating at their final power levels until 27th June 2012. On this date SDN will move to C58, ArqA to C60 and ArqB to C56. Until this time some viewers on the edges of the service area for the transmitter will be unable to receive the commercial services.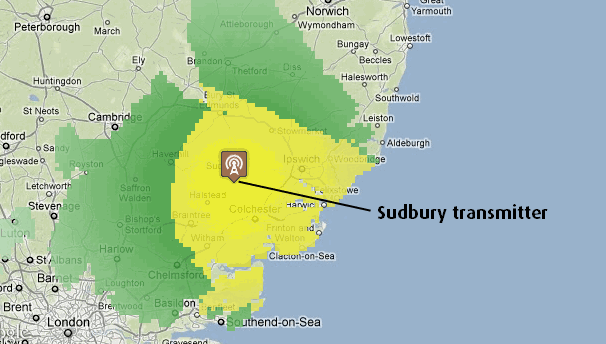 Comments
Wednesday, 16 November 2011

I think it's fairly obvious that there's something up with the transmitter. It seems it's only the ch63 group that are causing people problems, so it's down to the transmitter owners to sort it out!

yes's 1 post

@Dave: Already read that page, thanks anyway. I tried with and without the booster, with multiple devices - max signal quality on 63 is 10% with a strength of 34%. The booster isn't making any difference and is currently not connected so really can't see an attenuator will be useful until I put a new aerial on the chimney. Anyway, signal strength doesn't go over 65% on any fr. which would typically obviate the need for an attenuator AIUI.

@yes: I agree. Just looked at 54 (ArqA), which is only 1.5kW, shows 64% strength with 100% quality. Now if this was really running 1.5kW compared to 63's supposed 2.2kW I'd expect not to be able to receive those either.



Aaron's 11 posts
Aaron's:
map
A's Freeview map
terrain
A's terrain plot
waves
A's frequency data
A's Freeview Detailed Coverage

@Dave: Tuned using known good aerial and gone back to roof aerial where the Humax cannot tune (no or bad signal).

Given that it was fine until this morning, and ArqA is broadcasting on 1.5kW, then even though I probably have a cr@p aerial on the roof, it was receiving ArqA and B OK until today in their respective low-power outputs, one would think they've lowered the output power even more in this change.

Aaron's 11 posts
Aaron's:
map
A's Freeview map
terrain
A's terrain plot
waves
A's frequency data
A's Freeview Detailed Coverage

I've always struggled to get the COM muxes reliably here on the Essex coast, even with a wideband aerial, so after re-tuning this morning, I wasn't surprised to find I couldn't receive any ArqB channels. The odd thing was, on BBC1 at around 08:00, I was getting Look North news instead of Look East! (but that may of had nothing to do with today's frequency change). This evening after several re-scans, I can still get no Arq B or even any Arq A channels via the Samsung DVD recorder, and my Goodmans box now won't find ANY channels. However, poor reception maybe due in part to the current weather/atmospherics. The output power of the COM muxes is so low, it's always going to be hit-or-miss for the next few months.

Tim's 34 posts

I live in Tiptree in Essex and get my service from the Sudbury transmitter. I have had not any problems with Freeview for years. Today I lost ITV 4, Film 4, etc. The power level may be the same but the change in frequency has messed things up. Not happy to wait until next June to see if they come back. Perhaps I should take the plunge and move to satellite!

John's 2 posts
M
Mark Fletcher
9:12 PM
Halifax

Tim.Hard to say without a full postcode.Apparently a lot of people on here today have complained about being unable to receive the relocated low powered ArqB mux on Sudbury mast which now sits on fr 63 from fr 50 previously.But also some people have also complained about pictures coming and going as well as receiving unfamiliar broadcasts.Now this morning after you retuned,you mentioned ya received Look North instead of Look East.That denotes one of five main transmitters you picked up this signal from,either BBCA fr 22 from Belmont,BBCA on fr 47 from Emley Moor these two most likely as both transmitters are now both digitally switched and broadcasting on full power.The other three most unlikely being on lower pre-digital signals and still broadcasting analogue signals,are Mux1 on fr 34 from Bilsdale,Mux1 on fr 58 from Pontop Pike or Mux1 on fr 40 from Chatton.My conclusion here would be that firstly there were teething troubles relating to relocating ArqB from fr 50 to fr 63 due to the low level strength of the relocated ArqB signal and possibly many people using cheap inferior contract aerials which can fail to pick up the highest frequencies as well as the lowest ones in rare cases.My second conclusion most probably is due to atmospherics/inversion effect still affecting eastern UK and until rain and low pressure comes soon,this problem will carry on until then.

Mark Fletcher's 673 posts
Mark's:
map
M's Freeview map
terrain
M's terrain plot
waves
M's frequency data
M's Freeview Detailed Coverage
M
Mark Fletcher
9:26 PM
Halifax

John.Tiptree,Essex.You can always consider the Freesat option if you wish.But if you decide to wait come Wednesday 27 June 2012 when Sudbury finally is liberated from all forms of restrictions as such,then the wait will be well worth it.

Mark Fletcher's 673 posts
Mark's:
map
M's Freeview map
terrain
M's terrain plot
waves
M's frequency data
M's Freeview Detailed Coverage

I have not got Film4 since the changeover, I live in Ipswich IP44, I can not tune into 63 as it does not recognise 63. Before the change I had over 100 channels (with radio stations) now only 54tv & a few radio stns.. I cannot believe that I have to wait until 2012 before I get film4 & the radio stns back, I can however do without those adult chat channels that have now gone but I suspect that someone will soon take action if revenues fall...

Frank's 1 post

Further to my last post, I recieve channels 41,44,49 & 54 at 98% strength & 100% quality, why should channel 63 be so badly affected, thanks

Frank's 2 posts
Frank's:
map
F's Freeview map
terrain
F's terrain plot
waves
F's frequency data
F's Freeview Detailed Coverage

On my posh LG I can only get freeview HD channels and on my portable (with freeview box) I get 35 channels but no BBC ones.

Strange.

I'm at Ashen NW of Sudbury.

Philip's 2 posts
Select more comments
Your comment please