Sudbury Arqiva multiplex B changes 16 November - retune required

Brian Butterworth published on UK Free TV
After 6am 16th November 2011, viewers in Suffolk and Essex who receive the full Freeview service from the Sudbury transmitter will need to do a full retune of their Freeview boxes - you must perform a "first time installation" retune (sometimes "Factory Reset" or "Shipping Condition") to ensure you can watch the all the available Freeview channels on the correct channel numbers.

The ArqB multiplex is moving from C50 to C63 for seven months. There will be no changes to the power level or transmission mode parameters of the service. C50 is required for the ArqB at the Tacolneston transmitter digital switchover next wednesday.

Sudbury not see the commercial multiplexes operating at their final power levels until 27th June 2012. On this date SDN will move to C58, ArqA to C60 and ArqB to C56. Until this time some viewers on the edges of the service area for the transmitter will be unable to receive the commercial services.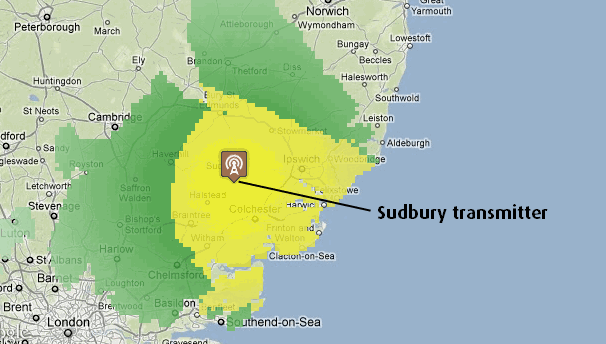 Comments
Thursday, 17 November 2011

Since they started work on crystal palace transmitter, firtst of all i lost all the channels on my tv. ok solved that by installing a free view box. Now i sometimes get full signal, other times nothing, have spoken with an engineer who has advised me that there is a rubbish signal from transmitter, so i give up going to look into free sat.
I used to work for an aerial company so i know what im talking about but i wonder how many unscrupulous companys will be ripping people off and telling them they need an all singing all dancing aerial only to find when the switch over happens they have the same problem.

Sonic's 1 post

Is there any way of testing if my aerial can even receive UHF channels that high? (It should do as it's wideband but it is quite old.)

I tried checking the signal on other random channels in the 40s and 50s that aren't used, and they were about 2% too - but that's presumably because there's nothing broadcasting on them (in my area, at least).

UHF channels that I receive well have a strength of about 85% and quality of 98%. The only lower one is 54 which has a strength of about 50% and quality of about 90%.

yes's 13 posts

Since the Sudbury retune I have totally lost Aljazeera and Russia Today.
Two different wideband aerials for each set and guess what, I only live at Bures 3 miles from the mast.
Even with aerial amps it makes no difference

Alan's 9 posts

I notice the post where people were discussing it on the Digital UK Anglia Facebook wall has now been removed!!!! At least it doesn't work for me any more - Incompatible browser | Facebook

yes's 13 posts

thought there was a fault with face book ,think it has been removed,so whats the next step ,watchdog?

john's 10 posts

what beats me is why are they advertizing the pop ups every frecking 10 minutes to retune your television,i wished i never touched it lol

john's 10 posts

I thought it was affecting me only, but know it affects my friends in Long Melford and neighbours here in Sudbury on a new aerial and TV.

The fact that they took down the facebook thread is probably either through abuse or the consequences of bad publicity.

Remember the companies involved are Corporations that don't give a damn about us, the user, but worry about bad PR affecting their share price.

Tim's 1 post

"I see no ships" ....

Dale's 78 posts
Dale's:
map
D's Freeview map
terrain
D's terrain plot
waves
D's frequency data
D's Freeview Detailed Coverage

Digital UK has solved the problem : there isn't one!!
Update Your Browser | Facebook

So all you people, like me, who have negligently forgotten how to retune, or are using coat hangers and pretending they are a wideband aerial, and, indeed EVERYONE who uses the Sudbury transmitter and is under the illusion that a whole MUX has disappeared .... I hope you all feel as ashamed as I do. (IP29XY)

Dale's 78 posts

Had enough of this crap off to the pub,before i go im not sure if this will help any one, my main tv in living room which has the aerial going into a via a old sky box i can pick up all the freeview channels ie film 4 russia today ect ect whats on my freeview tv ,not sky i must stress. its the other 2 tvs in bedroom and kitchen where i have lost quite a few channels,i live in clacton,so all i can think of is the signal isnt that strong as it was before the 16th , hope it helps lol ,

john's 10 posts
Select more comments
Your comment please