Norfolk sees the end of analogue TV as high power digital starts

Brian Butterworth published on UK Free TV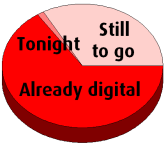 Tonight, the last
switchover
of 2011 will see the number of homes with digital-only
terrestrial
reception
in the UK goes up by 387,500 from 64.1% to 65.6%.
Viewers in the
Norfolk and North Suffolk area
who use the
Tacolneston
transmitter
(and 16
relay
transmitters) will have no
analogue
television from Wednesday 23rd November 2011. Unless you use
cable
or
satellite
to watch television, if you don't use a Freeview box or set, your screen will be blank.
Most people need only perform a "full retune" on their Freeview box or TV, but it would be impossible with 387,500 homes covered by the transmitters, for no-one to have a problem.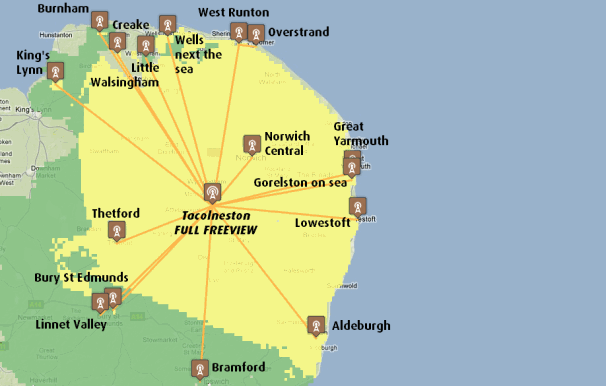 From Wednesday 23rd November 2011 you MUST have a digital television device to watch TV. If you do not have a digital receiver, from Wednesday will have a blank screen.
Do not expect a terrestrial television service from midnight until 6am - or a late as 3pm on relay transmitters (see below for timetable)
.
Switchover help scheme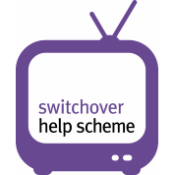 If you are over 75, get (or could get) Disability Living Allowance, Attendance Allowance, Constant Attendance Allowance or mobility supplement; or have lived in a care home for six months or more; or are registered blind or partially sighted and need assistance, please see
The Switchover Help Scheme
.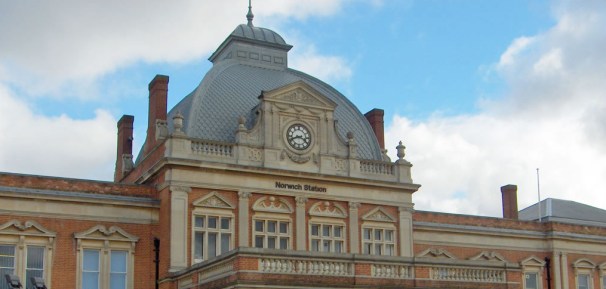 Cable and satellite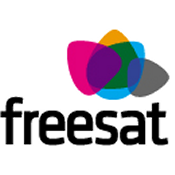 Cable (Virgin Media) and satellite (
Sky
,
Freesat
,
fSfS
) viewers are not affected by the changes. Remember, however, that you may be using analogue TV to watch on a second or third set and it might need a Freeview box.
Existing "full" Freeview users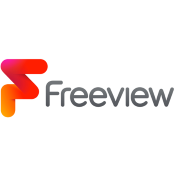 If you already use Freeview, and can receive all the
channels
now, check your TV or box is not listed here -
TVs and boxes that do not support the 8k-mode
. If it is, you will need a new Freeview box.
If you are not on the list, you should
scan
your box from around 6am.
When you now rescan, you MUST do a "first time installation" or "factory reset" scan (sometimes called "shipping state"), not a simple "add channels"
. Do the procedure you did on "national retune day", September 30th 2009, see
Freeview Retune - list of manuals
.
If you can't recall the procedure or find the manual, please see
generic clear and rescan procedure
.
If you scanned during the first phase of switchover on Wednesday 9th November 2011 - you will have to do it again on Wednesday 23rd November 2011.
Using Freeview with Windows Vista
Please see
Switch over and PC-based systems
because you need some
updates
for your system to work.
Boosters and amplifiers
If you live close to the transmitter, you may have to disconnect any "boosters" from your
aerial
system.
The new, more powerful digital signals may overload any amplifiers and result in no reception!
When looking for them include a check for distribution amplifiers,
loft
boxes, set back amplifiers, bypass Amplifiers, hidden
masthead
amps in a loft space and any dodgy active splitters.
For full details, see:
Freeview signals: too much of a good thing is bad for you
.
Homes without Freeview now have Freeview Light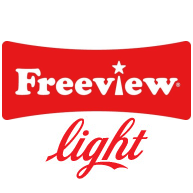 If you had no Freeview service before, you will have the BBC channels digitally from Wednesday 9th November 2011. This is a single
multiplex
of the BBC channels (radio, television and text) for most people.
However, if you were on the fringes of reception from one of the main
Freeview transmitters
, you will now get all the Freeview channels.
If you didn't get this limited Freeview service on 9th November 2011 then you may need a new aerial.
If you are served by a public service (relay) transmitter, which are:
Aldeburgh
at 10am,
Bramford
at 1pm,
Burnham
noon,
Bury St Edmunds
at 6am,
Creake
at 3pm,
Gorleston on Sea
at 2pm,
Great Yarmouth
(new transmitter) at 11am,
Kings Lynn
at 9am,
Linnet Valley
at noon,
Little Walsingham
at noon,
Lowestoft
(new transmitter) at 8am,
Norwich Central
at 9am,
Overstrand
noon,
Thetford
at 9am,
Wells next the Sea
at 9am or
West Runton
at 9am
...you now need, from around from 6am (unless shown otherwise) on 23rd November 2011 to rescan, and you will get a second Multiplex with ITV 1,
ITV 2
, ITV 1 +1,
Channel 4
,
Channel 5
, Channel 4+1, E4 and
More4
.
And that's your lot if you have a
standard
Freeview
receiver
, see
Freeview retune - poor public service transmitters
.
You may wish to
install
Freesat for more channels, see
Compare Freeview Light and Freesat TV
.
Everyone who has digital-only terrestrial TV now has the ability to receive
Freeview HD
, see below.
Digital regional overlap
The old analogue TV signals provided lots of nations and regions for the public service channels, and these have large areas of overlap.
The old low
power
digital TV signals were at very low levels and reception of signals from more than one transmitter was a rare event.
All Freeview boxes automatically scan the available broadcast frequencies looking for channels, and they do this from
C21
to C69. Older Freeview boxes will, if a duplicate version of a channel is found whilst scanning, such as another BBC One
region
, placed it in the 800-899 channel range.
Some of the latest Freeview boxes will pick the strongest signals for the "primary" number positions, and some will detect the different regions providing a choice when you perform a "scan for channels".
The 800-899 is easy to access by pressing CH- from 1, and in most programme guides is just a single scroll up.
For more details, see:
Digital Region Overlap
Freeview HD
Freeview HD will start on Wednesday 23rd November 2011 from Tacolneston and all 16 relay transmitters. You will need a Freeview HD - DVB-T2 receiver to watch the channels.
An HD "Ready" TV set with Freeview is not enough
.
Comments
Saturday, 26 November 2011

I receive my signal from Tacolneston.
I am in North Suffolk and TV zone is 'East Anglia'.
ITV1 HD gives the news and weather of 'Meridan'
All the rest appear OK.
Any ideas please.

Cheers

Birt's 6 posts
Monday, 28 November 2011

Thanks David

Hopefully one day the regional issues will be resolved!

Birt's 6 posts
Tuesday, 29 November 2011
J
J Dagless
1:53 PM
Norwich

Visited a customer the other side of the city and they cant get the Mux that broadcasts ITV/CH4/CH5 etc. All the others are fine.

Seems a lottery really.

Is anyone in Norwich getting the full channels okay?

J Dagless's 13 posts
J's:
map
J's Freeview map
terrain
J's terrain plot
waves
J's frequency data
J's Freeview Detailed Coverage
Saturday, 3 December 2011

I was wondering, comparing the ITV regions on this website to the ITV regions you can add and view through the 'Other Channels' facility and then comparing that to the actual terrestrial transmitters, how do they all match up?

For example, there is an Anglia W(west), Anglia E(east) and an Anglia S(south) available through Sky.
Yet this website says that Tacolneston and Sudbury are Anglia East and Sandy Heath is Anglia West.
Is this correct?
Because I would look at the Anglia transmitter location maps and see that Sudbury should show as being Anglia South.

Likewise, there are many transmitters in the Meridian Region. On Sky there is 4 regions, South, East, South-East and North.
But there are 10 main transmitters for Meridian. These show as Oxford (Meridian N), Hannington (N), Whitehawk Hill (Southampton, presumably Meridian S), Bluebell Hill (Maidstone), Rowridge (Southampton), Dover (Maidstone), Heathfield (Maidstone), Midhurst (Southampton), Hastings (says ITV Hastings though presumably one of the aforementioned Meridian regions) and Tunbridge Wells (says ITV Tunbridge Wells though presumably one of the aforementioned Meridian regions).

So which (main) transmitters in the Meridian region transmit Meridian North, Meridian South, Meridian East and Meridian South-East?

Dover, Bluebell Hill and Heathfield for example shows as Meridian Maidstone so with Hastings being 'a stone's throw away' to Heathfield's Hollington Park relay, with Hastings showing as ITV Hastings, I'm wondering if it is actually Meridian Maidstone? Looking again at the transmitter map, it's awkward to tell which transmitters form part of the Meridian East region and which transmitters form part of the Meridian South-East region. I don't know where the 'dividing line' is between the South and South-East Meridian regions.

I'm not sure if Bluebell Hill and Tunbridge Wells would be classified as Meridian East and Heathfield, Hastings and Dover as Meridian South-East.
But then this website says that Bluebell Hill, Dover and Heathfield are all Meridian Maidstone.

Even the Central region on Sky shows as having 4 regions, W, E, S and SW. I know that the Central South region shown on Sky is now actually Meridian North for Oxford (Sky need to update this) so you would think that Ridge Hill is Central SW but this website says Ridge Hill is Central W.

So it would be nice and easier if the ITV regions shown on this website carried the same compass suffix e.g. North, West, South-East etc... such as Meridian South-East rather than the town name i.e. Maidstone. At least they would have the same names they do both on this website and through Sky.

I look forward to reading how this all translates geographically between terrestrial and satellite platforms.
Thanks.

Stuart O.'s 156 posts
Stuart's:
map
S's Freeview map
terrain
S's terrain plot
waves
S's frequency data
S's Freeview Detailed Coverage
Sunday, 4 December 2011

Stuart O.: This would be useful information. Obviously the same goes for the BBC.

It would be useful to people who have a choice of which transmitter to use, or where someone is considering switching transmitter in an effort to get better reception; they may wish to know whether the other transmitter broadcasts the same or different sub-regional programming/news.

Dave Lindsay's 5,724 posts
Tuesday, 6 December 2011
J
J Dagless
12:30 PM
Norwich

Oh it just gets worse.

We had a TV/Sky/Aerial installer van turn up yesterday to the apartment block. I was off to work so thought they might be trying to adjust the antenna.

I get home to find notes from a couple of my retired neighbours saying they have lost their TV!

I go inside and factory reset my Freeview box and do a retune.

Oh great we now only get 40 channels detected and only about six are watchable. Signal strength was 99% and signal quality 99% for most channels. Now its 99% signal and varies between 25% quality and no quality.

Even the BBC is unwatchable with picture breakup and many channels are simply missing. Same goes for the other neighbours.

I have reported it into the folks that look after the flats. Shambles.

J Dagless's 13 posts
J's:
map
J's Freeview map
terrain
J's terrain plot
waves
J's frequency data
J's Freeview Detailed Coverage
J
J Dagless
12:33 PM
Norwich

Just to confirm COM4/SDN appears to be the only mux we can pick up with a watchable signal.

J Dagless's 13 posts
J's:
map
J's Freeview map
terrain
J's terrain plot
waves
J's frequency data
J's Freeview Detailed Coverage
Friday, 9 December 2011
J
J Dagless
10:47 AM
Norwich

After three days of the engineer messing around we now have all 87 or so channels working just fine.



J Dagless's 13 posts
J's:
map
J's Freeview map
terrain
J's terrain plot
waves
J's frequency data
J's Freeview Detailed Coverage
Monday, 12 December 2011

Finally sorted out our problem with the digital TV after switchover - had to get the aerial installer back to check the signal, it had been boosted so high that our TVs & recorder couldn't cope, he turned down the on-mast booster and all is fine

Ann's 2 posts
Ann's:
map
A's Freeview map
terrain
A's terrain plot
waves
A's frequency data
A's Freeview Detailed Coverage
Select more comments
Your comment please