Are you really watching free TV in high definition?

Brian Butterworth published on UK Free TV
You need to ask yourself a series of questions if you want to be sure you are taking advantage of the free HD TV channels.

Given that, in the current week, ITV 1 HD gets only 2.6% of total viewing, compared to 36.5% to the channel in standard definition, and that BBC HD gets 1.2% of total viewing compares 26% for comparable channel BBC TWO, it seems that many people are not taking advantage of the improved pictures and sound that can easily be enjoyed.

So, you have to ask yourself five questions:


Q1 Do you have a high definition television set?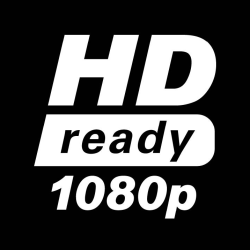 You need to check that your television is actually high definition. Almost all HDTVs are flat screen, but it does not follow that all flat screen televisions are high definition.
The best two clues to look for are the "
HD Ready
" or "Full HD Ready" logos, and also that the television set has HDMI connectors.
If you have the manual for your television set, it may describe HD as "720 line" or "1080 line". If these are not mentioned, you don't have HD and you will need a new television set.
See also
What does "Full HD Ready" actually mean? - ukfree.tv - independent free digital TV advice
Q2 Does your HDTV have built in Freeview HD or Freesat HD?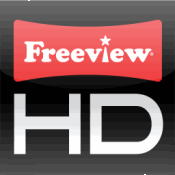 Most HD televisions sold in the UK are "HD Ready", which means that they are capable of showing high definition pictures, but only from an external box.
Some, more expensive, TV sets have
Freeview HD
or
Freesat
HD built in.
If your TV set has the Freeview HD logo, it can receive what are known as "DVB-T2" transmissions, which means you get HD direct from the TV
aerial
connection. If this is the case, see Q4. If the set is "HD Ready with Freeview" it means you can't.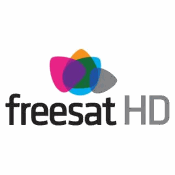 Some high end sets have Freesat HD built in, where you can watch the free high definition channels from
satellite
. For this to work you will have to use the satellite connection on the set. Remember that set will also have standard definition Freeview, so pictures from the normal TV aerial will not be in high definition.
Q3 If your HDTV doesn't have built-in reception - do you have a Freeview HD or Freesat HD box and the correct cables?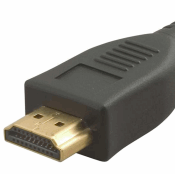 If you have an HD Ready television, you can connect it to an external set-top box to receive either Freeview HD or Freesat HD.
You must make sure that you connect the box to the television set using an HDMI
cable
. If you use a
SCART
lead you won't have HD.
Q4 Do you remember to switch to the HD versions of BBC One, ITV 1 or Channel 4
You do not automatically get to watch BBC One, ITV 1 (or STV) or
Channel 4
in HD.
You must select the special channel numbers for these
services
, as the usual channel numbers (1, 3, 4 and 8 on Freeview, 101, 103, 104 on satellite) will only show in standard definition.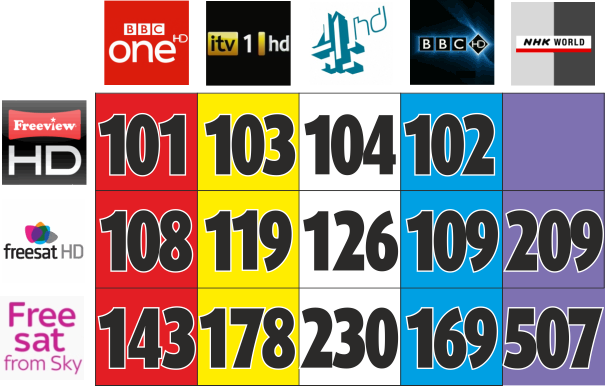 On Freeview HD, 50 must be selected for
BBC One HD
, 51 for ITV1 HD (or
STV HD
), 52 for
Channel 4 HD
(not in
Wales
), 53 for
S4C HD
(Wales only) and 54 for BBC HD.
On Freesat HD, you must choose 108 for BBC One HD, 109 for BBC HD, 119 for ITV 1 HD (or STV HD), 126 for Channel 4 HD and
NHK World
HD is on 209.
On
Sky
HD, you have to choose 140 for Channel 4 HD, 143 for BBC One HD, 169 for BBC HD, 178 for ITV 1 HD.
Q5 Is the HD channel actually showing an HD programme?
Only the BBC HD channel has a HD-only schedule. On BBC One HD, ITV 1 HD and Channel 4 HD non-HD programmes are shown "upscaled" to HD resolutions and look better than the pictures on the SD version of the channel.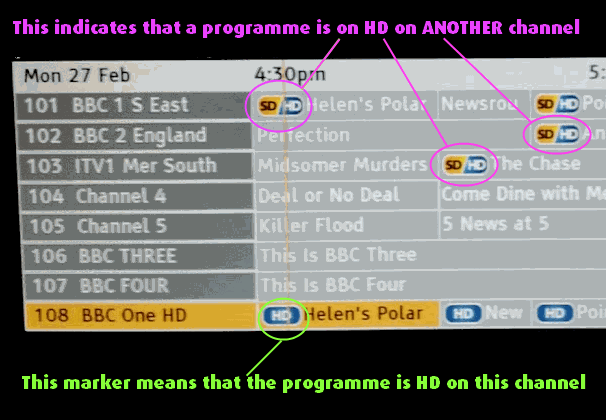 Check in the EPG (usually the INFO or GUIDE button on the remote) to see if the programme that is being shown has an HD marker in the listings.
Comments
Saturday, 15 September 2012

hello i currently have a sky dish and want to convert to freesat. i also have a full hd free sat and freeveiw tv . do i still need to get a freesat box or could i some how plug the dish directly into my tv as it has a sateliette port at the back of it. though their are two cables running from the dish. any suggestions and help greatly recieved . many thanks daniel

daniel's 1 post

daniel: If you genuinely have a Freesat TV then the dish connects directly into the TV, as Sky and Freesat are 100% compatible with each other as far as the dish arrangements are concerned.

As far as the two cables are concerned, just use one of them as the two cables are only necessary if a twin tuner Freesat recorder or Sky+ box is being used, and by the way the two cables are electrically identical to each other so you can use either one.

jb38's 7,179 posts

daniel: And forgot to mention, that you do not require any other box unless you wish to be able to record Freesat programmes then you will require the twin tuner Freesat PVR, and as this requires the aforementioned twin inputs the LNB on the dish requires to be changed to a quad type if not already that, as sometimes Sky engineers will fit a quad block as standard so have a look up at the block and you might see two spare ports, if not you require a quad LNB kit to be fitted and these are obtainable for around £10.00 or so from a few e-bay outlets and are simplicity to fit, then all you require is to run another single coax from the LNB to the TV.

jb38's 7,179 posts
Friday, 28 September 2012

Is there a release date for the other free-to-air channels being HD i.e. ITV2-4 HD, E4 HD, etc.

Mr Neath's 3 posts
Mr's:
map
M's Freeview map
terrain
M's terrain plot
waves
M's frequency data
M's Freeview Detailed Coverage
Saturday, 15 December 2012

... "You need to ask yourself a series of questions if you want to be sure you are taking advantage of the free HD TV channels."

NO - the TV industry needs to ask itself what business it is really in

Is it in the technology push business?
or the advertising business?
or the making TV programs people want to watch business?

And no - you cant be in all 3.

Most people dont give a toss about HD they just want programs to watch. If that means SD
then fine. SD isnt too bad. At least analogue SD was fine - digital SD is just a joke on some channels.

HD is very pretty but pretty rubbish is no interest at all.



andrew's 2 posts
Saturday, 22 December 2012

I think it is absurd that on a sky receiver you have to subscribe to view the freeview channels that broadcast in HD on other channels.

Carl's 3 posts
Monday, 31 December 2012
S
Susan Hopkinson
1:19 AM
Oldham

Help - I am in a poor reception area for freeview and so have to have sky TV.
My plasma screen TV is freeview ready but I can only get 5 channels on this because of the poor reception. Apparently I am on a "Doghill"
Reception in Oldham Lancashire.
Can anybody help me on either for freesat or anything else? I am on pension and I can'nt afford the sky anymore -
Anymore help on Broadband (slow) under 1mg.
or telephone would be apreciated. Thanks

Susan Hopkinson's 2 posts
Susan's:
map
S's Freeview map
terrain
S's terrain plot
waves
S's frequency data
S's Freeview Detailed Coverage

Susan Hopkinson: If you stop paying your Sky subscription you will still receive "Freesat from Sky" channels, that is all those which are not tied to a Sky package. Removing your card temporarily will reveal which channels you will continue to receive via satellite. With regard to your in-built Freeview, with an aerial pointing to Dog Hill you should be able to receive all the BBC TV and national radio channels plus ITV1&2, C4, C5, More4, E4 and ITV1+1, C4+1. If you are able to have an aerial pointing to Winter Hill you are predicted to be able to receive the full Freeview service, this being subject to there being no trees or tall buildings blocking the signal.

KMJ,Derby's 1,811 posts

Carl: transmitting in HD is more expensive than SD, hence on satellite many commercial broadcasters choose to charge a subscription to view HD services. This is also the case in Germany. It is worth noting that NHK chose to close its SD service, and now transmits free to air in HD only. Such a move by other broadcasters would, at the present time, leave many viewers who have SD only receivers unable to view the channels.

KMJ,Derby's 1,811 posts
T
Tony Hill
6:16 PM
Dorchester

Susan: Why not give up Sky altogether and buy a Freesat HD box (or, better still, a Freesat PVR - Personal Video Recorder - so you can record programmes). With this Freesat HD box you will be able to receive all the channels you want - including all the free HD channels. You won't get HD with the "free" Sky option. If you don't have a Sky+ PVR then you would need some additional cables from the dish to use a Freesat PVR but not with a non-PVR Freesat box. Do you have anybody local to advise/help?

Tony Hill's 65 posts
Tony's:
map
T's Freeview map
terrain
T's terrain plot
waves
T's frequency data
T's Freeview Detailed Coverage
Select more comments
Your comment please