Channel Islands retune to get ITV2 and ITV3, 29th February

Brian Butterworth published on UK Free TV
Viewers in the Channel Islands (see BBC Channel Islands map ) will need to do a "first time retune" on their Freeview boxes from 6am on 29th February 2012.

This is to allow for some changes of frequencies, and for the introduction of two missing channels, ITV2 and ITV3 to the islands.




I have updated UK Free TV to show the correct channel listings for the transmitters in the Channel Islands: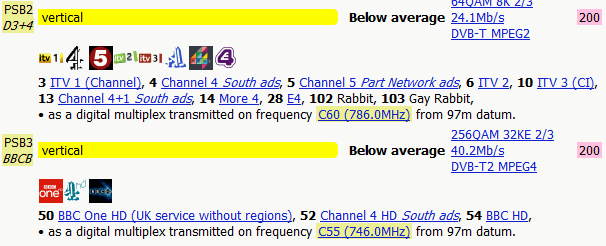 Comments
Wednesday, 29 February 2012

Aerialman: To cut down on equipment costs, only those multiplexes which need different variants have them.

Mux 1 before switchover, or BBC A after, has these variants, due to BBC One's regional services:

Scotland
Northern Ireland
North East and Cumbria
North West
Yorkshire (Leeds)
Yorkshire & Lincolnshire (Hull)
Wales
West Midlands
East Midlands
South (Oxford opt-out)
South (rest of region)
East (Cambridge opt-out)
East (rest of region)
South West
West
London
South East

Mux 2/D3&4 has these versions, matching ITV1 micro-regions:

STV North
STV Central
Border
Tyne Tees
Ulster
Granada
Yorkshire West (Emley Moor)
Yorkshire East (Belmont)
Wales
Central West
Central East
Central South
Anglia West
Anglia East
Westcountry
West
Meridian Thames Valley
Meridian South Coast
London
Meridian South East

C4 and C5 also have advertising regions, but their borders are based on ITV's regions.

Multiplex A/SDN/COM4 has only two variants: Wales and Not Wales. The Wales variant exists to carry E4, which is displaced from PSB2 in Wales to carry S4C.

Pre-DSO Mux B has only one variant. Post-DSO BBC B has several variants to allow S4C Clirlun to be carried in Wales, STV HD in Scotland, and ITV1 HD macro-regions in England and Wales. UTV are supposed to be launching UTV HD in October.

A multiplex is constructed usually by one statistical multiplexing device per variant, which communicates with one encoder per service to be multiplexed. The encoder feeds the compressed pictures to the multiplexer, with an indication of the difficulty of compression. The multiplexer feeds back the bitrate that the encoder must limit the output to, based on how hard each encoder says it's working. That makes a lot of expensive hardware (real-time compression is difficult) which has to be duplicated for each variant. Each encoder has to be fed from the same playout equipment as well, at a data rate usually of 155 Mbps - more for HD. I believe all the multiplexing is now done centrally, so that the national channels don't have to distribute their content all over the place, and also because satellite uplink has to be done from the same place.

So, ITV plc (which owns SDN) doesn't want to add any more variants of SDN if it can help it. Arqiva are likely to flat-out refuse to carry additional variants of Mux C/ArqA or Mux D/ArqB.

In practice this means any service that carries regionalised content has to go on Mux 1, 2 or (after switchover) B. Mux 1 is dedicated to the BBC and getting any additional channels on there is unlikely. Mux B is licensed to the BBC, but Ofcom are required to dedicate some of the capacity to the other PSBs for HD services, and there's no slack. That leaves Mux 2.

Each multiplex transmitted from a transmitter is required to cross-carry all the tuning and EPG data from all the other multiplexes. This is an interesting problem if the encoded multiplexes only have a few variants. Instead of requiring 18 or so variants of each multiplex, instead the Service Information data is gathered together centrally, then distributed to Service Insertion Points for Service Information [SIPSI] - 26 of the main transmitters, plus a couple of locations where the BBC region is different from the ITV one (Kendal, and from next month, Whitehawk Hill). At the SIPSI, the SI data is combined with each multiplex for that region, then the modified multiplex is sent to the transmitter and any sister transmitters from the same region. (For example, for Anglia East/BBC East [not Cambridge], the SIPSI is Tacolneston, which feeds Sudbury.).

Mike Dimmick's 2,486 posts
Thursday, 1 March 2012

Mike Dimmick.Thank you for the detailed explaination

Aerialman's 140 posts

They could replace ITV1+1 / STV+1 with ITV3 on the D3&4 mux UK-wide.

Isn't SDN nation specific, i.e. variants for England, Scotland, Wales and Northern Ireland? If so, why not put ITV1+1 London on SDN on all transmitters in England, ITV1+1 Wales on SDN in Wales, STV+1 in Wales and UTV+1 in Ulster?

Nicholas Willmott's 80 posts

Nicholas Wilmott: ITV1+1 cannot be moved to a different multiplex without either losing the regional variations (effectively meaning it can't be done) or creating 20-odd variants of whichever multiplex it joins.

ITV plc might be more accommodating of creating new variants of the SDN multiplex, because they own it, but as it stands, the two variants are what I said: Wales and Not Wales.

I actually forgot to list the Channel Islands in the list of BBC and ITV regions above. ITV plc - now that they own Channel Television - can now do what they like with the 'Channel 3' half of D3&4 and have decided to add ITV3, rather than ITV1+1, there. Presumably the overhead of additional equipment and manpower for time-shifting (including compliance monitoring) for such a small region outweighs the advertising revenue gained. It's also a special case because no Channel Islands transmitter carries any of the commercial muxes.

Mike Dimmick's 2,486 posts

What I meant was they could dispense with regional variants of ITV1+1 in England and just transmit ITV1+1 London on every transmitter in England. I'm sure people in Northumberland, Birmingham, Manchester or Cornwall wouldn't mind getting ITV1+1 London instead of their correct regional ITV1+1. Long gone are the days of considerable variation in ITV1 regional schedules (different for Westward, Southern, HTV West, ATV, Granada, Yorkshire etc). About the only thing these days that varies is the early evening main regional magazine, and short regional news bulletins at other times of the day. I for one wouldn't mind getting the London regional magazine at 7:30pm on ITV1 in Bath; if I wanted to watch The West Country Tonight (with the HTV West variation in the first half), I'd watch it at 6:30pm.

Nicholas Willmott's 80 posts
Robert Hill
4:17 PM
Wetherby

Nicholas Willmott, okay, you you might be right? But I personally would prefer it to stay as it is. Also would it affect the local advertising? Now I know it wouldn't matter for the majority of programmes it probably wouldn't matter. But maybe people who like to watch the local news appreciate it been on one hour later on ITV1 +1 as they may have just come in from work? During the week.

Robert Hill's 60 posts
Robert's:
map
R's Freeview map
terrain
R's terrain plot
waves
R's frequency data
R's Freeview Detailed Coverage
Tuesday, 6 March 2012

Nicholas Willmott/Robert Hill: The Channel 3 companies are required by the Competition Commission to provide regional adverts, by way of the CRR mechanism. CRR explained: how contract rights renewal binds ITV ad sales | Media | guardian.co.uk - so a "national ITV1+1" is disallowed by this legal requirement.

Briantist's 38,905 posts
Select more comments
Your comment please