Switchover starts in West Sussex

Brian Butterworth published on UK Free TV
This week sees the first stage of the digital television switchover for 99,400 homes in West Sussex.

From 6am Wednesday 29th February 2012, you must perform a "first time installation" retune (sometimes "Factory Reset" or "Shipping Condition") on your Freeview box or television set if you use the Midhurst full service Freeview transmitter.

This is because the old low power "multiplex 1" BBC service (on C56) will be replaced by the high power BBCA multiplex on the old analogue BBC TWO frequency, C55.

On Wednesday 29th February 2012 if you use the Haslemere (6am) or Steyning (6am) relay transmitters you will be able to receive the BBC Freeview services (with the exception of HD) for the first time, and you will no longer be able to view BBC TWO on analogue.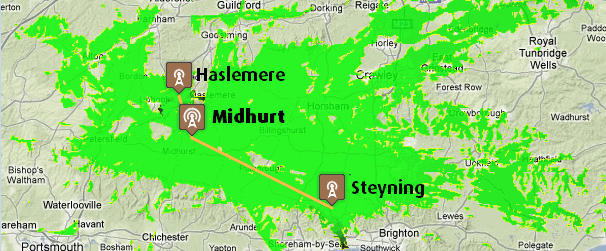 You MAY find that old equipment will no longer work - see TVs and boxes that do not support the 8k-mode

Another common problem at switchover is the increase in signal from 2kW to 20kW will overload amplifiers and over-the-top aerial installations. If this is the case you will have to remove the booster or amplifier from the system, or perhaps fit an attenuator if you have no amplification. - see Freeview signals: too much of a good thing is bad for you.




On Wednesday 14th March 2012 will see the second stage of switchover, which provides the final Freeview configuration, including Freeview HD for all transmitters in this region.

On this date, you will need, once again, to do a "first time installation" as indicated above.

If you are over 75, you should already have been supplied new equipment by the Switchover Help Scheme.
Comments
Wednesday, 29 February 2012

Hello
On retuning (several times today) still no ITV/commercial channels working. Is it me or you?
Regards

Mike Knowles's 2 posts

Mike Knowles: So far, only the BBC SD services have launched at the new power levels, or at the relay transmitters. ITV1/C4/C5 and associated channels, and the other commercial channels, follow in two weeks' time.

Mike Dimmick's 2,486 posts
Sunday, 4 March 2012
P
Philip Jones
1:27 PM
Pulborough

We live just North of Storrington and get our signal from the Midhurst transmitter. We've only been able to get BBC freeview channels to-date. Do you think we will be able to see the full range after switchover?

Thanks,

Phil

Philip Jones's 2 posts

Philip Jones: Well the trade predictor does indicate that it should be possible from March 14th as far as all multiplexes are concerned, although I personally feel not as far as ArqB is concerned until April 25th as its power increases on that date to that of the other commercial transmitters, although it should be pointed out that the latter mentioned will always be running at half the power of the main PSB transmitters.

jb38's 7,179 posts

Did you know - During the 2 week switchover period most of the BBC services that are on the 'old' MUXB are also on the 'new' MUX1, stored in the 800+ channels?

Totally useless piece of info I guess, as when DSO is completed, I guess these will dissappear....

John Davis's 6 posts
Monday, 5 March 2012
L
L.GRIGGS
2:56 PM
Chichester

Why am I told we cannot recieve freeview in Selsey west sussex area

L.GRIGGS's 1 post

L.GRIGGS: I should imagine because the signal from Rowridge transmitter is not on full post-switchover power (i.e. it is not on high power equivalent to that of the analogue channels).

Switchover comes on 7th March and 21st March.

Commercial multiplexes (Film4, ITV3, Dave etc) will not come available to you until 18th April and you will likely have to change your aerial from being horizontal to vertical in order to receive them. You should not (hopefully) have to change your aerial to receive Public Service Broadcaster services (BBC, ITV1, C4, C5 and others).

I am assuming here that your aerial is pointing at Rowridge, as those I can see on your street on Google StreetView are.

Dave Lindsay's 5,724 posts
Wednesday, 7 March 2012

I am in the Midhurst transmitter area. As from today, 7th March, I am receiving all the analogue programmes apart from ITV. I have re-tuned the Freeview programmes and all is O.K.

Can you tell me (a) when these stations will be discontinued and (b) whether I shall have to re-tune the satellite programmes which I am also receiving as usual at the moment.

Many thanks.
J. Ferris
75 Barfield Park
Lancing
West Sussex

Janet Ferris's 2 posts

Janet Ferris: Satellite signals have nothing to do with the (terrestrial) switchover so you won't have to retune satellite equipment.

I believe that your aerial is pointing at Whitehawk Hill. I looked at your street on Google Streetview and that's where they're all pointing.

ITV on analogue is on the channel that BBC Two used to occupy, so press number 2 and you should get ITV. I think that it is BBC Two analogue which you no longer have.

The final stage of switchover is in two weeks time on 21st March when you will have to retune again and when the other analogue services close.

Dave Lindsay's 5,724 posts
Thursday, 8 March 2012

I live just outside Midhurst and have retune dates for Feb 29 and March 14. However i lost signal on March 7 and had to retune. All now seems well but I was asked on retune to enter the area as either 'South' or 'South East'. Currently the TV is set for 'South' - does this make a difference and is it the reason for my March 7 retube?

John Connor's 1 post
Select more comments
Your comment please