Major update to UK Free TV Freeview reception prediction system

Brian Butterworth published on UK Free TV
UK Free TV will celebrate ten years of helping people with their television reception this summer, and today's changes to the reception prediction system is the third major change to the system in that time.

As before, you can still enter a UK postcode, national grid reference or a pair of latitude and longitude co-ordinates into the box at the top right corner of every page here on UK Free TV to ask for a reception prediction.

The reception information page is now divided into three sections, with a toolbar to select the three ways of viewing the information:


Mapping
The mapping page shows the transmitters that you can receive a
signal
from, assuming that your TV
aerial
is mounted 20 meters above ground level.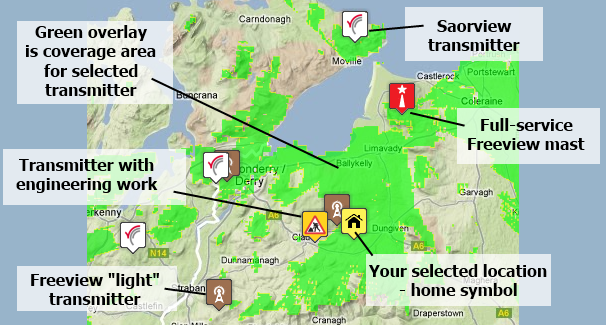 The coverage area for the
transmitter
that provides the strongest signal for the location is shown, and you can single-click on transmitters to show other coverage areas.
Terrain plot
The terrain plot shows each of the masts that a signal can be received from, with the most powerful signal (from
Multiplex
1, PSB1 or
Saorview
1) shown first, with the rest in order.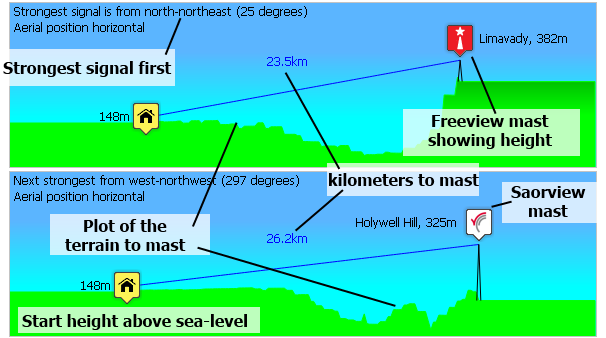 You can click on the plots to see full details for the transmitter. The baring and aerial position is shown in the top right hand cover of each plot. See
Transmitter symbol improvements on UK Free TV
for full details of all the transmitter symbols used.
These graphics are using HTML5 canvas and will not display in very old web browsers.
Full details
As before, you can also view the technical information about reception in one of five ways: by direction, by signal strength (again, strongest first), by transmission
frequency
(lowest first), alphabetically by the service names or the alphabetically by transmitter names.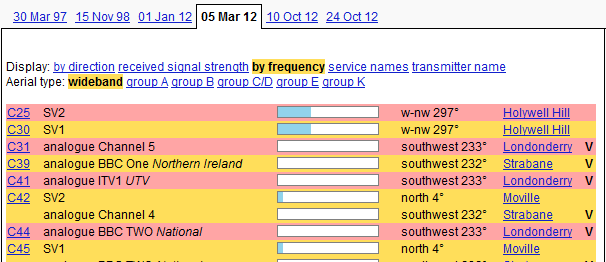 As before, you can click the "Aerial type" selections on the page to see the effect of using different aerial of different group types on your reception, and the date tabs to see past and future changes to reception.
Comments
Friday, 13 April 2012
Jim Bell
7:42 PM
Insch

The reception prediction map for my locationused to display reception from the Durris transmitter as the strongest signal but this is not now the case.
Can you advise why this has changed and should I now be re-aligning my arial?

Jim Bell's 6 posts
Jim's:
map
J's Freeview map
terrain
J's terrain plot
waves
J's frequency data
J's Freeview Detailed Coverage
Thursday, 19 April 2012
Jim Bell
11:44 PM
Insch

Briantist
My computer fails to display the "Terrain" version of the Freeview Signal Prediction Maps - I am using Internet Explorer 8. Can you advise what I need to do to enable the maps to be displayed?


Jim Bell's 6 posts
Jim's:
map
J's Freeview map
terrain
J's terrain plot
waves
J's frequency data
J's Freeview Detailed Coverage
Saturday, 21 April 2012

Jim Bell: You could use Google Chrome - Get a fast new browser. For PC, Mac and Linux or Mozilla Firefox Web Browser Free Download mozilla.org or Apple - Safari - Download the worlds most innovative browser. or IE10 Internet Explorer 10 Test Drive ...

Briantist's 38,908 posts
Tuesday, 5 June 2012

I am unable to receive a number of channels on Freeview, like Dave, Film 4 etc. I have re-tuned periodically, but it makes no difference. Does anybody know waht I can do please? Post code IP6? My neighbours have the same problem, so it seems that all the promises of these extra channels have gone by the wayside.

Thanks

Dave's 1 post
Dave's:
map
D's Freeview map
terrain
D's terrain plot
waves
D's frequency data
D's Freeview Detailed Coverage

Dave: On 27th June 2012 the new 100kW high power transmitters are launched at Sudbury on C60- for Mux ArqA and C56 for Mux ArqB. Your channels are missing at present because these two muxes are using temporary frequencies at very low power until the new frequencies become available following DSO in the Meridian region.

KMJ,Derby's 1,811 posts
Select more comments
Your comment please