Update on transmitter radiation patterns (BBC FOI request)

Brian Butterworth published on UK Free TV
I wrote to the BBC under the "Freedom of Information Act" in 2009 to ask them to disclose the radiation patterns used by the transmitters in the UK. This information shows the level of signal reduction from each transmitter in each direction, as the signals are not always broadcast at their full power (the "ERP") in all directions.

The response, which I posted here on 5th September 2009 can be see here: BBC Freedom Of Information - transmitter radiation patterns and these are now included in the transmitter pages on UK Free TV, as shown in this example: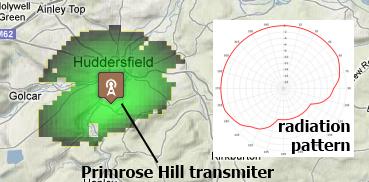 Also provided was some information on the pre-switchover patterns for certain transmitters, see BBC FOI transmitter data - first draft from 12th September 2009.

I recently wrote again to the BBC asking them to disclose the information for the masts that were "redacted" (withheld) in the original request. These masts are listed at the foot of this article.

The response from the BBC today is shown below:


British Broadcasting Corporation
Room 2252, White City, 201 Wood Lane, London W12 7TS Telephone 020 8008 2883 Fax 020 8008 2398 Email foi@bbc.co.uk
Information Policy & Compliance bbc.co.uk/foi
6 March 2012
Dear Brian,
Freedom of Information Act 2000 - RFI20120153
Thank you for your request under the Freedom of Information Act (the Act) of 9 February 2012, seeking the information which we had withheld from our earlier response to your previous request under the Act of 3 August 2009 (our reference RFI20091165).
In our reply to RFI20091165, we stated that we expected international negotiations regarding coordination of certain of the antenna patterns which you had requested to continue until the end of 2012. I am advised, however, that Ofcom has informed our spectrum planning team that these negotiations have not yet concluded and may in some cases still have some months to run.
Since we last wrote to you regarding this matter, it has also become clear that a further clearance of spectrum currently allocated to DTT is to be expected, for which international negotiations may start shortly. Therefore, I am afraid that it appears to us that negotiations surrounding these have not concluded.
For that reason, therefore, I regret that we must continue to withhold the data for these sites under the exemption in section 27(1) of the Act ("International Relations").
As set out in our response to RFI20091165, the exemption referred to above is a qualified exemption, which means that it must be tested against the public interest in favour of disclosure.
We note that for a number of transmitter sites (that is, all those marked as "Redacted" in the spreadsheet accompanying our last response to you), the exact radiation pattern that is to be employed is still subject to, or is likely to require, negotiations between HM Government (represented by Ofcom) and the equivalent administrations in these neighbouring countries.
The arguments in favour of disclosure are:
the antenna systems used for television transmission are, in part, funded by public money through the BBC's transmission contracts with Arqiva and the public has an interest in understanding what that money has been spent on; and
However, the arguments against disclosure of the characteristics of particular antenna systems are:
disclosure of the antenna radiation patterns into the public domain could lead to these being available to foreign administrations, which would substantially weaken HM Government's negotiating position with respect to international frequency clearance;
a weaker negotiating position for HM Government may lead to additional cost for the broadcasters (where antenna systems have to be re-built as a result of international coordination) and lower coverage for viewers (where antenna systems have to be restricted in order to protect foreign transmissions); and
the BBC is required to provide coverage of its services on digital terrestrial television to a certain proportion of the population by the completion of switchover and a failure or suboptimal result from international co-ordination may harm the BBC's ability to meet this obligation.
Therefore, I am satisfied that in all the circumstances of the case, the arguments against disclosure outweigh the public interest in disclosure for some of the antenna radiation patterns.
Appeal Rights
If you are not satisfied with this response you have the right to an internal review by a BBC senior manager or legal adviser. Please contact us at the address below, explaining what you would like us to review and including your reference number. If you are not satisfied with the internal review, you can appeal to the Information Commissioner. The contact details are: Information Commissioner's Office, Wycliffe House, Water Lane, Wilmslow, Cheshire, SK9 5AF, telephone 01625 545 700 or see http://www.ico.gov.uk/
Yours sincerely,
Tom Everest
BBC Distribution
I am considering if making an appeal is the best course of action, or perhaps waiting until the end of 2012, when the mentioned negotiations may be complete.
Redacted masts
Aldeburgh
Alderney
Amlwch
Angus
Arfon
Armagh
Ballantrae
Barrow Town Hall
Barskeoch Hill
Beacon Hill
Beary Peark
Beer
Belcoo
Belmont
Benagh
Berrynarbor
Betws Y Coed
Bevendean
Bexhill
Uhf
Bilsdale
Bincombe Hill
Black Hill
Black Mountain
Blackwaterfoot
Blaenplwyf
Bluebell Hill
Bowmore
Hp Bowmore Vp
Bow Street
Brading
Bridport
Brighstone
Brighton Central
Brixham
Broad Haven
Brougher Mountain
Budleigh Salterton
Burnham
Burnham On Crouch
Bushmills
Caernarfon
Caldbeck
Caldbeck Scotland
Cambret Hill
Camlough
Campbeltown
Caradon Hill
Carmel
Castlebay
Castlederg
Cemaes
Cerne Abbas
Chambercombe
Charmouth
Chartham
Chatton
Chideock
Vp
Clachan
Clacton
Claudy
Clennon Valley
Clettraval
Coldean
Combe Martin
Conway
Coombe
Corfe Castle
Countisbury
Craigkelly
Crystal Palace
Dalton
Darvel
Darwen
Dawlish
Derrygonnelly
Divis
Dolybont
Douglas
Dover
Dover Town
Downderry
Durris
Eastbourne
Eastbourne Old Town
East Dean
Ederny
Eitshal
Elham
Emley Moor
Exeter St Thomas
Felixstowe
Fenton
Ffestiniog
Findon
Fishguard
Folkestone
Fremont Point
Girvan
Glenelly Valley
Glengorm
Glenmaye
Gorey
Gortnalee
Gosforth
Great Yarmouth
Greenhill
Guildford
Gulval
Hangleton
Hannington
Hartland
Haslingden
Hastings
Hastings Old Town
Haverfordwest
Heathfield
Hollington Park
Horn Street
Huntshaw Cross
Hythe
Ilfracombe
Ipswich Stoke
Isles Of Scilly
Ivybridge
Jurby
Kendal
Kilbride South Uist
Kilkeel
Killowen Mountain
Kilmelford
Kilvey Hill
Kimmeragh
Kingsbridge
Kirkoswald Hp
Kirkoswald Vp
Lancaster
Larne
Laxey
Leitrim
Les Touillets
Lethanhill
Lewes
Hp Lewes Vp
Limavady
Lisbellaw
Llanddona
Llandecwyn
Llandrindod Wells
Llandyfriog
Llangranog
Lochmaddy
Hp
Londonderry
Long Mountain
Looe
Lowestoft
Luccombe
Lulworth
Luscombe Valley
Lydden
Lyminge
Margate
Mendip
Mevagissey
Midhurst
Millbrook
Vp
Moel Y Parc
Morfa Nefyn
Muldonagh
Mynydd Pencarreg
Newcastle
Newhaven
Newport Bay
Newry North
Newry South
Newton Ferrers
Occombe Valley
Olivers Mount
Overstrand
Ovingdean
Vp
Oxford
Patcham
Penaligon Down
Penmaen Rhos
Penryn
Perranporth
Piddletrenthide
Pinwherry
Plumbridge
Plympton
Polperro
Pontop Pike
Poole
Port Ellen
Porthtowan
Port Isaac
Portnahaven
Portpatrick
Portslade
Port St
Mary
Praa Sands
Presely
Preston
Ramsgate
Redruth
Reigate
Ridge Hill
Ridge Hill West
Roose
Hp
Rosemarkie
Rosneath
Vp
Rostrevor
Rothesay
Rouncefall
Rowridge
Rowridge Vp
Rumster Forest
Rye
Salcombe
Salisbury
Saltdean
Sandy Heath
Scoval
Vp
Sedlescombe
Selkirk
Sidmouth
Skriaig
Slapton
South Knapdale
St Austell
St Brelades Bay
St Davids
St Dogmaels
Steyning
St Helier
St Just
Stockland Hill
Stokeinteignhead
Storeton
Storeton Wales
St Peter Port
Strabane
Stranraer
Sudbury
Sutton Coldfield
Tacolneston
Teignmouth
The Wrekin
Torosay
Torquay Town
Torteval
Trefilan
Trefin
Trefor B
Tunbridge Wells
Ventnor
Waltham
Wells Next The Sea
Wenvoe
Westbourne
West Kilbride
West Kirby
West Runton
Westward Ho
Weymouth
Whitehaven
Whitehawk Hill
Winterborne Sticklan
Winter Hill
Woodbridge
Woolacombe
Woolwich
Workington
Comments
Friday, 15 June 2012
A
Andy Ripley
7:06 PM
Ripon

There's software out there that models propagation and gives a likely coverage, however they are not using a single omnidirection antenna, they are using array and they don't (as I have found) radiate evenly. It's this vital information that they hold back.
Yes it would be nice to have it, but it would show possibly a nice null on several of the muxes in my direction from Bilsdale. The signal strength is well down on several muxes even comparing them on the Spectrum Analyser connected to the antenna.

Andy Ripley's 32 posts
Andy's:
map
A's Freeview map
terrain
A's terrain plot
waves
A's frequency data
A's Freeview Detailed Coverage
Monday, 23 July 2012

I cannot understand eg Norfolk data being redacted seeing as Holland went Digital in 2007. I could understand Brougher vis a vis Republic of Ireland ...but Brougher was not redacted.

Tumbly's 1 post
Friday, 14 December 2012

I find it annoying, to say the least, to think of all the licence-payers (including so many pensioners who assume that they can truat their TV signal to be of consistent high-quality) who have paid lots of money to the "digital aerial" cowboys. Only to find in many cases that their received signal is only marginally improved by a more powerful aerial. becasue the power sent in their direction is nowadays too poor.
That the BBC, and perhaps Ofcom too, try to keep knowledge of the full details of all this from us is astounding.
We need Questions in Parliament. And pronto.

ron brown's 5 posts
ron's:
map
R's Freeview map
terrain
R's terrain plot
waves
R's frequency data
R's Freeview Detailed Coverage

I've downloaded the ITU spreadsheet. Thanks to Mike Dimmick for the URL which still works.

Which code applies to the UK?

Talk about obscure bureaucracy!!
Vast expense in making such documents (and making them almost unreadable) and then refusing to allow us Electors and Licence Payers knowledge of what's going on????
Amazing if it were not the norm.


ron brown's 5 posts
ron's:
map
R's Freeview map
terrain
R's terrain plot
waves
R's frequency data
R's Freeview Detailed Coverage

ron brown: I do find it odd that you say "the power sent in their direction is nowadays too poor" when you are in an exceptionally good reception area for one of the most powerful transmitters in the country (at Sutton Coldfield).

Can I suggest you have a look at Freeview signals: too much of a good thing is bad for you | ukfree.tv - 10 years of independent, free digital TV advice ?

Briantist's 38,908 posts

Briantist: Thanks for your reply.

I own a variable attenuator too.....and a choice of aerials.
>>The received signal is poor.<<

It is abundantly obvious that my particular part of Tamworth suffers from poor reception (now). Pre-digital (in fact, pre-HD turn-on too) we could receive TV on a coat-hanger improvised aerial.
Then the "experts" decided to "improve" things.....

All around me, neighbours have had to put up fringe-area, multi-element aerials - at huge expense - just to get a watchable signal. Everyone agreed that this was all their OWN fault for not having a "digital Aerial"....

I am 6 miles from the transmitter!!!!
Many neighbours - after spending fortunes to fix "their" poor aerial systems switched to cable, Sky or Satellite to resume normal service.

Too often, people jump in and say we're wrong.. "There's nothing wrong with the transmitted signal"."What you need is a proper Digital aerial" and so on...

All of us, so wrong, ALL of the time???
I smell cover-up.




ron brown's 5 posts
ron's:
map
R's Freeview map
terrain
R's terrain plot
waves
R's frequency data
R's Freeview Detailed Coverage

ron brown: Your switchover was in September last year - have you had problems since then?

Can I assume you've had a qualified aerial installer/engineer out to check on this problem? And with all of your neighbours also having problems, you have got in touch with the BBC (via http://www.radioandtvhelp…uk)?

And I do hope you realise there's no such thing as a digital aerial...

Michael's 358 posts

I was being satirical...
I have a doctorate in physics... and I can tell an installation engineer form a "you need a digotal aerial" cowboy. Pity the old folks around here can't.

BBC ignore all such complaints, won't even give an email address you can reply to to state your case. Too busy paying 200+ people more than we pay the PM !!!!!
That says it all.

It's their "no reply" website email or nothing.
Some Licence Fee value....
My MP is starting to listen though.....


ron brown's 5 posts
ron's:
map
R's Freeview map
terrain
R's terrain plot
waves
R's frequency data
R's Freeview Detailed Coverage
Monday, 3 June 2013

I had a message to retune my tv last week, everything was great until then. Now the main northwest BBC channels, itv and channel 4 are very poor signal strength and keep breaking up and I am also picking up Welsh program's also very poor signal strength. So I can't watch any of the main channels on freeview, but the signal quality for the likes of film 4 and yesterday are full strength?

Julie's 1 post
Select more comments
Your comment please