Final mapping updates: new server, region overlaps, HTML5 radiations and pre-DSO

Brian Butterworth published on UK Free TV
The "overlay" graphics that display transmitter coverage areas and TV regions onto the Google mapping used on UK Free TV have been moved to a new Amazon Web Services (AWS) m1.small server, with new code to ensure the maps show as quickly as possible.

The server for the overlays has: 1.7 GB memory, 1 EC2 Compute Unit (1 virtual core with 1 EC2 Compute Unit), 160 GB instance storage, 32-bit or 64-bit platform, I/O Performance: Moderate.

This joins the two AWS t1.micro UK Free TV graphics servers (img1 and img2.ukfree.tv) which work alongside the main www.ukfree.tv machine, which is provided by BPWEB.

Region overlaps
The maps of the television regions (including the
BBC regions
, ITV1 regions and transmitter regions used for
digital
switchover
) now show the areas that overlap with other regions.
On each map, the area where the signals from the transmitters are strongest from the selected region are shown in green (bright green for strong signals, dark green for the weakest).
Where there are signals from the current region, but there are stronger signals for another region, the colouring is cyan where the signals are strong from the selected region to dark blue where the signals are weak from the current region. As shown here:
Radiation patterns now in HTML5 canvas format
The
radiation patterns
for each transmitter have been changed to display in HTML5 "canvas" format (but are otherwise unchanged), and now include data for
Saorview
transmitters and pre-
DSO
where this is available.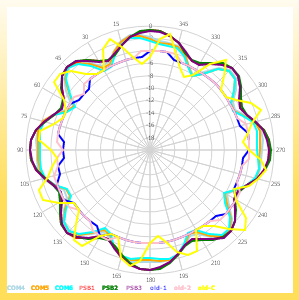 Pre-DSO radiation patterns
The following transmitters have radiation patterns for their pre-switchover configuration - this is now shown correctly on each page (when you click "pre-DSO 1") on the coverage map.
Aberdare
,
Bressay
,
Brierley Hill
,
Bristol Ilchester Crescent
,
Bristol Kings Weston
Hill,
Bromsgrove
,
Chesterfield
,
Fenham
,
Hemel Hempstead
,
Idle
,
Keelylang Hill
,
Keighley
,
Knockmore
,
Lark Stoke
,
Malvern
,
Nottingham
,
Pendle Forest
,
Pontypool
,
Rumster Forest
,
Saddleworth
,
Selkirk
and
Sheffield
Here is a sample of transmitters in pre-DSO
mode
:
Comments
Friday, 9 March 2012
P
Pedro dd
10:44 PM
Godalming

Wow-well done Brian.

Pedro dd's 101 posts
Pedro's:
map
P's Freeview map
terrain
P's terrain plot
waves
P's frequency data
P's Freeview Detailed Coverage
Wednesday, 14 March 2012
M
M Dutton
7:41 PM
Eastbourne

For the last two evenings I havee been unable to receive the Freeview channels that I have been used to getting. Last night the 'Yesterday' (12) channel did appear but the picture and sound we very broken up.

M Dutton's 1 post
M's:
map
M's Freeview map
terrain
M's terrain plot
waves
M's frequency data
M's Freeview Detailed Coverage

M Dutton: It's probably the lift conditions that is making signals go further than normal. See: What is the Inversion Effect and why does it effect my Freeview TV reception?
| ukfree.tv - independent free digital TV advice

Dave Lindsay's 5,724 posts
Tuesday, 27 March 2012

Is there a problem with the sample prediction pages on 'My Freeview'. For some 48 hours now there show BS23/BS24 & TA7 postcodes and are not being automatically refreshed.

Carl's 1 post
Sunday, 1 April 2012

would you please forward an explanation as to why i cannot receive the same :freeview channels:in girvan as i do in kilmarnock,ayrshire.i realise that both are served by their own transmitters.any information i am sure would be most helpful.would it help if i directed the ariel towards northern ireland.

james's 2 posts

james: It is the decision of the Commercial operators not to broadcast from Girvan and 1000 or so other small relays because (evidently) they do not consider the outlay to provide a worthwhile return.

They cover 90% of the population from 80 transmitters and to broadcast from the relays would roughly double their transmission costs for an additional coverage of 8.5% of the population. For a more in depth explanation, see here:

Will there ever be more services on the Freeview Light transmitters? | ukfree.tv - independent free digital TV advice

The projected coverage of Divis by this website suggests that it will be receiveable in your general area. As Northern Ireland does not switch over to digital until October, you may have to wait until then (if you can get it then).

The Girvan transmitter uses Group C/D channels (top third of the band of frequencies used for TV) and Divis will use Group A ones, so you should be able to diplex (combine) the two aerials into one downlead to provide you with Scottish regional programming and the Commercial multiplexes from Divis.

Your location, preferably in the form of a post code, will allow your likelihood of reception of the Commercial services from transmitters. Or you can go to Digital UK, input your post code and tick the box to say you're in the trade:

Digital UK - Postcode checker

The only thing to be aware of is that other regions such as Northern Ireland might not be shown. I've noticed that even though it appears that a transmitter will serve a particular area, it isn't always shown because it is a different region (although often they are).

Dave Lindsay's 5,724 posts

Hi Dave,thanks for the info.I will certainly try two ariels as a test, and let you know the outcome.
James

james's 2 posts

james: On the subject of reception from Northern Ireland, its not until October 24th when Divis switches to high powered operation that you might have a chance of receiving from there as it is shown on the predictor as possible, Divis being located at 64 miles / 229 degrees from you.

jb38's 7,179 posts

james: For all lots of information about aerials, see ATV Sheffield's site www.aerialsandtv.com

Dave Lindsay's 5,724 posts

james: I also meant to say that commercial muxes from Divis ArqA Ch48 and ArqB Ch34 are presently indicated as being possible to receive in Girvan, but with them only being on 2Kw and 1.6Kw respectively I think there is a bit wishful thinking involved with the predictions given, but though both these muxes increase to 50Kw in October and so the situation will be totally different then.

jb38's 7,179 posts
Select more comments
Your comment please