High pressure causing channel loss through "Inversion"

Brian Butterworth published on UK Free TV
There is high pressure over the whole of the UK at the moment, and this causes the Inversion Effect. This is causing people to be missing a single Freeview multiplex, or have terrible analogue reception on a single channel. The problem may come-and-go or last for several days.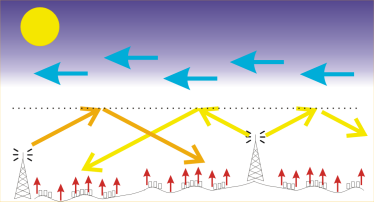 For details, please see What is the Inversion Effect and why does it effect my Freeview TV reception?.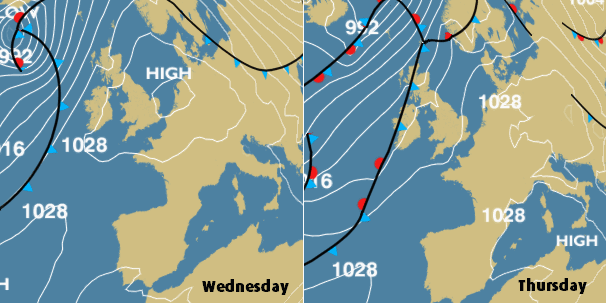 Comments
Wednesday, 14 March 2012

Only 2 out of 5 multiplexes usable earlier tonight! Worst freeview reception for years!
(RG6 5TJ Hannington transmitter)


Brian Gregory's 23 posts
Brian's:
map
B's Freeview map
terrain
B's terrain plot
waves
B's frequency data
B's Freeview Detailed Coverage
Thursday, 15 March 2012
M
Mark Fletcher
1:01 AM
Halifax

Dont worry Brian Gregory.Once the high pressure fades so does the atmospherics/inversion effect.I am partly suffering from it but im not complaining.Im lucky because although Belmont is coming and going and i use Belmont for BBCA & D3+4 multiplexes (BBC1 EY&L 800,ITV1 Y&L 821 and ITV1+1 Y&L 830) my normal mast Emley Moor is at present largely unaffected,plus when Emley Moor is totally off air (end Jan 2012 for 2 hours) i use all the Belmont multiplexes in an emergency.I even picked up analogue Crystal Palace,Heathfield and Dover transmissions earlier and still here while typing this.Plus for good measure i even picked up the all digital transmissions of Waltham and the Sandy Heath D3+4 mux on ch 24.And yes i even recorded the late Central News bulletin from Waltham and most of the ITV+1 late Anglia News bulletin from Sandy Heath one hour later,both recording still on my freeview+ box.So sometimes inversion does have its disadvantages such as temporary losses of signal but also does have its advantages such as temporary gain of far way transmissions you normally do not get.All i can say is dont despair just put up with it,i do and it cannot be helped as such !

Mark Fletcher's 673 posts
Mark's:
map
M's Freeview map
terrain
M's terrain plot
waves
M's frequency data
M's Freeview Detailed Coverage

Brian Gregory: Well i for once am dumbfounded. I live in Pontypool, South Wales and either our relay has gone for a walk in the pocket of a local metal thief, the work they are supposed to have done on the transmitter (CRUMLIN) hasn't worked - it was supposed to be an hour or so over the past few days.....OR....ah well, lets blame it on the weather....
I can't quite believe after all we do to improve lives with technology, a little bit of wind or rain in the wrong direction and "poooof" it's gone in a jiffy. It's taken ages to find someone who would acknowledge there is a problem - we've lost all of our "welsh" channels - and now have to watch "english news" instead of having local news.....hope it's sorted soon. In the meantime, will it be snowing????
lol.


jayne's 1 post
R
Rodders
8:37 AM
Orpington

I l.ive in Orpington (Crystasl Palace transmitter ?). I have two built freeview TV's which are experiencing (2 days) problems receiving channdels 3,4, 5 ,6, 14 etc. Each has a separate outdoor arial which has pfreviuosly worked ok.

On a third tv with a freeview box and indoor arial reception is ok.

Anhy ideas of my problem please.

Rodders's 1 post
Rodders's:
map
R's Freeview map
terrain
R's terrain plot
waves
R's frequency data
R's Freeview Detailed Coverage

Lots of problems this morning on Emley Moor. COM6/ArqB almost unusable, and occasionally picking up signals from Belmont and even as far as Sutton Coldfield!

Thomas's 61 posts

Good Morning, I receive transmission from Ridge Hill via the Ludlow relay. BBC channels are badly affected, breaking up or no signal. Re-tuning hasn't improved things, is it down to high atmospheric pressure or is there work on the transmitter / relay?

Ian Beech's 2 posts

We live in Stansted Essex and currently use Crystal Palace transmitter.

TV reception signal breakup on ITV stations channel 4 & 5 stations, though not on BBC stations. There is also poor picture on analogue channel 5 this morning

Is this atmospheric?

Should we alter aerial to another transmitter?

Steve's 3 posts
Steve's:
map
S's Freeview map
terrain
S's terrain plot
waves
S's frequency data
S's Freeview Detailed Coverage

i live in coulsdon (crystal palace transmitter)and for the last 3 days my freeview tv's and freeview boxes have all been losing all channels then some channels for the last 3 days!!!!!!!!!
i have lived here for 30+years and have never had such a big problem as this...this country is falling into the dark ages i feel!!
i have 2 arials and this problem is on both of them!!
come on government sort this out £140+ tv license to watcha blank screen......

chris's 1 post

I have just hit upon this incredibly useful wesite after a frustrating trawl through google to try to assure myself that my new Toshiba TV was not faulty and that my aerial hadn't blown away.
I too have had intermittent loss of groups of channels (ie 3, 4, 5 and their relatives)
with up till now, no way of knowing what on earth is going on.
Is it not possible in this age of total digitized
technology to flash a message on affected screens ? This used to be done in the good old days of analogue BBC and ITV with messages along the lines of " Please do not adjust your set.
There is interference beyond our control. Normal service will be resumed as soon as possible'
All I get now is a black screen with a page of text which bluntly states 'There is no digital signal' Very helpful !
Still, when digitization is complete I am sure things can only get worse, like most services today.

Alan's 1 post
S
Sandie Phillips
1:17 PM
Southampton

I have had freeview problems over two to three days on this occasion, I have suffered on several other ocasions, but I put those down to Hannington not on a strong freeview signal, but Hannington is now completly digital. But I am sorry to say that my patience is now wearing thin.I am not on my own apparently, some people with their aerial directed to Hannington are having the same problem. I have up to date Tv's and my aerial is not very old, plus I have a booster. I have re-tuned, but to no avail. Any explanation would help as I am left with a blank screen saying no signal.The only channels that I am receiving at the moment are BBC1 & 2 Could we please have notification on screen when there are problems, like we used to have with analogue.

Sandie Phillips's 1 post
Sandie's:
map
S's Freeview map
terrain
S's terrain plot
waves
S's frequency data
S's Freeview Detailed Coverage
Select more comments
Your comment please