High pressure causing channel loss through "Inversion"

Brian Butterworth published on UK Free TV
There is high pressure over the whole of the UK at the moment, and this causes the Inversion Effect. This is causing people to be missing a single Freeview multiplex, or have terrible analogue reception on a single channel. The problem may come-and-go or last for several days.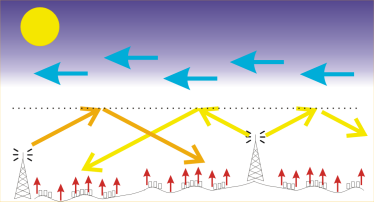 For details, please see What is the Inversion Effect and why does it effect my Freeview TV reception?.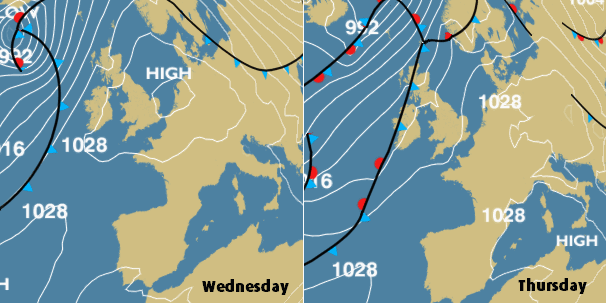 Comments
Thursday, 15 March 2012
S
Sandie Phillips
1:17 PM
Southampton

I have had freeview problems over two to three days on this occasion, I have suffered on several other ocasions, but I put those down to Hannington not on a strong freeview signal, but Hannington is now completly digital. But I am sorry to say that my patience is now wearing thin.I am not on my own apparently, some people with their aerial directed to Hannington are having the same problem. I have up to date Tv's and my aerial is not very old, plus I have a booster. I have re-tuned, but to no avail. Any explanation would help as I am left with a blank screen saying no signal.The only channels that I am receiving at the moment are BBC1 & 2 Could we please have notification on screen when there are problems, like we used to have with analogue.

Sandie Phillips's 1 post
Sandie's:
map
S's Freeview map
terrain
S's terrain plot
waves
S's frequency data
S's Freeview Detailed Coverage

Sandie, follow the link at the top of this page Inversion Effect it explains all.

Chris S.'s 6 posts
Chris's:
map
C's Freeview map
terrain
C's terrain plot
waves
C's frequency data
C's Freeview Detailed Coverage

hi i live in brymbo wrexham n wales can you please tell me why the welsh channels disappear all the time mostly bbc1 bbc2 i would'nt mind but i have to pay a television licence for them if i cant receive them does that mean i dont have to pay for a licence

michael's 2 posts

I visited West Wales 12-14th March and experienced severe reception problems on all Freeview channels Worst period was midday through to evening of 12th March.
Signal level fades from maximum down to zero.
Would have been useful if simple text message could have been inserted in picture advising reception problems due to weather conditions.Reception is from Preseli Transmitter.

Lucks's 1 post

michael:now i know why so many people are going to sky inversion there must be something that can be done sky signals dont suffer from it and they come from space

michael's 2 posts
michael's:
map
M's Freeview map
terrain
M's terrain plot
waves
M's frequency data
M's Freeview Detailed Coverage

Michael: the purchase of a television broadcast receiving licence in no way guarantees you reception of any TV, therefore your question is moot.

If you do watch broadcast TV whether by cable, internet, satellite, or terrestrial transmission, no matter how infrequently, it is required that the receiver is covered by a licence.

Corin's 91 posts

Michael: You do not need to go to "$ky".
All BBC TV stations are available Free to Air via satellite, so all that is required is a dish and a generic satellite receiver without any payment to B$KyB.

Similarly all ITV stations in standard definition as well as ITV-1 HD, Channel 4, Five etc are also transmitted from satellite Free To Air.

Please see the table at

http://www.lyngsat.com/28…html

for the stations listend on a pale yellow (except those indicated for West Africa beam) or pale green background which can be received with a dish and FTA receiver.



Corin's 91 posts

here near Bristol thankfully all the Mendip channels were un affected by the recent weather enhanced conditions. But I can well imagine how badly some areas of the country would be affected especially in the part of west Cornwall where I use to live.

Simon Hockenhull's 2 posts

I'm in the Chilterns, right on the edge of Crystal Palace reception, but I can normally get a clear HD signal. I had a new Samsung PVR delivered today. Autotune failed to pick up any HD channels. I thought I had a fault, but reading this it looks like I should wait a day or two and try again. Thanks for your help :)

Chris's 3 posts

Awful reception here in Newbury from the Oxford Transmitter.Can't get a thing but Film 4 comes out load and clear. Nearly changed my aerial but the rigger said there was a lot of problems all over the area - an honest man!


J Colley's 1 post
J's:
map
J's Freeview map
terrain
J's terrain plot
waves
J's frequency data
J's Freeview Detailed Coverage
Select more comments
Your comment please