High pressure causing channel loss through "Inversion"

Brian Butterworth published on UK Free TV
There is high pressure over the whole of the UK at the moment, and this causes the Inversion Effect. This is causing people to be missing a single Freeview multiplex, or have terrible analogue reception on a single channel. The problem may come-and-go or last for several days.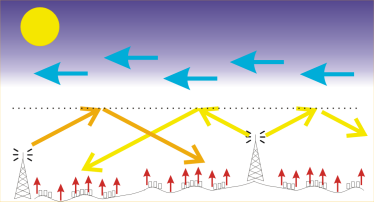 For details, please see What is the Inversion Effect and why does it effect my Freeview TV reception?.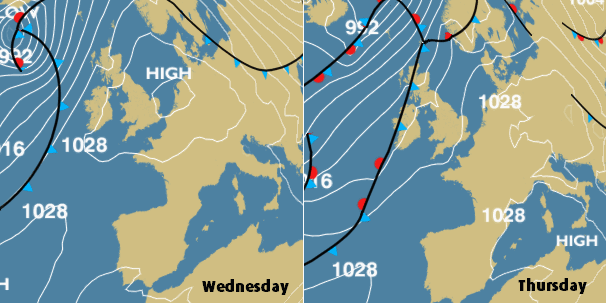 Comments
Wednesday, 4 April 2012
G
Gillie
9:39 PM
Wellington

Please help. Since the digital changeover I can no longer receive ITV3, which was working fine before the changeover. I have retuned numerous times but, although I can get it upstairs, I simply CANNOT persuade the downstairs television to tune to ITV3. I live in a TA21 (Wellington, Somerset) area.
with grateful thanks for any suggestions.

Gillie's 1 post
Gillie's:
map
G's Freeview map
terrain
G's terrain plot
waves
G's frequency data
G's Freeview Detailed Coverage

Gillie: The Commercial channels (which include ITV3) increased in strength from Mendip on 28th March. Have you tried a full retune since then?

If that still doesn't work, then if you can manually tune, do so to channel 48. Indeed, you could even try doing it before you retune.

Alternatively, take the downstairs TV upstairs (if you can) and tune in and bring it back down.

Dave Lindsay's 5,724 posts
Thursday, 5 April 2012
J
jesgreen
9:40 AM
Cheltenham

I have lost all BBC TV and radio channels over the last 2 weeks. Initially there was signal break up but now no signal at all.
Film 4 also affected.
I have normal ITV channels and channel 4.
Oxford transmitter, has been working well for several years. Same equipment.
I have disconnected power and aerial and retuned to no effect.


jesgreen's 1 post
jesgreen's:
map
J's Freeview map
terrain
J's terrain plot
waves
J's frequency data
J's Freeview Detailed Coverage

We live BH23 area of the New Forest.Receive from Rowridge. Yesterday we lost all our digital reception. both tv's said check ariel. We went to the local tv repair to buy a new booster and were quoted £60 (the booster had been receiving intermittently but settled if the wires were tweaked, now no reception at all) The engineers at the shop said that the signal was still being increased and we may end up requiring a reducing transmitter. wait until April 15 or 16 because there may also be some interference from a French switch over. This seems 1. rather a long time to wait without tv. 2. Rather an expensive booster. 3. Surely this cannot be true that the signals are still changing after the big switch overs last month.

Gill's 1 post

Just called Digital UK for advice... we are in SW London receiving our rooftop aerial signal from the Crystal Palace transmitter. Usual problems cited here, no signal, loss of picture, terrible pixellation/freezing of picture etc... affecting all channels despite retuning with and without the aerial.

Digital UK have never heard of Inversion, or interference that affects signals. A very worthwhile call. What I need to know is will this continue after full switchover when we are not under a low pressure system? If so, what's the best method of getting TV (Sky is not an option for so many reasons; Virgin I keep hearing dodgy reports of....).

Thanks!

Karen's 1 post
Karen's:
map
K's Freeview map
terrain
K's terrain plot
waves
K's frequency data
K's Freeview Detailed Coverage

Karen: Inversion will always happen and has always happened. The question I think you're asking is whether it will happen to such a degree as to make your TVs unwatchable.

That's a difficult, if not impossible, question to answer.

What I will say is that you appear to be in an excellent area with regards level of signal from Crystal Palace once it has switched over to full power on 18th April.

A lot of the issue comes down to the level/strength of the signals you wish to receive (i.e. those of CP) versus the level/strength of those which are interfering. The level of CP's will go up on 18th April.

Dave Lindsay's 5,724 posts
Sunday, 8 April 2012

In the evenings my picture and sound keep freezing (atmospherics?), I had an aerial profesionaly installed about 2 years ago in anticipation of the digital change over,anolgue was not a problem, I am between boston and spalding in lincolnshire so quite a way from the transmitter (belmont?) which is north of me, I have tried a signal booster but it made no difference, what can I do about this problem as the wife is not happy as it often plays up when her soaps are on! (The end of her world!)

Martyn's 3 posts
Martyn's:
map
M's Freeview map
terrain
M's terrain plot
waves
M's frequency data
M's Freeview Detailed Coverage

No Film4 or Film 4+1, No Yesterday or 5 USA+1. I was once asked why I wanted to live in Ammanford West Wales, I am begining to ask myself the same question what's the point of a digital switchover when you have picture bleed Pixilation and very few channels during Inversion. 100 channels of constant repeats it's just not worth the TV licence no wonder there are so many sky dishes on properties these days. Roll on 3D TV at least we can then be heartily sick for a reason

Dave's 1 post
Monday, 9 April 2012

Can high pressure causing channel loss through "Inversion" affect freesat ?

Martyn's 3 posts
Martyn's:
map
M's Freeview map
terrain
M's terrain plot
waves
M's frequency data
M's Freeview Detailed Coverage

Martyn: No! as it only affects lower frequencies such as used by Freeview.

jb38's 7,179 posts
Select more comments
Your comment please