High pressure causing channel loss through "Inversion"

Brian Butterworth published on UK Free TV
There is high pressure over the whole of the UK at the moment, and this causes the Inversion Effect. This is causing people to be missing a single Freeview multiplex, or have terrible analogue reception on a single channel. The problem may come-and-go or last for several days.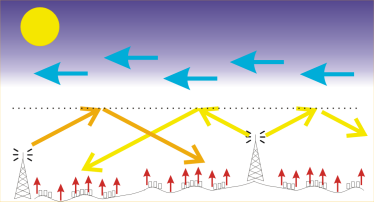 For details, please see What is the Inversion Effect and why does it effect my Freeview TV reception?.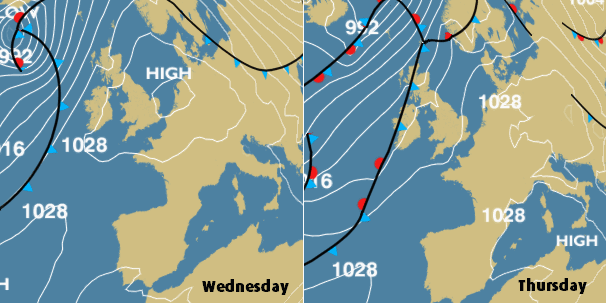 Comments
Monday, 9 April 2012

I live in the Midhurst area in a flat with a communal aerial. For the last two weeks I have not been able to watch any commercial channels because the picture breaks up with terrible interferance. BBC channels are fine. What's the problem? is it the atmosphere? Should I contact the housing association to upgrade the aerial... I'm fed up!

Walt's 1 post

Walt: You may need to wait for Wednesday 25th April 2012 (for SDN and ArqB) and Wednesday 20th June 2012 (ArqA) for the commercial multiplexes to go to full power, following the switchover.

However, if you have a full Freeview service before switchover, you may need to contact the owner of the communal aerial to ensure that their system is now "tuned" correctly.

Briantist's 38,906 posts
Tuesday, 10 April 2012

hello i would just like to comment about digital tv reception problems -picture breakup-jigsaw effect etc. having installed hundreds off tv aerials i have came across reception issues and have now found that a lot off reception problems are down to bad installations . wrong tv aerials have been installed cheap thin aerial flyleads bad joints in cable . always-ask your installer for quote and then ask them to itemise this for you .ask the installer to supply a price just for parts required then ask for a price for the labour to have it installed. i would say that a top quality job for having a tv aerial installed outside on the chimney off your home should cost approx £125.00 to £150.00 this allows for a good quality tv aerial not one that looks like it is receiving tv signals from space and the installer is telling you that oh no this is what you need to get digital tv and then charge you lots off you hard earned cash . us installers over here in belfast northern ireland basically depend on customer recommendations for most off our work and having seen bbc rogue traders on tv and having watched what installers in england are up to and the price they charge and the lies they tell they just would not last in thit line off work in our town .remember get your installer to explain what you are paying for . if i can help please email me below . use an installer who comes highly recommended ask you friends and family for help in finding a good installer .

robert stevenson belfast aerials's 3 posts
Wednesday, 11 April 2012
W
Whittaker
3:30 PM
Fareham

Hi it seem freeviiew,keep asking, retune ???.channel loss.All time.in gosport,area.

Whittaker's 1 post
Whittaker's:
map
W's Freeview map
terrain
W's terrain plot
waves
W's frequency data
W's Freeview Detailed Coverage
Saturday, 14 April 2012

I live in Altrincham and am experiencing a picture and sound that disintegrate with popping sound, occasional total loss of picture and sound - on Freeview. Does this arise from inversion? Can I do anything about it apart from fume while not watching the Grand National?

Mike Stanley's 1 post

Mike Stanley: I would have a look at Freeview intermittent interference | ukfree.tv - independent free digital TV advice .

Briantist's 38,906 posts
Wednesday, 18 April 2012

I live in South Bucks and am tuned to the Crystal Palace transmitter. Wednesday 18 April has arrived and I retuned my TV with in-built Freeview receiver. Have finished up with only 118 overall channel (less than before I retuned) and no ITV programmes at the very least. Here's hoping Thursday 19th is better!!

mi amigo's 3 posts

mi amigo: The switchover is complete. There will be no changes tomorrow!

Please can you try My Freeview box has no EPG, is blank on FIVE, ITV3, ITV4, ITV2+1, has no sound or the channel line up is wrong | ukfree.tv - independent free digital TV advice - you might have to look for Single frequency interference | ukfree.tv - independent free digital TV advice otherwise.

It is hard to provide specification information without a full postcode.

Briantist's 38,906 posts

Thanks for your advice. Have followed the rest process several times and the outcome is the same. I list below the on-screen information from my Sony TV with on-board Freeview HD, against the six multiplexes? on your graphic.

BBCA - channels available to view
D3+D4 - "Channel number not available"
BBCB - channel names show but "No Signal" message displayed
SDN, ARQA and RRQB - same as for BBCB

It is very overcast today here in the Thames Valley, might this be a significant problem today. I assume the different message on D3+D4 might mean the present aerial is inadequate?

mi amigo's 3 posts
mi's:
map
M's Freeview map
terrain
M's terrain plot
waves
M's frequency data
M's Freeview Detailed Coverage

mi amigo: I wonder if your aerial is pointing at the Crystal Palace transmitter?

If you are using the Hannington transmitter, you would get the poor reception you describe.

Please see Find out how to receive Freeview and Freeview HD | ukfree.tv - independent free digital TV advice for the details of the directions of the transmitters.

Overcast weather has no effect on reception at all.


Briantist's 38,906 posts
Select more comments
Your comment please